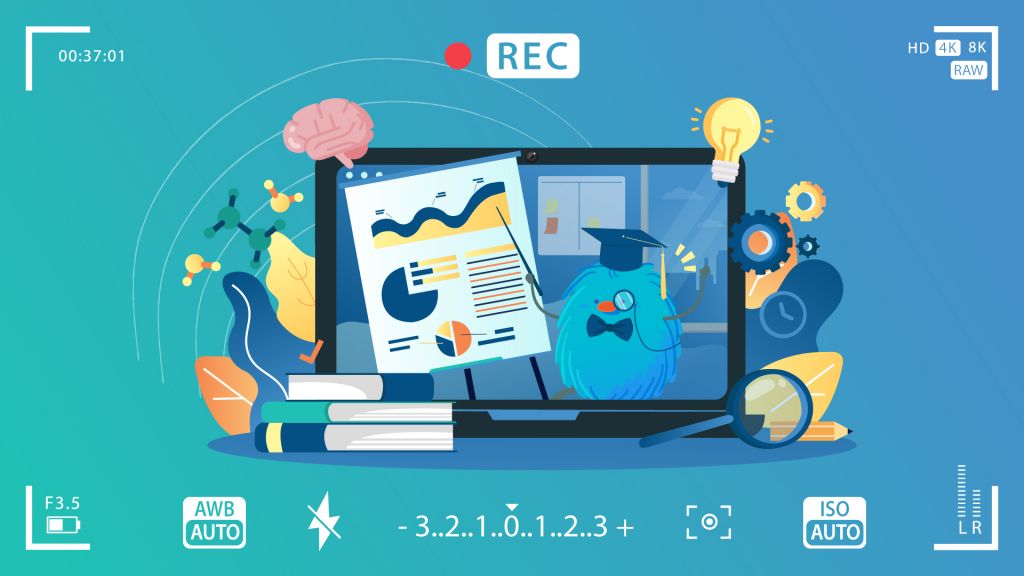 New hires, new users, and new members need a bit of light before they can adapt to everything new around them.
While all those handouts and user manuals can overwhelm them, you can use training videos to enhance the whole training process instead of giving them all the information they need.
Training videos are not all about those videos that are shot in 4K resolution with fancy equipment– rather, it's a video that covers all the crucial points that learners should understand and keep in mind.
Conveying training materials in the video can keep what they have learned and use it now and later.
Regrettably, a week after the training session, learners will have forgotten 65% of what was covered in training, according to a study.
If you have a regular training program and want to increase your learners' retention, here are some examples of effective training videos with interesting concepts that you can steal.
#1. Golden Rules of Safety – Gasunie
Every job needs safety rules, yet some firms require complex guidelines.
When a company delivers the rules in text, it will be a heavy book. People will get bored and sleepy instead of digesting all the instructions.
Gasuinie, a Dutch natural gas infrastructure and transportation company, tried something different to explain their complex safety guidelines. They created a fun training video. 
In a less than nine minutes video, the company delivers step-by-step safety procedures for its workers. Interestingly, it has several takeaways:
It uses a 3D animation format to give a more precise portrayal of the work field and depicts some scenes that are impossible to show with live-action or actual people. 

This video implies a story-driven narration that

educates

people in an engaging manner.
#2. Cable Trays General Installation Animation – EAE Elektrik
Another example of the best training videos is coming from EAE Elektrik, the Turkish manufacturer.
It is a 3D animation that trains people to install their cable trays. The animation features the detail of the product and provides additional information through short text.
The video has some strong points, such as: 
It offers information concisely that is simple to understand. 

It includes energetic music that triggers excitement so people will not be sleepy. 
#3 Workplace Bullying – ReachOut
Do you want to address a sensitive issue or tricky subject during the company's training session? Discuss the topic via video, just like what ReachOut has done.
The company successfully crafted a lighthearted animation to tell people about workplace bullying, which is a taboo issue.
We find some key learning points from the video: 
It features well-crafted storylines that are relatable to many people and the instructions are clear and easy to follow.

The video generates a

voice-over

that becomes a friendly element of the video.

The color scheme on the video makes it visually attractive and creates a more friendly and lighthearted mood.
#4. Why Sales People Just Can't Shut Up – Rapid Learning Institute
By nature, we will not be eager to do something when we are told to do so out of the blue. We tend to ignore doing things or suddenly switch our habits. 
The situation will be much different if we find an interesting video delivering new fun facts and knowledge to change our perspective. We will open up and watch it conveniently. 
Therefore, Rapid Learning Institute released a training video to educate people about being professional salespeople.
The video included a scientific explanation to make the point more substantial, but it did not contain unnecessarily copious details. 
The video did not directly tell salespeople to change their habit of bombarding clients with sales pitches.
It focused more on showing intriguing truths to influence people's perspectives. 
In the end, the video did not urge people to do this or that. Viewers can decide what to do next by themselves.
#5. Dumb Ways to Die – Metro Trains Melbourne
Learning about safety regulations is generally regarded as monotonous.
Thankfully, Metro Trains Melbourne has reversed that view by presenting an entertaining instructional video dubbed "Dumb Ways to Die." 
There is not a single split-second of animation you will want to skip from the beginning to the end of the video.
After watching the video, we learn: 
Creativity can transform lengthy written instructions into entertaining clips and an easy-listening song. 

The cute characters make us stay longer on the video and curious about what comes next. 

Instructions do not always come in bullet points, yet you can compose an upbeat song accompanied by eye-catching animation without losing the underlying message.
#6. Back Pain Educational Video – Rheesus Medicine
Generally, a training video focuses solely on explaining a skill or method to the audience.
Not to mention, describing why it needs to be learned is also an essential part of your video's beginning. 
It will convince people to continue watching because they know what benefits they will get and what problems they will solve from watching the video. 
Take a look at this short example from Rheesus Medicine. 
The video covers the symptoms of back pain and how to treat it, and why knowing the solution is needed.
That is not the only reason why the video deserves to be one of the best training videos.
Check these other reasons:
The video addresses a common human problem at the forefront.

The video uses live-action to represent the audience so people can forge a stronger connection.  

Rheesus Medicine uses the classic whiteboard animation with a narration that talks to the audience like a friend to make the video more engaging and not look conventional. 
#7. The Importance of Health and Safety in The Workplace – Health & Safety
Animated explainer videos are helpful for more than just marketing. In recent years, it has become the most popular type of corporate video.
The example below demonstrates how you can simplify complex topics in a short video.
We choose the video as an example for some good reasons: 
Visual simplicity in the video works well to deliver safe and healthy rules in the workplace.

Besides the visuals, the video captures attention and engages viewers with humor. 

When compared to creating a video with live actors and props, it is less expensive.
#8. Potty Training Videos for Toddler – Toddler Fun Learning
The best way to get your message across to your audience effectively is by talking in their language. 
Endearing cartoon characters, an ear-perking storyline, and inviting background music make the video fun to watch for both parents and their toddlers.
The illustration seems like it comes out from bedtime story books and the voice-over sounds like a dad teaching his child.
All of them combined create easy-to-follow instruction. This is exactly what you called speaking the audience's language.
#9. 6 Easy Steps of CPR – HSE Lessons
Whiteboard animation videos are well-known for their capability in putting viewers' in a learning mode without even overwhelming or boring them.
And CPR training is a big deal, so you have to get every instruction done right.
This video also tells a brief story of CPR and how much this life-saving technique has evolved over the years. Then it proceeds to the essential steps.
The video doesn't only show the right technique but also breaks down what happens to a person's body when they receive CPR.
This is an ideal example of a training video you need for delivering crucial step-by-step instructions. 
#10. Good Manufacturing Practices for Food Safety – SafetyCulture
The white background is one of the best colors to make the video simple yet elegant.
This training video relies on the rich script itself.
The visuals are kept minimal so it doesn't overwhelm the audiences who are new to food safety. 
This video is also a great example of an onboarding process for a new hire as it explains the whole topic from the basics before it gets into the nitty-gritty details.
#11. Cuddle+Kind Animated Training Video
The first day at work can be nerve-wracking for new hires.
You can help them ease their nerves by setting their expectations and what they will face in the office.
This kind of training video from Cuddle+Kind is a perfect example of that.
The video shows a day in the life of a customer service agent at Cuddle+Kind.
All the content on the video is made to show new agents their jobs and what they do on a regular working day.
#12. Amazon Fulfillment Center Tour with AWS
An office or working environment tour can help learners get nuances and insights into what actually happens behind the curtain.
A tour video from Amazon would make a perfect training video for their new employees who still need a lot of information about AWS.
Live-action is involved to make sure that the audiences get real footage of what happens in the Amazon Fulfillment Center.
Meanwhile, the animation is also used to explain an example which is so much easier to describe and digest using motion graphics than live-action footage.
#13. ibex Agent Welcome Video
A welcome video from ibex shows us how to help new hires feel comfortable and welcomed as well as understand their job description more in-depth.
Nothing really special about the 2D flat animation itself, but the voice-over is so casual and sounds like your first new best friend at work.
The video starts with all the perks the company offers, orientation, guidelines, and the employees.
No specific instructions are broken down in the video– only an overview of the company.
But, this type of video surely helps new hires feel more confident and appreciated in their new working environment.
We can also say that this is a great first video that you can send to new hires.
#14. Delta Job Preview – Customer Service Agent
This two-and-a-half-minute training video from Delta Air Lines can sum up about 10 pages of paper handouts.
The video breaks down the job descriptions of a customer service agent.
No fluffy explanations, it's all meat. That's why the video is easy to follow and retain for their new hires.
The texts are also displayed on the video to help the new hires or learners with the crucial points.
All of the visuals used in the background also reflect the narration, making it easier for viewers to have a glance at how to demonstrate the instruction that the narration mentioned.
#15. Idaciti XBRL Accelerator Explainer Video
An explainer video like this one can also be used in the training program. It makes sure that everyone on the team, including new hires, is on the same page.
The video starts by describing what the company is all about and how it works.
The motion graphics help learners understand the complex information that Idaciti delivers.
This helps any new hires keep up with the explanation. 
When everyone has the same understanding of the company and its product, it will be much easier for the company itself to make better decisions.
#16. Omega Mart Employee Training Video
This is not really a literal training video– more like a parody, but it's entertaining, and the concept is interesting, so we have to break this down.
Trust me this is not a training video from the '80s. Omega Mart goes for a retro concept to make their training videos entertaining, not only for their new employees but also for other viewers who can enjoy watching this too. 
The effects, skits, styles of animation, and even dialogues bring us back to the '80s when the grocery shopping experience is a lot more fun.
#17. Walmart Check Transaction Process Touchscreen
When it comes to giving your learners step-by-step instructions, there's nothing better than using video. Walmart demonstrates all a cashier has to do when a customer pulls up a checkbook. 
The video shows how the cashier processes the check transaction, what buttons they should press on their monitors, etc.
Once this video is shared, the cashier can learn all of the steps at their own pace. They can even reply when they miss something.
#18. Rewards Program Staff Training Video – IGA
IGA created this training video to guide their employees to promote their rewards programs to their loyal customers.
Using simple vectors combined with motion graphic animation, the video packs everything up– from how the cashier asked a customer to join the membership to all the benefits of the membership itself.
Creating one training video for one specific lesson or topic can help you convey a message more effectively.
It helps learners focus on one thing at a time. It would also be much easier for them to find the video and rewatch it if needed.
#19. How to Use Fire Extinguisher Using the PASS Method
Animation is best when it comes to bringing any concept to life. It allows you to slide scales and bend the laws of nature. 
This training video for extinguishing fires using the PASS method is an example.
You don't need to set fire and demonstrate how to extinguish it. Animation can do it for you.
The animation also makes the instructions easy to follow. It includes texts, demonstrations, and a voice-over that emphasizes the crucial points.
#20. WIC Cashier Training Video Stand-Beside System
Training videos don't have to be all flashy and cost you a thousand bucks.
This straightforward video slideshow shows you that the most important part of a training program is to make sure that the learners get all the crucial points you try to get across.
WIC created this video for their new cashiers, how they can help their customers, the most common issues they have at the cashier, etc.
This is basically a summary of a manual, packed in a shareable format in an easy-to-follow medium.
#21. Wendy's Training Video Cold Drinks
We haven't even finished talking about training videos without including this iconic one.
I know. This training video is way back from the late '80s– as you can tell. 
But, people still talk about it.
Why?
Those catchy, slightly corny rap that is all done over a beat that just drips of the '80s, still deliver the point: giving a new Wendy's hire instruction on how to serve a cold drink properly.
It's hilarious but effective– I bet you can't get that tune out of your head after listening to it.
Wendy's has always had this witty brand voice.
The takeaway here is that it's okay to take a stab at humor to make training fun and easy to remember for learners.
#22. Opinio Training Video – Pickup and Delivery Process
When an app is involved in a training session, it's always best to show the interface so the learners can get a solid grasp of the instructions. 
This training video from Opinio shows how food drivers can process the pickup and delivery process. All of the steps are broken down using both live-action and screencast animation.
This way, their food drivers can fully understand how they pick the food and deliver it to the customer as well as utilize the app.
#23. Honeybird Coffee Barista Training Series – Brew Ratio Explained
Honeybird created a video training series to train their new baristas– from utilizing electric grinders to cleaning up.
This series not only helps their baristas serve a perfect cup but also ensures that all of them are on the same page and doing the same thing.
The video uses live-action to demonstrate the step-by-step process of making a great coffee.
All the instructions, ratios, and any other thing that is worth noting are written in text on a whiteboard animation.
#24. Norovirus Cleaning for Environmental Cleaning Staff
Thanks to the internet. Now you can create animated explainer videos for your training program quickly and easily using explainer video templates and other video marketing tools.
This is an example of a DIY animated training video from the Oregon Patient Safety Commission.
Of course, it doesn't look as decent and smooth as fully-customized videos. But, it gets the job done.
This video was created for their environmental cleaning staff.
The video not only breaks down the instructions but also explains Norovirus 101 to help the staff understand what kind of virus they're dealing with.
That's where they can learn how to protect themselves while also doing their job.
#25. Phone Skills Training by Canity
Kinetic typography animation always does a good job of bringing plain texts to life. It makes the whole explanation easier to digest and keeps learners interested and focused.
In this training video, Clarity gives some advice for customer service agents on how to use their voice and choose their tone, and intonation in phone calls.
The video also gives a real example of a phone conversation. It shows learners what not to say, better words to use, etc.
This example not only helps them to talk better on the phone call but also builds their confidence as they have a solid understanding of what to do and not to do.
Create Your Training Videos Today
Not only will training videos make your learners understand the topic they study better, but it also keeps all of that information on their mind much longer.
It means that investing in a training video is a powerful way to increase their performance– which at the end of the day can improve your bottom line.
That all said, you need to make sure that the video you create gets all messages across effectively.
In this case, working with a professional video production company can help.
Breadnbeyond can help you to craft effective animated training videos that drive real results. See our training video package.