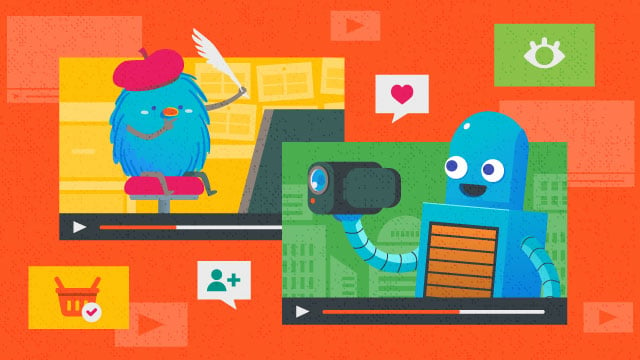 There are two types of explainer videos; animated video or real human, live-action video.
And choosing the right type for your business isn't a walk in the park. Of course, you want to pick the best one for your business so it can bring you the maximum results.
Some people tell you that animation is the most effective and engaging form of an explanation video, with endearing illustrations showing concise explanations and step-by-step actions. 
Others claim that a real human video can do better because it shows real human expressions, so it evokes the audience's emotions easily.
It won't stop there. 
If you ask people on the internet, you'll find different answers that only make your head even more painful.
Some people will try to convince you that animated videos will look less professional and too impersonal than a real human video, assuming that it is professionally acted and well-prepared. Others think that even though it's relatable, live-action videos like talking heads are boring and outdated.
So, which one is better?
There's no simple answer to that question. 
In fact, there's no answer at all since both types of videos can work best in this or that situation.
At the end of the day, it all depends on the subject of your video, its objectives, and your audience.
To make it easier for you to understand, here's a sample of our showcase videos that we've made for both types of videos.
Animation Videos
We made this video in 2012, an animated video for PayPal. The lovely and endearing cartoon characters made the explanation so simple. Not to mention the text on the screen that can increase the audience too.
Live Action Videos
Of course, live-action explainer videos can always be combined with animation. Even just text animation. Like the video we ever made for Codemeet.
Things To Think about Before Choosing The Explainer Video Style
Even if both explainer video style is equally good, choosing the best one for your brand is much more than tossing a coin. Here are some aspects that you need to think about before choosing the right type of explainer videos:
#1. Brand Image or Overall Concept
Start by taking a good look at your website. And ask yourself this question, "Does an animated video can make this website better?"
If you have this casual and colorful yet professional-looking website, an animated explainer video is most likely the right type you should consider more seriously.
However, if your website and branding concept is more human and friendly, you really can't beat live-action videos. 
#2. Your Target Audience
No matter your website's vibe, if your target audience is younger generations like Millennials and Gen Z, then an animated video is practically a must. The endearing and lovely characters can grab younger audiences faster than live-action ones.
On the other side, if you want to appeal to older generations and professionals, you can go for live-action explainer videos to get them interested.
#3. Your Budgets
Your budget is an important factor in making any decision. Will your budget cover the cost for a professional real human video or a fancy 90 seconds animated video? 
If you're insisting on choosing live-action explainer videos, then you should be ready to spend more. That's because you have to pay for every process in the whole pre and post-production with fancy cameras and other equipment to make the visual more captivating.
Meanwhile, if you're a small business with a shoestring budget, then an animated explainer video might be the best option. There are a lot of video tools you can utilize to create your own animated videos. 
Not to mention that there are also endless options for companies that offer you the best price for this type of video.
#4. Allocated Time and Resources
There's no escaping this one since both came with a lengthy process.
A well-crafted animated video is going to take some time, as it progresses about 3-5 seconds per day. For most animated explainer video companies, there are at least eight stages of the process in a single production or creating engaging animated explainer videos. 
Don't be surprised if it takes weeks or even months to complete. So, if you need a professional-looking explainer video within a week or two, then you can't really rely on this type.
As an alternative, you can utilize animated explainer video templates to help you create animated explainer videos in no time.
Live-action videos, on the other hand, can be typically shot within a couple of days. If you have all the equipment and teams, you're ready to shoot the footage you want much faster.
 Also, everything captured in live-action videos is in real-time, which allows you to make any necessary adjustments on the spot so it can save some time on the editing process.
The Verdict
Choosing the type of explainer video for your brand can be a make-or-break decision. While there's no type better than the other, you have to understand your video objectives and your set of in-house skills.
Before making any decision, make sure you ask yourself these four critical questions:
What's your brand image and concept?

Who did you create the video for?

How much do you have in your budget?

How much time and resources have you allocated?
Get Started With Breadnbeyond Today!
If you choose to go with animated explainer videos, Breadnbeyond can lend you a hand!
Here in BreadnBeyond – Animated Explainer Video, we are an award-winning studio and have done more than 2,600 animated explainer videos, and we can help you for less than $2,000. We also make sure to craft your animated explainer video from scratch in less than a month.
And the best of all: we can combine your live-action clips with our animations, too!
Check out our video packages to choose the animation style that aligns the most with your brand by clicking on the banner below!