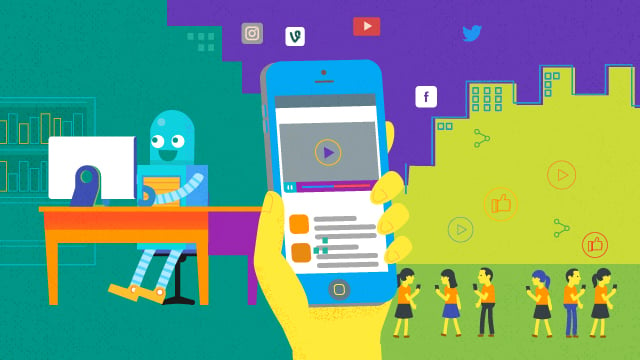 The world and your customers are going digital. It's time to say goodbye to those classic flyers and static banner ads.
They don't use social media for entertainment purposes. They use it to make important purchasing decisions, and if you are not taking social media seriously, you are in for a rude awakening.
YouTube is one of the most popular social media platforms. Some marketers believe it is merely for entertainment. In contrast, others who are using it are not serious about it as a lead-generating platform.
79% of people have a YouTube account, and every month, there are 2 billion active users on it. As a marketer, if you promote your business on YouTube. With the help of video ads, you can advertise to a broader audience and generate more leads.
YouTube is crucial to video marketing. We know that video information is processed relatively quickly by customers, and they retain it for a longer time. Thus, it's best to start a YouTube channel. Also, we have a list of seven tips to make your YouTube channel efficient.
Tips to Make Your YouTube Channel Appealing
Starting a YouTube channel is pretty straightforward but extremely hard to sustain and make successful.
Putting out great content is not the only thing you need to do; you have to work on other aspects, too, like the thumbnail or title of the video. Let's look at some of the best tips to make your channel appealing.
1. Optimize Your Playlists for Search Engines
When making and uploading videos on YouTube, keep in mind that they should be in order.
Your video's title must have a tutorial or customer review or product details in it. Doing this means you are categorizing your video.
But take it a step further, and create playlists for videos that have similar kinds of content. Now, don't create a generic title like 'customer reviews.'
Make it something unique, and then add a Meta description, similar to what you do with your blogs. It will help search engines crawl and index your content better and rank it higher.
When a customer sees numerous videos lined up with content to their liking, they will spend more time on your channel and will subscribe too.
Also, make sure they are in order so that viewers can watch them back-to-back.
2. Create a Custom Banner for Your Channel

Your website's home page must have a big image with crucial details that everyone can see.
The same goes for your YouTube channel. It needs a banner that is not only about business but also about the channel.
Create a custom banner using Adobe Spark or Canva, and include critical information about your channel along with your logo. Here are some tips:
Bulleted points about the type of content or information your channel shares

A slogan for your channel

Inform viewers about the day you post videos, like 'video every other Tuesday and Friday.'

Also, don't forget to insert links to your social media pages, blogs, or websites.
3. Make your Video Focused on a Single Keyword
One of the best ways to get traffic and more viewers is to create your video around a single keyword/topic.
It's a known SEO practice that can help your channel get a better ranking. Find out what your audience is writing to search for video content in your niche.
Then, curate your content and title/topic around it, to use that keyword.
It will help you optimize your keyword and related content with ease. Moreover, don't create a long video. A five-minute video with great content works better.
4. Interact with Your Viewers
One of the best things about the social media platform is that you can interact with your viewers.
YouTube lets your viewer like and dislike your video, subscribe to your channel, and start a conversation through comments.
If you have a channel, it is best to interact with your audience using the comment section. Listen to their feedback and work on that.
5. Make a Trailer for Your Channel
A channel trailer is a video that viewers who haven't subscribed to your channel can see. It is a video montage that shows what type of content viewers can expect from you.
It introduces them to your channel. Include these things in the video:
Introduce yourself and what type of videos you make

Tell viewers why they should watch your video and subscribe to your channel. Provide information on how your videos can help them.
6. Use Interactive Overlays
YouTube introduced two new overlays just a few years back to keep your customers more engaged with your channel. The best part about these overlays is that they are unobtrusive and mobile-friendly.
Here let's learn a bit more about them:
They are displayed on the top right side of the video. Through this, you can promote suggested videos, ask for a donation, or link-related content. If you are a member of a YouTube partner program, you can also provide links to external websites using this.
You can use them in the last 20 seconds of the video. They let you do the same thing as info cards like promoting external links or related videos. Take a look at the sample made by LeadLearnLeap.
7. Promote your Video on your Social Media Channels
A great way to get more viewers for your channel is to promote your content on other social media platforms.
Use your Facebook or Instagram account and let people know about your YouTube channel. You can also upload a small teaser of your video on Instagram stories or Facebook.
8. Create Sections on Your Channel
You want your viewers to watch the channel with ease and click through your videos without getting confused.
One of the best ways to do that is by having sections on your channel.
Create segments of individual videos, playlists, and so on. To create a section- click on customize channel and then click on 'add sections' at the bottom of the page.
Conclusion
YouTube is not tailor-made for any business, but with these tips and the right intentions, you can make it work for your business.