Let's admit it. In this digital era, watching YouTube videos has now become a daily routine for most of us.
From how to cook perfect omelets to funny cat videos, we can spend a wasted afternoon watching one video after another.
With almost 5 billion videos being watched on Youtube every single day, YouTube is the second-largest search engine worldwide -- right behind Google. For marketers, the platform is staking its claim as an essential tool.
We live in the current state of digital culture that forces businesses to step out of their comfort zone and try out highly in-demand marketing platforms like YouTube. Today, over half of all marketers (55%) use YouTube as part of their marketing strategy.
If you want to stay ahead of the YouTube marketing game, this is our ultimate guide where we put together the best strategies to help you succeed in a competitive marketplace.
Why YouTube Marketing?

You might be wondering, "YouTube marketing seems promising. But, what if my target customers are not even on YouTube?"
Well, think again.
One-quarter of global internet users spend at least 10 hours or more watching online videos, and YouTube has more than two billion active users worldwide
With that massive number of users, the platform offers a massive opportunity for marketers to catch more eyeballs, build brand awareness, engage and interact with more audiences -- regardless of your industry and niche.
But, of course, the power of YouTube marketing is not limited to the views and reach.
Many marketers found that YouTube is a powerful platform to help them drive more traffic to their websites.
Google appears to favor video results -- especially from YouTube. So, spending extra time and effort to optimize your YouTube videos will help you to appear on top pages of the SERPs and gain authority in that space (we'll talk more about that later).
Getting Started: The Basics of YouTube

The first thing you can do to start your YouTube marketing strategy is to create a YouTube channel.
Creating a Google Account
YouTube is a subsidiary of Google, so if you have a Google or Gmail account, you're pretty much set. But in case you don't, here's how you go about creating your Google account.
Go to Google.com and click on "Sign in" in the upper right-hand corner.

Click on Create Account at the bottom of the page.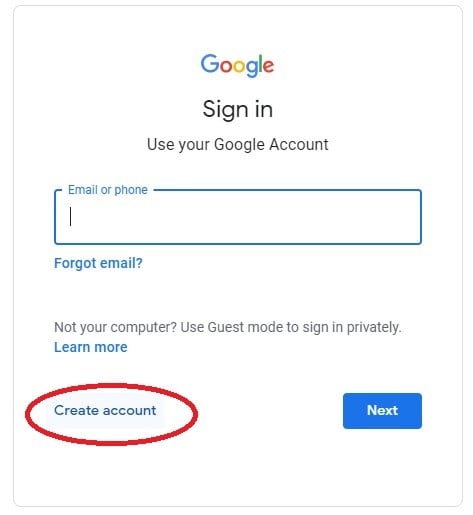 There's a popup that requires you to select the purpose of your account. Since you will use the platform for a business, choose "to manage my business."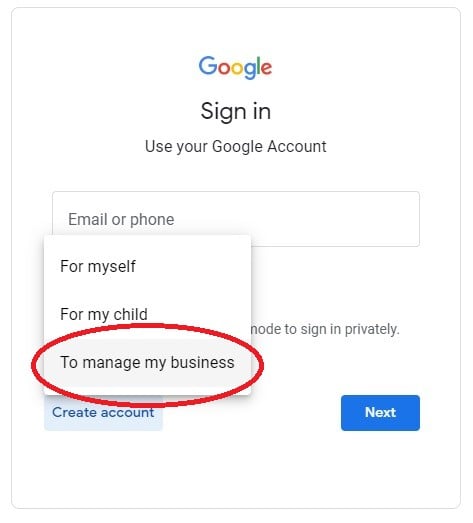 Enter your name and your desired email and password. Click "Next" to enter more information like recovery email, birthday, gender, and phone number.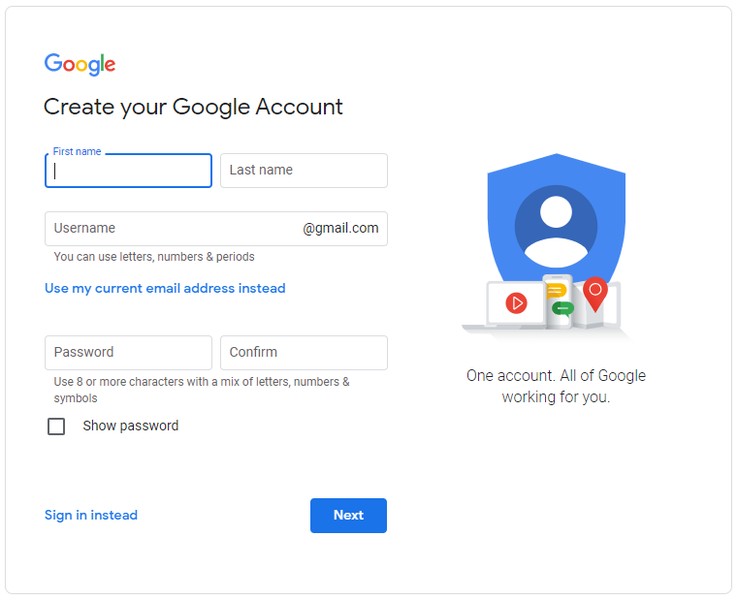 The last step, you should agree to Google's Privacy Policy and Terms of Service to get a verification code sent via text or phone call.
Congrats! You've just created a Google account.
Setting Up Your Business YouTube Channel
After creating a Google account, you need to create your channel first before you can upload anything to YouTube. Here are the steps you need to take to create a YouTube channel:
Sign in to your Google account
Head to YouTube
Click on "Sign In" on the top right of the screen and enter your new Google account username and password.

You may have signed in with your personal YouTube account. In this case, click on the gear icon to get to your account's YouTube Settings.
Click "Create a new channel"
Then choose "Use a custom name"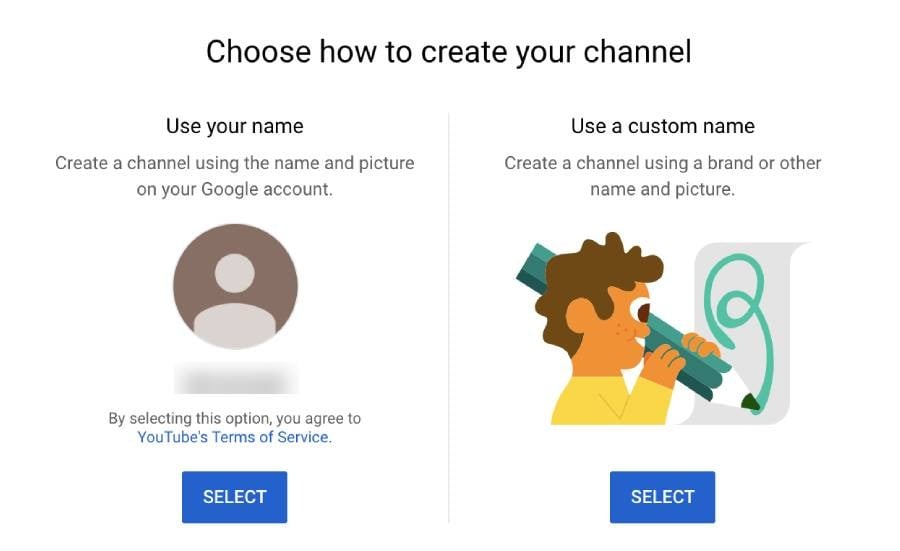 Add your channel name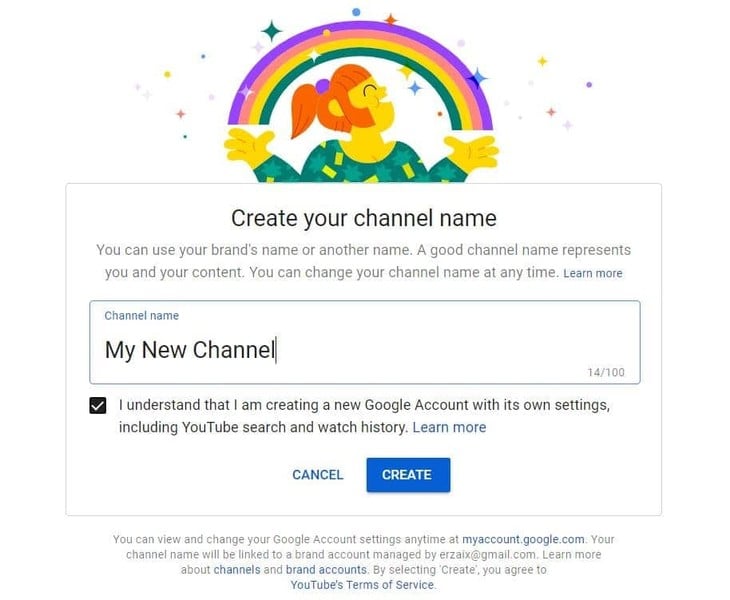 Click "create."
That's it! Now you're ready to utilize the channel to post your marketing videos.
Note: Don't forget to learn more about YouTube guidelines to what you can and cannot do on YouTube so you can keep your channel in the clear. See:What's Legal and What's Illegal to Use in YouTube Videos.
Finishing Up
Congrats! You've just created your Brand Account!
Now, you can just focus on creating valuable content, gaining subscribers, and interacting with your target audience worldwide.
If you are still clueless about growing your subscriber base, we have a handy guide here: Simple Methods to Increase YouTube Subscribers.
That said, before you start hosting your marketing videos to the platform, you might want to add and set some elements to make your channel more professional. Make sure you fill out these fields below:
Channel Name
Channel Description
Channel Location
Contact Email
Featured Link
Download our ebook to learn more about creating and developing YouTube for business:
A Comprehensive Guide to Creating a YouTube Channel for Your Business
Why Do You Need a Brand Account?
You've just learnt how to create a brand account for your business. But, why is it important, though? Why can't you just use a standard or personal channel to market your business?
The YouTube brand account provides you an option to change owners and managers while the personal channel is always associated with a specific person and their more personal email address.
That is so much more than that, though. Here are some of the benefits you will have from having a YouTube brand account:
Enhanced Security
YouTube Brand Accounts grant access through personal Google accounts without sharing information between profiles.
In this case, you can set up multiple channel managers while keeping your personal Google log-in secure at the same time.
More Customization
Standard YouTube account names your channel after the personal email address you registered with.
Meanwhile, with a brand account, you can also freely choose your channel's name and URL to make it more professional and trustworthy.
Team Collaboration
YouTube Brand Accounts feature two access types: owner and managers.
The owner of the brand account has the full access to add or remove managers, manage videos, edit business information, and interact with your audience in the comment sections.
On the other hand, managers' roles and access is slightly limited. Although they also have all the owner capabilities, they can't add or remove managers.
In-depth Analytics
YouTube brand accounts provide you with in-depth reports and analytics that you can use to understand audiences better, see the most eging content, etc., so you can adjust and improve your channel performance effortlessly.
Do you want to turn your personal YouTube account into a brand account? You may start by changing your URL first. Learn more about it here: Things You Need to Know Before Changing Your YouTube Channel URL.
Optimizing YouTube Channel and Video Content

While creating engaging content is a must, it's not the only factor for YouTube marketing success.
As mentioned at the beginning of this guide, YouTube can be a powerful tool to boost your website ranking on the SERPs, like Google.
But, you need to make sure that your channel and videos are optimized for both YouTube itself and within the Google search results.
Ignoring YouTube optimization can make your channel and videos easily get lost among the flood of never-endless streaming of content.
Remember, a staggering 500 hours of video uploaded every minute on the platform!
It's a battle for eyeballs out there.
Optimizing YouTube channels and videos might sound like a tedious task. Don't fret just yet, we'll help you get there.
Keyword Research
The first thing that you need to do is compile a list of potential keywords. You can do this by using YouTube's keyword suggestions like this: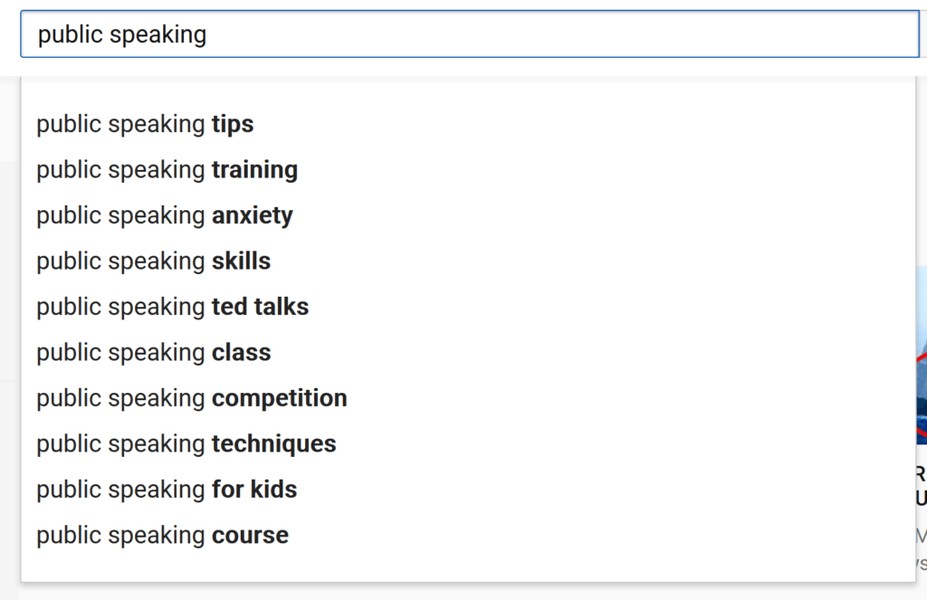 The terms suggested to you are based on other people's search queries. Ranking for those terms means you have viewers waiting for your video.
After compiling the list of keyword ideas, you need to pick the least competitive term by finding out which one returns the fewest number of results from your strongest competitors and large channels. For example, see the top results for "cooking tips":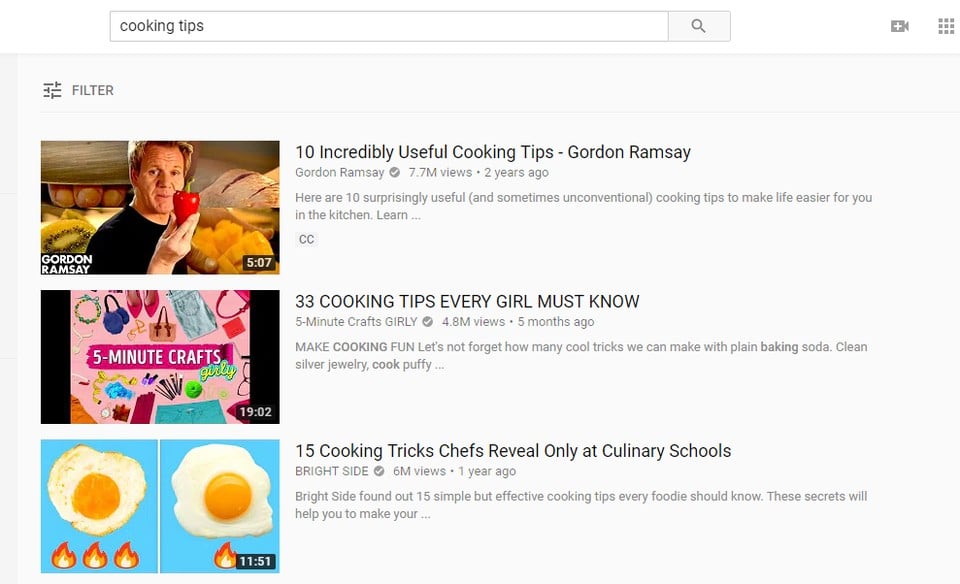 The results feature big names in the cooking scene like Gordon Ramsay and BRIGHT SIDE, but if you try to be more specific with your keywords, for example, "tips on cooking a turkey", see what happens: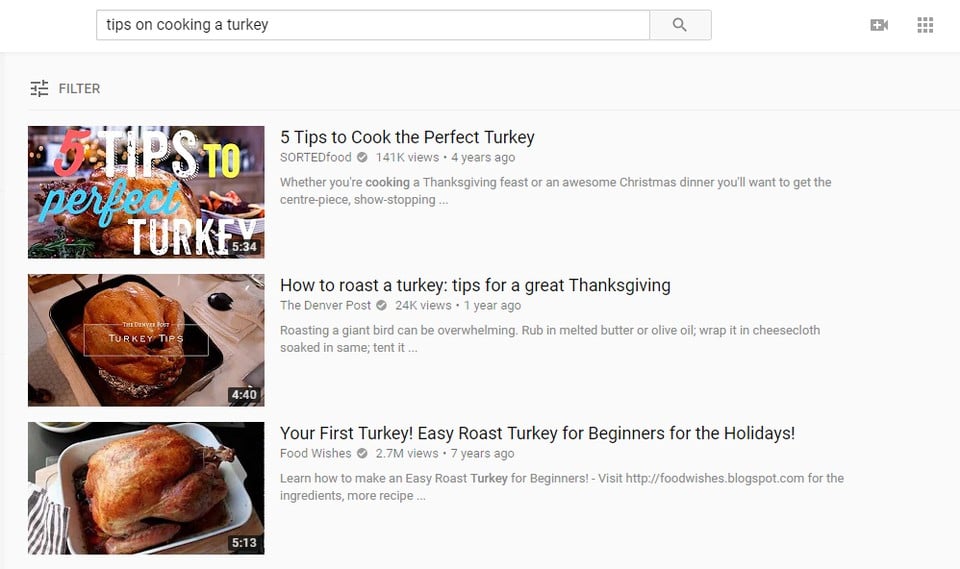 Competing for long-tail keywords is better for new and small channels compared to shooting for short-tail keywords which are commonly populated by large channels.
This is because YouTube users unconsciously associate the number of subscribers and views with credibility. If you're a new channel, you don't have those just yet.
Formulating Video Title and Description
Video title and description are two of the most crucial elements you need to pay attention to.
Other than giving the viewers an insight into what the video or channel is all about, they're both ideal places to include your keywords.
Let's see how we can optimize your YouTube videos using a well-thought video title and description.
Video Title
According to Brian Dean, the title of your video should have at least five words so you can include the entirety of your keyword without the risk of keyword stuffing.
Check out one of our most viewed videos on YouTube.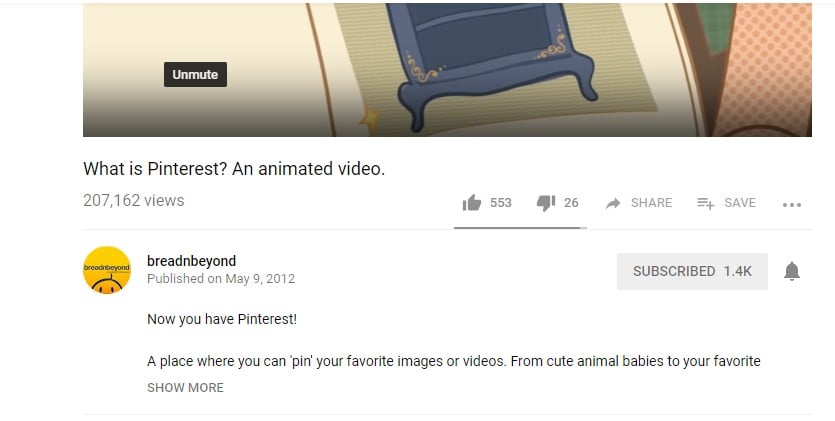 The term we wanted to rank for is"What is Pinterest?" – The rest of the title is just an additional description to make the title more enticing.
Video Description
Your video description helps Google and YouTube crawler bots to understand the context of your video – it's super important, to say the least.
There are some best practices that you can apply with your video description:
Descriptions should be at least 250 words
The first two to three lines (about 100 characters) will be shown. To see beyond that, viewers have to click on "Show more." Make sure you communicate core messages from the beginning.
Keywords must appear in the first 25 words
Your keywords should appear 2-4 times
Thumbnails
Now that your title and description are on point, you need to make sure that people who come across your video actually click on it.
One of the biggest deciding factors whether or not YouTube users click on your videos is the thumbnail.
The tiny preview of your videos is the first thing that users see when they find your videos.
That's why you need to make sure to create them eye-catching.
Here are some tips to make your thumbnail more inviting:
Use a high-definition image.
Apply the psychology of colors.
Include enticing words on the thumbnail.
Try to invoke a certain emotional reaction.
We've written an in-depth guide to create a magnetic YouTube thumbnail here:
Essential Tips to Creating Killer Thumbnails for YouTube
Video Tags
Video tags can help your videos generate views in certain ways. It gives Google and YouTube information about your video.
When YouTube and Google understand your video topics, they associate it with similar content -- which can amplify your video reach.
Here's how you can use tags for your videos:
The first tag should be your exact target keyword (Example: "Animated explainer video").
Include a few alternatives words or phrases (Example: "Animated explainer video for marketing")
Add several other tags for topics that your video covers (Example: "video marketing", "3d animation")
Targeted tags can also make your video show up more often in the suggested video section (sidebar area) of YouTube.
Note: don't go overboard with tags. Stuffing a video with dozens of tags can confuse YouTube and Google what your video is actually about.
In the end, they just ignore it.
And it's only going to hurt your video ranking.
So, make sure you provide 5-8 relevant tags that accurately reflect your videos' topics.
Video Category
Back when the YouTube algorithm wasn't a thing, the platform needed users' help to classify where their videos should appear.
Now that the algorithm takes care of categorizing your videos for you and showing them to people who would love watching it, video categories become less popular.
The importance of the video category has been debated, but it seems like no one is able to prove that it matters very much.
It doesn't matter for your video and channel ranking ability. And it doesn't affect views either.
However, it's still recommended that your video category be set accordingly to the content just in case it does become relevant one day in the future again. Remember, YouTube is always updating its algorithm.
Calls to Action
What's the best way to get people to do what you want? Well, you ask them!
It's crucial to add call-to-action to your YouTube videos. Therefore, users can understand the purpose of your video in the first place.
Do you want viewers to visit your website after watching your videos?
Do you want them to download your e-book?
Do you want them to join your newsletter?
Do you want them to subscribe to your channel?
Tell them clearly.
You can use the YouTube end screen feature to add your CTA at the end of your videos. It allows you to add links so the viewers can simply click on them to perform your desired action.
The description box can also be a potent place to write your CTAs down -- as well as the link.
Timestamps
YouTube timestamps help you with user experience, visibility, and searchability.
Timestamps make your videos more skimmable, so viewers can easily find and click on the content they need when searching via Google or YouTube.
Your video may be two minutes long, and a viewer doesn't have enough time to watch the entirety of it. Providing a time stamp on a video takes them directly to the point where you want them to watch.
It helps users save time and increase retention, which can lead to a positive user experience.
Creating a positive user experience is what YouTube loves. The platform tends to rank the video with higher audience watch time and audience retention.
Here's how you can add timestamps to your videos:
Play the video and make a note of the time and reference it.
Navigate to the 'Description' field on the new video. You can edit the published video too.
To link to a specific timestamp, type the specific time in minutes:seconds (or hours:minutes:seconds, if it needs to be more specific) and add your keyword-optimized video segment's name.
Click 'Save.'
Reload your published video. The timestamps should be added automatically to your videos. You might as well check the 'Description' section has been updated accordingly.
Subtitles and Closed Captions (CC)
Subtitles and closed captions allow you to optimize your video for search by giving you the opportunity to highlight your crucial keywords.
Not to mention that they also help viewers to understand what your video is all about when they watch it with the sound off.
Subtitles are also helpful to reach out to more viewers from different countries, making your videos even more accessible to broader audiences.
Playlists
Playlists allow you to group similar, same-themed videos (from your own channel or different users) in one place.
This way, you can encourage viewers to continuously watch similar content. It automatically plays all of the videos in the playlist, so it can increase your watch time.
Playlists also make your videos look more organized, professional, and easier on the eyes.
Promoting Your YouTube Channel

Do you know that there are more than 37 million Youtube channels out there?
Optimizing your videos might boost your channel visibility. But, relying on SEO too much is a waste of time.
Yup. Creating great content on YouTube and optimizing them are only half the battle to grow your channel.
You need to promote your channel by going beyond the platform itself to gain subscribers, views, and hopefully paying customers.
Article Related: How to Get More YouTube Subscribers.
Fortunately, YouTube makes it easy for you to share your video content. Below are some handy tips to spread the word about your YouTube channel so it can get all the attention it deserves.
Place Videos on Website
Your business website should be one of the most must-use places to host your YouTube videos.
You can add a YouTube icon at the bottom of your website -- along with other social media buttons. This is a friendly way to promote your YouTube channel and help visitors explore your business more.

You can also share your videos on the homepage, landing pages, FAQ, product page, and more. It depends on the type and purpose of your videos.
For instance, when you have a customer testimonial video, it would be best to place it on landing pages to convince visitors to convert into paying customers.
Meanwhile, when you have an explainer video, the homepage can be such an ideal place to host it.
You should consider embedding a relevant video to your blog posts too.
Not only will this help market your YouTube channel and videos, but it will also bring more value to your visitors so they can always come back for more.
Read More: How to Embed YouTube's Subscribe Button on Your Website.
Share Videos on Social Media
Sharing your YouTube videos on other social media platforms is a handy, easy way to boost its visibility.
With more than 4.2 billion users worldwide, social media platforms are online places where your target audiences hang out and spend most of their time online.
To share your YouTube videos on social media, you can simply click on "Share" under the YouTube video you want to be featured on.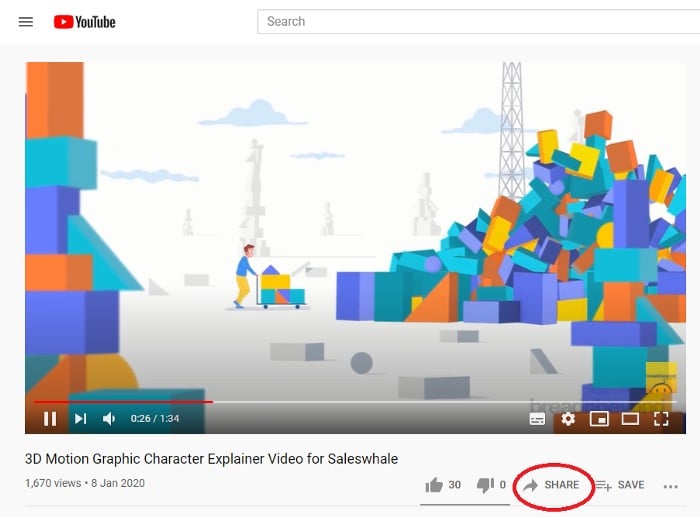 You can select the social media platform you want to use to share your video on, from Facebook to Twitter. You can also use the shortened URL that YouTube provides for convenient posting.
When it comes to sharing your YouTube videos on social media platforms, you need to make sure that the video itself can add an extra boost to your interaction with your audiences or following.
Bombarding your social media audiences with your YouTube video links just won't cut it. You need to explain why you need your video and why your audiences need to watch it.
For instance, you create a company profile video and post its link to your bio so your audiences can understand your business more.
You can also share your YouTube marketing videos to other video-sharing platforms like Vimeo, Vidyard, and more. Don't forget to add the YouTube link on the description or even the screen so the viewers can find your channel faster if they're interested to watch more videos from you.
Take a look at other digital platforms you can use to promote your YouTube videos outside the platform itself: Best YouTube Alternatives to Host Your Videos.
Add Videos to Emails
According to the stats, adding the word "video" on your email subject line can have a dramatic increase in your email engagement.
It will boost the open rate by 6% and the click-through rate can also be improved by 300% just by incorporating video content in emails!
So, it's clear that emails are a perfect medium to boost your YouTube videos visibility while the video itself can improve your overall email engagement. It's a win-win.
The handiest way to embed YouTube videos to email is by copying the YouTube video URL and pasting it into the email body. You might as well add a static image using a play button to entice your email subscribers to click on it.
Collaborate With Influencers
YouTube is a home for influencers. They have massive subscribers and a solid fan base that can help you to showcase your channel and reach a wider audience on the platform.
According to Google, more than 60% of YouTube subscribers are more likely to follow shopping advice from their favorite creator compared to their favorite TV personality.
The reason?
Because they find it much easier to relate to the creator themselves. So, collaborating with an influencer may be an ideal way for you to boost your channel visibility as well as generate trust and reliability for your business.
If you use YouTube to promote your product, let them do all the talking. It makes the whole review more genuine and viewers and their subscribers will see it from a mile away.
After reviewing your product, ask them to shout out your YouTube channel too so viewers can explore more about your products or business through your YouTube videos.
Understanding YouTube Metrics and Analytics

Creating a channel, crafting video content, and promoting your videos mean nothing when you ignore YouTube metrics and analytics.
Metrics and analytics help your YouTube marketing strategy on track and give you insights into what's working and what's not.
When you dive into YouTube metrics and analytics, you will see an incredible wealth of information about your audiences, such as their geographic location, keywords they use, how many minutes they've spent watching your videos, and more.
All of these can help you refine your YouTube strategies over time and create video content that your viewers actually love.
Let's take a look at essential metrics you, as a marketer or business owner, should pay attention to.
How to See Your YouTube Analytics
Login to your YouTube account
Click on your profile icon in the upper right corner, and select "YouTube Studio."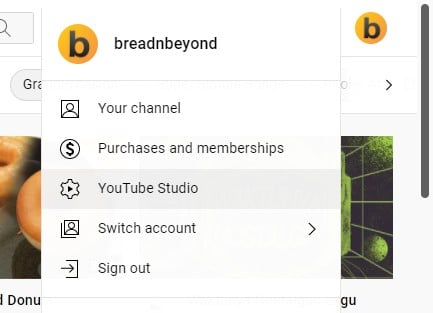 You will see the summary of your channel performance on the Channel Dashboard.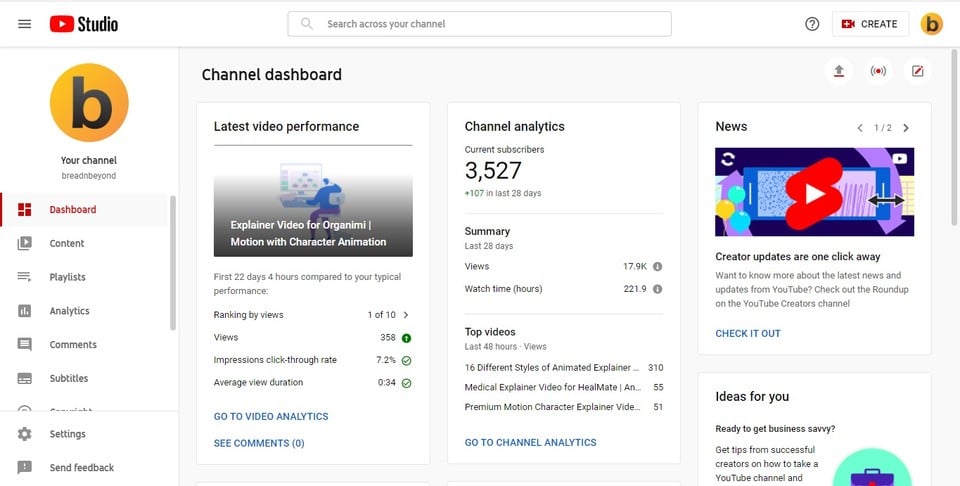 To go more in-depth, select "Analytics" from the left-hand menu. You can toggle between Overview, Reach, Engagement, Audience, and Revenue. It all depends on the information you are looking for.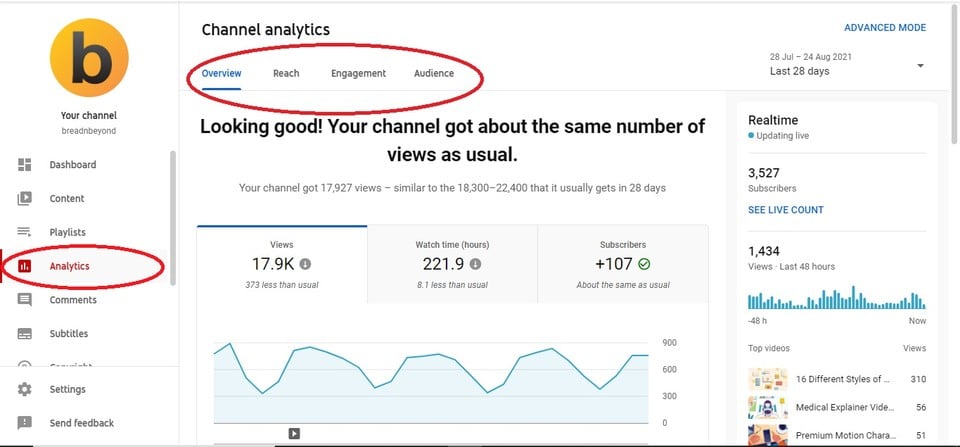 If you need a more detailed breakdown of your channel analytics -- as well as metrics for each video you uploaded, select "Advanced Mode."

You can gain in-depth insights into your viewers' data and behavior, such as locations, gender, age, date, and more.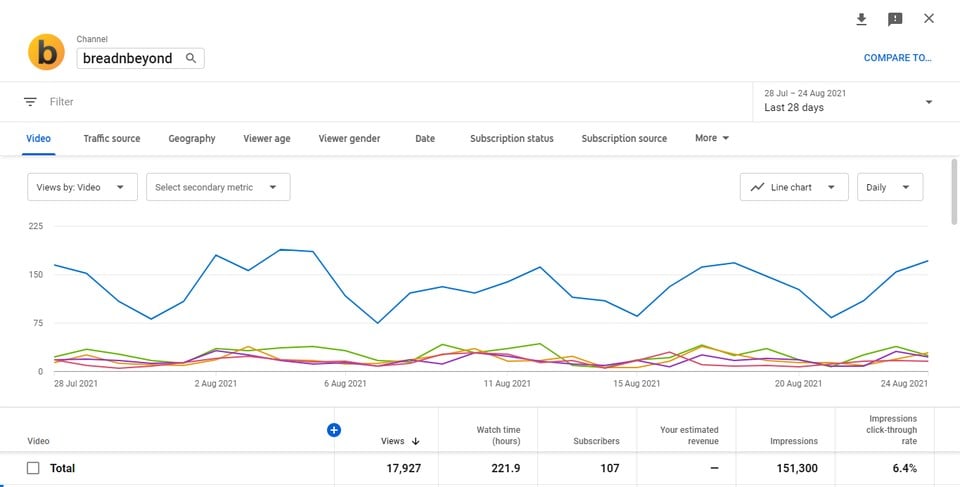 If you click on "Compare to" in the upper right corner, you can compare period-over-period and year-over-year channel growth as well as the first 24-hour video performance.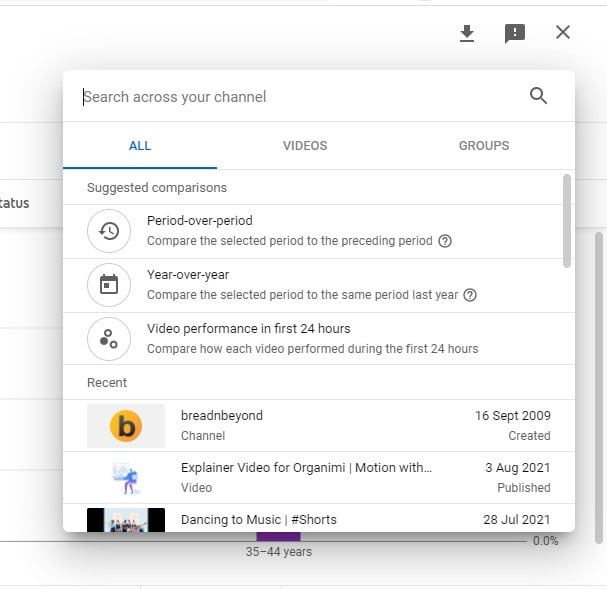 Essential Metrics You Should Pay Attention to
YouTube metrics factor your ranking in the algorithm, so they're worth taking seriously. But tracking all metrics can only bring you headaches.
Instead of overwhelming yourself with a ton of information from all metrics, you can choose to focus on the data that matters most to you.
In other words, you need to understand which ones that you should pay attention to, and it all depends on your goals themselves.
However, when it comes to YouTube for business, there are at least four metrics that are crucial to track.
Watch Time
This metric tells you the average percentage of time spent watching your videos. It helps you understand what pieces of content your audiences really watched instead of clicking it and immediately closing it.
One thing to bear in mind is that a video with a higher watch time is more likely to rank higher in results. Search engines like Google prioritize and value a piece of content that audiences actually enjoy.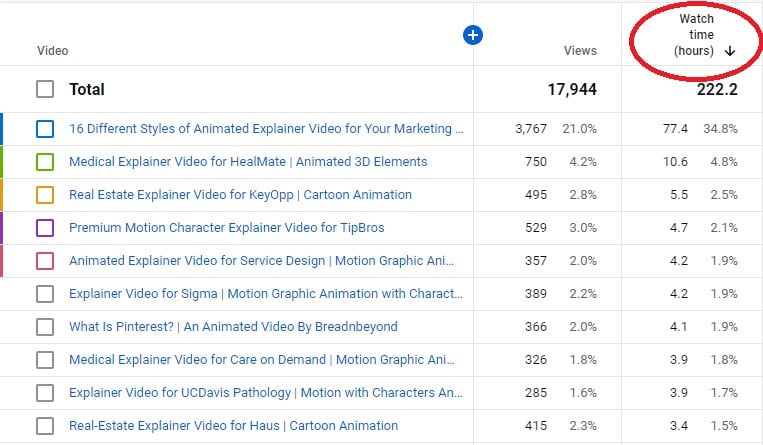 So, those videos with higher watch time are worth adding CTAs to like "next video" or "you might also like" using cards and end screens to boost other videos' visibility.
Demographics
Demographic metrics help you to get a handle on who your audiences really are; their geographic locations, ages, and gender.
Having a solid understanding of your audience can make it much easier for you to produce content that resonates and appeals to your demographic.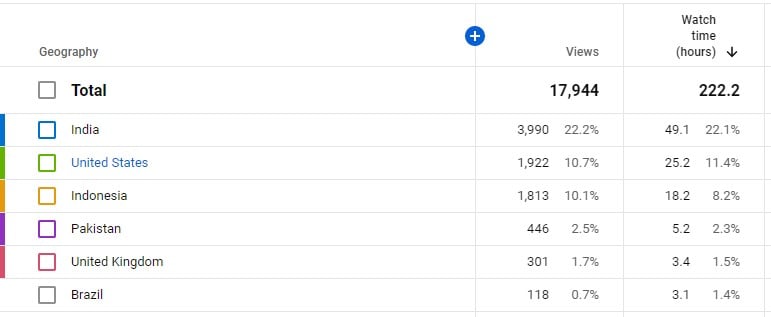 You can also use the data to compare it to your buyer persona -- and ensure they match.
Traffic Sources
The traffic source metric indicates where viewers find your videos, such as YouTube search, browse search, suggested videos, channel pages, direct visits, YouTube advertising, and others.
When you know how and where viewers are finding your video content online, you can find which sources you should focus on to best promote them.

For instance, you find that your blog posts drive reliable traffic to your YouTube channel, which means you want to embed more videos to blog posts.
Engagement
Engagement reports show you what videos get the most clicks, views, comments, likes, and shares.
Analyzing this metric can help you understand what content your audiences love and interact with most.
YouTube engagement is crucial for your channel's success. When you do it right, you can build an authentic relationship with your audiences by creating content that inspires meaningful interaction.
Also, higher engagement means YouTube may see your videos as valuable and suggest them to people viewing similar content.
YouTube Marketing: Best Practices

Topics covered in YouTube videos vary from funny videos of people falling to TED talking about how to hack people's computers.
The range of topics covered in YouTube videos is vast. People can find anything they want to find on YouTube -- but how do you grab their attention, make them watch your videos all the way through, and hopefully become a loyal subscriber?
These best practices below will guide you through it:
Make Sure Your Channel Is All Set
First thing first. You need to make sure that your channel looks professional.
All of the optional elements, including channel banner (cover image), trailer video, profile picture, About section, etc., are all set. This will make your channel trustworthy and users can understand what your channel is all about.
When you have their trust, you have a higher chance to convince them to watch your videos and even make them subscribe to your channel.
To make sure your channel is appealing enough for the audience, check out this guide:How to Make Your YouTube Channel More Appealing.
Learn More About Your Audience
Make sure you set aside some time to learn about your YouTube demographics.
Understanding your audience can help you create videos that resonate with them so you can make them stick around your channel.
Collect whatever qualitative data you can find. We've talked about demographic metrics before. You can use the data to understand where your viewers are actually coming from, the age range, and more.
If viewers have left comments, read through them to see what you can learn about their interests and preferences.
You can visit the Community tab, too. If there's something specific you'd like to know more, you can ask your audiences using this feature by posting a question or creating a poll.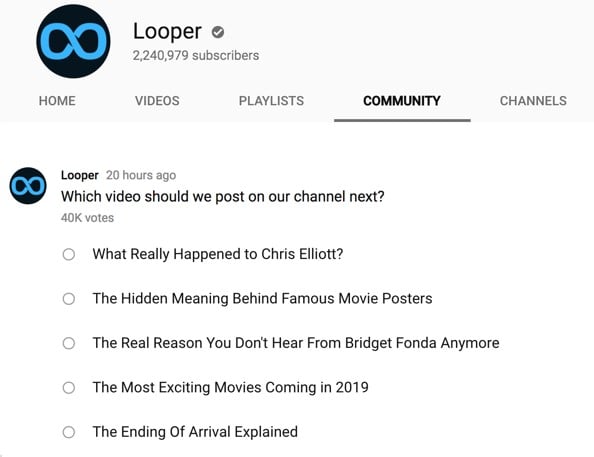 Learn more about using the YouTube Community tab here: How to Post Messages to YouTube Subscribers.
Research Your Competitors
Whatever marketing platform you are using, it's important to always research your competitors there.
After all, YouTube is a competitive space. By understanding your competitors, you can see how your channel measures up and identify opportunities.
The easiest method to research your competitors on the platform is by looking up possible keywords in your niche.
Searching for terms you want to compete in will show you who your competitors are. You can use Google Ads' free Keyword Planner to see which channels rank for keywords associated with yours.
When you find your competitors, you can learn from them. See how they use the titles and what kind of content they create.
Chances are their audience will overlap with yours.
Read the comments on their videos to see what their audiences are saying. You will understand how you can do better than them.
Get Inspired from Your Favorite Channels
You can take some notes from your favorite channels on the platform. What makes you keep coming back to those channels?
Is it because of the unique content? The value they deliver? Or simply the style and tone they use that are appealing to you?
Even if those channels have nothing to do with your business or industry, there's a lot you can learn from them, such as their production values, the style of shots, the video length, even special effects or text overlays.
If you are going to create an animated YouTube channel, you can check out these superb channels for some inspiration: 60+ Must-Watch Animated YouTube Channels in Every Category.
Create Eye-Catching Thumbnails
We've talked about it briefly before. Effective thumbnails make users click right away and keeping them consistent makes your YouTube channel more recognizable.
An eye-catching thumbnails are not just those
It's always better to include short descriptions or headlines in your thumbnails to help users understand what your video is about in a glance.
Things to consider when creating your thumbnails:
The ideal YouTube video thumbnail size is 1280 pixels by 720 pixels
These YouTube thumbnail dimensions use an aspect ratio of 16:9
Make sure your thumbnail size is a minimum of 640 pixels wide
Thumbnail images should be under 2MB
Here is an example of clickable thumbnails that Brian Dean uses on his channel. He adds the title to help the audience understand what the video is going to be about.
Also, he uses his face, adds a bit of illustration, and includes catchy colors to make his videos recognizable.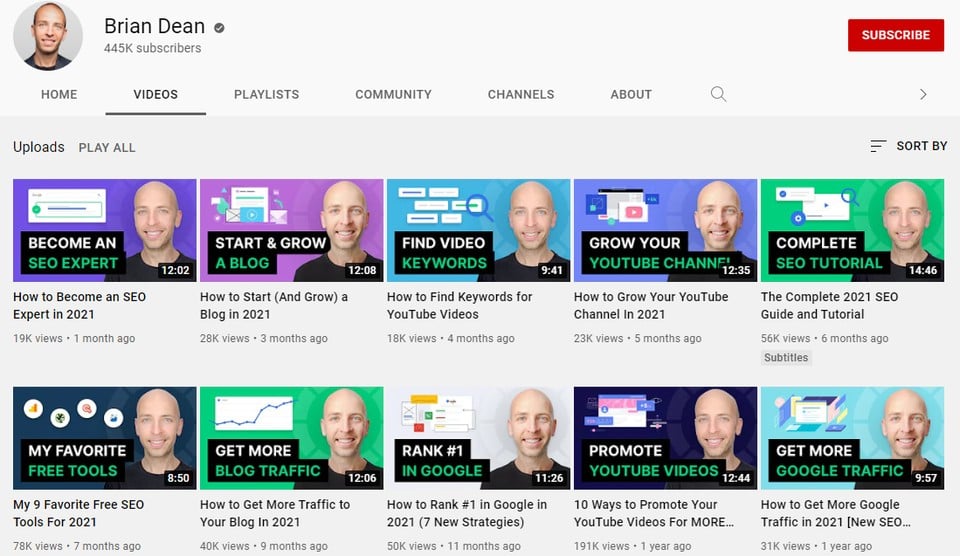 Create a Channel Trailer Video
A YouTube channel trailer is a video designed to help audiences quickly learn about your channel.
When enabled, the trailer is displayed at the Home tab of your YouTube channel page and plays automatically for the audience.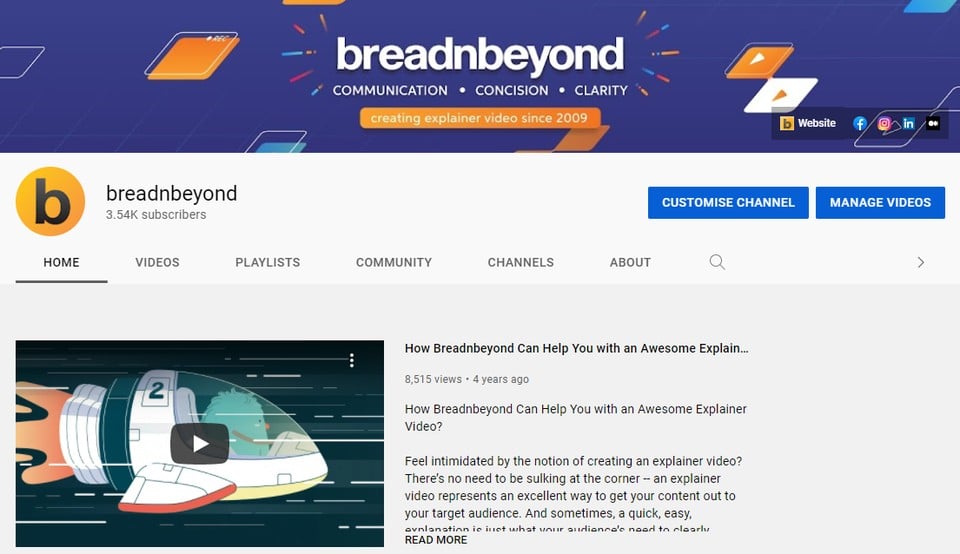 You can say that it provides you a way to create a positive first impression for the audience.
Remember, on YouTube, first impressions really matter. It is what makes them remember your channel and come back for more.
On the channel trailer, you can tell why you create the channel, what content you create, reasons why the audiences should always stay tuned, a highlight reel of your video content, and more.
The key here is to give an overview of your channel and help the audience understand it better with only one click and a few minutes (even seconds).
Values. Values. Values!
I got it. Since you create YouTube for your business, you might think that the whole channel should be talking about your product or service.
But that's not actually what your audiences want.
No one ever wants to watch a video that talks about a product all the way until the end. It's boring.
You need to provide them with values.
Make sure you deliver content that brings crucial information which can make your audience's lives any easier.
You can highlight their pain points and how your offering can help them solve their problems. They will understand why they need your product or services.
This way, you can make your videos more informative and less hard-selling.
Create Intro and Outro for Videos
Intros and outros are crucial for you to have. It helps your audiences know who you are and create the first impression.
Creating a customized intro and outro also shows them that you take your channel seriously. It makes your YouTube channel more professional and makes your videos look more appealing and recognizable.
Here are some best practices to create a memorable intro and outro for your YouTube videos:
The maximum length for an intro is 15 seconds — a long intro can make the audience click away before they even watch your content
Add seamless graphics and catchy transitions
Include logos to increase brand recall
Add unique background music
Add a call-to-action (e.g., subscribe to the channel, visit social media profiles, and more).
Do you want to create your professional-looking and fully customized intro or outro for your YouTube videos? We can help! Get Your Animated Intro Sequence Now.
Maintaining Update Schedule
When it comes to YouTube marketing strategy, consistency is key. In other words, you need to constantly upload new content to engage your audiences and show that you take your channel seriously.
Also, consistently updating your channel with content will keep your channel feed active, increase your presence on the platform, and of course, help you build a solid audience base.
That said, scheduling is one of the things that many popular creators struggle with.
But a few who manage to upload videos regularly have gained the results. In this context, quality doesn't always win over quantity -- but it all depends on the goal you want to reach with your channel.
Earning Money
Create as many videos as possible within a realistic time frame. PewDiePie, the most subscribed YouTube channel, uploads a new video almost everyday. And he's been doing this for more than 10 years now.
Learn how to earn money from your YouTube channel: A Comprehensive Guide to Making Money on YouTube.
Brand Building
The quality and relevance of your videos should be the main priority. You can still earn money from your videos, but that's not why you're making videos.
In fact, many independent YouTube creators take their time in making videos for the sake of keeping their personal branding up.
Creating Interactions
Providing valuable and useful videos (e.g. tutorials, best practices, etc.) should be your main concern in building and maintaining a loyal customer base for your business.
Generating Leads
YouTube can also be an ideal place when it comes to generating more qualified leads. You can use your valuable videos for lead generation strategy so you can keep your sales funnel full.
Download our e-book for an in-depth guide on how to use YouTube videos for lead generation: How to Generate Leads from YouTube.
To give the lead generation strategy an extra boost, you may also consider going beyond YouTube itself.
See how you can generate leads from your YouTube videos outside the platform: Using Videos Outside of YouTube for Lead Generation.
Keep Your YouTube Channel Safe and Convenient
Imagine having a decent amount of subscribers and you're finally getting the recognition you've dreamt of, but suddenly you can't log in into your own account because it's hacked.
What a nightmare.
When you think that your YouTube channel is the livelihood of your business, then you may take an effort to protect it.
The main security method is to use a strong password (contain combinations of letters, numbers and symbols, with at least eight characters).
Also, make sure you activate two-step verification. It prevents someone from accessing the account with only the password.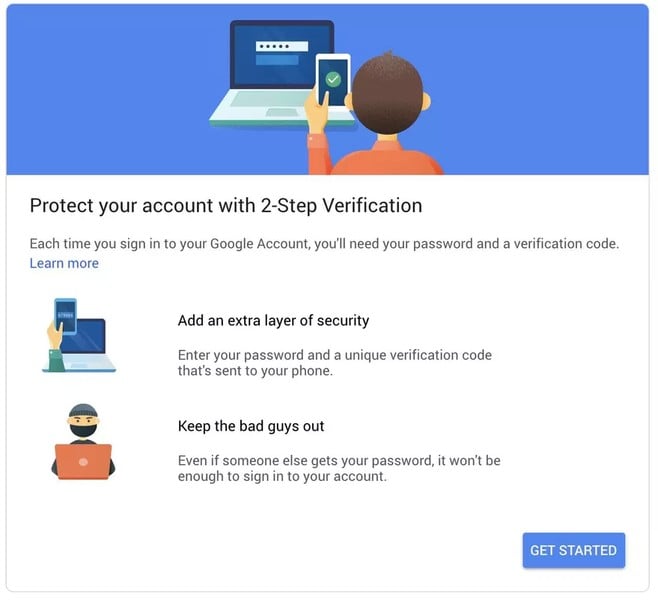 Another important tip is to be on the lookout for suspicious messages and content that often request personal information.
In this case, you should manage any suspicious or spammy comments on your channel that may come from malicious users.
See how you can get rid of spams on YouTube: A Handy Guide to Managing Comments and Spam on YouTube Videos.
YouTube Marketing Tools You Need

Managing a YouTube channel doesn't have to be that hard.
With tons of YouTube marketing tools available out there, it would be much easier for you to optimize your videos, monitor the channel's performance, distribute videos at your fingertips, and more.
These tools below help you to get a grasp on your channel and give you data sources so you can see a holistic picture of how your channel is actually performing.
TubeBuddy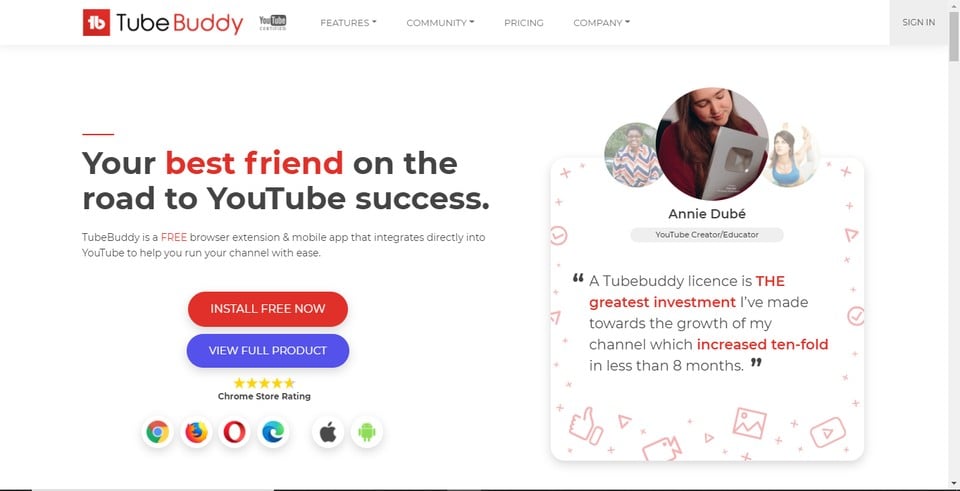 TubeBuddy is a Chrome extension that makes your YouTube management much easier. You can easily manage subscriptions, organize videos into playlists, and schedule new uploads – all from within the browser.
From keyword explorer to auto-translator, this tool helps you improve your channel and performance. It also helps you identify opportunities for optimization by offering insights into what's working (and not working) on your video content and how much traffic it generates.
Canva

Canva is a design graphic tool that can help you create eye-catching thumbnails, channel art, and a customizable banner for your channel. This tool provides you with ready-to-use templates.
Canva makes it as simple as a few clicks. All you need to do is change the color, font, and image to match your channel personality.
With a drag and drop editor, Canva allows you to craft professional-looking thumbnails and banners effortlessly even if you do not have any design skills.
Tubics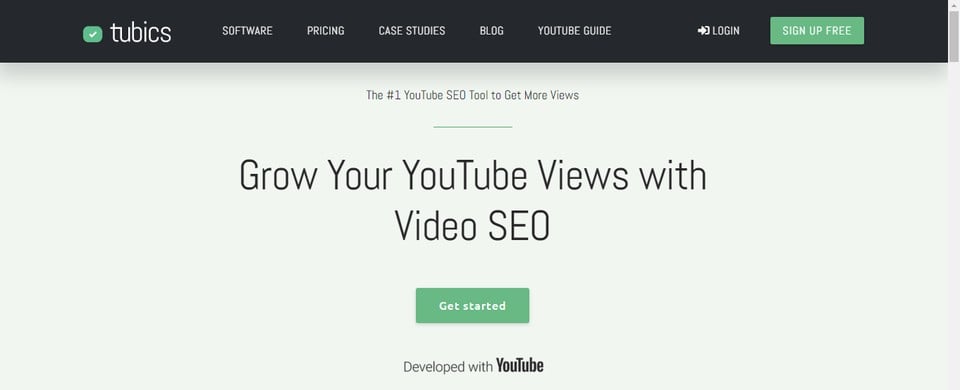 Tubics is another essential YouTube marketing tool you need. It helps you create a highly optimized and searchable video with detailed analytics.
Other key features include tag generation, keyword monitoring, SEO recommendations, thumbnail A/B testing, and more.
With this tool, you can also track your audience's behavior on YouTube (when they watch what part of the video) in order to make better videos for them next time. It also provides competitive insights so you can see how well other channels are performing.
Social Blade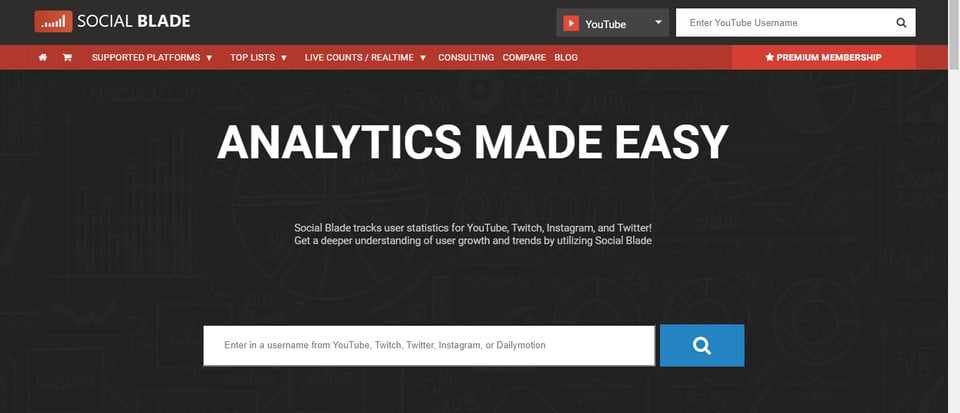 SocialBlade is another online tool that lets you track your YouTube channel growth and get relevant statistics about it.
It will provide information such as subscriber count, views per day or month, estimated earnings, top videos (for both subscribers and total views), related channels for comparison, etc.
When you focus on tracking your channel's progress and growth, SocialBlade is a great tool that can help you with it. There's also real-time live monitoring so you know what's happening with your channel right now.
VidIQ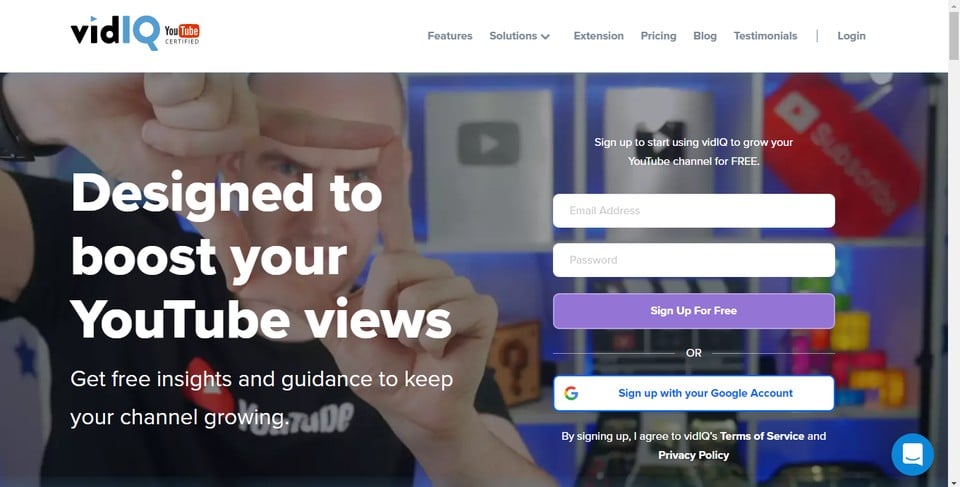 VidIQ is a YouTube optimization and management tool that can make your videos more engaging and attractive to both human viewers and search engine algorithms.
Most features of this tool are mainly designed to help you stand out in the platform and outsmart your competitors, such as keyword research, competitor analysis, what's trending, compare views, and more.
With VidIQ, you can see the true value of YouTube marketing because it helps you get better results in terms of rankings on Google while also improving viewer engagement at the same time.
AgoraPulse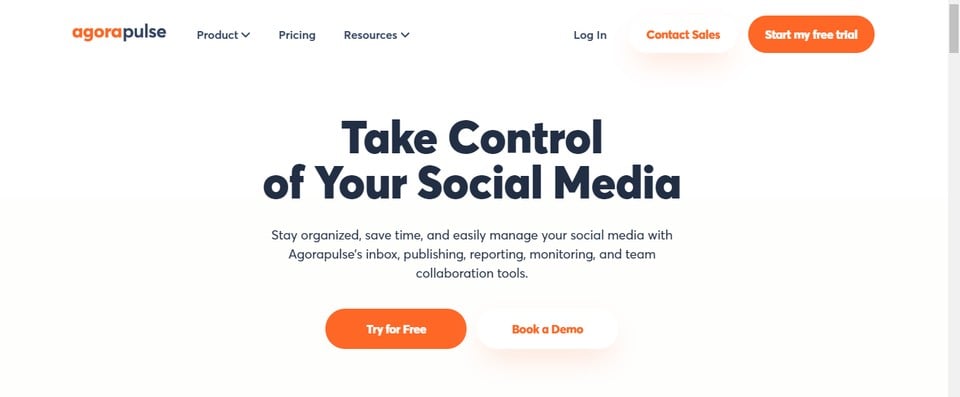 AgoraPulse helps you manage your presence on YouTube by helping you monitor and interact with your audience.
You can use its free version for basic functions such as managing channels, scheduling posts, engaging with viewers through comments and messages, tracking engagement levels of individual videos, moderating user-generated content using the community management module, and more.
YouTube Advertising

There's no such thing as an overnight success when it comes to YouTube marketing.
You need consistency and never-ending ideas to create engaging content to attract more and more viewers, turn them into subscribers, even customers.
In other words, YouTube marketing is indeed taking quite some time and energy (patience, too!) before you can see visible results.
However, you can invest in YouTube Ads to see quicker results.
YouTube ads allow you to precisely reach the right people when the content you offer is the most relevant to them.
It makes your campaigns more targeted., and of course, more efficient too.
4 Common Types of YouTube Ads
There are at least three most popular video ads on YouTube. You might have seen all of them.
Let's walk through and take a gander at the details!
Skippable Ads
These ads play mostly before or during a video (a.k.a. pre-roll). Sometimes, they appear in the middle of the video too (this time we call them mid-roll).
Their defining feature is that your audiences can choose to skip them after the first 5 seconds.
The minimum length for non-skippable ads is 12 seconds. And you can create videos for up to 60 minutes.
But, we recommend you to always keep it short. The study shows 2 minute is the sweet spot for most marketing videos.
Since these ads play automatically for 5 minutes, before the skip button appears, you have to make sure to catch audiences' attention right off the bat.
The adage "save the best for last" definitely doesn't apply here.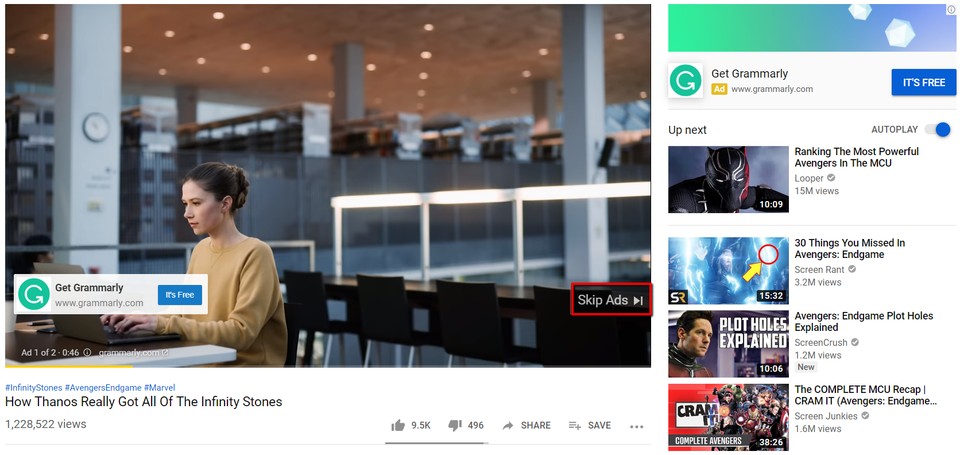 Non-skippable Ads
According to the stats, more than 76% of users tend to automatically skip skippable ads.
Therefore, some marketers prefer to invest in ads that don't have a skip button at all. So, they have to wait until it ends to enjoy the actual video they want to watch.
The unskippable ads usually roll for 15 seconds.
When your main goal is to build a solid brand awareness and you have the confidence to craft an engaging 15-second message, then this type of YouTube ads might be for you.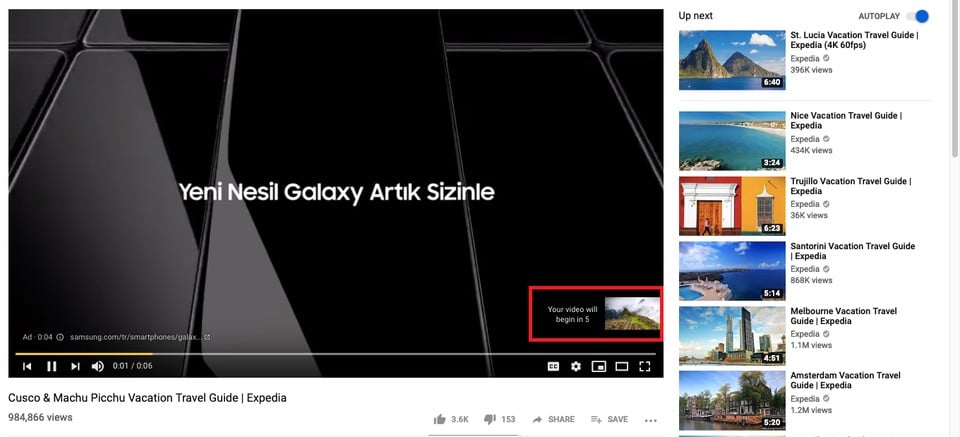 Discovery Ads
We've talked about skippable ads and non-skippable ads which are categorized as in-stream ads since they both function like a traditional TV commercial.
Meanwhile, when you want to boost your channel visibility and reach new audiences, discovery ads are a good option.
Discovery ads work actually really similar to Google search ads. It appears on YouTube search results alongside organic search results.
Well, do you remember that YouTube is the second-largest search engine in the world?
These ads consist of an image thumbnail and up to three lines of text. When a user clicks on the ad, they will be redirected to YouTube watch or channel page to view the video (rather than playing the video within the ad unit itself).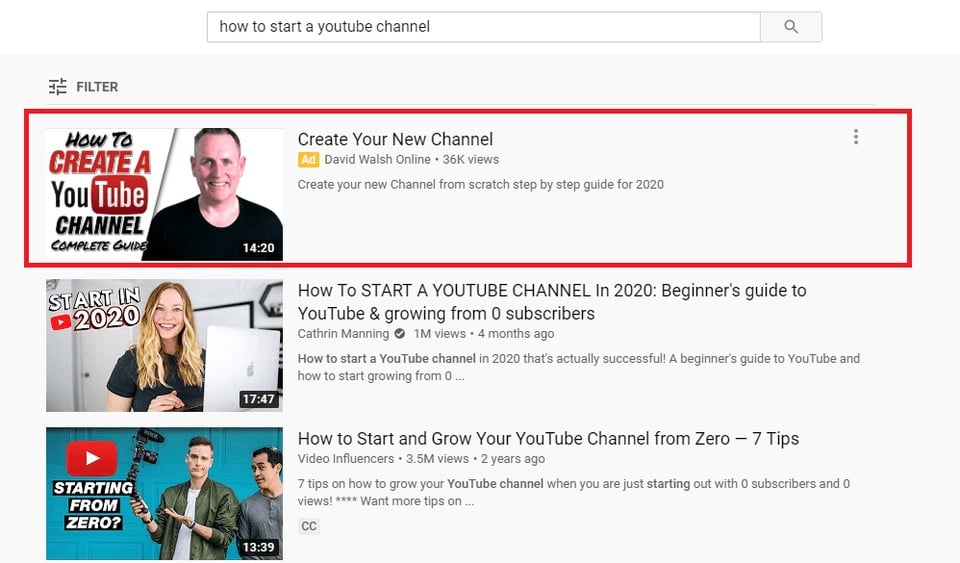 Overlay Ads
Overlay ads or banner ads are small static images that appear as an overlay at the bottom of a video while it's playing.
This type of ad is one of the least expensive if we compare it to other YouTube ad options.
When a viewer clicks the banner or image, they will be directed to a landing page without having to exit the YouTube tab.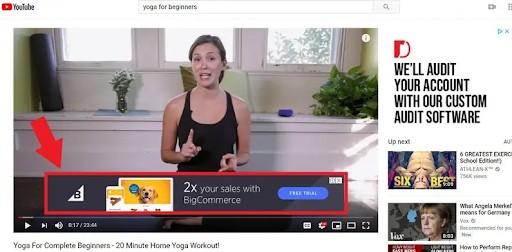 How Much Do YouTube Ads Cost?
A quick answer: it depends.
There isn't a fixed amount when it comes to YouTube advertising cost.
The cost of a YouTube ad will vary depending on many variables, including:
Video ad format you're going for
Demographic you are targeting
Marketing goals you're trying to achieve
Keywords you are bidding on
Video length and complexity
Number of camera angles and words in the video script you use
For instance, when you aim for more specific target audiences, more marketing goals, and more competitive the keywords you're targeting, then it's more likely you have to spend extra bucks for the ad.
That said, the average YouTube in-stream ads (e.g., skippable and non-skippable ads) will cost somewhere between USD$0.10 and $0.30 per view. Meanwhile, the Discovery ads will cost about USD$0.30 per click.
Pro Tip: You can set a minimum daily budget of USD$10 for the YouTube ad campaign. YouTube will display your ad until the daily budget is spent. Then, you can decide to raise this amount once you find what works best for you.