We are all familiar with what YouTube is and what it does. Chances are, you've watched a couple of videos there in the past few days yourself. YouTube offers a number of advantages as a platform, one of which is providing businesses with a place to engage their audience with video content.
The current state of digital culture forces companies to step out of their comfort zone and try out highly in-demand marketing platforms like YouTube. This is our guide to YouTube for business, where we put together the best strategies to help you succeed in a competitive marketplace.
The Basics of YouTube

Creating a YouTube Account
YouTube is a subsidiary of Google, so if you have a Google or Gmail account, you're pretty much set. But in case you don't, here's how you go about creating your Google account.
Head over to Google.com or Gmail.com
Sign Up
Head over to YouTube.com
Make sure you're logged in to your Google Account
Click "Sign In"
Done!
Setting Up Your YouTube Channel
After signing up, you need to create your channel first before you can upload anything to YouTube. Here are the steps you need to take to create a YouTube channel:
Sign into Google account
Head to YouTube
Click on the user icon at the top right of the screen
Click on the gear icon to get to your account's YouTube Settings
Click "Create a new channel"
Then choose "Use a business or other name"
Add your brand name
Click create
That's it! Now for preparing your channel for the world to see. These are several important elements to set up:
Channel Name
Channel Description
Channel Location
Contact Email
Featured Link
Download our ebook to learn more about YouTube for business:
Researching Your Competitors on YouTube

Whatever marketing platform you are using, it's important to always research your competitors there. The easiest method to research your competitors on YouTube is by looking up possible keywords in your niche.
Searching for terms you want to compete in will show you who your competitors are, which makes it easier for you to make your next more: creating your first video.
Deciding on Your YouTube Marketing Strategy

There are various ways to promote your brand on YouTube. Here are some of the most popularly used paid methods to promote brands on YouTube:
Partnership with Creators
Paid Ads
Affiliate Links
This doesn't mean you have to do any paid marketing campaigns, though. You can still generate organic reach for your brand. Let's take a look at some content marketing methods on YouTube:
Rage Marketing
Hype Train
Influencer Marketing
Collaboration
It doesn't matter how big of a reach that you gain if your own content is not really worth staying for. You need to create not only high-quality content, but also content that people want. Here are several types of videos that are popular on YouTube today:
Tutorial Videos
Educational Content
Video Series
Advertising on YouTube
YouTube advertising is increasingly popular because of several things, including:
Hyper-targeted viewers
Availability of influencers/creators
Scale of reach and engagement generated from ads
Optimizing YouTube Channel
and Video Content

Keyword Research
The first thing that you need to do is compile a list of potential keywords. You can do this by using YouTube's keyword suggestions like this: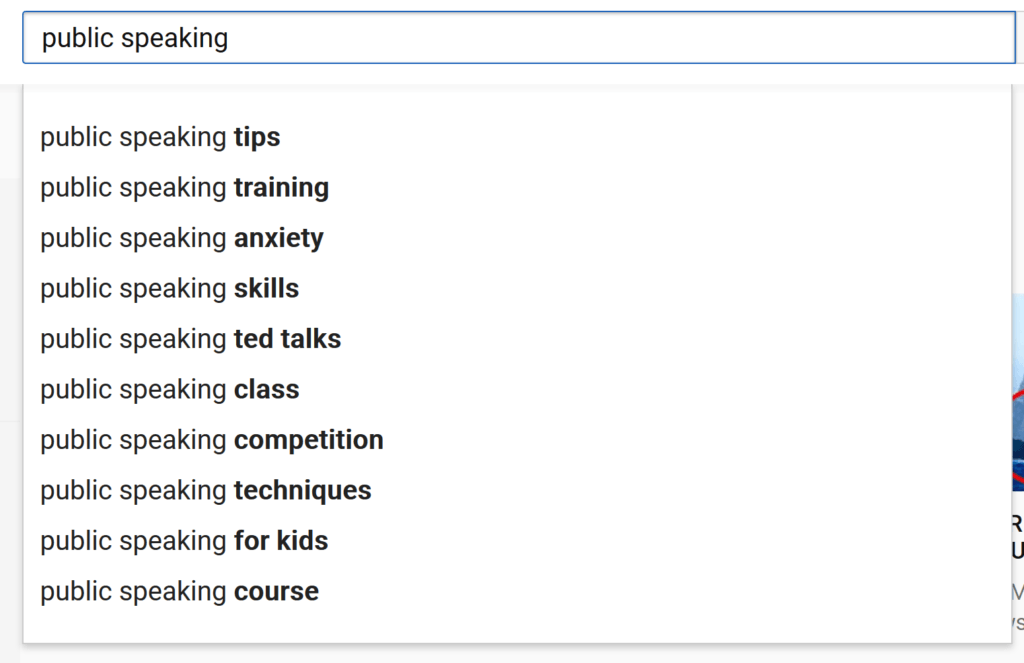 The terms suggested to you are based on other people's search queries. Ranking for those terms means you have viewers waiting for your video.
After compiling the list of keyword ideas, you need to pick the least competitive term by finding out which one returns the fewest number of results from your strongest competitors and large channels. For example, see the top results for "cooking tips":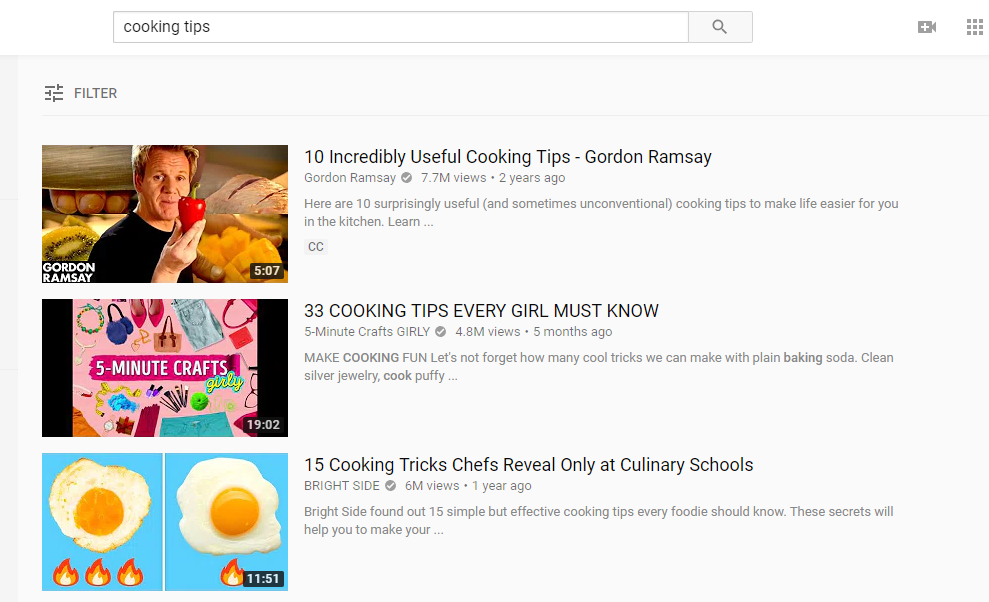 The results feature big names in the cooking scene like Gordon Ramsay and BRIGHT SIDE, but if you try to be more specific with your keywords, for example "tips on cooking a turkey", see what happens: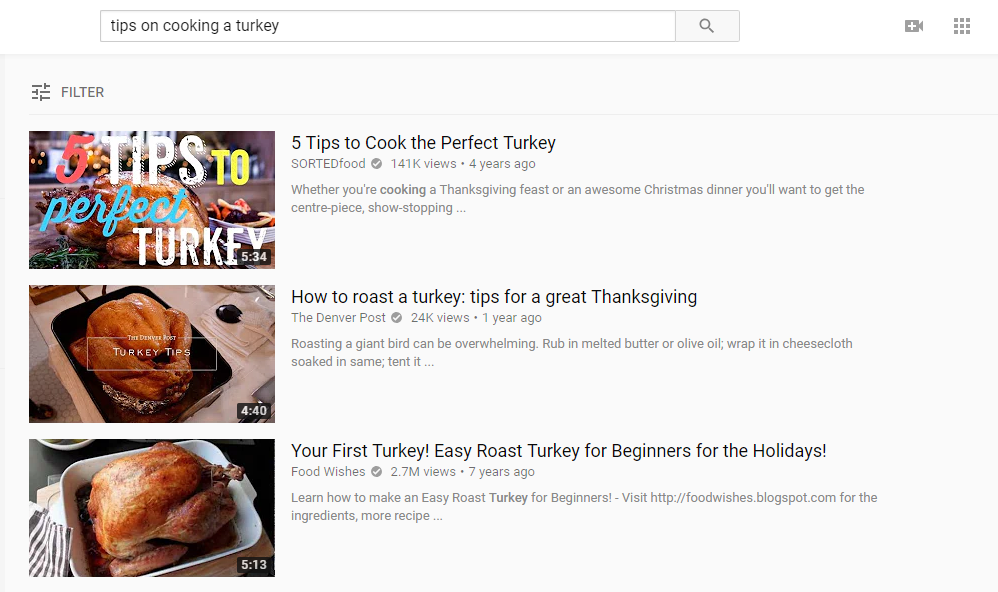 Competing for long-tail keywords is better for new and small channels compared to shooting for short-tail keywords which are commonly populated by large channels. This is because YouTube users unconsciously associate with number of subscribers and views with credibility. If you're a new channel, you don't have those just yet.
Formulating Video Title and Description
Video Title

According to Brian Dean, the title of your video should have at least five words so you can include the entirety of your keyword without the risk of keyword stuffing.

Check out one of our most viewed videos on YouTube.

The term we wanted to rank for is "What is Pinterest?" – the rest of the title is just additional description to make the title more enticing.

Video Description

Your video description helps Google and YouTube crawlerbots to understand the context of your video – it's super important to say the least. There are some best practices that you can apply with your video description:

Descriptions should be at least 250 words
Keywords must appear in the first 25 words
Your keywords should appear 2-4 times
Now that your title and description are on point, you need to make sure that people who come across your video actually click on it. Here are some tips to make your thumbnail more inviting:
Use a high-definition image.
Apply the psychology of colors.
Include enticing words on the thumbnail.
Try to invoke a certain emotional reaction.
We've written an in-depth guide to creating a magnetic YouTube thumbnail here:
YouTube Video Tags
Video tags are not crucial, but they can help your videos generate views in certain ways. Here's how you can use tags for your videos:
First tag should be your exact target keyword (Example: "Animated explainer video").
Include a few alternatives words or phrases (Example: "Animated explainer video for marketing")
Add several other tags for topics that your video covers (Example: "video marketing", "3d animation")
Targeted tags can also make your video show up more often in the suggested video section (sidebar area) of YouTube.
Video Category on YouTube
The importance of video category has been debated, but it seems like no one is able to prove that it matters very much. However it's still recommended that your video category be set accordingly to the content.
Promoting Your Channel
YouTube being the second-largest search engine means you will face challenges in getting your stuff in front of people. How should you promote your YouTube channel?
Social Media
Email Marketing
Email Signature
YouTube Advertising
LinkedIn
Website and Blog
Cross Promotion
Calls to Action
What's the best way to get people to do what you want? Well, you ask them!
Asking viewers to subscribe is not begging. They get to decide whether your channel is worthy of their subscription.
You can use the YouTube end screen feature to make subscribing easier for viewers (as in, they don't have to look away from the video to click "subscribe").
Engagement Metrics
Track how viewers are engaging with each of your videos to determine the best variation of several elements in your YouTube channel and videos. These are the elements that you should perform an A/B test on:
Type
Style
Title
Thumbnail
Creating Valuable Content for Viewers

Topics covered in YouTube videos vary from funny videos of people falling to TED talking about how to hack people's computers. The range of topics covered in YouTube videos is vast. People can find anything they want to find on YouTube -- but how do you aim for the right group of audience?
The first thing you need to do is defining your exact target audience. No estimates, just precise definition, e.g. tech geeks with a knack for over-the-top desktop computer.
Only then will you be able to formulate videos which can effectively pique their interests. Check out this video from Linus Tech Tips, a channel that covers PC building in an extreme scale.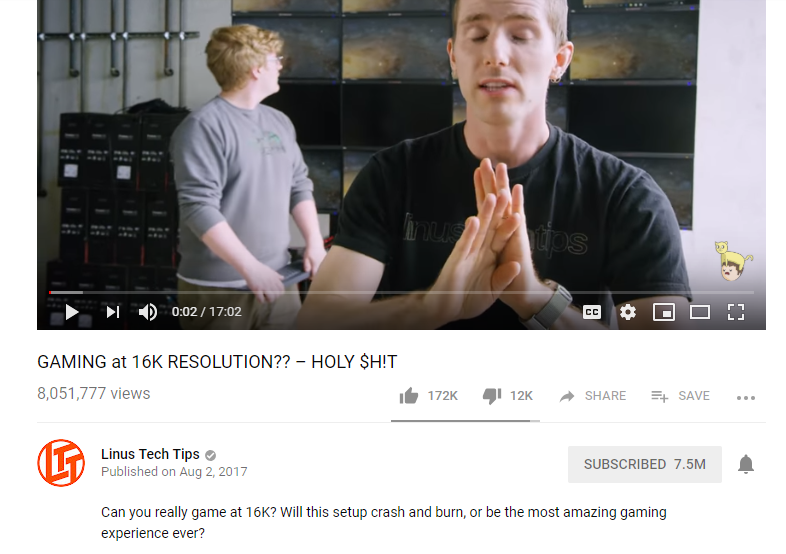 For more handy tips to make your channel more appealing to attract more viewers, make sure you read the quick guide below:
Maintaining Update Schedule
Update scheduling is one of the things that many popular creators struggle with. But a few who manage to upload videos regularly have gained the results. In this context, quality doesn't always win over quantity -- but it all depends on the goal you want to reach with your channel.
Earning Money

Create as many videos as possible within a realistic time frame. PewDiePie, the most subscribed YouTube channel, uploads a new video everyday.

Brand Building

The quality and relevance of your videos should be the main priority. You can still earn money from your videos, but that's not why you're making videos. In fact, many independent YouTube creators take their time in making videos for the sake of keeping their personal branding up.

Customer Relationship

Providing valuable and useful videos (e.g. tutorials, best practices, etc.) should be your main concern in building and maintaining a loyal customer base for your company.
Gaining and Engaging Subscribers

Building Subscribers Count
Whether you like it or not, the number of your subscribers affects your channel's credibility in some way. The more subscribers you have, the more credible your channel will be in your niche.
Read our guide to gaining more YouTube subscribers here:
Engaging YouTube Subscribers
Once people subscribe to you, you need to keep them around by actually communicating with them. YouTube has become more and more social today -- it's no longer just about videos. Check out these useful resources on engaging subscribers here:
Managing Comments on Your Videos
YouTube is a public platform where everyone can do what they like, including posting comments with malicious links and hate speeches. In order to mitigate these risks, YouTube has provided a comment management dashboard for creators to moderate these comments.
Read more about the YouTube comment management dashboard here:
Understanding How YouTube Counts Views
One thing you may do not notice is that YouTube has the algorithm behind your videos view counting. After a subscriber clicks on your videos, how do you know that it counts as a view?
Setting Your Custom Channel URL
If you have more than 100, don't forget to set your custom channel URL. It gives your subscribers a shorter, easy-to-remember address for your YouTube channel so they can find and remember your channel URL effortlessly.
Read more about YouTube custom channel URL at:
Optimizing YouTube Marketing Channel
for Business

Linking Your Website and YouTube Channel
When it comes to business-oriented YouTube channels, linking a website and a YouTube channel together is a no-brainer. YouTube provides a spot for you to link a website, and similarly, the majority of blogging platforms allow you to embed a YouTube snippet to your website.
Read more about embedding a YouTube subscribe button to your site here:
Avoiding Trouble in YouTube
YouTube is a community-based platform, and without strict guidelines, the content that people make can affect viewers negatively. The obvious R+ content (adultery, pornography, violence, etc) are not allowed -- read our guide to what's allowed and what's not in a YouTube video here:
YouTube Alternatives
Although there's a good chance that your target audience are on YouTube, that's not to say that you can't get good results from other platforms as well. There are other video-hosting platforms outside of YouTube that attract specific groups of viewers.
Some of them are:
MetaCafe
DailyMotion
Vimeo
Facebook
Veoh
Check out our detailed guide on why each of the video-hosting platforms above are viable options for you here