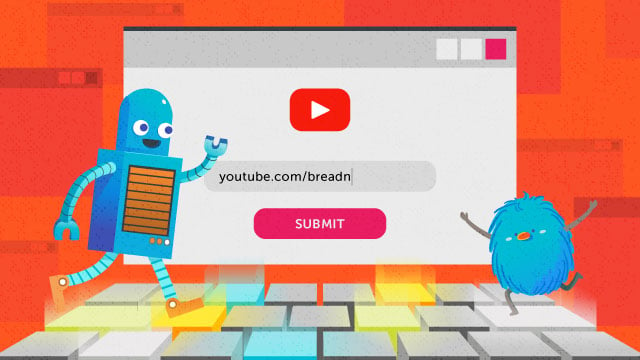 Ever since the end of 2016, YouTube provides users with a new custom URL system. You can now have a vanity URL and give your audience an easy-to-remember address for your YouTube channel without a string of numbers and letters. 
In this post, I'll take you on a quick walkthrough of the YouTube custom channel URL and some of the issues I got from the feature.
FYI, here are the custom URL examples: youtube.com/breadnbeyond
For those of you who are looking for:
What is a custom URL
What is a custom URL
What is a custom URL on YouTube
What is a YouTube channel URL
Without further ado, let's geek out!
Get to Know YouTube Channel URLs
YouTube has several changes to its channel URL system. Your Channel may have different URLs (depending on when your Channel was created) that direct your audience to your channel homepage.
Now, we're about to break down three types of URLs on YouTube or widely known as YouTube URL format.
1) Legacy URLs
Example: youtube.com/user/username

Legacy URL is the first format on the YouTube channel URL system. This type of URL is no longer required for channels today. 
If you created your Channel a long time ago, you might have been assigned to this type of URL by default (you can set a username). The legacy URL remains the primary link of your Channel.
2) ID-Based URLs
Example: youtube.com/channel/(random24characters)

This type of URL was introduced in 2015 when Google made it possible to create YouTube channels separately from our Google accounts. 
ID-based URL has a random string of 24 characters (numbers and letters) at the end of the URL to give you a unique channel ID.
3) Current Custom URLs
Example: youtube.com/c/customname

Introduced in 2016, the custom URL allows you to create a URL for your Channel based on your liking. 
A custom URL is an addition to your legacy or ID-based URLs. You may use the custom URL for your channel promotion efforts.
Current Custom URL Eligibility: Setting Up Your Custom URL
To create a custom URL for your Channel, make sure that your YouTube account meets the requirements below:
Have more than 100 subscribers

Account must be at least a month old

Have an uploaded photo as your profile picture.

Have uploaded channel art (i.e., a customized banner)
(Note: If you don't have enough subscribers to be eligible, follow these 9 Handy Tricks to Get More YouTube Subscribers)
If you feel that you're eligible for all the requirements below, you should have no problem claiming your custom URL.
Remember, YouTube doesn't allow you to edit a custom URL once it's created. Changing YouTube channel URL isn't possible yet. You have to choose the URL from the options that YouTube has suggested for you.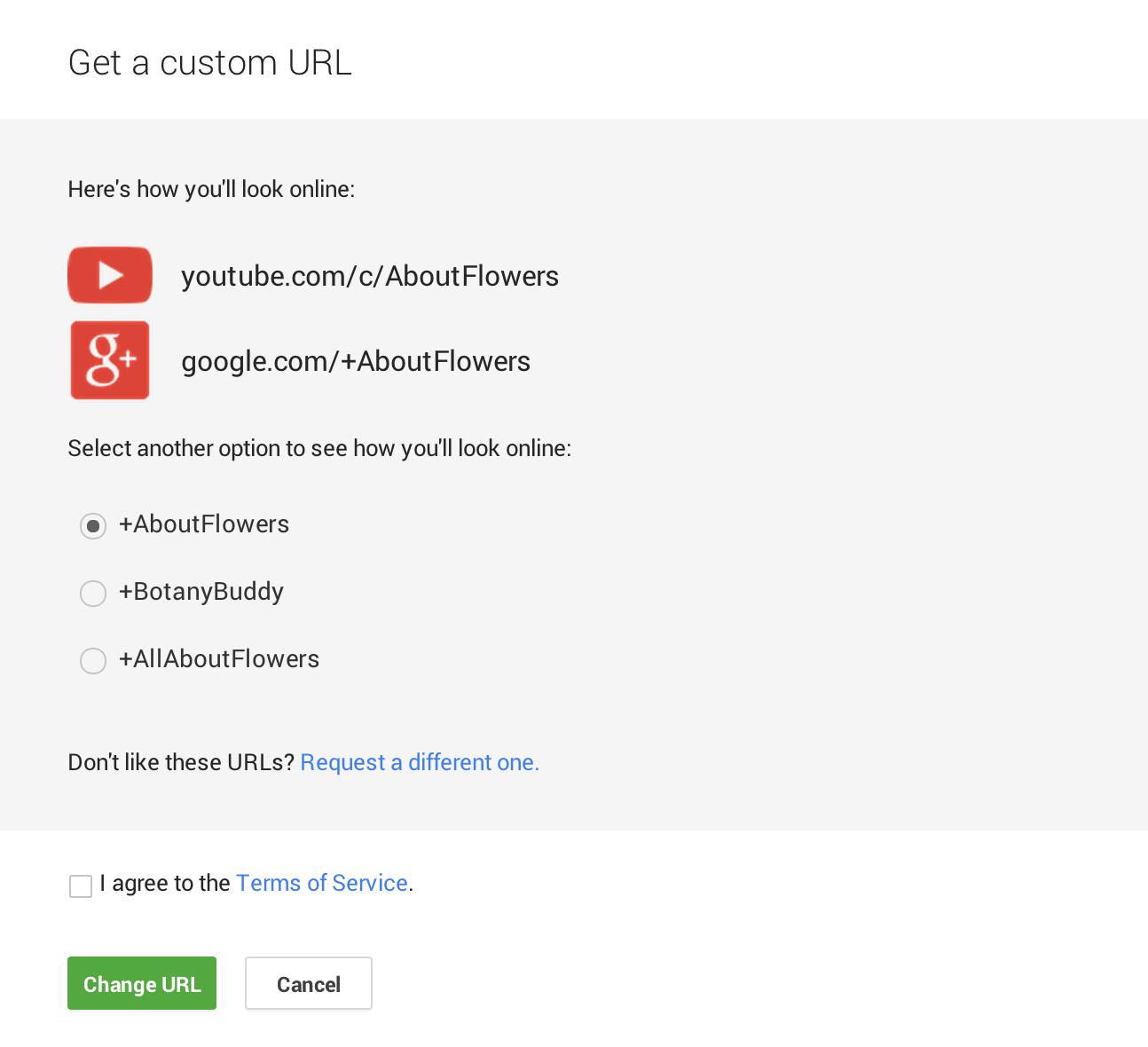 And if you regret what you chose for your custom URL before, don't fret.
You can change it by deleting it and claiming an entirely new one. It'll take a couple of days for your old custom URL to deactivate completely.
But, be careful. 
You can only delete a custom channel URL or YouTube user URL up to 3 times per year.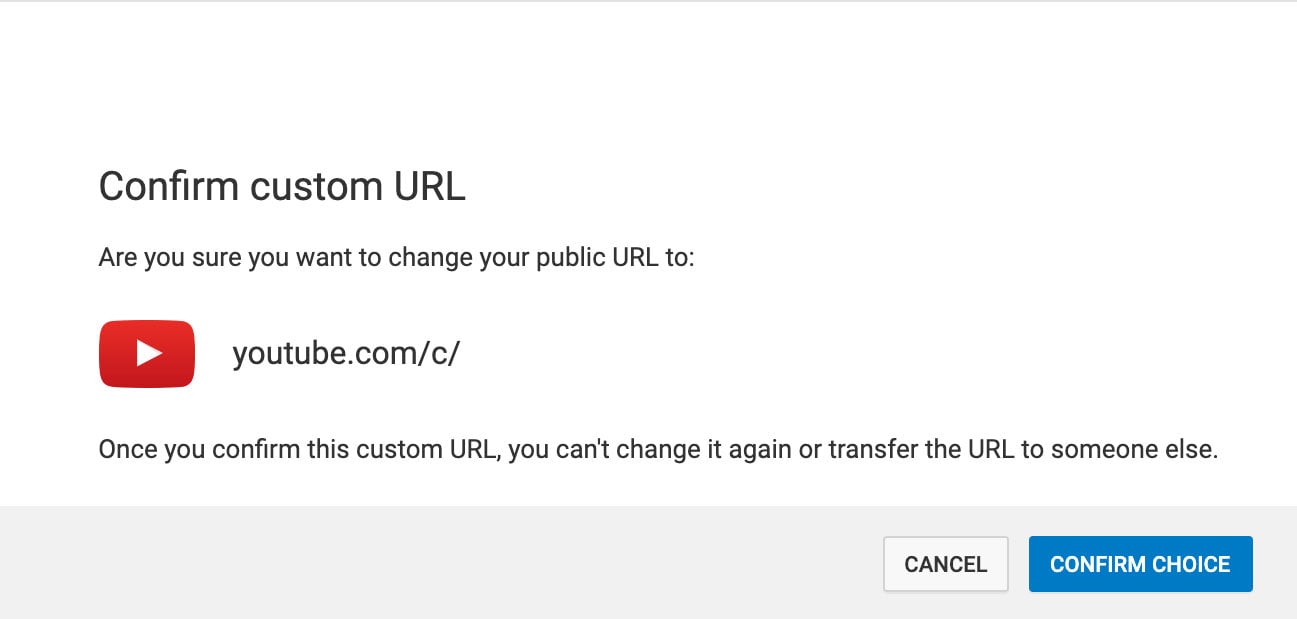 The Problem I Have With Custom Channel URL
Do you know that YouTube doesn't allow you to remove your old legacy URL even if you've set up a new custom URL? 
I didn't!
That's why I have an issue here.
Here's my problem: 
I created my account back in 2009. I set a custom username (/user/) URL for my Channel before deciding to make it a Brand Account and wanted to move all of my videos and subscribers to it.
I've successfully claimed the custom URL without any issues.
However…
Every time people click on my new custom URL, they're redirected to my old legacy URL.
Later then, I found out that the legacy /user/ URL can't be removed. That's permanently linked to your YouTube channel.
As I mentioned before, setting up your custom channel URL only redirects users to a new address while leaving your old one (which is still functional).
At this point, you might be asking, "any solutions?"
Sadly, there's no workaround to get rid of your legacy URL. The only option you have is to create a new account and start from scratch.
Quick Tips
Experience is the best teacher, they said. Learning from my experience, try to consider the following tips (especially before you decide to set any name for your YouTube channel URL):
Plan Ahead

. Even if you don't require a legacy (/user/) URL but created a YouTube account recently, it's still crucial to think about the custom URL you want to use. Make sure you're happy with the URL since YouTube changes quite a lot on the channel URL system.

Read the Terms of Use

. Before requesting your custom URL, try to read and understand the "Custom URL Terms of Use" carefully and check the box if you agree to it.

Define Your Category.

Knowing which video category your Channel falls under makes it easier for your audience to find you.

Is It Made for Kids?

Determining whether your Channel or video is made for kids will help you appeal to the right audience.

Optimize Your Channel Appearance

. It's essential to fill out all the information needed on your profile (including About Me, email business, community post, etc.). It shows your audience that you take your Channel pretty seriously.
Now that you already have a custom URL, you're ready to keep creating creative content to build your YouTube channel presence.
Did you know that explainer videos are such high-performing content for your YouTube channel? You can create it with us today!
Click on the banner below to see our packages and claim your FREE consultation.