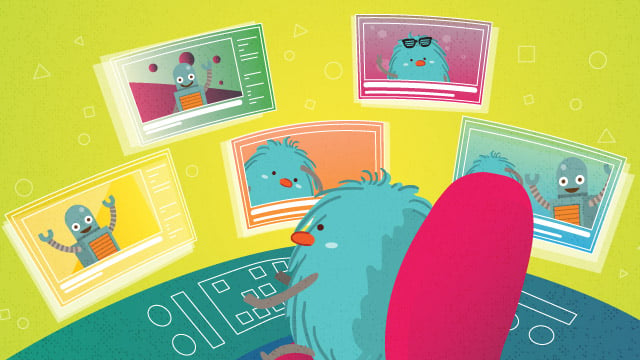 Although YouTube is regarded as the main platform for watching free videos online (especially since being acquired by Google), there are several YouTube alternatives that you don't want to miss. These alternatives offer features that you might want for future videos – and they're free! Not to mention that it is harder than ever to get YouTube subscribers.
We've made this quick video to make it easier for you!
Here are some of our top alternatives for YouTube that we think are worth your time: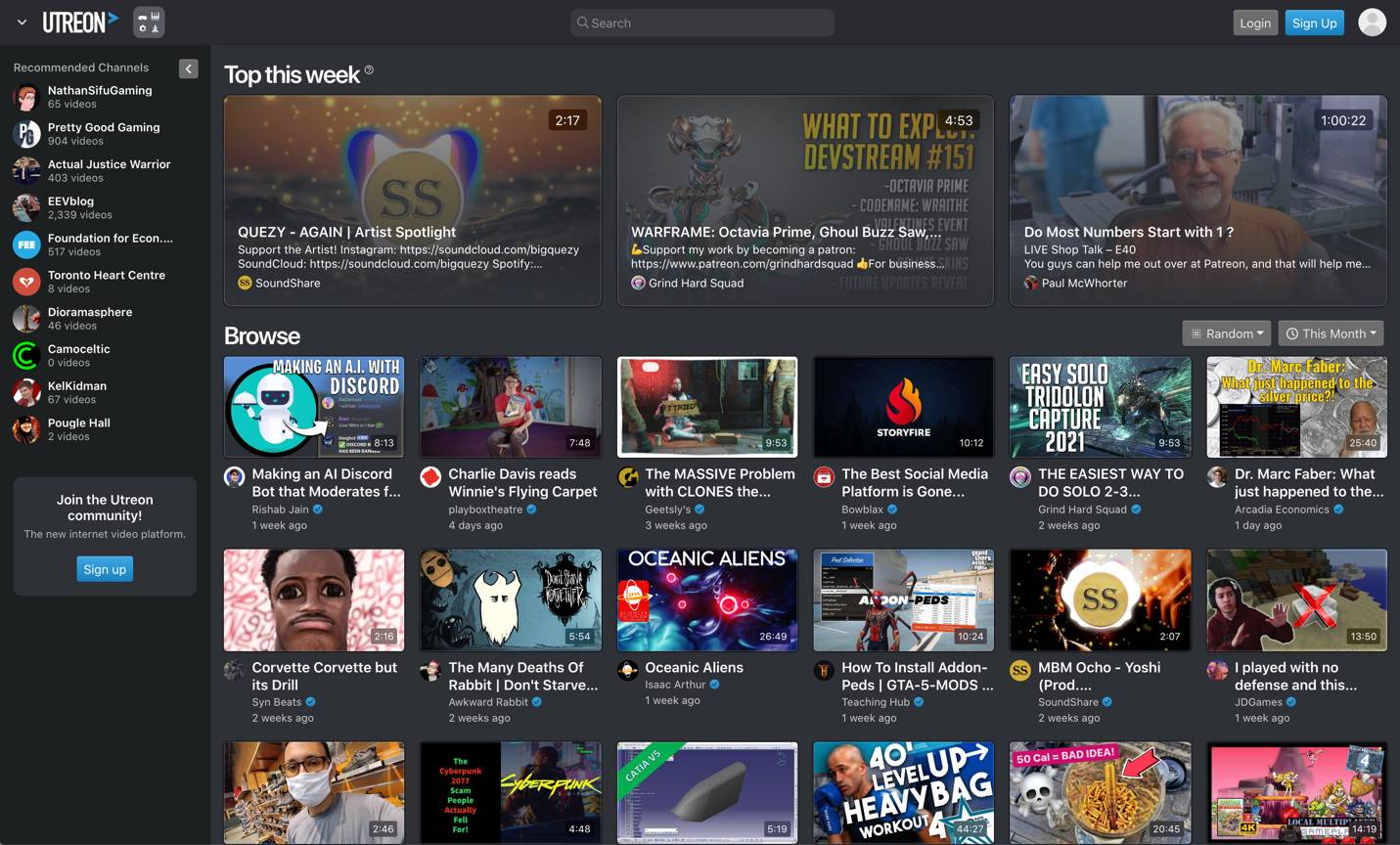 Utreon is a video hosting platform that aims to become a real alternative to legacy video platforms such as YouTube. Unique features, reasonable rules, and a sleek and easy to use UI have all been key to it's growth. Utreon launch in the late of 2020.
Creators on Utreon can monetize their content through subscription revenue and will have access to several other monetization features in the near future.
Utreon has many exciting features in the pipeline such as an iOS app, live-streaming, and community feeds.
The benefits of joining Utreon:
It's easy to get started
Joining Utreon is a frictionless process. They take care of all the heavy-lifting by not only importing the content from your existing channel on YouTube, but also syncing your future uploads.
Earn money
Subscriptions is the first of what will soon be many monetization features on Utreon. You can always monetize your channel simply. Also, all your most dedicated fans will be able to subscribe to your channel at one of three different tier-levels.
Reasonable approach
Tech giants are deciding what can be expressed on social media and have shown themselves incapable of being unbiased/honest with their users or creators. Other platforms have reacted to this by declaring themselves the wild-west of the internet. Utreon takes a more reasonable stance. Simply put, Utreon has clear rules, the rationale behind these rules are explained. More over, they apply fairly and evenly.
Engagement and Communities
Viewers want to interact with their favorite creators and participate in real communities. They want to post memes, ask questions, share their favourite clips, earn approval, and more. Utreon provides an interactive comment section for videos, and focus on implementing features that allow creators and users to interact in more ways than ever.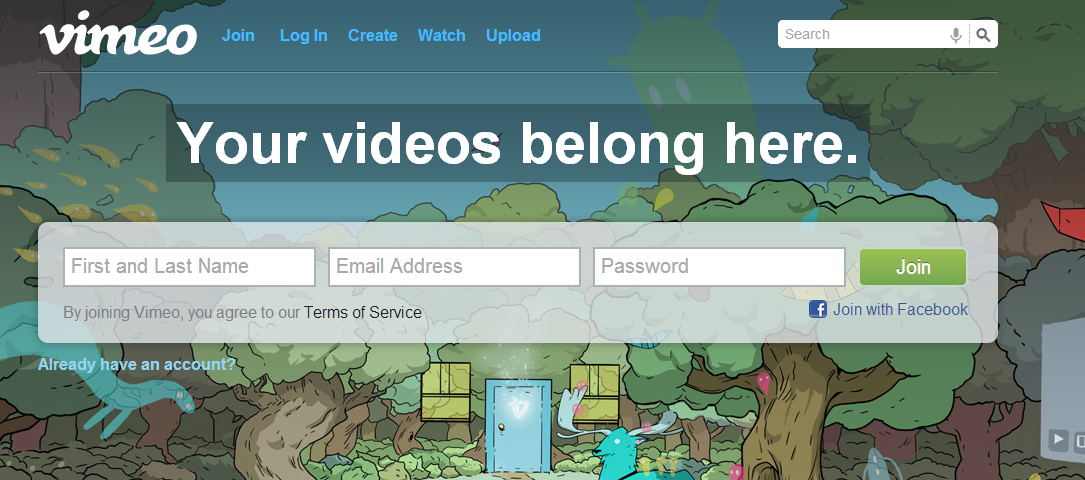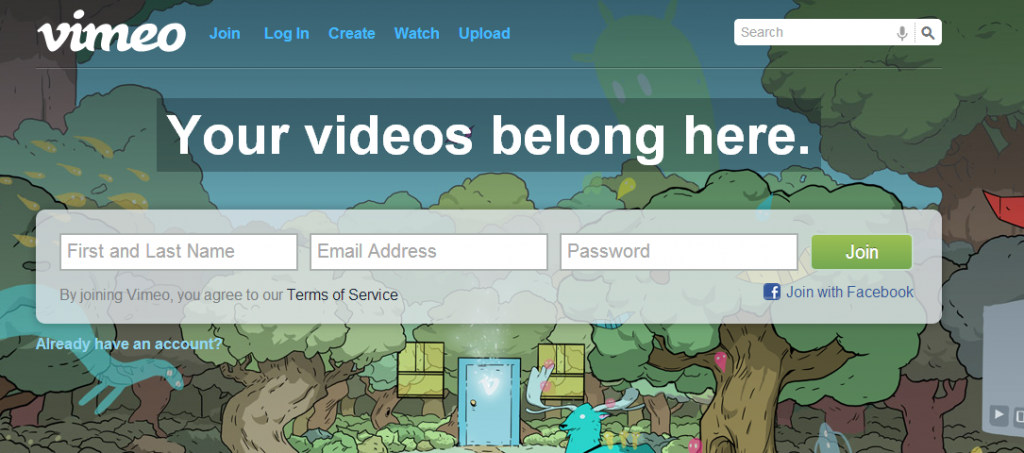 Vimeo is another big video hosting platform based in the United States. The image you see above is its current homepage. If you want to find a new source of traffic for your website, Vimeo can be a good place to upload your videos to the internet, it has a lot of users and a good ranking position on search engines.
Vimeo's goal is to create an environment which places quality over quantity. There are a tremendous amount of high-quality short films and music videos submitted by the community to watch there. Vimeo has also published an app for Android and iOS for you to download. Mobile users can now start their Vimeo experience or sign up for an account anywhere.
Vimeo's equivalent to YouTube's subscribe function is the opportunity for you to follow the channels (or users) you like. It also allows other users to leave comments.
Vimeo offers several advantages that you'll find useful. Here are some of them:
Superior video quality
YouTube is notorious for heavily compressing video and therefore losing quality in favor of less data on their server. Vimeo presents your video as-is without any compression. In other words, your video will look as good as it did coming out of your rendering software. However, with the advancement in camera technology, the file sizes are getting ridiculously bigger — there's a real chance Vimeo will start applying compression to their videos.
Branded video player
Vimeo has a feature that allows you to customize how the frame of your video player looks. You can match the player to your homepage, business portfolio, brand identity, or marketing campaign by tweaking its appearance. For companies, this is a means to improve users experience as well as a new play area for creativity in coloring and design. To change the text colors and upload your logo to a specific video, go to your video settings and click the Embed tab.
Customized privacy control
You get a vast range of options when it comes to privacy and playback control on Vimeo. One of the handiest features is the ability to limit playback anywhere except on your own website or other websites of your choosing. This means you can make your videos exclusively available on your website, which is likely to get you more visitors and higher conversion rate.
Customizable video URLs
Vimeo also gives you the liberty of changing the URL of your video, making it easier to find. This will help viewers to memorize your url, so they can focus instead on remembering the products and services being promoted in the video.
Outstanding customer service
The clearest win that Vimeo has over YouTube is how easy it is to contact them. The forum activity and customer service are simply ahead of YouTube. Granted, YouTube is well ahead by millions in terms of the number of people submitting queries.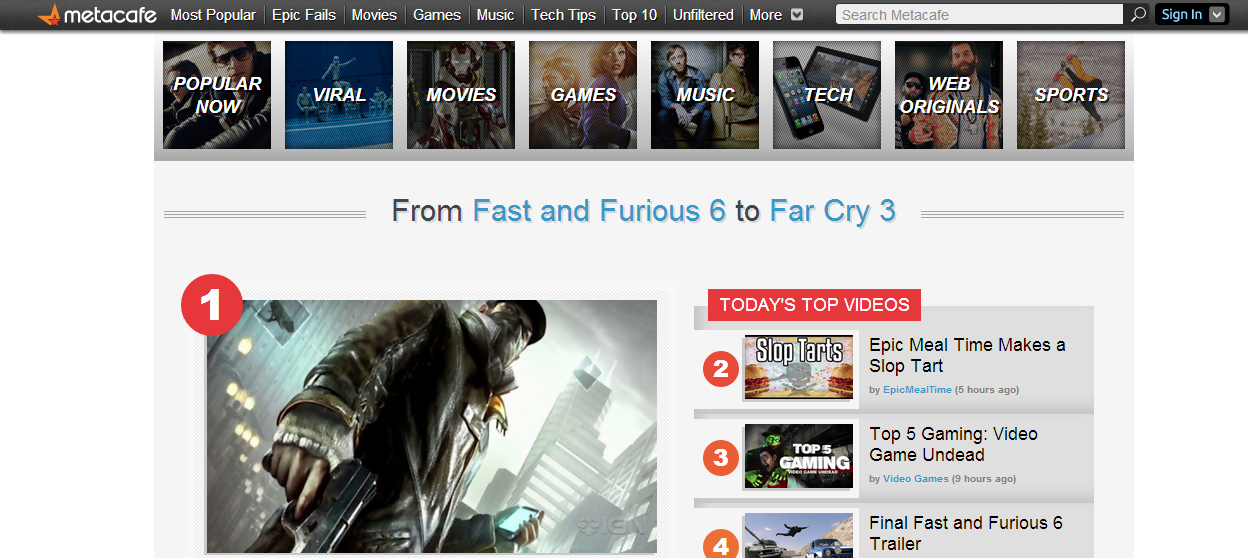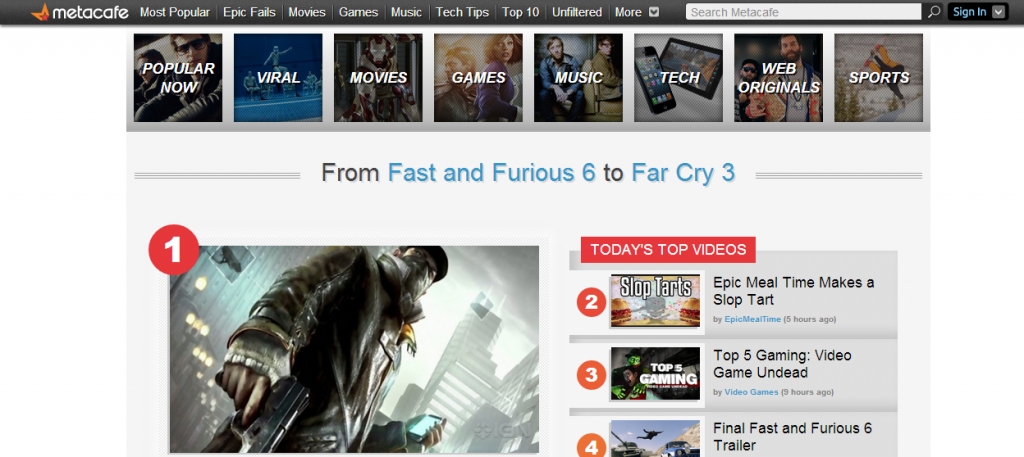 VideosHub is another great alternative to YouTube. VideosHub has a great system to ensure all uploaded videos are of high quality, and there are no duplicates on their website. They also classify videos in different categories, including entertainment, sports, video games, movies, news and TV and receive millions of unique viewers each month.
I realize that there are many people who aren't really familiar with VideosHub. That's why we've rounded up several facts about VideosHub which sum up why we believe it is really worth considering:
VideosHub is one of the largest video sharing sites, with 2 million visitors a month on average.
There is a reward system called Producer Reward Program that allows you to get revenue from your videos.
You can get paid up to $5 per 1,000 visits from this program.
Sadly, your video needs to rack up 20,000 views to be eligible for this program.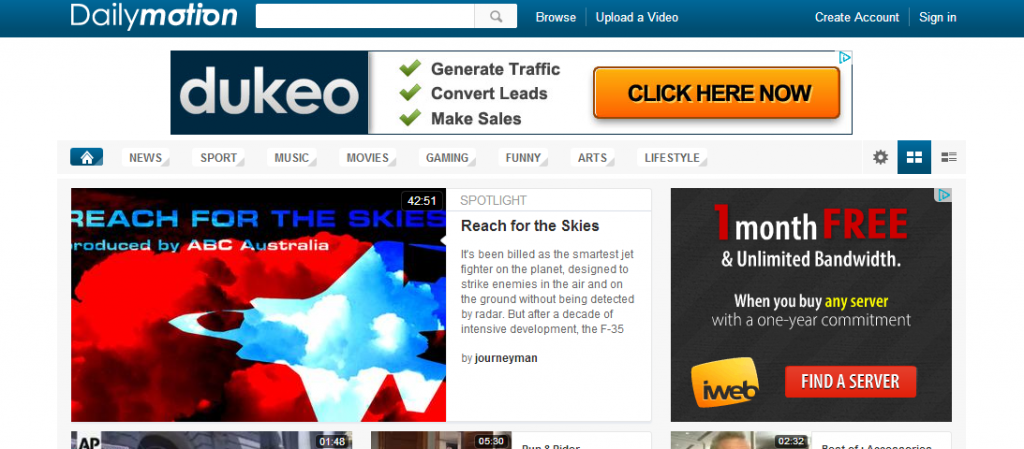 Dailymotion is also a popular video-sharing service that can offer a great user experience even compared to YouTube. Dailymotion's home page also shows trending video, categories, and a search bar, which allows the user to search for a video based on tags and channel. It also has a clean and simple video player. Overall, it shows how much work the pro developers have put into the Dailymotion UI.
Dailymotion is known to be YouTube's poorer and darker brother. But it doesn't mean it's bad, it's still a formidable website — in fact, they rank at #124 on Moz's list of the top 500 websites.
There are several characteristics of YouTube's shadier brother that you'd find interesting. Here are some of them:
Better video quality with less quantity
Apparently, YouTube is really good at making a heavy loss in video quality. Dailymotion proves to give viewers a version of each video which is closer to the source. However, Dailymotion is far from competing with the thousands of videos that are uploaded to YouTube per day.
Better flexibility
YouTube with its copyright strikes is quite scary as of late. Uploading your videos to Dailymotion is less risky since the producers are more tolerant and the copyright policies are yet to be as strict as YouTube's. All in all, if you're not sure you have the rights to every element in your video, Dailymotion has a smaller risk of copyright claims.
Higher tolerance for content
While both YouTube and Dailymotion have their own rules on what can and can't be uploaded, Dailymotion has somewhat of a better tolerance for it by providing options for uploaders to set an age gate.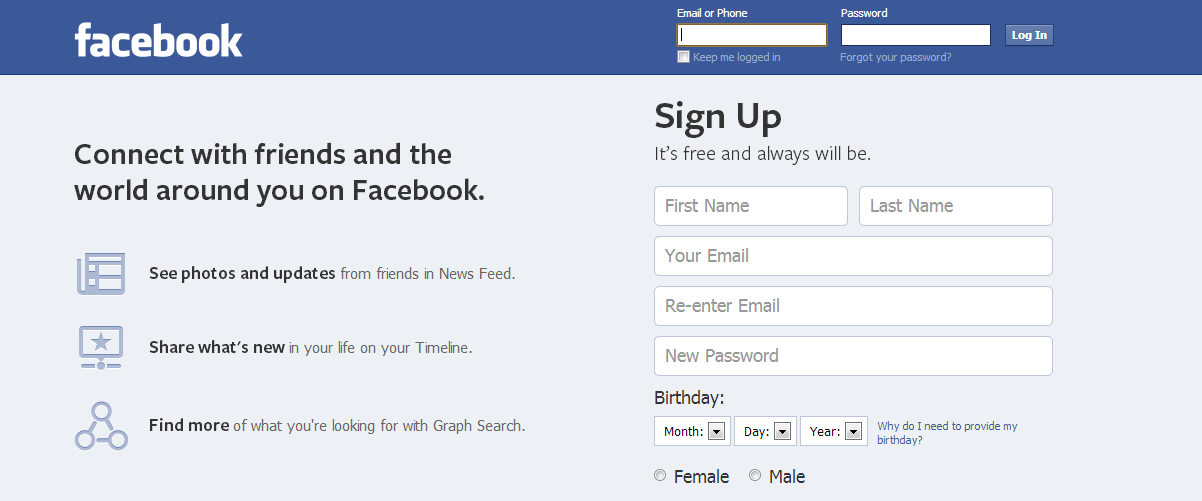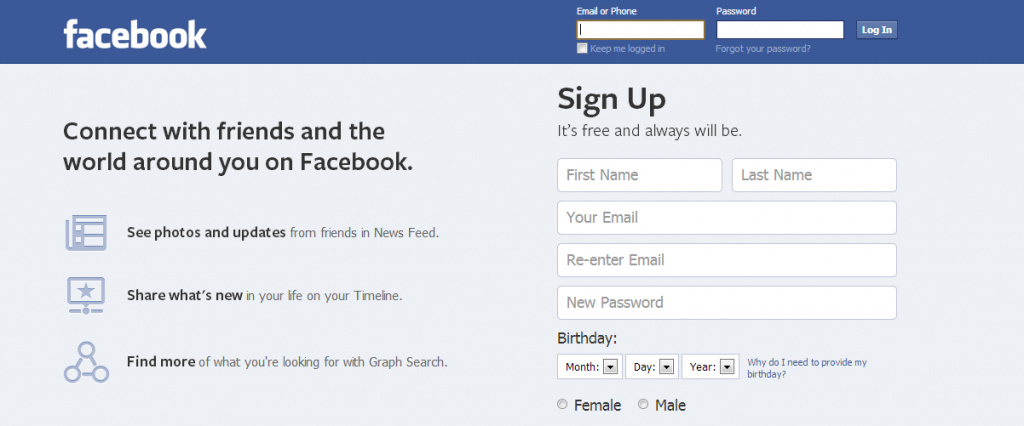 You may not think of Facebook as a video sharing website or as an alternative to YouTube. However, Facebook is a social media network that allows users to upload and share videos, and as such a big player in the social network game, it's no wonder that it's a competition for YouTube.
Uploading videos to Facebook is very simple. There are also support tools that you can use to optimize your video, including thumbnails, tags and the option to add a meta description. On top of that, you can upload HD videos without any downscaling.
You can also do live videos on Facebook easier than on YouTube or other desktop platforms. Before you start creating videos for Facebook, you can read and learn more from our social media video tips to get better results.
An open comparison between Facebook and YouTube isn't really fair, as one is primarily a social media platform whereas the other is only for sharing video content. However, we can compare the two on their capabilities as video It's also worth noting that video posts on Facebook are weighted more than regular text posts by its latest algorithm.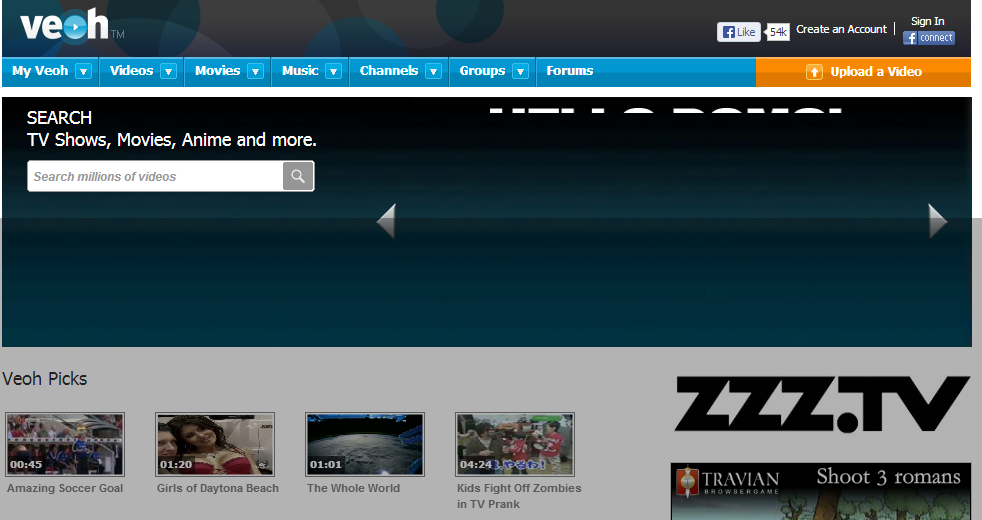 Veoh is one of the best YouTube alternatives that allow their users to upload and post videos with unlimited length. You can embed Veoh's video player d in any websites. There are great deal of full-length movie uploaded in Veoh.
Those are some list of popular video sharing websites other than YouTube. Every website has its own features and benefits. So choose one that fit your needs most.
In addition, you can always read the other 13 YouTube alternatives.
Closing Thought
Finally, we hope this list will makes you understand. There are a wide range of excellent alternatives to YouTube available online. Once you've chosen which one you'd like to use, the next step is to create an enticing thumbnail to help amplify your engagement rate.
No matter what platform you use, explainer video has a high potential to catch more eyeballs. Create yours today with us! Click on the banner below to see the package that we offer: