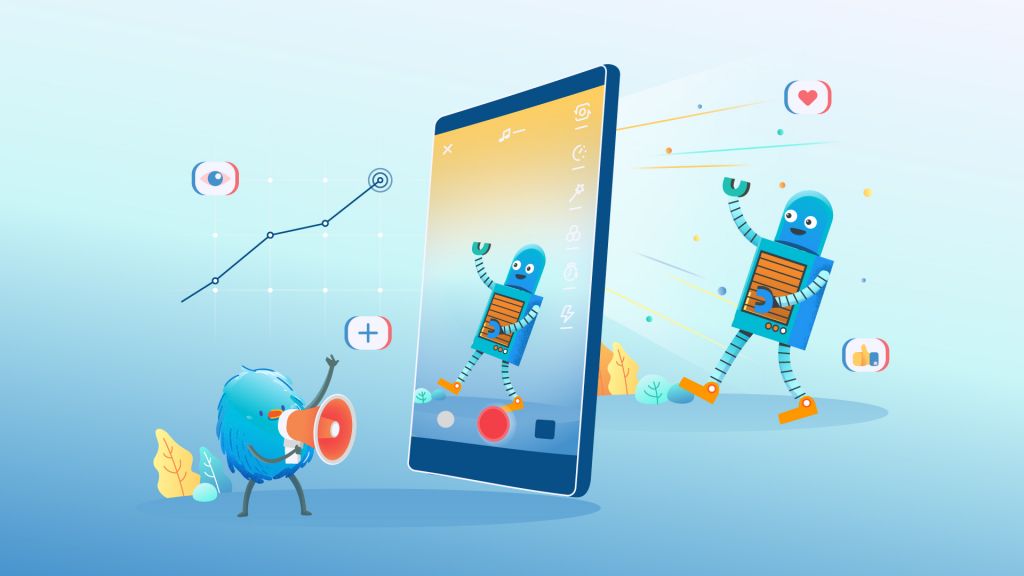 With more than 1 billion monthly active users, every savvy marketer leaves no stone unturned when it comes to engaging their audiences using TikTok marketing videos.
There are dance challenges, lifehacks, narrative-driven stories, quick tutorials, or even training videos– you name it. 
All those snackable videos make it hard for users to stop scrolling their feeds. 
Now it makes sense why it is getting difficult for marketers to ignore the popularity and influence of TikTok. Thus, more and more of them jump on the bandwagon and leave no stone unturned in creating crystal-clear videos.
Diving into a new platform can give you an advantage, of course. 
The thing is that boring posts or uniform content creation may do more damage to your brand integrity than not engaging at all. 
After all, being on TikTok is so much more than creating a profile and uploading videos. 
You also need to check your TikTok analytics, craft the right message, assess your brand identity; the list goes on.
While there's an endless amount of how-tos for TikTok marketing out there, is TikTok right for your brand in the first place?
Let's find out.
How Far TikTok Marketing Has Come
TikTok probably seems like just a lip-syncing vertical video app for teens.
You might think that it's basically a stage for anyone with a phone and a bedroom door.
But it's much more than that.
It has now grown to become an ideal place for today's marketers to boost their online presence.
The app is still in its infancy, but the number of users joining is impressive.
Putting this into perspective: it took Instagram at least six years from its launch to gain the same number of monthly active users that TikTok managed to achieve in only under three years.
To kick things off, let's see some TikTok marketing statistics so we can understand why the platform is such a worth-considering marketing channel in the first place.
TikTok has been downloaded

3 billion

times worldwide (it was the most-downloaded app in 2021).

The globe has

4.8 billion

internet users, and TikTok is used by 21% of them.

TikTok is now

more popular

than Instagram among Gen Z (born 1997-2022) users in the US, with 37.3 million to Instagram's 33.3 million.

TikTok's user base is

57% female

.

The number of US TikTok users is expected to grow to 88.7 million by 2024.

63%

of users from the US who are aged between 12 and 17 use TikTok weekly.

Users spend an average of

52 minutes

per day on TikTok, while 90 percent of users visit the app more than once per day.

TikTok ad revenues are set to hit close to

$12 billion

in 2022.

Studies show that

72%

of users find ads on TikTok inspiring more than any other social platform.

74%

of TikTok users say that TikTok has inspired them to find out more about a product or brand online.
When to Use TikTok Marketing
Looking at those staggering numbers above makes you think that TikTok might be a must-use video marketing channel for your brand.
However, there are several types of businesses and individuals that have the best chance of building a following compared to others.
We'll dive into some signs that show you it might be time to leverage TikTok.
You Have Younger Audiences as Target Customers
As we mentioned slightly earlier, TikTok is dominated by younger audiences. 
The combination of visuals, catchy music, colorful filters, and entertaining type of content makes the app inherently appealing to younger generations. 
You see, the app is mostly geared toward an audience between 12 and 24 years old. 
So, if your brand is young and fun with a youthful demographic, then it could potentially be both fun and beneficial to have a presence on the platform.
You can see this in the type of content many brands produce on the platform– short and sweet videos that are made for instant gratification. 
These videos, then, are highly shareable and are sure to be gobbled up by younger audiences.
If your audience is much older than the typical TikTok user (Gen X: 41 to 56 years old or Boomers: 57 to 75), it may be more difficult to craft content that appeals to them– because they're not even there. It's better to turn to LinkedIn, Facebook, or Instagram.
Your Business Is Highly Visual
Brands that sell visual products like beauty products, fashion items, and even some food and beverages (F&B) can benefit from TikTok. 
These products are generally hard to describe via text, making it hard for businesses to get their message across.
For instance, if you sell skincare products, it's always best to demonstrate how to use them as well as provide some customer testimonials. 
If you only rely on plain text, it's almost impossible for your audiences to trust your products as they can't see any testimonials as proof.
Same with the food and beverages business. You can use appealing visuals (whether it's photos or videos) to give the audience an idea about how the food would feel, smell and taste just by looking at the visual presentations.
This is where TikTok can be of help: it's a highly visual platform that allows businesses to share their products through rich imagery. 
This can greatly increase engagement and conversions in the long run.
You're On a Tight Marketing Budget
The best thing about social media, in general, is that you can use them for free– though you have to spend some bucks to enjoy paid marketing features. 
By all means, you can use TikTok's built-in features to engage with your audience without spending a dime.
You don't have to invest in fancy equipment to craft professional videos for TikTok marketing. 
You can shoot a video with your smartphone camera and free video editing apps.
The key here has always been to pay more attention to your content quality. 
What attracts TikTok users and makes them stay is not the video quality– but authentic, one-of-a-kind content ideas.
This is a breath of fresh air if you're a small business with a shoestring budget looking for an affordable way to get your business off the ground.
However, things are about to get tricky now.
While it's affordable to use TikTok for organic marketing strategy, it can be quite costly when you leverage the paid advertising feature.
Normal TikTok ad pricing starts at $10 per CPM (1000 views) and you'll have to commit at least $500 per campaign.
Meanwhile, another popular type of TikTok ad, Brand Takeover– which allows you to create full-screen ads that immediately appear when a user opens the app, requires a flat fee of $50,000 a day.
Lastly, hashtag challenge prices start at $150,000 per week.
You Rely on Influencers to Help You Market Your Brand
TikTok is a home for influencers. 
Whether you're in the fashion or even blockchain game industry, there are always some influencers with a massive fanbase ready to give you a visibility boost on the platform.
By working with influencers, you can get your business in front of a new generation of eyes without having to invest in heavy-handed marketing techniques.
It should come as no surprise that almost 88% of marketers consider TikTok influencer marketing effective, and 54% plan to increase their budget for influencer marketing on the platform.
Short-Form Content Is Your Go-To
Our digital attention spans are waning. 
TikTok's feed is basically a scrolling loop that encourages users to binge content rather than mindlessly. 
So, if you love creating short, digestible content, you might consider using the platform.
Now, TikTok allows you to upload videos for up to 10 minutes. 
But, that doesn't mean that you always have to create 10-minute videos.
TikTok users want their answers quickly, and short-form content is a great way to get a message across clearly and succinctly.
Think of TikTok as the party app–bite-sized morsels of catchy content designed to be consumed quickly.
The sweet spot for any social videos should be 2 minutes or less.
Again, TikTok videos are quick and easy to create as spontaneous content produced in ordinary surroundings has just as much a chance of cutting through.
One thing to remember, though. You also need to be consistent in creating the content.
You Want to Appeal to More Local Audiences
Marketing, in general, is moving toward personalization– meaning that localized content experiences higher engagement rates.
If your goal is to present your business to the locals, is TikTok really one of the channels that can help you with that?
TikTok started implementing the new DMA Geo Tagging strategies for business accounts.
When you invest in TikTok paid ads, the platform now offers 210 DMA local regions.
What's that even mean?
It means that you can determine what content will be shown to users based on their location.
It would be much easier for you to reach audiences on a more granular, localized level.
You're Focused on Creating Engagement
Some marketers focus on boosting sales, while others aim to build solid audience engagement. 
If you're one of the second ones, TikTok might be your go-to marketing channel.
Most brands use the platform not to sell their brand but to create top-in-mind awareness among their audiences using entertaining content. 
TikTok is the place where users are introduced to new products and engage with their content.
No one on TikTok will say, "let's see what products I need on this platform," because eCommerce stores are a better place to do that.
That means if you decide to use TikTok for your marketing strategy, it's always better to create content that doesn't feel like an ad or like you're trying to get anything from users.
Engage users with educational and valuable content to make them stick around in the first place.
How Brands Are Using TikTok to Market Themselves
Now you have a solid insight into whether or not your business should be on TikTok. 
Let's say that you see some potential from TikTok for your business. 
Then, the follow-up question would be, 'how can you use it to their advantage?'
Leaning on Fun Education
While entertainment seems to be the main draw at the moment, there is an increase in educational content.
From creators to influencers, content that provides digestible education seems like one of the best ways to get messages out.
That works for businesses, too.
After all, the key here is always to make yourself more visible on the platform without appearing way too hard-selling. 
A lot of brands try to use it as a way to educate users about their products.
Fun educational content can be awareness videos about specific topics, tutorials, how-tos, and even expert insights.
Your educational content should teach, but it shouldn't feel like a lecture. 
Instead, it should be fun and entertaining, helping to educate while also keeping the audience engaged. 
Most importantly, make sure you do in-depth research to ensure that the messages you deliver are reliable and trustworthy, especially if you create awareness videos.
Here's how NatGeo captured an eye-opening video that introduces and educates us about the Chinampas, artificial gardens, or floating islands in Mexico.
Adding Hashtags
TikTok is all about finding your niche community and joining the conversation related to that community.
You can do this by adding relevant, rising hashtags to your posts. 
By using hashtags that are rising in popularity, you are joining the conversation, but you are also making it easier for the TikTok algorithm to find your post and show it to more people. 
If you're looking for hashtags to use, check out what brands similar to yours are using. 
This way, you can join the conversation and build your brand at the same time. 
You can also use social media monitoring tools, such as Sprout Social, to track what hashtags are being used most often on TikTok and other apps. 
Or, you can create your own branded hashtag by running a fun campaign or challenge.
Take a look at how Red Bull made a viral TikTok campaign video with #givesyouwings– inspired by their slogan "Red Bull gives you wings"
Now, videos with the branded hashtag have over 1.1 billion views.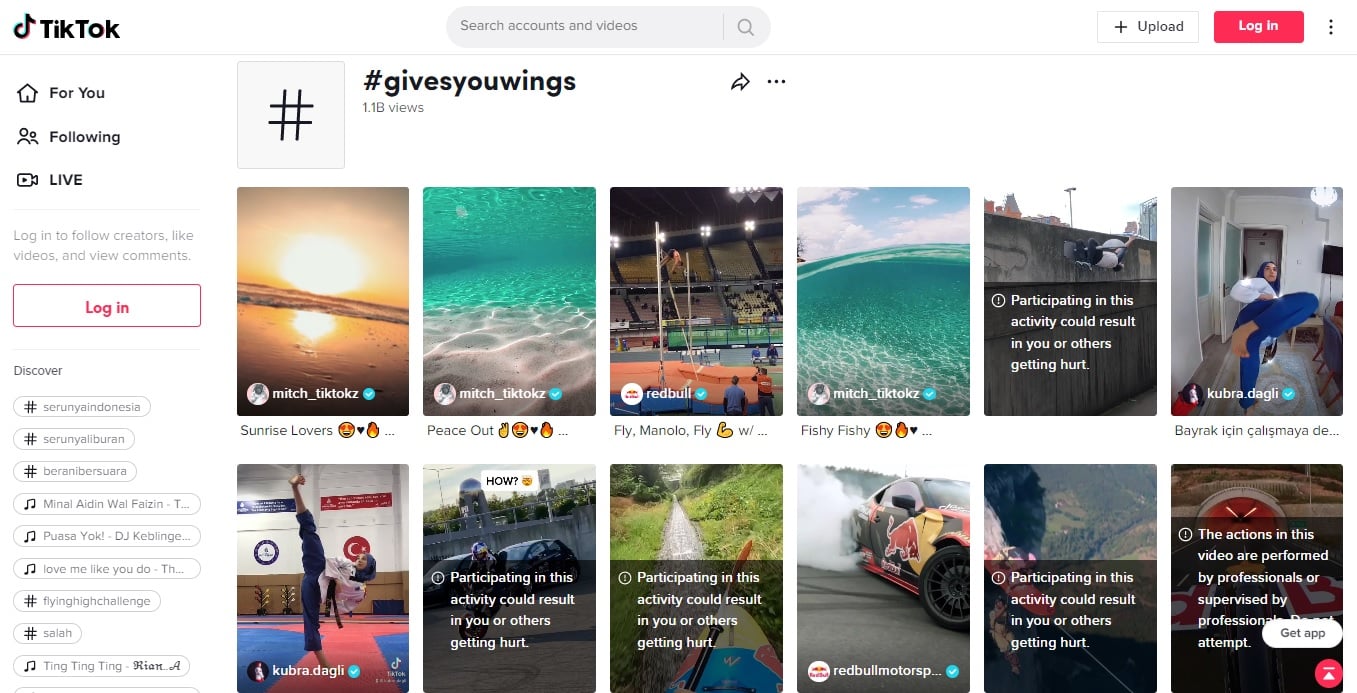 Establishing Emotional Sparks
You don't have to sell your products or services in order to make money from TikTok.
Instead, you can use the app as a way to build your brand and establish an emotional spark with your followers.
Create posts that elicit an emotional response.
You can talk about social issues, show support for organizations like charities, or bring attention to topics that don't get much attention.
You can also use TikTok to dole out advice. This can be related to your products and services or not.
Below is an example from 4Ocean, a company that sells bracelets made from recycled materials. 
They crafted a quick, snackable video about sea turtles on World Turtle Day.
Humanizing the Brand
Another way you can use TikTok as a marketing channel is by humanizing the brand.
You can do this by including behind-the-scenes content, showing employees and the people behind the brand, or inviting customers to ask questions and participate in polls about products.
Here's how a staff member of a Dairy Queen franchise, Catherine, shares her ice cream creation on TikTok.
Even though it's a personal account, the content she creates can make the brand itself more human and approachable.
You can also use TikTok as a way to interact with your followers and customers, answering questions, fielding polls, and creating polls for customers.
This is a great way to humanize your brand while also building trust. 
Your followers will see that you are the real people behind the brand– rather than a faceless, robotic business. As a result, they will feel more connected to you.
With this additional trust, it will be easier to encourage followers to make purchases from you in the future.
Utilizing Unique Brand Voice
Some brands use TikTok to show how they are different from others.
With a unique brand voice, they can show the genuine side of themselves as a brand. This is a friendly way to encourage users to interact with you more comfortably.
Here's an example from Chipotle:
The leading fast food brand is well-known for its whimsical, quirky content on TikTok. They also use a video editing style to improve brand recognition.
That's why they stay on-trend, often making use of puns, using slapstick style of humor, and pop culture references and incorporating them into their videos in a unique and funny way.
Watch Out for These Pitfalls When Using TikTok for Marketing
There's no such thing as free lunch. 
You can't expect smooth sailing without any pitfalls when using TikTok as your marketing channel.
We've listed some points to keep in mind before you start your TikTok marketing strategy.
Lack of Transparency
Everything that goes on behind the scenes on TikTok isn't clear.
It's not clear how the algorithm works, which content is most popular, or how users find your content.
You can see that the exact specifics behind the viral 'For You Page' remain a little fuzzy.
Even when you're a paying customer, TikTok doesn't share any insights into the metrics that matter. 
When you try to grow your account organically, it's hard to analyze what is actually working and what isn't.
No Control Over The Content
Short and snappy videos may be the way to go. 
Still, TikTok videos can range anywhere from 15 seconds to 10 minutes in length.
If you want to make a long-form video series– though, you have to make multiple, separate videos. 
If the 10-minute duration is still too short for your content and you want to make a longer video, you have to link to it from your TikTok feed. 
Users have to click on the link to watch the video.
It's a good way to drive traffic to another website, but it's not effective for building a large audience base on TikTok itself in a short amount of time.
User Behavior Is Unpredictable
The TikTok user base is a bunch of people who are just there to have fun. 
It's not a community you can engage with like you would a group of people who are interested in the same topics as you– like LinkedIn.
Not to mention the TikTok trends that come and go in the blink of an eye. 
It can be quite difficult to keep up with the current trends.
It's Originally a Platform for Creators, Not Marketers
TikTok is a platform for creators. 
It's the place that users love due to its creative nature and the fact that they can express themselves online and build a following.
That's why it can be quite challenging for marketers to outshine the content that's published by creators.
They have a huge following, and you have to play by their rules to win their attention. And even if you manage to get a creator's attention, you can't control what they do with your product or service.
In other words, it's crucial to position yourself as a content creator rather than a marketer on the platform.
Over To You: Join or Not Join?
Does TikTok make a little more sense to you now?
Looking at the stats and data, we have reasons to be optimistic about TikTok marketing, but don't let that stop you from doing your own research.
Choosing the right marketing platform is key to a successful overall marketing campaign. 
Some businesses find out that TikTok brings them the best campaign result, while others think that Instagram is the best channel for them. 
The point is that what works for others does not always mean that it would work for you too.
And if you see that TikTok marketing is a good fit for your business and your overall brand image, you don't actually have to go viral and end up in every user's #ForYouPage to find success on TikTok.
Just like any other marketing strategy, TikTok marketing needs consistency and patience so you can grow your business over time.