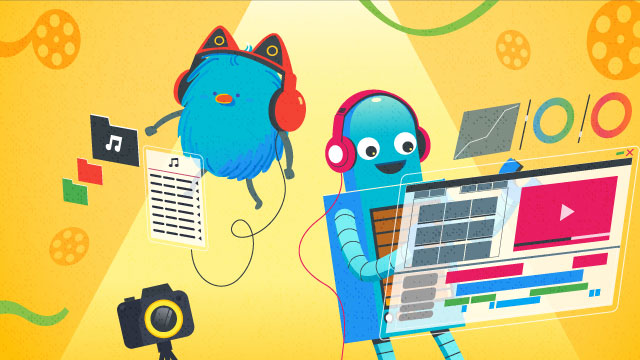 In this era of immediacy, no one has enough time to scroll through a whole batch of data and statistics just to get juicy bits of information. That's why online videos have quickly become an ideal medium for internet users to satisfy their information and entertainment needs.
For most businesses, online videos are such a goldmine for their digital marketing campaigns. Without one, it's hard for them to stay ahead of the tough game and stand out among their competitors. 
That's to say, businesses that fail to include video marketing campaigns in their entire business marketing strategies will do so at their peril.
Having an online viral video that brings the best results isn't pure luck. It takes a creative genius to make it work. Not to mention the challenging production process you also have to follow.
One of the most crucial steps in video production is the editing phase. This is where all the footage comes together to create the perfect flow for the final cut of the project.
A delightfully-edited online video gives you higher chances of connecting with your target audience and engaging them much more effectively compared to the unedited ones.
Editing an online video can be a hectic experience, especially when you have zero design skills. But, thanks to the internet, nearly anyone can edit videos and create compelling online videos for themselves as quality software has now become accessible more than ever.
In this article, we're going to dive into handy and actionable video editing tips to create a high-performing online video.
So, let's roll up our sleeves and start!
Tip  #1. Prepare Your Approach
Planning is vital to any project, whether it's big or small. Therefore, before you jump into the video editing process, it's crucial to get everything organized and make sure that you and your editing team are on the same page.
Planning and preparing your approach help you to get a solid grasp of what the final cut of the online video is going to look like. You'll also be able to understand what equipment you need to begin the process of editing videos.
The key here is making use of tools or software that can help you to prepare your approach. Now the question is: how do you choose the right software? Luckily, we have some answers to it.
Choose The Right Software
A polished online video is more likely created with the help of effective, high-quality tools. It makes it clear that you need to choose your tools well.
With a thousand tools of editing video out there, it's quite challenging to find the best ones for your video production. However, once you figure out what you will be using the software for, then choosing the right software, or anything for that matter, gets easier.
Also, try to choose software that matches your budget. Every software, whether it's free or not, has its own key features that appeal to your video marketing objectives differently. So, make sure you know exactly what features the software is offering and how important that feature is to you.
We've created a far-reaching list of video editing software with their features and price. You can check them out at The Complete List of Video Marketing Tools.
Your best-fit software might be taking up lots of space on your disk. Below is the way you can deal with it.
Close All Other Programs & Applications
Closing other programs and applications will free up a considerable amount of memory and cause less strain on the CPU. Forgotten programs and applications are going to use a lot of space that your editing software needs.
A massive amount of data that comes from other software and applications not only will make your device freeze often, but it also takes your editing work much time and inefficiently.
It's essential to make some more space for the software so you can enhance your device performance so you can do the editing much effectively.
Make Sure Your Hardware Is Capable
You want to make sure your hand-picked software has everything you'll need for editing. But, oftentimes, you overlooked your hardware performance. In fact, your hardware plays a significant role in running video editing software.
That's why it's crucial to maximize your video editing process by keeping your equipment well-maintained. Here are some tips on keeping your hardware "stay healthy" so you can get the most out of your video editing process.
Opt for SSD
In the video editing process, storage space is everything. In this case, SSDs (Solid State Drive) have access speeds of 35-100 microseconds (compared to HDDs 5000-10000 microseconds), which make this storage drive virtually 100 times faster. Remember, SSDs don't make your video editing process any more powerful, it only makes it way quicker.
Improve your RAM
The more space you have on your RAM, the more you can speed up your video editing efficiency. In other words, your video editing software needs an improved RAM to run smoothly. You'll need at least 8 but preferably 16 gigabytes of RAM. So, make sure to keep your system resources improved and enhanced.
Get the Recommended the Video Cards
Video cards allow you to create an online video with extremely high-resolution (4K and 1080p resolution) and make the whole editing process less time-consuming. AMD and Nvidia are just two most commonly-used brands in the graphics cards market, so you can either go for an AMD or Nvidia graphics card.
Get a Premium Processor
One of the most crucial components of a computer when it comes to video editing is the processor. The faster your processor is, the faster your render times will be. In this matter, make sure to buy the best processor you can afford. Intel Core i7 is one of the most popular processors among professionals.
Get an External Hard Drive
If you don't have enough space in your computer for internal drives, then you need an external drive. With an external drive, you'd be able to do the editing process easier and, above all, faster than without it. So, you don't need to waste a half hour or so every day just on file transfer.
Use a Gaming Mouse
In a video editing process, most video editors rely on the keyboard to navigate the software. But, the gaming mouse seems like a smart solution– eliminating the necessity of stretching your hand to push buttons on your keyboard every time. 
To help yourself get comfortable, you could opt for a gaming mouse such as the Logitech G502 or something similar that provides the same level of flexibility and comfort.
Visualize Your Final Output
There are some high-performing types of video that most video editors produce to achieve their particular goals, whether it's for entertainment purposes or marketing purposes. 
Now, you should think of the kind of online video your target audience wants you to produce. Do they like professional or just-for-fun videos? This question makes it easier for you to visualize your final output. 
Below are some popular types of online videos to help you to visualize how your video will take shape.
Vlogs.

This type of video has become mainstream in video-sharing platforms, like YouTube. Since it's a mostly casual, non-formal video, the editing process should be more flexible with some humor involved.

Music videos.

Oftentimes, music videos require professional editing, as some people believe it's a mix of commercial and artsy stuff. High-resolution footage balanced with fine-tuned music can get loads of views and higher the chances to make it go viral.

Explainer videos.

There's no video better than explainer when it comes to explaining things. With narrative-driven stories and sometimes endearing animated characters, even the complex ideas can be broken down in smaller chunks. Make sure you make the script as concisely as possible so you can simplify the editing process.

Product demo videos.

In the marketing landscape, a product demo video is an effective way to demonstrate how your product benefits the customers. It's crucial to capture some details and get excellent footage to highlight your product appearance and its features.

Behind-the-scene videos.

This type of video reveals the beautiful chaos in video production. Most of the behind-the-scenes videos are made from as much footage as possible. You can take a few moments to explain everything you're going through in the process verbally. However, there are also behind-the-scenes videos that only use time-lapse without any narrative (just background music) and some headlines.
Tip # 2. Become a Storyteller
At its heart, video production has always been about telling a story. 
That's what makes online videos so appealing; it's a medium that we are hardwired to respond to. It allows you to tell visual storytelling, which conveys knowledge and information faster. And with superb editing, you can deliver the story even more effectively.
Video editing is an essential part of the visual storytelling process. This phase allows you to add and perfect the footage, color grading, motion, music, lighting, and even pacing of your video to set the mood for the message you're trying to deliver– simply trying to piece together a story that makes sense.
As an editor, you should pay more attention to elements that are going to grab more attention, such as focus, movement, brightness, and more. It will not only allow you to keenly choose your edits but also guide your audience through the story, making them react emotionally to certain situations on-screen as well.
Read More: 4 Principles to Storytelling With Videos
Tip # 3. Focus On The Quality
A high-quality video tends to impress viewers right after they click on the play button. Today, capturing a high-quality video becomes so much easier than it was ever before. Even with your smartphone camera, you'd be able to take a crystal clear video with good quality and high resolution.
In this case, video editing plays a vital role in maintaining video quality. It allows you to make the video look more professional and crisp, rather than keeping it raw. So, it should come as no surprise that most software nowadays focuses on high-quality video production. 
To help you improve the quality of your video in the production room, below are some handy, actionable tips for it:
Stabilize Using Plugins And Tools
Shaky footage that might happen either because of trembling hands or lack of proper gear to stabilize the camera can disturb the viewers' viewing experience and can lower your video quality. That's where video stabilizer software comes handy- to help you fix the shaky footage.
Most popular video editing software offers stabilizer features, like Fimora9, FinalCut Pro, iMovie, Pinnacle Studio, and more. 
Colors Contribute
Color is a critical element in visual storytelling. It conveys meaning beyond what your viewers see on screen. It helps you to describe objects, express emotion, and evoke responses among them. So, to create a high-quality video, it's vital to get them right.
Fine-tuned color subtly shifts the mood and tone. It makes your shots look as if viewed from the human eye. You need to make sure that everything in between is nice and even. In the video editing process, the perfection of color is mostly done through color grading or color correction. 
Less Is More
The overused phrase "less is more" has never been more accurate than when editing video. You might think that the more you edit, the more epic the final cut will be. That's not true. Indeed, there are a million things that you can do for video edits, but less is more. Don't overdo it; keep only the essentials.
An over-edited video tends to be too pushy and confusing. Remember, making your online video shorter, tighter, and more concise is the key.
Another video editing tip you should consider doing to make your online video much simpler yet elegant is using graphics on your titles.
Use Simple Graphics On Your Titles
Your video title is what your viewers see when they find your video for the first time. And adding it to your video gives the viewers more context. Consider also including simple graphics or animation to make your title more appealing. That way, you can encourage more and more viewers to click on your video.
Use B-Rolls When Shooting Your Footages
If you're looking for a quick, effective way to make your final cut more exciting, adding b-roll, or extra shots can definitely help. Incorporating B-roll into your videos allows you to improve the production value and gives it a professional polish. 
B-roll footage is the secondary video footage shot outside of the main ones (A-roll). It's used for enhancing the A-roll footage- to bolster the story and create more cinematic scenes. Also, throwing in some B-roll is such an excellent video editing technique for cutting out the unwanted bits you have from the A-roll.
Tip # 4. Select the Perfect Music and Sound Effects
In its heart, video is a combination of pictures (moving images) and audio (music and sound effects). Those two elements should balance each other out.
However, background music and sound effects are elements that are often overlooked by editors. In fact, it can make all the difference and create a significant impact on the quality of the video.
Leveling Background Music
Relevant background music emphasizes what's on the screen and is used to indicate mood. It makes it easier for you to evoke the viewers' emotions. Therefore, it elevates your video dramatically. Make sure the background music is slightly quieter (appropriate range is approx. 40 decibels) than your narration (approx. 64 decibels).
Speed Ramping
You can use speed ramping to speed up or slow down portions of the audio. Speeding up and slowing down your background music or sound effects can bring an entirely new feel to your video. 
Article Related: Why You Should Never Ever Overlook the Importance of Sound Effects in Your Video?
Tip # 5: Create & Maintain an Efficient Workflow
Video editing is a complex task that's made up of many smaller parts. With an excellent workflow, you and your team will be able to tackle all the elements in video editing efficiently. 
A workflow can act as a roadmap for your team, pointing the way to the finish line and making sure that everyone on the team is on the same page. One of the most crucial keys to creating and maintaining an efficient workflow is organizing your files.
Organize Your Files
Most editors find it challenging to keep their files efficiently organized. So, it's easy to get files misplaced. Actually, it's necessary to label your data and organize them into folders to keep your sanity, speed up the whole editing process, and work more efficiently.
Tip # 6. Learn Keyboard Shortcuts
Mastering your chosen software and learning all the keyboard shortcuts when doing edits make your editing process seamless and quick. It helps you to perform repeated actions like playing footage, zooming, inserting, trimming, and more at your fingertips.
A Glance at Cheat Sheets
Being a pro in keyboard shortcuts isn't just a party trick to impress your team members, it's also a path to a more efficient editing process- which makes you more of an asset as a video editor. 
Most popular video editing software (like Adobe Premiere Pro, Final Cut Pro X, iMovie, and more) has a keyboard shortcut cheat sheet that helps you get that cut done on the deadline. Taking extra effort and time to learn them will save more of your precious time.
Invest In a Keyboard
If you have enough budget for the editing process, consider investing in keyboards that are made especially for video editing. 
Here are some of the best-selling video editing keyboards you might want to purchase:
Final Cut Pro X Keyboard

Avid Media Composer Keyboard

Adobe Premiere Pro CC Keyboard

Sony Vegas Keyboard 

Edius Keyboard

After Effects Keyboard

DaVinci Resolve Keyboard 
Begin Editing & Enjoy Your Video
The Video marketing landscape is only getting louder and louder each day. More than 300 hours of video are uploaded every minute on YouTube alone. Now that the internet has become a block place with video content, it's crucial to learn some basic video editing tips for beginners and small businesses with a shoestring budget so that your video stands out.  
The video editing process might seem like a full-time job. But, when you're willing to take some time and effort to learn the video editing techniques, it's all plain sailing. Those video editing tips above can help you perfect your video editing process so you can gain more and more an audience.
CTA – Here, at Breadnbeyond, we can help you to do all the backbreaking works of video editing. You can get your well-crafted explainer video seamlessly. Check out our packages and claim your FREE consultation by clicking on the banner below!