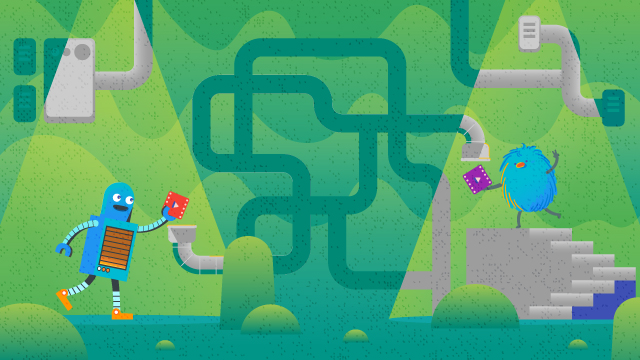 Do you know that by 2022, online videos will account for at least 82% of all internet traffic? It means that the internet is becoming a chock-a-block place with online videos.
That makes sense, though, knowing the fact that YouTube is the second-largest search engine worldwide with more than 500 million hours of videos watched on the platform alone.
Now that the demand for online video remains all high, video marketing has now firmly become a staple in every savvy business's entire marketing strategy. Those who still sleep on the power of video marketing will get much easier to lose among the crowd.
In essence, video marketing is such an ever-changing and ever-growing landscape, so you and all the smart fellow marketers out there have to continuously look for the best way to get their messages to be heard among the noise.
This post will give you a quick, handy guide about video distribution to help you get a better video marketing strategy for better promotion.
Let's dive in!
Types of Videos That Are Easy to Promote
On YouTube, more than 500 million of content creators continually produce unique, likable content to build their community base and build their channel.
If you nail the favorable, accessible content, you'll be able to seamlessly get a better result in video distribution efforts and develop a strong engagement with your audiences.
Certain types of videos appeal to some marketing objectives better than others. With so many different types of video content out there, it's easy to fall into a bit of analysis paralysis.
Now, the question is, what content should I create to get more views?
Luckily, we have this A-list of content for videos that have been the talk of the town in the past few years.
How-To Videos
According to Google, internet users are more likely to prefer watching a YouTube tutorial video than reading a user manual. This fact alone proves that how-to videos are one of the most popular types of video content on the internet.
Remember, a crucial reason, why people flock to video content, is that it provides them with quick, straightforward information. That's why how-to videos are their go-to type of videos whenever they need to look for answers to their questions.
Regardless of your industry, how-to videos are one of the best delivery methods if you're aiming to teach your viewers in a concise, actionable way.
Educational Videos
Video content is the combination of both visual and audio that appeals to a broad audience and allows them to retain crucial information in a way that's natural to them.
Educational videos are such an effective type of video to break down even the most complex topics into smaller chunks so your audience can easily digest the messages you deliver.
Psychologically speaking, the human brain processes visuals at least 60,000 times faster than plain text. In addition, more than 90 percent of the information that is transmitted to our brain is mostly visual.
That is what makes educational videos a staple content in most online learning platforms—tapping into this type of video gives you a higher chance to expand your reach and make viewers stick around.
Funny Videos
Laughter is considered as a natural medicine for the body– it's good for your mental and overall health.
In this matter, funny videos can make your audience have such a good laugh that once they are done, they can't help but trust your brand and share your video.
Creating funny videos can higher your chances of going viral. Do you remember the Numa Numa video? Or the Chewbacca Lady? What about Charlie Bit Me? All those viral videos have a decent amount of humor that can make you giggle.
While funny videos are such an excellent way to engage your audience, try to put humor that resonates with your brand image and your audience's sense of humor.
Remember not to force every video you create to have fun in it.  It's best just to keep it natural.
Explainer Videos
As a savvy marketer, you must've noticed that explainer videos are one of the best in their class when it comes to explaining things concisely.
This highly-engaging type of video is used mostly to introduce a product or service and show the viewers how it benefits the customers. Explainer videos primarily include narrative-driven animation to make the whole explaining process even more effective.
Explainer videos are quite versatile. It can be used for different purposes, from an idea pitch in a meeting to social media video campaigns.
With a compelling explainer video, your audience will be able to have a solid understanding of your brand and engage with the product or service you offer. And because its a highly engaging video, promoting it on different platforms is easy.
Read More: The Definitive Guide to Explainer Videos.
Compelling Strategies
Once you've settled on a particular type of video, it's time to understand how to get more eyeballs. After all, video is supposed to be enjoyed and shared by people. One thing is for sure, you've to put your video in the best placement.
No matter how brilliant your video content is, if there are no viewers, what's the point then? Your brand or service won't reach potential customers.
Therefore, to help you out, we've come up with effective ways for video distribution to give your videos the limelight it deserves:
#1. Plan How To Reach Your Audience
The next step in creating a well-structured plan for actively engaging your audience is how you can reach them. Posting your video on your site isn't enough.
Reaching your audience will involve a mix of advertising or optimizing free channels. You can choose whether you want to use the paid option like AdWords or free advertising using social media such as Facebook, Twitter, and other platforms.
In this case, you need to consider your business needs and the budget you have. If you want quick results and have enough budget, you can rely on a paid promotion where all the targeting options are facilitated by the platforms you spend bucks on.
However, if you're on a shoestring budget, free video marketing campaigns are enough for you to improve brand awareness for the long haul steadily.
#2. Research What Your Audience Wants to Watch
Great! Now you got the plan. The next step is defining your target audience.
Ask yourself this question: Who did I create this video for?
Make sure you know enough about whom you want to appeal to. That's how you create effective videos cost-effectively.
Doing some research can make a difference.
Try to figure out what kind of content your audience enjoys. Check when they have time to watch your videos and how they'll respond to your content. It'll help them to relate to your brand and give them a reason to stick around.
Knowing what your target audience wants to see can help you produce a video that will not only engage them but also convert them. As a result, you'll get the maximum exposure you've been dreaming of.
#3. Analyze and Track the Right Metrics
Analyzing and tracking metrics help you to understand how well your video is performing. With that, you'll get more insights about what kind of content performs best and least.
That's to say, you'll always learn something new– therefore, you can continuously improve your next video distribution efforts and get better results.
Below are some essential video marketing metrics you should consider tracking:
Awareness and reach metrics
Conversions
Views
Play rate and replays
Shares
Impressions
There are different metrics to track, depending on the type of video you produce.
For example, if you create an explainer video to showcase your products, you will need to track conversion metrics but don't need to focus on views.
However, if you aim to create a viral video, you definitely should pay attention to views and shares metrics.
#4. Choose the Right Channels
In the video distribution process, the key is choosing the right channels to get the best results. There are different channels you can take advantage of, but how do you know that your preferred channel is the best one for your videos?
Start by understanding the demographics and users' behavior on each platform. Remember, video-sharing platforms or channels have different audiences with the potential to reach them.
It means a video that performs best on YouTube (gets a lot of views and likes) doesn't always suit the taste of Twitter users as well.
Therefore, understanding how users behave and their preferences is crucial for devising video distribution for maximum promotion.
If their target audience is composed of business-minded customers, then posting their video on Snapchat is going to flop– try to distribute it on LinkedIn instead. We'll get more about the video-sharing channels in the next section.
#5. Position a Clear Call to Action (CTA)
Besides the impressive amounts of views, you'd be a lot happier when the viewers are also performing your desired actions; buying your products, watching your other videos, visiting your website, etc.
That's why you need to include a clear CTA in your videos. It helps you to direct your viewers to the next step and prompt them to actually do something after they finished watching the video.
Let's say CTA is just like a virtual handshake with your viewers– it's to close the deal.
In that case, one of the best ways to integrate CTA into your videos is to bake them right in. You can use a screen with compelling text, often at the end or during the video, to give the viewers guidance on what they should do next.
You can also include an auditory request of the same nature using voice-over (if you create animated explainer videos) or through the actors (if you generate live-action videos).
#6. Constantly Look For New Opportunities
Nobody said that creating and distributing high-performing videos is the simplest task in the world.
Like any other marketing strategy, video marketing takes time and effort until you get the maximum results for the long haul.
This is especially true in the digital world, where videos are progressing rapidly. It means there is always a strategy that's better than another.
However, every smart marketer won't stop exploring new strategies and keep at them through trial and error.
Mixing in different elements and trying different ways will help them discover how to reach their target audience.
Keeping up with the latest video marketing statistics can also be of help to give you more insights about the trends and what you can do to come up with the best strategy.
Distribution Channels
As mentioned before, distribution channels play a significant role in your video promotion. Once you pick the most suitable channel for your business, you'll deliver your message more effectively to the right target audience.
Now, it's time to discuss some potential channels you should consider using in the video distribution process.
1) Website
Your website can act as your online brochure or catalog, allowing your target audience to get to know and learn more about your brand.
Since a website works as a constant marketing representative, you should integrate video content into it.
That's because video offers an excellent way to deliver your core brand message in a more concise, straightforward approach compared to the old, plain text.
Embedding a compelling video to your website can also boost your SEO ranking as search engines value videos more than any type of content.
That's to say, videos increase your chances of getting your website to sit on the top page of search engine results pages (SERPs).
Landing Pages
Landing pages are specific pages on your website that are created for converting visitors into leads. Adding videos to it can improve your engagement and conversion rates.
It'll convince the visitors to trust your product and affect their purchase decision.
Related Article: How a Landing Page Video Will Help Your Conversion Rates.
Blogs
Including compelling videos in your blogs allow you to convey your message instantly to the audience. It's such a great complement to your copy and will strengthen your core message overall.
That's how you give your audience quick, useful information.
2) Email Subscribers
This stat says it all: embedding videos into your email marketing boosts open rates by at least 19% and improves click-through rates by 65%.
Your email subscribers receive tons of new emails every day. Sending them a stale, just-another email won't catch their attention enough. As a result, your emails get buried in their inbox.
With video content, you'll be able to catch the subscriber's eyes after seeing the subject names. It gives you the best possible chance of breaking through to them.
Read More: 4 Things to Consider Before Embedding Video in Emails.
3) Social Media Platforms
Social media platforms have become a long-time mainstay for most marketers when it comes to video distribution. The platforms are easy to use and have a massive amount of audience.
Above all, most of them are FREE to use.
Today, there are more than 3.4 billion social media users worldwide. This staggering number offers you an opportunity to expand your reach.
Below are popular social media platforms you can use for distributing to get maximum exposure:
YouTube
Facebook
LinkedIn
Instagram
Twitter
Groups and Forums
One of the best things about social media is that you can join virtual communities and talk about subjects you're interested in or under your expertise. In this case, you can share the video through community groups and different forums, like Facebook groups or your private community, if you have any.
4) Paid Ads
If free methods of video distribution are too painful for you, get the best promotion by using paid ads.
Platforms like Google AdWords can help zone in on targeted audiences and get quicker results. Companies with deep pockets often use this method of advertising to attract more audience attention.
Once they nail their focus, they continue using free methods like social media to engage their audience.
While free platforms like social media are too general, paid aids have control over which users you reach—from hyper-local geographics, narrowed down to interest and keywords. It helps you to promote your brand effectively.
Read More: 7 Actionable Tips to Optimize Your AdWords Video Campaign.
Useful Tips to Maximize Your Video's Distribution
There are some useful tips that most marketers or video creators often overlook in the video distribution strategy and process. Luckily, we have it listed below so you can pay more attention to it and get your videos more clicks:
Create an Enticing Thumbnail
Along with the title, the thumbnail is the first thing your audience sees when encountering your video. It's such a significant deciding factor whether or not they click on it.
So, it's crucial to design them eye-pleasingly to tempt more audiences to watch your video.
Choose a Curiosity-Provoking Title
The title you select for your video is a crucial tool for standing out among the rest.
There is a lot of content that is similar to yours. And with curiosity-provoking titles, you stand a chance to get more clicks.
Target the Right Keywords
Creating a keyword-based title and description will help search engines include your video when crawling the web.
As an effect, your videos will appear on the top pages of SERPs if the viewers search for the keyword you've used.
Start Your Brand's Unique Growth
Rome wasn't built in a day. Like any other digital marketing strategy, you can't expect the best result from your video distribution in the allotted time.
Simply put, video distribution takes time and needs patience. From testing what works for your brand to trying different strategies- it all boils down to creating a plan that works for your brand for the long haul.
Looking for a high-performing video type that brings you the maximum result of your distributing efforts? The explainer video might be the one you've been looking for!
Create with us today and get a FREE consultation by clicking on the banner below!