This guide has everything you need to know about the definition of explainer videos, how it's made and how you can create an engaging explainer video.
Let's dive right in.
Why?

Visual and auditory cues are much more powerful than text, making video an effective tool as it combines the two.
In general, people tend to have a preference for video rather than reading a block of text.
Online video is also the fastest-growing ad type on the internet and has become a trend among businesses, according to eMarketer research.
It also explains a product or service better than any other media since the best way to describe something is by using video.
A video has a visual aid, which is how the majority of humans rely on it when it comes to learning. And thanks to the combination between visuals and descriptive voice-over or text, a video is more time-efficient in conveying a message or describing a product.
It is also more cost-effective than printing a large number of pamphlets or brochures.
Explainer videos can be used to gain a wider audience. Everything is digital nowadays, and we can easily share videos through many social media networks.
This increases the chances of capturing the attention of a global audience.
If you need more reasons how explainer videos can help boost the overall marketing strategy, we've asked some professional marketers. See their answers: 30+ Experts Reveal How Explainer Videos Help Closing More Deals.
The State of Video Marketing
The current trend in marketing suggests that videos are the most viable marketing tool to use for the next few years.
Cisco: By 2020, online videos will make up more than 80% of consumer internet traffic.
Business Insider: People watch more than 500 million hours worth of videos each day on YouTube.
HubSpot: 55% of people pay more attention to videos compared to other types of content.
Google: "how to" queries on YouTube have grown 70% year-on-year. Tutorial videos are great investments for your brand.
Google: 40% of YouTube users look up videos for more information about a product.
Providing more information about your product online is a great investment to cater to people who look up your products.
Check out these articles to get even more convinced with the power of explainer videos:
How an Explainer Video Can Help Your Company
These are some reasons why explainer video can help startups and businesses breach the market with their unique product.
Deliver information faster and better.
Can be used on virtually any digital platform.
ROI from explainer videos can be tracked better.
Easily shared
Get to the point quickly
Fit practically any digital marketing campaign.
Improve search engine rankings
Great for mobile marketing
Explainer Videos and Online Advertising
Explainer videos are great advertising content if you're looking to get a bit of awareness and traffic boost to your website.
In other words, this type of marketing video is best to use for the Top of the Funnel (TOFU).
When its components are formulated to engage your target audience, an animated explainer video can be a strong foundation to build brand trust. Learn how to build brand trust with animated explainer videos here: 4 Steps to Building Brand Trust with Animation Videos.
Also, as it's short and attention-grabbing, explainer videos would be powerful to use as an online advertising tool. You can use explainer videos for your YouTube marketing or social video marketing in general.
Read more: How To Use Explainer Videos As Part Of Your Sales Strategy.
The Basics

First of all, it's crucial to understand exactly what explainer videos are and all the basics about this engaging type of marketing video.
What Is an Explainer Video?
Explainer videos are short animated videos that describe the idea of a product. They are mostly used by companies to introduce a new and unique product along with its benefits over the existing alternatives.
The form of explainer videos are usually 90 seconds animation videos that explain what your business does, offers, and produces.
Some explainer videos are animated. Others rely on live-action footage.
While live-action explainer videos are best to put a face on a brand, animated explainer videos are often used for explaining and illustrating complex processes that real cameras can't capture (e.g., DNA, volcanic eruptions, how medicine works, etc.)
That said, whether it's animated or live-action, all explainer videos' main purpose is to help people clearly understand what you do and persuade them to buy your product or services.
It's one of the most effective marketing tools to increase conversion rates.
"...and why is that?" you asked.
Because it can break down even complex topics into smaller, snackable chunks so the viewer can easily understand the information.
When potential customers understand what your business is all about, then they should have no problem trusting you. And remember that people only buy from a brand that they trust.
To give you an understanding of how this type of marketing video looks like, here's an example of an explainer video we created for Salesforce:
The video gives the viewer a solid insight into what the company is all about. It also highlights the benefits and how it actually works in such a 90-second intriguing story-driven narrative.
See other top-performing examples of explainer videos here: Explainer Video Examples in 9 Different Industries.
Who Needs an Explainer Video?
In today's competitive marketing landscape, we can say that all types of businesses need a video marketing strategy to stay ahead of the game.
When we talk about video marketing strategy, explainer videos can be one of the most powerful types of marketing video many businesses use. That said, there are some companies or businesses that might find a huge advantage in explainer videos.
Online Learning or Courses
With stunning animation, intriguing narrative-driven stories, and concise script, explainer videos can be a powerful, cost-effective medium for online courses — helping learners understand better.
Using explainer videos allows learners to learn at their own pace. They can download, save, play, pause, even rewind it wherever and whenever they want. Learning in this way, the learner is given optimal flexibility to incorporate their education into their different lives and schedules.
Learn more about how to use explainer videos for online learning:
Healthcare or Medical Business
Healthcare topics are often overwhelming, especially for beginners. It's quite tricky for marketers to get their messages across effortlessly and expand their reach.
That said, explainer videos are effective for simplifying that complex information. They will help you to break the topics down into a digestible format. You can also use animation to illustrate things you can not even capture with real-life cameras, like how medicine works on your body or how viruses can do no good to your immune system.
Read more to find out what benefits you'll get by leveraging explainer videos for your healthcare business: 6 Benefits of Using Explainer Videos in the Healthcare Industry.
SaaS Companies
Whatever is linked to technology can be quite challenging for some people to understand. This is what makes SaaS businesses struggle to explain their app or service smoothly to the audience.
Other than helping you to make your SaaS explanations more understandable for potential users or customers, explainer videos are also a great way to introduce or pitch your idea to potential investors, support your app launch, or boost conversions, and signups.
Learn more why you need explainer videos for your SaaS products: SaaS Explainer Videos: The Bridge Between SaaS and the Customer
Human Resources Department
Human resource managers or leaders can take advantage of explainer videos for their new employee's training programs. Rather than giving new hires mountains of information to read and memorize, you can use an explainer video for better retention.
That way, you create a better onboarding experience. And remember that when onboarding is done well, it lays a foundation for long-term success for the employee and the company. It can improve productivity, build loyalty and engagement, and help employees become successful early in their careers with the new organization.
Find out more about the explainer videos usage for training programs:
Construction Industry
As the new era of device-driven technology takes over everything from communication to project proposals. Construction company owners have been forced to embrace it often in place of traditional "handshake" interactions.
This is where explainer videos come in handy. You can use this type of video to train the workers, demonstrate a certain building construction technique, "build" your brand, increase qualified leads, and get your company in front of the right decision-makers.
Find out more about explainer videos for the construction industry here: Explainer Videos for The Construction Industry and Safety Education [INFOGRAPHIC]
The Right Formula
Engaging explainer videos that effectively reach an audience have a similar formula.
With the example above, you understand that the video flows through the following process.
The Problem — Introduce the problem that the viewer is currently facing. Use visuals to show the story of how the audience experiences the problem. Break them down in their language and from their perspective.
The Solution — Show your product or service selling points and how it can help the viewer solve the problem.
How It Works — Explain step-by-step how the viewer can benefit from your product/service. You can also showcase your unique solution that your competitors don't have.
Call to Action — At the end, tell the viewer exactly what they need to do next to acquire the product or service and make their lives any easier.
The Ideal Duration
I understand. As a marketer, you have a lot to say to your customers. But, when it comes to explainer videos, less is more.
It's often the problem that an explainer video strays away from its original purpose: to explain a product to viewers within a short time period.
A case study shows that the ideal length for an explainer video is around 45-90 seconds long.
Any time shorter than 45 seconds is a tight gap to get your point across, and more than 90 seconds can bore your viewers. According to the stat, a viewer will lose focus and stop watching a video after the 2-minute mark.
When it reaches 2 minutes in duration, its audience retention rate drops to 57%. Check out our resources on explainer video length to achieve the optimal result:
With all that said, should your explainer video really be no longer than 2-minute? Is that a rigid rule?
Well, the best answer is: your video should be exactly as long as it needs to be and no longer.
That doesn't really mean that you're aiming for a specific number of minutes or seconds. More than anything else, you should focus on your message and how to make it concise and engaging.
The Essential Components
A professional explainer of video production is quite complex. Before you sit in the editor seat, there are a lot of things you need to do in advance.
After all, explainer videos are a combination product of several elements that complement each other.
But while the style of a great explainer may vary, the essential elements of an explainer video will always be the same. Every great explainer video should have these components below on the production:
Scripts
The explainer video script is the narration for the video – and the goal is to convince people through words. Check out our guides to explainer video scripts here:
Background Music and Sound Effects
While explainer videos are mostly about the eye-catching visual and fluid transition between frames, there is more to it than that.
Background music is responsible for adding nuance to the overall feel of an explainer video. Picking the right music can amplify how viewers will react to the video, to an extent.
Find out more about explainer video music here: Explainer Video Music Secrets.
Voiceovers
The end goal of having a voiceover in an explainer video is to make it sell – which is why you need to pick a compatible voice actor for your brand.
To improve your skills before landing your first voice acting job, learn more in this Voice Acting Mastery Infographic.
Storyboard
A Storyboard is the rough visualization of your script. It enables you to see how your video will appear visually before it is animated. Check out our resources on storyboards for explainer videos: The Essential Guide to Storyboard for Explainer Videos.
Graphics or Animation
Despite being a decent marketing tool, animated explainer videos are a form of digital art. In order to stand out, it needs to have signature looks and visually pleasing animation.
That is why this process takes the longest in an explainer video production process – because art and perfection need time to be born.
Call To Action (CTA)
Call-to-Action is a fundamental element in any marketing material that sometimes gets overlooked.
Here's a free downloadable ebook on so you can make a better call to actions for your website:the call to action at the end of your video actually count: Call-to-Actions Guidelines [Ebook]
The Cost
Thanks to the internet. Now you can create your own, DIY explainer videos using online tools and explainer video makers so you don't have to break the bank.
Most online explainer video makers also provide you with ready-to-use templates, so you can create a video effortlessly— no design skill is required! You can see the templates here: Get Started With These 56 Explainer Video Templates For Free.
But, if you want to ensure that you create a professional and high-converting explainer video, hiring a professional team is the best way to do it.
When we talk about working with a professional video production company, then the cost has always been a thing that is questionable.
So, how much does an explainer video cost?
An animated explainer video produced by a studio can cost anywhere between $2,000 - $50,000.
Usually, production price varies based on:
Quality of work (how complicated and detailed the animation is)
Type of animation (3D takes much more time and therefore is more expensive than 2D)
Illustrations
Music (fully custom or stock?)
Sound FX
Length
Time of delivery (how fast you need it)
Find out more about how an explainer video company calculates the price here: How Do Animation Studios Calculate the Cost of an Explainer Video?.
At this point, you might ask, "well, if there's no fixed price for an explainer video, then how much should I spend on it?"
The short answer to this is depending on the scale of your business.
Small businesses and bootstrapped startups don't always have $1,000 laying around – it may well be the entirety of their marketing budget.
Getting Started

Explainer videos are marketing tools, which means you need to plan ahead several things before you jump onto the hype train and spend your budget on one. Let's take a look at all the phases you need to go through for creating a professional explainer video.
Pre-Production Process
There are several things that you need to prepare before you can start creating an explainer video. Pre-pro is the planning stage.
Many marketers are too excited to jump into the production process as soon as possible. Spending the appropriate amount of time in pre-production to nail down the video's concept is often an overlooked step in the production process.
In fact, this phase is crucial. It's where we get all of the ducks in a row so the rest of the production process can run smoothly.
So, what things do you need to prepare or do in this phase?
Research (target market, audiences, competitors, recent trends, etc.)
Define goals and the company's personality
Establishing a budget to spend
List of equipment and filming locations (if you create a live-action explainer video)
Concept or idea talks (with your team and the production company— if you hire one)
Scriptwriting
Production Process
After you got all those things prepared, now you're ready to visualize your ideas and bring them to life in the production process.
In this process, you'll bring your crew, equipment, talent (actors), and all necessary props out to the location and capture all the footage necessary.
If you create an animated explainer video, this is where you add elements such as motion graphics, animation, or voice-overs in your video.
The production process consists of some essential steps like:
Voice-over recording
Sound and music effects
Filming/ animating
Read more about the stages of creating an explainer video here: 8-Stage Production Process of Explainer Videos
Post-Production Process
The work that is done on the production process will be brought up in the post-production process.
When in a production process, you might miss some details. For instance, you weren't aware of the coloring that happens in the post or the audio mixing.
This process is where all the footage you filmed or all the animation you created is constructed and the final touches, the elements that really make the video pop, are added to the final product.
In other words, you make sure that everything is perfect and well-put. So, you'll be organizing, cutting, coloring, and editing the footage captured in production.
Most-Used Types

Explainer videos are a mix of marketing and creative design – which means there are many different styles and functionality that can be achieved.
There are more styles out there than you probably think. We've mentioned briefly in the beginning that there are generally two types of explainer videos; animated and live-action. If we want to get even more in-depth, the animated explainer videos also have various styles.
Animation vs Live-Action
What makes animated explainer videos different from live-action ones are their production process, price, and way of explaining things.
But nope. One is no better than the other.
As you might already know, animated explainer videos are best when it comes to breaking down abstract processes or topics. Therefore, businesses in industries that have complicated information, such as healthcare, real estate, SaaS, fintech, and IT industries mostly rely on animation to simplify their messages and create more snackable and straightforward explanations.
On the other hand, live-action videos are doing such a wonderful job in humanizing your brand since they use real actors, dialogue, even skits. So, when your aim is to be relatable and evoke the audience's emotions, live-action explainer videos might be the best go-to.
Before you decide whether you use animated explainer videos or live-action, consider these followings:
Brand image
Target audiences
Your budgets
Allocated time and resources
Read more about animated and live-action explainer videos here: Animated vs. Live-Action Explainer Video: Which One Should You Choose?
Whiteboard Animation
Whiteboard explainer videos are black-on-white videos that make viewers focus on the content more than the visual. It's an awesome style for education purposes – but it also makes for a great marketing tool. Learn more about whiteboard animation advantages: How Whiteboard Videos Increase Viewers' Memory Quality by 22%.
Motion Graphic Animation
A motion graphics animated explainer is incredibly fluid — you almost can't go wrong with it, whatever the case may be. Check out our motion graphics explainer video collection here: Motion Graphic Explainer Video.
3D Animation
3D animated explainer videos can look fancier than classic 2D animation. If you want to showcase an object from different angles, this type of animation is the best one to go. However, it might cost you extra bucks. Learn more: 3D Explainer Videos: Is It a Good Investment for Your Brand?.
Screencast Animation
Screencast animation uses screen captures along with audio narration. It is mostly used for SaaS businesses to show the app's interface or give viewers a step-by-step guide to use a feature. Find out more about this type of animation: A Quick Walkthrough of Screencast Animation.
Kinetic Typography Animation
This type of animated explainer video is best used for social media marketing. With stunning transitions and eye-catching fonts, it brings the text to life. Even without the sound, viewers will understand what the video is all about. Read more about kinetic typography animation: What You Need to Know About Kinetic Typography Animation.
Silhouette Animation
As the name suggests, silhouette animation is a character-oriented video type, with dark silhouettes being cast against a contrasting background. The viewer will have their interest piqued from the start as it isn't something they see every day. Learn more about silhouette animation: Silhouette Animation: The History of Animated Silhouette Films
For more animation styles used in explainer videos, check out our article: 16 Amazing Animation Styles for Explainer Video and see the complete list.
Insider Tips

An explainer video is nothing if it doesn't engage your audience the way you want it to. Check out our resources on producing an explainer video that generates strong engagement below:
Start With a Problem
When you're lucky enough to convince your audience to click on your video, you should never disappoint them. Make them watch it all the way through by creating a strong intro.
Start with a question or highlight the problem that your audience is currently facing. This helps build an emotional connection and make your video relatable. It also shows that you understand your audience and want to make their lives easier or even better.
So, instead of starting with hard-selling lines that can scare your audience away, make sure you do some research about your target audience, find their pain points, and how you can provide them with solutions using your product or service.
Benefits, not Features
I understand. Having such advanced features that your competitors do not have would make a great selling point. But, you should never spend a whole minute just bragging about them.
In fact, your audiences could not care less about those awesome features. All they care about is how they will help and benefit them.
Instead of focusing too much on the features and mentioning them one by one, it's always better to break them down into benefits. Ask yourself, "what those features are for?" and "how they can help the audience?."
Make It All About the Audience
As a marketer, you have a lot to say. You just want to make sure that your audience doesn't miss a thing. But, the thing is that you create your explainer videos for your audience to see.
No one wants to click on a video just to see a brand brag about their products for a whole minute. In other words, make your explainer video customer-centered.
Put yourself in your customer's shoes so that you can think like them. This way, you can have an insight into what they need to see and what can bore them instead. Avoid any fluff or unnecessary information that can only confuse your audience and make them click away.
Remember that the purpose of your explainer video should be to understand your audiences' pain points and how your product or service can help them at some point.
Have Some Fun
The beauty of an explainer video is that you can use tone and language that match your target audience. You can add some humor to engage your audience and create top-in-mind awareness.
Writing a friendly, chucklesome script can be the best way to deliver your message and help your audience retain it better. When your audience finds your video quite funny, they share it with their social circle and get a good laugh out of it. That's how you boost the exposure.
Humor on your explainer video also makes your message doesn't feel like advertisements. That said, not all humor can boost video performance. Get them wrong and you can harm your reputation. You need to make sure the humor being presented is appropriate to your industry, target audience, and the product/service being sold.
Pay Attention to Audio Quality
Audio elements such as background music, sound effects, and voiceovers are just as important as the visual of the explainer video. After all, both audio and visual should be balanced so the story can flow smoothly.
Nothing can ruin the video faster than poor audio quality. It doesn't matter how much you spend on the visuals, when the audience can't understand what you're talking about, the video will fall flat.
Invest in a good quality microphone to produce crystal-clear voice-over (or you can hire professionals), captivating background music, and sound effects. Professional audio will help you set the tone and evoke all types of emotions.
Best Platforms
No matter how brilliant your explainer videos are, if no one watches them, it wouldn't bring you anywhere.
This is why you need to understand platforms that you should use to get your explainer videos the exposure it deserves.
Remember that there is no one-size-fits-all when it comes to the best platform for explainer videos. It all depends on the purposes, your target audiences, and the messages you try to deliver.
Website
Website is one of the most common yet powerful platforms to host your explainer videos. After all, it acts as your 24/7 online store.
This is the online place your potential customers will visit when they type your business name on the search results.
Adding an explainer video to your website is not only effective for boosting traffic and higher your rank on the search engine, but it also helps the visitor to understand your business better.
So, when your aim is to sit on the front page of Google search results and educate your visitors much better, the website should be your go-to platform to host your explainer videos.
You can put an explainer video on the homepage, FAQ page, About Us page, and landing pages.
Those essential pages are the pages that most visitors will visit when they explore your website and need more information about your business.
Social Media Platforms
With more than 4.4 billion users worldwide, social media platforms have now become powerful marketing channels for marketers.
When you need to boost online presence, expand your reach, and interact with your potential customers in the most casual way using your explainer videos, then you definitely should leverage social media platforms.
YouTube is the first social media platform that comes across our minds— when we talk about videos, isn't it? In this second-largest search engine, almost 5 billion videos are watched on YouTube every single day.
Meanwhile, Facebook also shows some quiet potential for boosting your explainer video exposure. More than 500 million viewers watch 100 million hours of video content on this platform daily. You can use Facebook ads to reach wider audiences.
You might also not want to miss opportunities that Instagram offers. Around 70% of Instagram users watch video content in the form of Stories on a daily basis. Now that the new feature Reels has launched, the love for videos on this platform just keeps rising.
Even on LinkedIn, your explainer videos might get the attention they deserve as video posts generated more than 300 million impressions on the platform. If you create B2B explainer videos, then there's no better place to host them other than LinkedIn.
And let's not forget about Twitter. There are around 1.2 billion video views on the platform per day. Also, maybe this comes with as little surprise; various reports show that video is the best performing content type on the platform.
Email
If you are struggling to maintain your leads, grow your mailing lists, or increase your monthly newsletter open rates, then it's time for you to add your explainer videos to your email marketing.
Your subscribers have seen enough of mediocre emails from brands. Their inboxes are full of promotions or special offers. Meaning sending them text-heavy emails is a quick way to get them buried— if not end up in the trash folder.
When you add a short explainer video to your email newsletter, you allow your email subscribers or recipient to digest your messages faster and more effectively.
It makes your email stand out from the rest, making it much easier for you to capture and keep your recipients' attention.
E-Commerce Platforms
If you own an online store or are an e-commerce platform owner, you should consider adding explainer videos to give potential customers an insight into your products or services; how it works, how it will benefit the customer, what it looks like, how customers can use it, and more.
Explainer videos display your voice, your face, your eyes as if you're standing in front of your customers.
Simply providing potential customers with a boring, plain text-based description is not enough. They want to see the visual of it, so they can set clear expectations before they decide to purchase.
So, it helps you to build trust. And remember that people only buy from an online store that they trust.
Find out other best platforms to host your explainer videos so they get the limelight they deserve: Where to Put Your Explainer Videos That Drive The Best Results?.
Top Online Tools

Thanks to the internet. Now you can create your own DIY explainer video using affordable and even free online tools out there. You don't need to hire a professional or even have basic design skills.
With thousands of software out there it could be challenging for you to pick ones that you need. Therefore, we'll narrow down the list:
Powtoon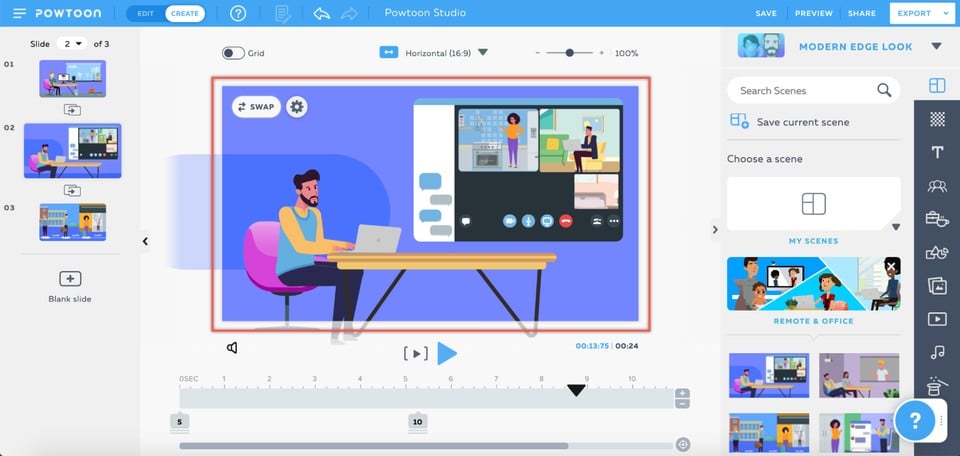 This tool offers an easy way for you to create animated videos that users can share on social media or embed into their website. You can also easily add background music and other features using this tool.
It also allows you to create free explainer videos, which can be a really great way to test out your idea before you invest in paid plans.
Renderforest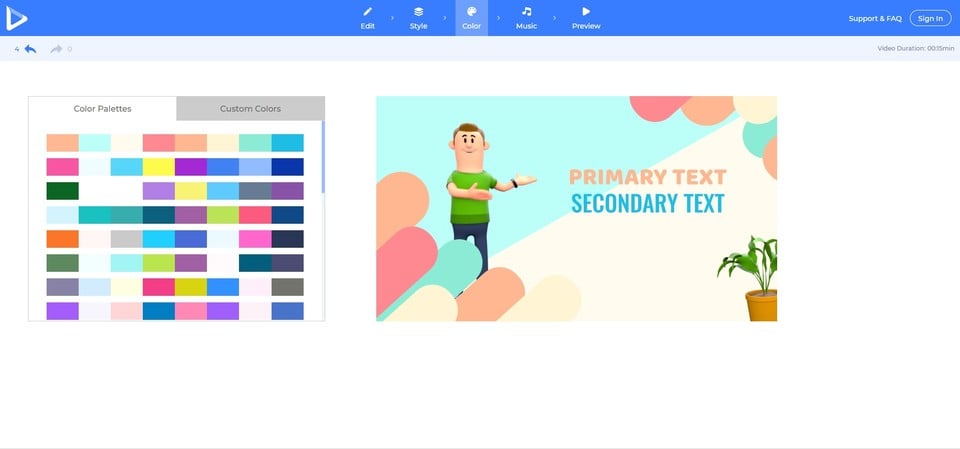 This tool allows you to create video clips, logo revealers, and presentation videos. You can also make an explainer animation with this tool, including adding text to the video which makes it really easy for viewers who are watching the clip on mobile devices.
This tool spoils you with many ready-to-use templates for all in any category of video creation (whiteboard animation, 2D animation, 3D animation, animated presentations).
So, you can easily create a DIY explainer video that matches your industry and target audiences in minutes.
Animaker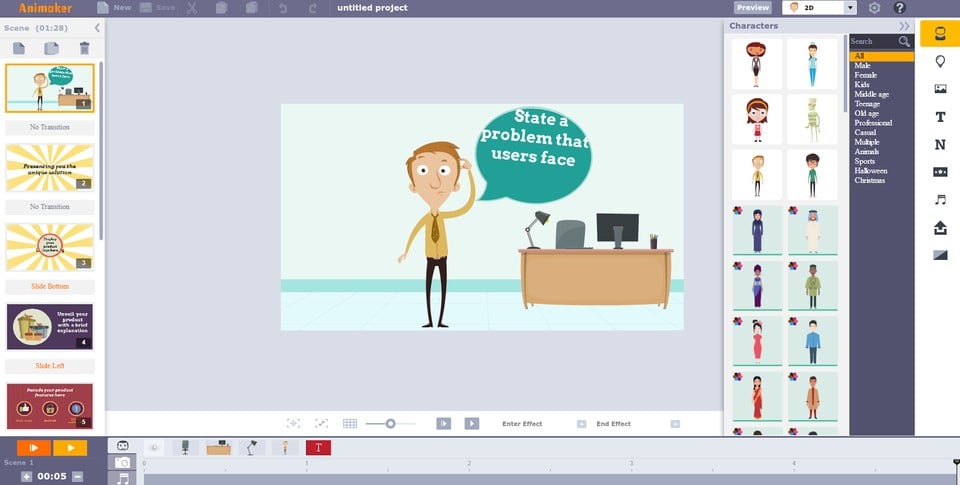 This tool has a really simple editor that you can use to create videos quickly. It includes templates and pre-made characters, as well as background music options.
You can also add your own images, which comes in handy if you want to include infographics or screenshots from other projects/websites for comparison purposes.
MySimpleShow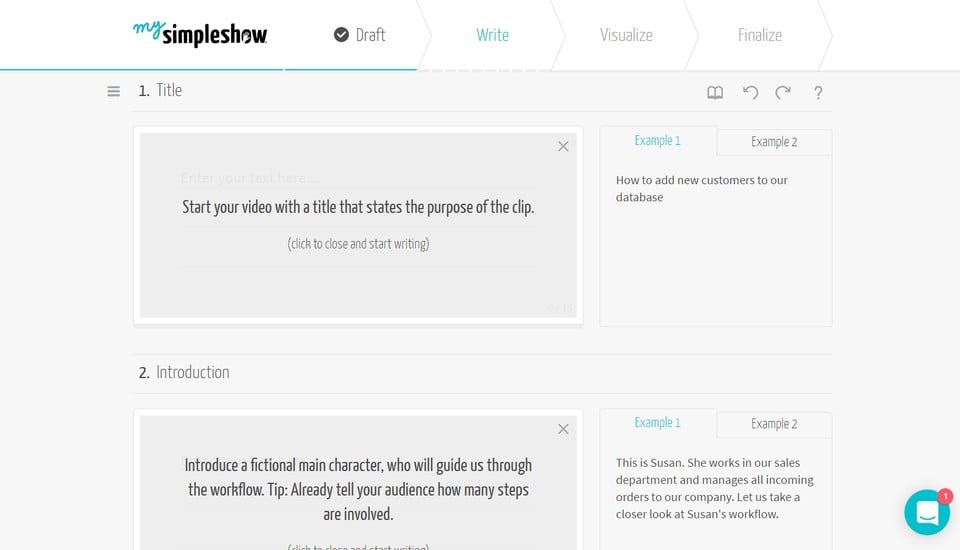 MySimpleShow is one of the top tools when it comes to creating whiteboard explainer videos.
This tool allows you to create an engaging whiteboard animation by imaging a hand dragging elements across the screen and swiping them away.
It provides you with a vast library full of vector images and animated characters that can help you to create educational visual and interactive explainer videos.
Wideo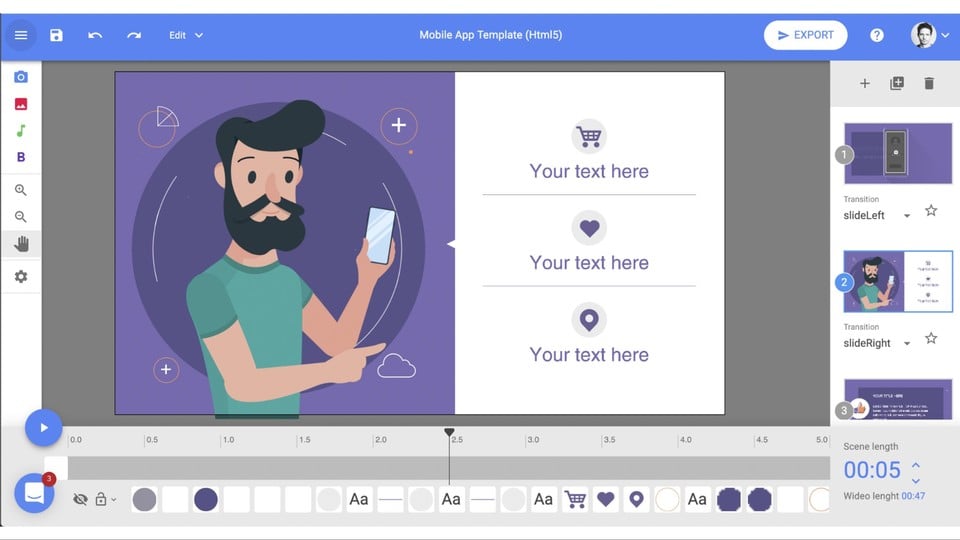 Wideo has over 1300 images and 50+ music tracks, making it much easier for you to create full HD explainer videos at ease. The drag-and-drop interface allows even beginners to adapt to its features quickly.
If you're a pro or have design skills, you can also use Wideo to create animated explainer videos from scratch.
VideoScribe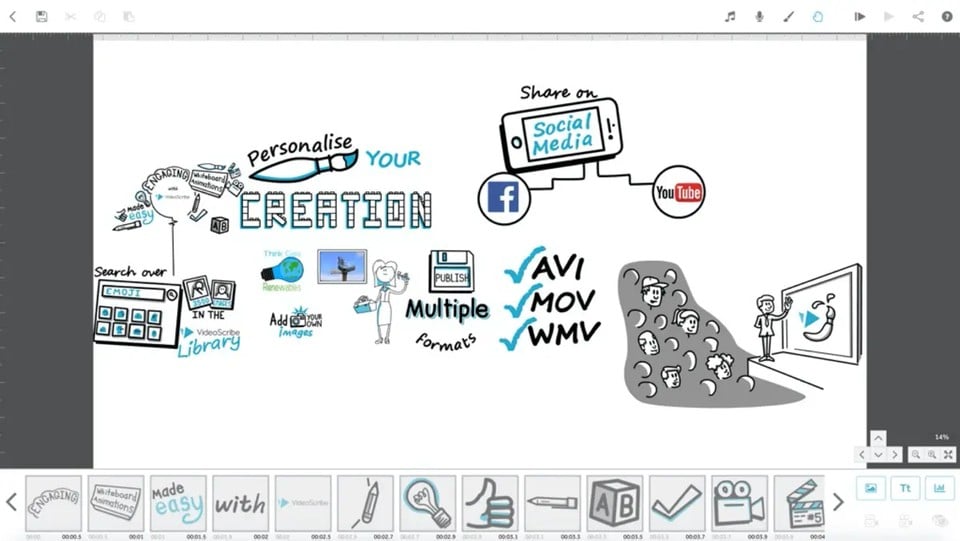 VideoScribe is a great tool for professionals that want the freedom of creating animated videos without having to learn complex video editing or coding tools.
It's also possible to add interactive elements with this service, which can increase engagement and boost your sales numbers.
Vyond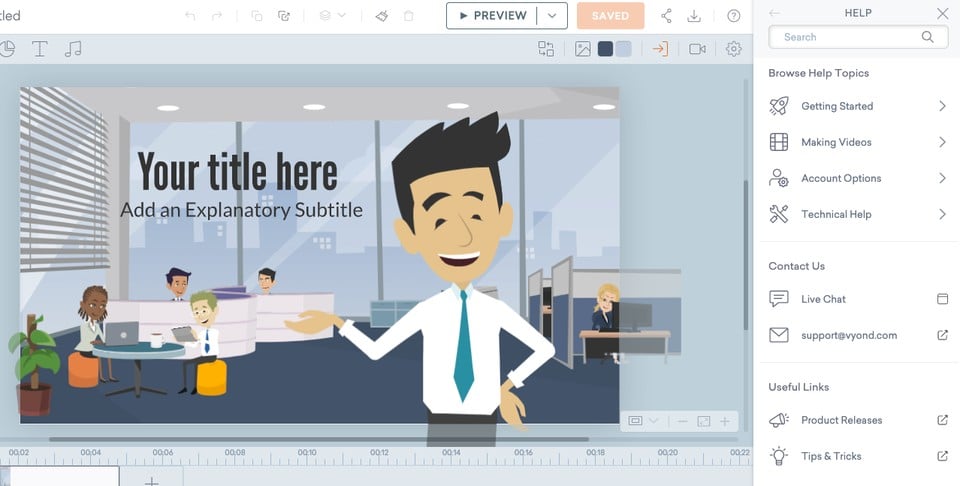 Vyond is formerly known as GoAnimate, which was a huge success in the explainer video market. It's been around for over ten years and has more than 50 million users worldwide.
There are no limits or restrictions on how many videos you can create with this tool. It also allows exporting your finished work to YouTube, Facebook, Twitter, and Instagram among other platforms so you can expand your reach.
RawShorts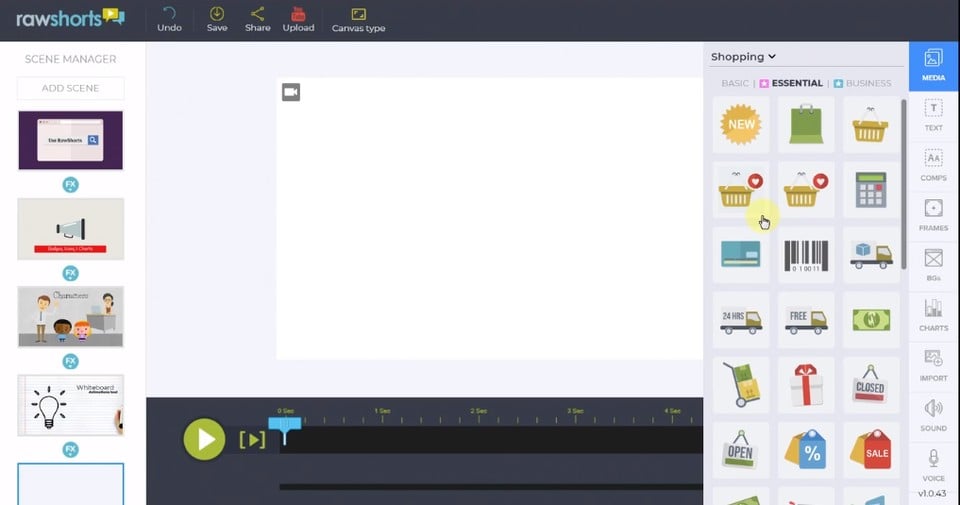 RawShorts is another tool for creating professional-looking whiteboard animated explainer videos using a pull-down menu system.
It has everything you need to create whiteboard-style videos, including backgrounds and other graphics that are free. Also, its transitions and effects are really impressive too!
Explaindio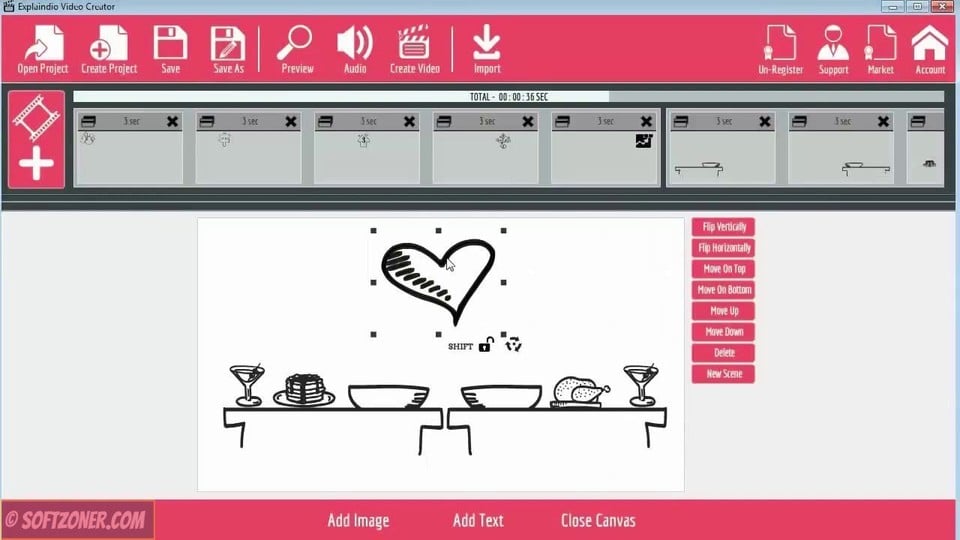 Explaindio has over 100 templates you can customize to your own liking. It also includes over 15,000 stock photos and images for your explainer videos.
It is a great tool to create whiteboard-style video animations.
Not to mention that it's also possible to add up to 100 characters of text per slide, which is a huge advantage if you want a simple tool for creating explainer videos for social media platforms.
For more explainer video tools, check out: Top Explainer Video Use Cases and Tools You Need.
Hiring Professionals

Even though it's much more affordable and quicker, creating a DIY explainer video isn't for everyone.
Some people don't have the time or even confidence to produce or produce their own videos. Others might be afraid of making mistakes while creating their own explainer videos.
If you're one of them, you can hire a professional explainer video company instead.
They'll help you take care of the whole production process and research your competition so the video is not only professional-looking but also stands out as well.
"But, what if you're on a tight budget? Can you afford it?"
Don't worry. There are many affordable, budget-friendly explainer video production companies that create stunning and high-converting explainer videos.
You can check the complete list of top explainer video companies here: Best Explainer Video Companies to Produce Your Video. We've listed all the top companies— including their country, cost, establishment year, and website.
Here are some points you should consider before choosing an explainer video production company.
Your Allocated Budgets
Every explainer video company has its own packages and costs. The key here is to work with one that matches your budget.
The beauty of explainer video production is that you can get well-crafted, fully customized explainer videos without breaking the bank.
Again, remember that affordable explainer video companies do not always mean a cheap-looking production. Even with budget-friendly, many of them still deliver professional-looking videos.
In other words, low cost doesn't always mean bad for you.
Portfolios
Most explainer video companies include portfolios on their website so their potential clients can understand their quality, tone, and style of work.
By looking at their portfolios, showreels, and recent projects, you know what makes them different from other companies.
Portfolios also help you decide whether a production company's final products go in line with your business' quality standards.
Communication and Flexibility
A professional explainer video company will not only take care of the production. They also focus on communication to make sure you get what you asked.
They tend to involve you at every stage of the production. They'll also make sure to communicate all the details with you before they start working.
So, every idea of yours will be taken into account.
If you work with a company that gives you flexibility and involves you in the creative process, you'll not only get a professional-looking but also high-converting explainer video.
Online Reviews
You also need to pay closer attention to the feedback or online reviews. See what clients say about the production company you want to work with.
That way, you know what to expect. You'll understand their pros and cons and get yourself ready for all of it.
Most explainer video companies include customer testimonials on their websites. But, if you want to see genuine and unbiased perspectives on the company, you can go to third-party review sites like Google Business, Clutch.co, FeaturedCustomers, Cuspera, etc.

For a more in-depth guide on how to choose the right explainer video company, check out: How to Choose Animated Explainer Video Production Companies.
Case Studies

From all the points below, you should have a more solid understanding of explainer videos and what you need to bring to the table to create engaging ones to grab your audiences' attention.
Now, we'll look at some examples from brands that nail their explainer video campaign and gain maximum benefits from it.
Dropbox
Before becoming a big company as a cloud-storage solution that has millions of users, Dropbox started the business small. There were only two elements on their website when they first launched in 2009; a 120-second explainer video and a download button.
The explainer video isn't too fancy, though. It costs less than $50,000 with traditional cut-out animation using stop motion and simple narration. But, the simplicity of it brings the company a 10% increase in conversions and $48,000,000 extra revenue.
Remember that the company now has about 100 million users. So, it means that they gained 10 million new users with a simple and straightforward explainer video!
What Makes It Work?
They start by highlighting the pain points of their target audience
The explainer video focuses on solutions rather than breaking down each feature they have
They rely heavily on the explainer video by putting it on their homepage. No other links or any other messages that get in the way
They opt for narrative-driven storytelling to deliver the message, making it much easier to retain for the viewer
Crazy Egg
As a heatmap tool, Crazy Egg has to deal with a complex explanation of how their software works. Well, a heatmap might be a completely new topic for some people.
Therefore, they invest in an animated explainer video with motion graphics and screencast animation.
They put the video on their homepage to help visitors understand more about their product. Using the video, they illustrate how the heatmap works and why their audiences need it.
As a result, this 158-second video successfully brought the company a 67% increase in conversion and more than $21,000 earning every month.
What Makes It Work?
They help viewers understand and admit the problem they're currently facing and why they need help
They use a friendly and casual tone to make viewers comfortable with the content right off the bat
They use the right animation style for their messages. When it comes to explaining app features or software in general, it's best to use screencast animation that shows the interface of the software
The narrations are written to answer viewers questions
Rypple
Rypple is a social performance management tool that aims to increase more conversions by getting more people to sign up for their free trial.
They used a whiteboard-style animated explainer video to achieve the goal.
That's when they know they made a great decision. After doing the A/B testing on several pages within the website, they put the video on the landing page.
As you might already know, adding a video on the landing page is effective for generating more trust and convincing potential customers to click on the "Sign Up" button.
Thus, the video upped the conversion by 20%!
What Makes It Work?
They understand the goal of the video, so they know how and when to use it
They did an A/B test to find out which page is ideal for the video
They create a story or situation with fictional characters to help viewers follow the storyline and retain it easily
They keep the script simple by avoiding any fluff and only include things that the viewer is interested in.