This guide has everything you need to know about the definition of explainer videos, how it's made and how you can create an engaging explainer video.
Let's dive right in.
What You Need to Know About Explainer Videos
What is an explainer video?
Explainer videos are short animated videos which describe the idea of a product. They are mostly used by companies to introduce a new and unique product along with its benefits over the existing alternatives.
The form of explainer videos are usually 90 seconds animation videos which explain what your business does, offers, and produces. It's the most effective tool to increase conversion rates.
Their main purpose is to help people clearly understand what you do and persuade them to buy your product or services.
The usage of explainer videos has increased significantly over time.
There are a lot of startups who use explainers on their landing pages today. Even big companies such as Google, Facebook, Nokia, and Microsoft have been using them to introduce their new products.
This shows that explainer videos are becoming a marketing trend today.
Explainer videos are a powerful internet marketing tool and have become a new trend in the online marketing world. They can boost website performance in both conversion and SEO. A lot of startups are now using them as part of their marketing campaign.
Keeping an Explainer Video Short and Focused
It's often the problem that an explainer video strays away from its original purpose: to explain a product to viewers within a short time period. Most explainer videos are 45-90 seconds long.
Any time shorter than 45 seconds is a tight gap to get your point across, and more than 90 seconds can bore your viewers.
Components of an Explainer Video
Explainer videos are a combination product of several elements that complement each other. Let's go to the components of an explainer video:
Script
Storyboard
Voiceover
Sound effects & background music
Animation
Read more about the stages of creating an explainer video here:
Getting Started with an Explainer Video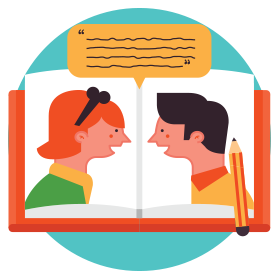 Explainer videos are marketing tools, which means you need to plan ahead several things before you jump onto the hype train and spend your budget on one. Let's take a look at what you should prepare before creating an explainer video:
Pre-Production Phase
There are several things that you need to prepare before you can start creating an explainer video:
Knowing Your Target Audience
Formulating a Corporate Brand
Establishing Budget to Spend
You can find more resources on what you should prepare before creating an explainer video in our blog posts here:
Choosing an Animated Explainer Video Company
There are thousands of explainer video companies you can find on Google. In order to help you choose, these are the 4 traits to look for before hiring an explainer video company.
Price is affordable for you.
They specialize in marketing videos content.
They have distinguished styles.
Convincing portfolio.
Read our guide to picking the right explainer video company here:
The Costs of an Explainer Video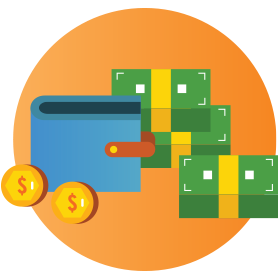 An explainer video is not just about paying a company to make one for you. You should know more about where your money goes after you signed that contract.
How Much Does an Explainer Video Cost?
An animated explainer video produced by a studio can cost anywhere between $2,000 - $50,000.
The price range is vast because of several factors:
Production Hours
Location
Hardware
Software
Find out more about how an explainer video company calculate their price here:
How Much Should You Spend on an Explainer Video?
The short answer to this is depending on the scale of your business. Small business and bootstrapped startups don't always have $1,000 laying around – it may well be the entirety of their marketing budget.
Types of Explainer Videos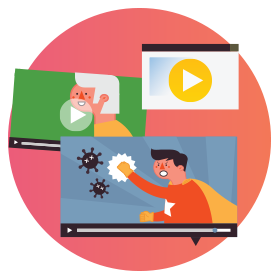 Explainer videos are a mix of marketing and creative design – which means there are many different styles and functionality that can be achieved.
Check out our article: 16 Amazing Animation Styles for Explainer Video to see the complete list.
Whiteboard Animation
Whiteboard explainer videos are black-on-white videos that make viewers focus on the content more than the visual. It's an awesome style for education purposes – but it also makes for a great marketing tool.
Silhouette Animation
Silhouette animation provides a refreshing style in comparison to other video styles. It makes for a great viewing experience, helping you promote product or service. Find out more about the history of silhouette animation here:
Motion Graphic Animation
A motion graphics animated explainer is incredibly fluid — you almost can't go wrong with it, whatever the case may be. Check out our motion graphics explainer video collection here:
Animated Explainer or Live Action Video?
Both animated explainer and live action videos have their pros and cons, find out more about this subject here:
Animated Explainers as Educational Videos
Explainer videos make for great educational videos because we get information from a video faster than from text. Check out our guide to using animated video as education media:
Important Components of an Explainer Video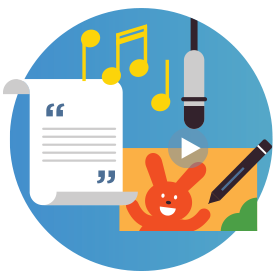 Explainer Video Script
Explainer video script is the narration for the video – and the goal is to convince people through words. Check out our guides to explainer video scripts here:
Voice Acting, Music and Sound
While explainer videos are mostly about the eye-catching visual and fluid transition between frames, there is more to it than that.
Voiceovers in Explainer Videos
The end-goal of having a voiceover in an explainer video is to make it sell – which is why you need to pick a compatible voice actor for your brand. Check out our guide to picking the right voice actor here:
How to Properly Tune Your Explainer Videos
Background music is responsible to add the nuance into the overall feel of an explainer video. Picking the right music can amplify how viewers will react to the video, to an extent. Find out more about explainer video music here:
Creating a Storyboard for Explainer Videos
A Storyboard is the rough visualization of your script. It enables you to see how your video will appear visually before it is animated. Check out our resources on storyboards for explainer videos:
Explainer Video Animation
Despite being a decent marketing tool, animated explainer videos are a form of digital art. In order to stand out, it needs to have signature looks and visually pleasing animation.
That is why this process takes the longest in an explainer video production process – because art and perfection need time to be born.
Call To Action
Call-to-Action is a fundamental element in any marketing material that sometimes gets overlooked. Check out these resources about CTAs for your explainer video:
Explainer Video Length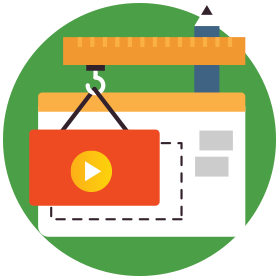 The sweet spot for an explainer clip is 1 to 2 minutes long with an average of 77% audience retention. When it reaches 2 minutes in duration, its audience retention rate drops to 57%. Check out our resources on explainer video length to achieve the optimal result:
Why Should You Use an Explainer Video?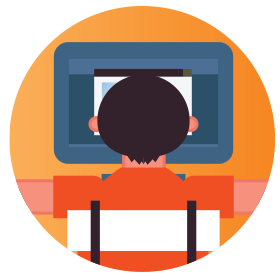 Visual and auditory cues are much more powerful than text, making video an effective tool as it combines the two.
In general, people tend to have a preference for video rather than reading a block of text.
Online video is also the fastest growing ad type on the internet and has become a trend among businesses, according to eMarketer research.
It also explains a product or service better than any other media since the best way to describe something is by using video.
A video has a visual aid, which is how the majority of humans rely on it when it comes to learning. And thanks to the combination between visuals and descriptive voice-over or text, a video is more time-efficient in conveying a message or describing a product.
It is also more cost-effective than printing a large number of pamphlets or brochures.
Explainer videos can be used to gain a wider audience. Everything is digital nowadays, and we can easily share videos through many social media networks.
This increases the chances of capturing the attention of a global audience.
The State of Video Marketing
The current trend in marketing suggests that videos are the most viable marketing tool to use for the next few years.
Cisco: By 2020, online videos will make up more than 80% of consumer internet traffic.
Business Insider: People watch more than 500 million hours worth of video each day on YouTube.
HubSpot: 55% of people pay more attention to videos compared to other types of content.
Google: "how to" queries on YouTube have grown 70% year-on-year. Tutorial videos are great investments for your brand.
Google: 40% of YouTube users look up videos for more information about a product.
Providing more information about your product online is a great investment to cater to people who look up your products.
Check out these articles to find out how you can create a fruitful explainer video:
How an Explainer Video Can Help Your Company
These are some reasons why explainer video can help startups and businesses breach the market with their unique product.
Explainer videos deliver information faster and better.
Explainer videos can be used in virtually any digital platform.
ROI from explainer videos can be tracked better.
Explainer videos can fit practically any digital marketing campaign.
Read more on why you should consider explainer video for your business:
Explainer Videos and Online Advertising
Explainer videos are a great advertising content if you're looking to get a bit of awareness and traffic boost to your website. According to industry estimates, digital/mobile video ad spending is expected to reach $10.1 billion by the end of 2018.
Expert Tips to Using Explainer Video for Marketing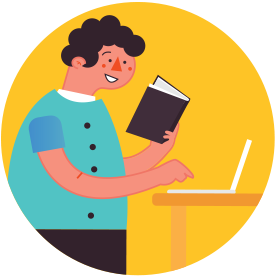 Every business starts when the founders find an idea to solve a problem. Whatever they do – they know their product is a solution people should choose, not their competitors'.
Do You Need an Explainer Video for Your Business?
Not every product needs an explainer video – for example, you don't need an explainer for necessities unless your product has a unique feature or selling point. Check out our infographic on what type of product needs explainers here:
Explainer Video Placement
An explainer video is a tool, that means you need to learn how to use it – or in this case, distribute it – to achieve something.
There are several different goal orientations that you can achieve with explainer video:
Increase traffic
Generate Leads
Spread awareness
In short, you leverage explainer video for sales purposes. And what matters most when it comes to your sales funnel? Website optimization!
How to maximize your website optimization then? Embed your website by integrating more explainer video contents, this approach has been proven to be the most effective to boost sales.
Learn more about where to distribute your explainer videos here:
Brand Building with Explainer Videos
When its components are formulated to engage your target audience, an explainer video can be a strong foundation to build brand trust. Learn how to build brand trust with animated explainer videos here:
Explainer Videos in Email Marketing
Email marketing is more than just words – many companies have implemented visual elements in their newsletters.
Explainer Video Software
An explainer video can be improved with little details like subtitles, translations, and thumbnails to make it more interesting and valuable for more people. Check out our compilation of free tools that you can use to improve your explainer video here:
Engaging an Audience with Explainer Videos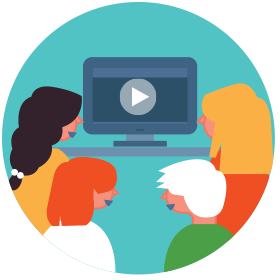 An explainer video is nothing if it doesn't engage your audience the way you want it to. Check out our resources on producing an explainer video that generates strong engagement below:
Ways to Engage Your Audience
Creating an Explainer Video That Converts
Using Explainer Videos for Educating Staff Members