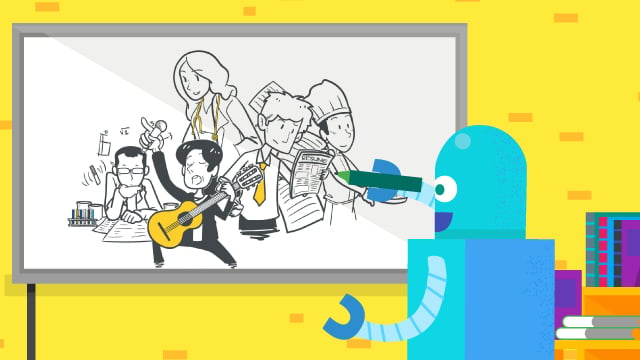 Video content has gained a lot of traction over the past few years.
Many businesses use it to expand their reach,boost brand online presence,and drive more website traffic.
Thanks to the advent of social media platforms like Facebook and YouTube, this form of content has become even more popular as more people consume daily information from the internet. 
With this in mind, you know that incorporating video content for a marketing purpose will benefit you in the long run. 
This approach of using video content for promoting and branding your business is then called a video marketing strategy.
You can reach out and build an audience simply by making compelling video content that people will love. 
Whiteboard Explainer Videos
First of all, there are many types of video marketing that you should know.
Explainer videos, tutorial videos, and product demo videos are some of the most engaging, proven-result video content to drive sales. 
Explainer videos, for example, are excellent for attracting a new audience and nudging them down to enter your marketing funnel.
Hence, allowing your audience to figure out your business and make a decision whether to move forward to join your bandwagon. 
When talking about explainer videos, you should know that the premise of this content format is to explain to your audience about your products or services in a concise way.
Therefore, the animation is used to convey the message quickly. 
Whiteboard animation is one of those explainer video styles that you'll find everywhere.
This video style is simple and easy-to-understand as the concept is to bring messages through slow scribbling. 
However, you should note that not every whiteboard video is an explainer video.
Since whiteboard animation is the act of drawing or writing the information on a whiteboard or whiteboard-like surface, many creators and businesses have used this approach to deliver a quick, easy explanation to the audience. 
On the other hand, whiteboard explainer videos are specifically designed to bring helpful information about a brand, product, or service using the scribing method to present it to clients. 
The Benefits of Using Whiteboard Explainer Videos for Your Digital Marketing Campaigns
With explainer videos, you can deliver your brand messages much more effectively– therefore, you can drive more website traffic.
In this case, the whiteboard animation amplifies your way to meet your business goal. 
Whiteboard animation allows viewers to understand the complicated details of your business much easier.
Thanks to the compelling drawing, your audience can follow what the narrator says throughout the video. As a result, you can convince them to move further to enter your marketing funnel.
Here are some other benefits you will gain from having whiteboard explainer videos in your marketing strategy. 
Diversify the content on your website

Help you reach top positions in Google

Enrich your social media channels

Make a good learning tool for your audience

Make a great branding tool
However, you should take note that producing whiteboard animation can be expensive on your end.
Crafting whiteboard explainer videos may take a longer time than producing images and written content.
Again, that doesn't mean using this video style isn't profitable.
In contrast, many internet users have been accustomed to this type of video content when learning new information. The reason is that whiteboard animation is rather simple.
It has enough visual appeal to attract viewers and focuses more on the presented messages and actionable solutions. 
In conclusion, whiteboard explainer videos will be an ideal solution for you when bringing complex and boring information. 
Cost To Make Whiteboard Explainer Videos
It's relatively easier to create a whiteboard explainer video than other explainer video styles, such as motion graphics or cut-out animation.
Also, it doesn't take too much time if you know how to draw.
Needless to say, if you have an animation team, you can do it in-house.
Since whiteboard animation is done by hand drawing or writing, your team doesn't need special training to make a whiteboard scribble. 
However, whiteboard animation software and basic resources can be expensive.
That's why you need to hire a design agency or explainer video company to craft your video content with minimum effort and resources. 
If you insist on making whiteboard animation on your own, here are a few things you need to consider.
Editing software (i.e., Adobe After Effect and VideoScribe) – At least $20 per month

High-resolution video camera – From $400 to $1000

Tripod

Whiteboard

Lighting

Your own time
While you can find a tripod, a whiteboard, and lighting, buying a good camera video can be an issue. Ideally, you should invest a bit more just to be sure of its quality.
In the end, if you're willing to create whiteboard videos yourself, you need to think long-term.
If you want to hire an expert, take a look at some video production companies below.
These are companies and agencies that can make whiteboard animation at reasonable prices. 
| | | |
| --- | --- | --- |
| Company | Price | Details |
| Breadnbeyond | Click here | An award-winning explainer video company with over 2000+ videos produced for clients worldwide. Best whiteboard animation cost. |
| Cognitive Media | $30,000 | This company is behind RSA Animate. Booked for TED and other top organizations and communities. |
| Switch Video | $15,000 – $20,000 | A Canadian company that is well-known for producing explainer videos. |
| Simple Show | $15,000 | The top German explainer video production company that produces videos for BMW and Mercedes. |
| Y-draw | $6,000 | They charge you a flat rate per minute. |
| Fire Starter Videos | $3,595 | They charge you $30 for every additional second. |
| Transcribe | $5,000 | There are additional charges for any extra minutes. |
| Whiteboard Animations | $15,000 | There are additional charges for any extra minutes. |
Every Industry that Uses Whiteboard Explainer Videos
Although whiteboard animation is pretty simple and great for explaining complicated messages, this explainer video style isn't ideal for every industry. 
Whiteboard animation can be perceived as too informal for some businesses. It often doesn't fit the nature of the business.
Hence, only a few industries use it.
However, this video style will work best for the right business. Here are some industries that fit whiteboard animation the most.  
Based on this list, it is easy to tell that whiteboard videos are best used for complex topics.
The white background allows you a better view of things.
In a sense, it can be used as a virtual classroom. This is precisely why it is commonly used for educational resources regardless of industry.
On the other hand, this video style doesn't provide optimal results for:
Or any other industry where colors and visual appearance are important.
Indeed, whiteboard animation videos can still be used in these industries but only to an extent. They shouldn't be a focal point as your audience will require something else in order to feel engaged.
That said, you can incorporate whiteboard explainer videos for many different industries as educational content.
You can also use them to present your products and services if you package your content correctly.
Final Verdict
Whiteboard explainer videos will always have a place in marketing campaigns for their ability to drive sales in a short time.
This explainer video style can urge viewers to do the next step just right after the video ends.
Moreover, whiteboard animation is the type of content that tells people, "Hey, look at me!" and, through its simplicity, manages to grab an audience's attention and retain it until the end.
Since it's pretty easy to produce whiteboard explainer videos on your own, having an expert handle your video campaign can save more time (and money!).
Instead of figuring out the best moves to script and render your videos, you can simply contact a video production company for the optimal result.
So, if you're looking for a great video result with a tight budget, then you are on the right page.
Breadnbeyond will help you increase your ROI without emptying your pocket. You will be included in the video production process and get transparent pricing – no additional cost. Click on the banner below to see the best packages we offer: