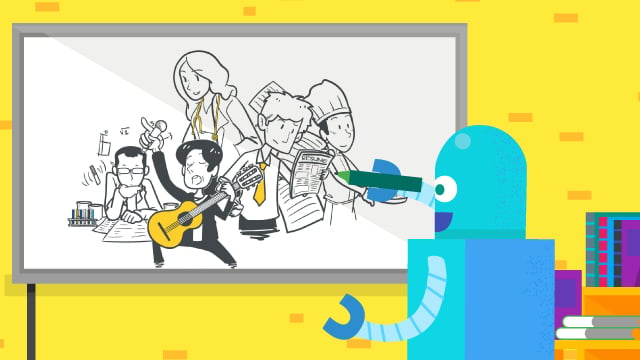 Video content is one of the best marketing tools at your disposal in 2018.
Whether you focus on YouTube, Facebook or create videos exclusively for your blog, this type of media can easily draw the attention you need.
Unfortunately, simple videos will not always work. The style, quality, technology, and voice actor used as well as needs of your audience can have a great impact on conversion.
With that, we come to whiteboard animation.
These animations are a creative way to captivate your viewers.
Let's learn more about a relatively new animated form and how companies can benefit from it.
Motion Graphic and Whiteboard Explainer Videos
Before I mention all the benefits of making whiteboard animations, it is necessary to talk about a particular misconception.
A lot of people think that explainer videos and whiteboard animation videos are one and the same. This makes sense to an extent because sometimes, an explainer can be done with a whiteboard animation.
The best way to explain it is:
"Explainers are a video form and whiteboards are a video style"
Explainers are short-form videos lasting for a few minutes. They are used to define a term or to present an idea, a product or a service. Basically, they are catchy and brief.
They can be made in various styles such as:
3D animation
Whiteboard animation
Live action
Presentations
Stop motion etc.
Based on that, explainers cover a much wider category.
People often call such videos whiteboard videos. But always keep in mind that this name mainly refers to the animation type that is being used. Although this name isn't incorrect, it doesn't mean that every whiteboard video is an explainer video.
With that in mind, I'll be mainly talking about explainer videos made with a whiteboard animation style in this article.
Making a Whiteboard Animation
Whiteboard explainer videos are a marketing tool that can show people a fun side of your company.
They allow you to tell a story and share ideas which would be impossible with a regular video.
"Whiteboard animation is really engaging, powerful and helps your message go viral"
Viewers are simply drawn to them which ensures high conversion.
The full process is not free; it costs around $1500 for the first minute if you go for a professional service.
Still, it isn't that much given the potential benefits. They can help you create long-lasting contact with your audience and clients as viewers tend to react more frequently to such content.
It's relatively easy to create a whiteboard explainer video compared to other styles such as motion graphics or cut-out animation. It also doesn't take too much time if you know how to draw.
Needless to say, if you have an animation team, you can do it in-house. These animations are done by hand which means you won't need special education or training.
Still, whiteboard animation software and basic resources can be expensive. This is why it might be worth considering other options such as hiring whiteboard animation and design services.
So, how much does it actually cost?
Editing software – At least $20 per month
High-resolution video camera – From $400 to $1000
Tripod
Whiteboard
Lighting
Your own time
While you can find a tripod, a whiteboard and lighting rather cheap, buying a good animated video camera can be an issue. Ideally, you should invest a bit more just to be sure of its quality. In the end, if you're willing to create whiteboard videos yourself, you need to think long term.
You also have to add the cost of software.
There are a lot of programs you can quickly and easily download online such as Adobe After Effects or VideoScribe, both starting from $20 per month.
These initial costs (especially the video camera) can prevent you from creating such videos. On the other hand, if you have all the necessary resources, it can be easier to start making whiteboard animations in-house.
Lastly, I need to mention the invested time.
Depending on how many people from your company intend to work on these animations, the cost can increase or decrease. Similarly, their average wage comes into account. When you sum up all these costs, it might turn out that hiring a professional animation company is cheaper and more efficient.
How does a whiteboard explainer video help your digital marketing and SEO?
So far you've probably realized that these videos are rather unique.
But let's see how they're improving your business. A whiteboard animation video can:
Diversify the content on your website
Help you reach top positions in Google
Enrich your social media channels
Be a good learning tool for your followers
Be a great branding tool
On the other hand, there are only a few drawbacks to them:
They can be expensive
They take more time than images and written content
There are better tools in certain situations
Even if you're creating clips on a regular basis, a whiteboard explainer video can provide something different.
Their main advantage is that they're plain.
In this day and age, where everything can be perceived as offensive, whiteboard animation videos are rather straightforward and simple. Their short format forces you to get to the point, avoiding anything that can be seen as negative. Instead, you'll focus on facts within your text.
While sophisticated animation uses visual solutions to attract viewers, a whiteboard explainer video has enough visual appeal to attract people and yet, it focuses on the message and actionable solutions. This makes it an ideal solution for complex and boring topics.
In which industries can whiteboard videos be used?
Even though there are many benefits to using this content, it isn't ideal for every industry.
That being said, this type of animated video is the best fit for:
Finances
SEO
IT
Education
Electrical engineering
Mechanical engineering
Physics, etc.
Based on this list it is easy to tell that whiteboard videos are best used for complex topics.
The white background allows you a better view of things. In a sense, it can be used as a virtual classroom. This is precisely why it is commonly used for educational resources regardless of industry.
On the other hand, such animation doesn't provide optimal results for:
or any other industry where colors and visual appearance are important.
It is true that whiteboard animation videos can still be used in these industries but only to an extent. They shouldn't be a focal point as your audience will require something else in order to feel engaged.
With that being said, they can be used in almost any field as long as you're using them for educational content. You can also use them to present your products and services if you package your content correctly.
Final verdict
Although it seems that whiteboard animations are rather straightforward and have limited usefulness, you can experiment a lot with them.
Their short form, focus on detail and story makes them an ideal marketing tool for your company.
You might feel that some other type of content will be better suited to promoting your products and services (due to better visual appeal) only to discover that whiteboard videos are better. They are more likely to become popular, quickly drawing users' focus and keeping it for the whole duration of the clip.
Whiteboard animation is the type of content that tells people "Hey look at me!" and through its simplicity, manages to grab an audience's attention and retain it until the end.
Want to promote your business with videos? We can help! Check out our packages on the banner below and get a free consultation today!