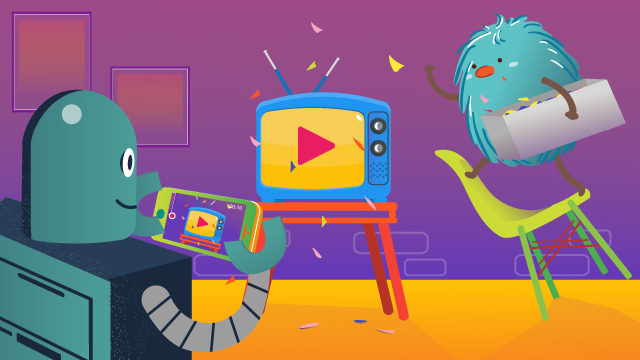 As the power of the internet continues to develop and grow, so does the power of video. While a video is a tool that shouldn't be ignored by any small business, it can be a challenge to learn how to provide a creative video campaign without spending a fortune.
There are a few ways in which small businesses can create great videos on a budget. Let's take a look at how a small business can use video to encourage growth.
1. Create a Landing Page Video
If your small business invests in online advertising, it only makes sense that your ads directly to your landing page, which leads potential customers through your sales funnel. The use of video can increase conversion rates on your site, and doing so is relatively straightforward.
If you're not doing so already, create and develop an engaging video that will hold the attention of your guests. You will see a significant increase in your conversion rate if you do.
Tip: Do not have your landing page video auto-play.
2. Show Off Your Product
Nowadays, we carry high-resolution cameras with us everywhere we go. Your smartphone makes it easier to capture those perfect moments which can be used to show the benefits and features of your product.
Not every video needs to be an Academy Award winner, as long as it provides a venue to capture the attention of the customer.
With a myriad of free applications available on the market, you have plenty of opportunities and methods through which to showcase your product. Be sure to use an application that fits your company's needs, since some applications with the capability to embed video have time constraints.
3. Relate to Customers
When posting a video on your site, provide content that your users and customers can relate to and understand. Not everyone does the same type of work, but there are threads in our lives that we all share and can connect to. Find those threads and create a video that will speak to those that visit your site on a regular basis, your target customers.
4. Showcase Product Usage
While showing the features and advantages of your product can be helpful, showing your product in action can provide a clearer understanding of what your product is and does, and how it should be used.
Show your products in real-life use to alleviate future support questions. Make sure when you're using your product to be sure and provide engaging content that focuses on your brand.
5. Create Explainer Videos
Just because your product is the greatest thing since sliced bread does not mean that users know how to use it. And even if your users have a basic understanding, it may be beneficial to explain some of the more detailed and nuanced features of your product.
This type of explainer video can do a great job of creating excitement and anticipation for a product and the possibilities it brings.
Make sure not to get too wrapped up in technical or industry jargon. The goal of an explainer video is to relate and provide a connection with your customers.
Walk through the steps in a seamless and straightforward method, breaking down any complex ideas into smaller, simpler ones. Ask questions that you may have if you were seeing the product for the first time, showing users just how powerful and amazing your product truly is.
Build Anticipation
If you plan on having a long gap between releases, or before your initial launch, it might be a good idea to build anticipation by providing small teasers in the interim.
The danger here is to create content that keeps users engaged, and not have a lull that allows them to become disinterested and unresponsive.
A quick video can help remind them of your product and reignite excitement. This will get people talking about your product and keeps your business from becoming stale.
Interact with Customers
One of the most important factors for small business growth is customer interaction and support. It can be frustrating to have a large email list, yet receive no responses.
A good way to increase interaction with customers and users is to create an interactive video. You can create a video that features your product in a story or broadcast live-streaming event videos.
A method that is very effective is to have a Q&A session in real time. Customers can talk with you in a live environment, ask questions and provide insight and feedback. This makes them feel like they are a part of your business and your product and will make them less likely to forget about you.
Develop Mobile Influence
More than 50% of online users access their content through mobile. This means that traditional types of content are quickly being cast aside for the convenience of a mobile phone or tablet. Every day users will not take the time to read a blog post or article on the screen of their smartphone. That's where a video comes into play.
For every one thousand words of content written, a video can say so much more in a shorter amount of time. You can share and propagate a lot of information in a small space. This new method of reaching customers can boost your brand, reach a broader audience, and takes only a fraction of the time to create. Using a video to market your small business can appeal to and find a greater range of people.
Closing Thought
Bear in mind that your business cannot rely solely on video marketing to spread the word about your product. While it is a great way to build excitement and share information, it is not the only way. Be sure your company has a good mixture of content to reach your target market and audiences.
Do not forget to make sure that you target the right type of keywords in your content pieces. You can use one of the many keyword research tools available online to find words that resonate with your target audience.
When you know what you're doing, video marketing can be a boon for your small business, without spending a small fortune on advertising. There are a variety of tools and applications available to create excellent video content. Whether through product features and benefits, or a live Q&A session, find a way to reach out, interact, and engage with your target audience through video marketing.
At Breadnbeyond, we offer a wide range of animated explainer video packages that are tailored for your small business. Click on the banner below!