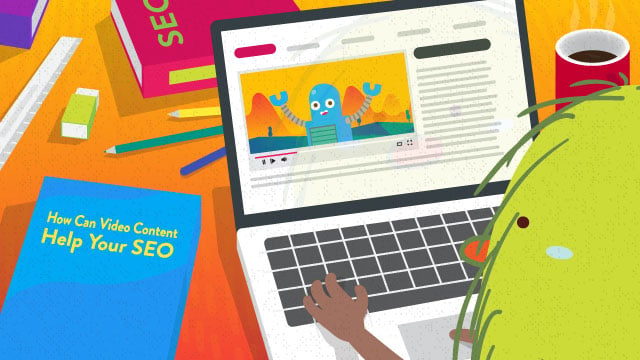 The Google search engine has become more focused on videos in the last several years.
This is mostly due to a steady increase in YouTube and video popularity. The number of people who watch videos makes up a good percentage of online traffic. If you also consider that internet users frequently share and like this type of media, it becomes obvious why search engines are inclined to rank them in top positions in SERPs.
Although it may seem that video marketing is the best thing for your blog in 2018, there are a few things to consider when you are working on your content marketing strategy planning.
In order to learn more about video SEO and how it can help your website, continue reading this guide!
Explainer Video and SEO
It's getting increasingly difficult to gain a high SERP (Search Engine Ranking Position) on Google today. On top of this, Google is still evolving and updating its algorithms, which will continue to affect the SERP over time. The Google Penguin and Panda updates led to decreased page rank for websites that don't have quality structure and content.
That's why we recommend building a landing page video that helps with conversion. Also, don't over-optimize to avoid misconceptions in SEO.
A website that has a video on its landing page has a higher chance of appearing on the first page of a SERP. Google is more likely to place a website with videos in a higher rank position. Google also includes YouTube video results on its search results page. By including a video on your website you can double your opportunity to be found by internet users.
The Real Value of Videos on Your Site
Besides search engine optimization, there are other great reasons why you should create videos:
Increase conversion and sales
Attract the attention of the video-oriented audience
Improve the overall quality of a blog
Promote a product, service, or web brand
Explain your business model
For social media marketing on platforms such as Facebook and Twitter
Use on a YouTube channel
As a point of contact with new customers
The list goes on and on.
No matter what you think of videos and video production, this type of content can work for most businesses. It usually depends on how well you use them.
There are two main approaches to video SEO: uploading a video on your YouTube channel and hosting it on your own domain.
YouTube Videos
A lot of companies nowadays are more willing to upload a video on YouTube and then embed it on their own site instead of hosting it on their own domain. It's simple and easy, plus you'll get to configure whether you want to autoplay video or not. In addition to that, YouTube itself is a platform that is good for content promotion.
These are the three main reasons:
YouTube videos have a much wider reach
YouTube as a platform is quicker and more stable
It gives you a much better chance of ranking on Google
The most important thing you should know here is that YouTube videos are much easier to rank. It makes sense as YouTube helps you get much more views than you would if the video was hosted on your own blog. Google notices this pattern and this is why YouTube videos are so popular.
Let's see some of the best tips on how to combine SEO and video content.
Benefits of Hosting Videos on YouTube
When interpreting values within Google Analytics and other keyword research tools, inexperienced site owners usually formulate their opinion based on the comparison of estimated traffic and estimated difficulty.
If they find a discrepancy they tend to think that ranking will be easy.
In order to optimize your content for certain keywords, it is best to start by checking the search query. Only by seeing the top 10 results can you judge whether it is possible to rank.
Based on the number of videos on the first page on Google, you are able to tell if this keyword is video-friendly.
What do I mean by this?
There are certain queries where videos are simply a better fit. This is especially common for entertainment, sports, and art or graphic niches. If there are other videos among the top positions, this means by optimizing your video you can rank there too.
However, I need to mention that the videos presented to end users are those that are originally posted on YouTube or some other video platform. Even if you got a lot of views through your website, Google regards YouTube as the source and not your blog.
So, how do your blog and company benefit?
Through your YouTube channel.
Even though this is organic traffic and can provide great results for your business, it isn't regarded as the organic traffic of your own blog. Instead, people may reach your site through a video platform.
It is more of a workaround where numerous users visit your YouTube channel and through a link on it, reach your blog.
Next, let's consider how you can get that same traffic directly to your website.
Self-Hosted Videos
In the case of self-hosted videos, you are hosting a video on your own website. Of course, it cannot compete with YouTube and as a result, the video will load slower and you will have less reach.
Still, there are good reasons why you should at least consider this approach:
Self-hosting allows a high level of customization
Links and clicks go directly to your blog
Google doesn't show self-hosted videos within SERPs. Nevertheless, your blog will receive primary and secondary SEO benefits them.
Benefits of Self-Hosted Videos
Regardless of where you host a video, it has been confirmed that by simply having a video within your blog post you can easily get higher rankings for your pages.
The main reason for this is the fact that a video works well with text surrounding it.
This is similar to images; while you don't have to have a perfect image, studies have shown that by simply having one, the page will rank much higher.
This is mostly due to the following engagement factors. A video or image tends to:
Increase average time spent on site
Increase click-through rate
Reduce bounce rate
Now, it doesn't matter whether you host it on your own blog or you embed it from YouTube. As long as there is a video, it will be good for you.
But here is where self-hosted videos make a difference; all the links to your video stay on your own blog.
Like any other type of content, videos get a lot of links. Given that most companies prefer hosting on YouTube, they never see a potential benefit. However, this type of media shouldn't be neglected. They are very popular with younger generations and may provide an additional reason why someone would link to you.
Takeaways
Both YouTube and self-hosted videos have their flaws and benefits when it comes to SEO. Video popularity is heavily increasing and will definitely remain one of the best things you can do for your blog.
This form of content enriches your site, providing something new and potentially creating a connection with YouTube. It can give you an additional source of traffic or it can increase the number of links you receive.
All of this will result in the better promotion of your products and services and ultimately, higher profits. For example, take a look at the video below that we optimize using YouTube SEO:
Interested in enhancing your SEO with animated videos? Check our packages on the banner below and get a FREE consultation.