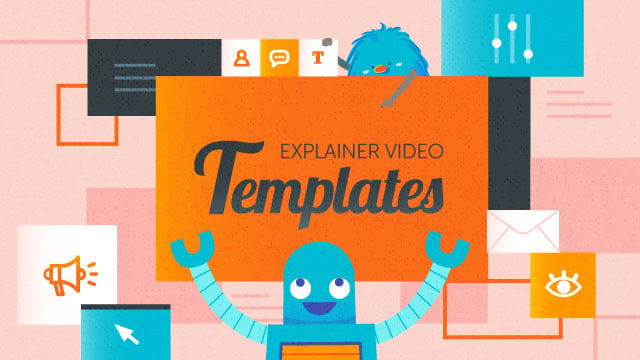 It's now become fairly common knowledge in the video marketing landscape: when it comes to breaking down a complex topic, there's no better method than using an explainer video. 
After all, explainer videos are pretty much what it says on the tin, videos that explain ideas concisely.
Explainer videos are your hot ticket to growing your business. These highly-engaging videos are such a powerful tool to instantly grab audiences' attention from the get-go and hold it. It comes as no surprise that explainer videos become a must-have tool in savvy marketers' marketing toolbox.
Explainer videos can help you improve engagement and increase sales. And thanks to the internet, now businesses with any budget and skill level can easily create their animated explainer video with the help of video marketing tools.
In this video-first era, sleeping on highly useful video tools is no longer blissful and would be a marketing sin. In this matter, we've collated a far-reaching collection of free explainer video templates to help you get started with explainer video marketing campaigns.
Let's dive in!
Marketing Explainer Video
Marketing explainer videos are most likely used to boost a brand's online visibility. It's such an excellent medium to tell your audience what your brand is all about and what the products or services can make their life easier. 
Once you nail the marketing explainer video, it'd drive more audiences to your business, and therefore into your sales funnel. And all of it comes down to increased sales.
One thing to bear in mind while creating your marketing explainer video is just making sure you are straight to the point of your message. Don't confuse your viewers with a long-winded explanation from the first few seconds of the video.
Here are some ready-to-use marketing explainer video templates you can customize to create your marketing explainer videos effortlessly:
1. Video Marketing Template
2. Business Services Marketing Video Template
3. Video Marketing Template For Consumer Goods
4. Content Marketing Opener
To get more templates like those above, you can check out this site and sign up first before they can use the template. 
Kinetic Typography Explainer Videos
One of the biggest perks of creating kinetic typography explainer videos is that it's incredibly shareable. It's a versatile, one-size-fits-all kind of explainer video. You can put the video in any of your digital channels, including social media profiles, websites, landing pages, and more.
By using kinetic typography explainer videos, you can get your message across cost-effectively even without any narration or voice-over. The moving text is an effective way to keep the audience focused on the video as they need to read the words to follow along.
Here are some excellent premade kinetic typography explainer videos templates you can easily use to increase engagement by demanding attention from audiences:
5. Explainer Typography Kit
6. Unique Typography
7. Colorful Typography Promotion
8. Kinetic Typography Template
Animation/ Animated Explainer Videos
Cartoons and animation are an essential part of every childhood. Most of us have strong, meaningful engagement in cartoon characters and riveting storylines- mostly when we were kids. Therefore, using animations in explainer videos will never hurt anyone.
Animated explainer video constitutes a powerful pedagogical tool by combining audio with tailored visual cues and graphics, to break down an abstract idea into snackable, bite-sized chunks of information so the audience can digest it better.
The endearing cartoon characters, motion designs, and conversational voice-over also make the video memorable, making it easier for them to recall your brand.
With all the good things about animated explainer videos mentioned above, it should come as no surprise that animated explainer video is one of the most popular forms of an explainer video- which sits well with almost anything. Most businesses from various industries invest in animated explainer videos to enhance their video marketing campaigns.
We've collected animated explainer video templates to help you craft your animated explainer video even without any design skills:
9. Pixity Land Character Toolkit
10. Whiteboard Animation Pack
11. Hero Animation Toolkit
12. Animated Explainer Video For Ad Agencies
13. Animated Business Promotion
For the templates without links, they all come from Rawshorts' video templates and must sign up first before they can use the template. 
Related Article: Animated Explainer Video: 16 Amazing Styles of Video Animation
Product Promotion Templates
You can also use explainer videos to introduce a new product or service. The video is a powerful medium to tell your audiences about product information.
With a well-crafted product promotion explainer video, your audiences can get a solid understanding of the product or service. It is supposed to show and tell them how the product is going to save their days.
Most product promotion explainer videos showcase the real appearance of the product with brief explanations about the features. In essence, the audience will know what to expect before they make a purchase.
Below are some templates you can use for your product promotion explainer videos:
14. My Business Promotion
15. Digital Media Agency Pack
16. Organic Food Promo
17. Character Service Promotion
18. Retail and Product Commercial Promo
19. Character eBook Promo
20. Real Estate Realtors Promo
21. Product Promotion After Effects Templates
Promotional Explainer Templates
Promotional explainer videos focus on achieving one particular marketing goal. It could be spreading brand awareness, building strong customer engagement, or generating more leads. However, one way or another, all those purposes boil down to one goal: increasing sales.
Since it is created for one specific purpose, a company might use promotional explainer videos to focus on giving the audience a special offer that its competitors can't afford. It's a powerful way to stand out among the crowd.
Here are some promo explainer video templates you can easily repurpose based on your business needs:
22. Business Character Promotion
23. Logistics Company Promotion
24. Multi-Purpose Character Promotion
25. Contemporary Art Promotion
26. New Edge Promotion
27. Global Promotion
28. Inspiring Promo
27 Free More Explainer Video Templates
Explainer video templates allow you to create high-performing, stunning explainer videos in a quick time without having any basic design skill or to spend a thousand bucks on high-end video production. All you need is to drag and drop your components based on your preferences and business needs.
Admittedly, using explainer video templates won't be as creative and enchanting in comparison to the ones that professionals create from scratch.  Your explainer video might not be on par with Disney's style or Dreamworks.
And that's said, it's still an alternative for small businesses and startups with shoestring budgets. 
So, if those explainer video templates mentioned above aren't enough for you, we still have more templates designed for various industries to help you start crafting your explainer videos. Here you go:
29. Industrial Development Pack
30. Metallic Tiles
31. The Cinematic Action Trailer
32. Company Introduction
33. Sci-Fi Space Trailer
34. Video Resume Template
35. Minimal Titles Pack
36. Across The Universe
37. Inspirational Service or Company Introduction
38. Explainer World Toolkit
39. Video Template For Real Estate Investors
40. Explainer Video Template For Internet Services
41. Accounting And CPA Firms
42. Flat Corporate People
43. Hand Explainer Kit
44. Outline Character Explainer Toolkit
45. Flat And Modern App Explainer
46. SEO Explainer
47. Agency / Service Advertisement
48. Food & Hands Explainer
49. Trendy Minimalistic Web Promo
50. After Effects Free Explainer Template
51. Quick Sketch Free After Effects Template
52. Event Promo Video Template
53. Video Template For Debt Consolidation industry
54. Video Template For Travel Industry
55. Photorealistic Nature Park
56. Free Poster Video Template For Healthcare Industry
57. Blockchain Explainer Video
For the templates without links, they all come from this Rawshorts' video templates and must sign up first before you can use their template. 
Making The Right Template Choice
Indeed choosing the best fitting template from those listed above is not a cakewalk. When you thought that you'd found the best one for you,  another one seems more appealing, tempting you to keep changing your decision.
Choosing the right template can be quite tricky and sometimes intimidating, but with a bit of consideration of the factors below, it will be an easy decision.
Choosing the Type of Explainer Video
First thing first, you need to figure out what is your purpose of using an explainer video template. It makes it easier for you to have a solid understanding of what type of template you need. 
You also need to think about your brand image before choosing the templates. It will help you to narrow down your choices. If you're in a casual business, you can select a template with relaxed and friendly designs. 
Or, if you're in a major corporation, you're more likely to choose a formal, professional-looking, and simple template. 
Is the Title Your Main Concern?
Some companies want a minimalistic look while others want an eye-catching title. So, what about you? If you're going to captivate your audience using elegant yet straightforward moving headlines, then you should consider typography for this.
You can use a delightfully minimalist template, the ones with less animated designs. Therefore, you can put animated texts, headlines, or titles that will give a neat look to your video. 
Just make sure you don't put bulky text on the template. Remember, an explainer video is supposed to deliver the message quickly, and as concisely as possible.
The Duration of Your Script
The duration of the script should also be prepared before choosing the template. Try to create a concise, straightforward script to catch audience eyeballs and perks their ears up from the get-go. 
While choosing the template, make sure to match the "tone" with the script. Once you nail it, you'd be able to create a highly-engaging explainer video with your hand-picked template.
Related Article: The Ultimate Cheatsheet to Explainer Video Scripts [INFOGRAPHIC]
The Duration of the Template
Often the script would be shortened to make way for the template, which shouldn't be done unless it can still show the goal of the video. If you aim to create an explainer video under 1 minute, consider choosing a template that is strong enough to catch their eyes from the very beginning. 
Now, the challenge comes when you want to create a 2-minute-ish explainer video. You might want to consider choosing a simple, highly-engaging template that effectively holds their attention for the entire video.
The key is making sure that you choose or repurpose a template that is no longer than 3 minutes. It's such a high risk, considering that your audience is now becoming fickle and quickly moves on into other explainer videos in just a few clicks away.
Related Article: Case Study — Finding Out the Optimal Explainer Video Length
Versatility
Can the template embed in different social media platforms, or does it cater to YouTube alone? Deciding where you'd put the explainer video is the next consideration while you're choosing the right template.
If you want to create an extremely shareable explainer video where you can share it across your digital channels, you can try to pick templates that use 2D animation videos or kinetic typography since it's versatile and easy for the audience of all ages to understand.
Style and Design
With the vast number of free templates available, make sure the design and style of the template you're using match the style and branding of your company. 
Certain types of styles and designs appeal to some marketing objectives better than others. In this situation, you need to remember your goals and your reason for creating an explainer video.
If you want a versatile explainer video that might fit any purpose, you can go with 2D animation templates. Or, if your business has a techy explanation to deliver, templates with whiteboard animation style is one of the best in its class. 
Also, kinetic typography and motion graphic templates are excellent ones to share across your online channels.
Have a Back-Up Plan
In case the template chosen may not work, there should be another plan that is ready to take over, whether it be another template or hiring a professional team. A video production company can help you with all the backbreaking work.
What makes it more interesting, though, the cost of hiring a professional explainer video production team isn't as expensive as you thought it's going to be. 
You can still enjoy the service at an affordable price, so every business with any budget can create a well-crafted explainer video to enhance their marketing efforts.
Related Article: How to Choose Animated Explainer Video Production Companies
Here, at Breadnbeyond, we offer budget-friendly explainer video packages with a FREE consultation. You don't have to spend much of your time choosing templates and repurposing them. Click on the banner below!