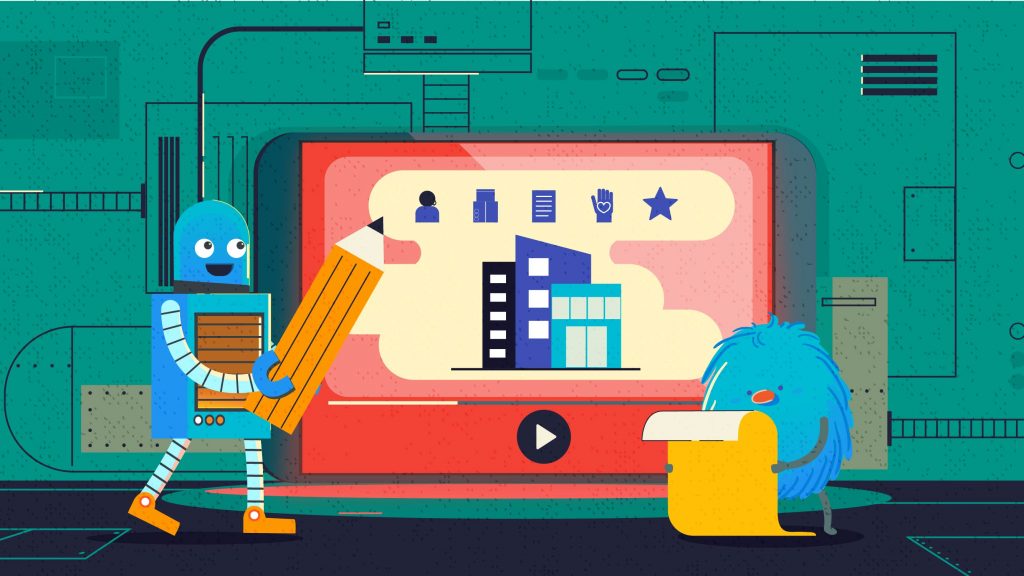 In the ever-changing video marketing landscape, corporate videos have also evolved, and the importance of it seems to be gaining a lot of traction. 
It's no longer just a stale talking-head video that adequately explains your company goals. It's now so much more.
The corporate video itself offers an easy way to educate big groups of employees in an organization. 
You can say that it's an umbrella term used to describe internal or external communication within a business, company, corporate, or organization.
Though its most often used for organizational purposes, corporate videos can also be used to promote and improve the awareness of a company's brand as a whole.
What makes corporate interesting in the first place is that it's created for a broader target audience compared to the other types of videos that are more likely to have a more specific audience.
So, it's a powerful tool to reach the target audience to get maximum results.
Now, we're about to jump into more details about this type of video.
Benefits Of A Corporate Video
Let's start with all the perks first, shall we?
As a popular type of video, corporate videos have so much to offer, from expanding reach to increasing rank in SERPs.
For most marketers, all those perks and benefits of integrating corporate video into their marketing strategy are just too visible to ignore.
Let's break down the benefits of corporate video production for your business growth:
It Attracts More Viewers
One of the most noticeable advantages of corporate videos is that they offer an entertaining way to showcase your business visually.
By providing crucial information packed in a relatable story, corporate videos are more appealing and make even the most complex information easier to digest.
As a result, it'll attract viewers' curiosity and convince them to watch the video all the way through.
Builds Credibility
Corporate videos are somehow more believable and such an engaging format for the brand's trust-building.
It allows you to showcase what your company stands for and what the values are. It addresses your customers' concerns directly and honestly.
With that transparency, you're adding the customers' confidence in your brand.
Increases Conversion Rate
Corporate videos are such a perfect opportunity to not only spread the word about your company and its environment but to do so in a way that makes it easy for customers' to retain information.
The more time clients spend understanding your products and services, the higher the likelihood of them purchasing your products or services.
Increases Google Ranking
Web pages with any video (including corporate videos) are 53x more likely to rank on the first page of Google search results. That's because this giant search engine prioritizes unique content, and corporate video is undoubtedly one.
So, creating a stunning corporate video means an open door for your company's website to appear in the top results of Google SERPs.
Read more: How Can Video Content Help Your SEO?
1. Start By Setting An Objective
To create a compelling, highly-performing corporate video, you should start with defining your marketing goals and objectives.
Do you want to get more customers? 
More sales? 
More website visitors?
More leads?
Just make sure that all the goals are realistic, attainable, and trackable.
If you have a solid understanding of what you want to achieve with the video, then you can create a corporate video and measure its impact and improve the strategy until you accomplish what you've been dreaming of.
2. Get To Know Your Target Audience
After nailing your goals and objectives, you need to get to know whom do you want to show your corporate video for?
It might be your employees.
Or, it might also be potential customers.
Either way, you need to research the target market to find out what they want, what they need, and what they care about to find the best way to connect with them. 
What you really want in your video marketing isn't just views – it's genuine engagement that comes with it. That's why knowing your target audience makes it easier for you to deliver relatable and relevant messages to engage the target audience.
Read more: Create Audience Engagement to Get More Conversions With Videos
3. Send A Message
Goals? Checked ✔️
Target audience? Checked ✔️
Now it's time to define what message you want to relay to your audience.
Nailing down your message across corporate videos can be quite tricky. And here's a harsh truth: most of your audience won't care about the product or service you're selling through corporate video. They care about how it benefits them.
So, instead of wasting your time trying too hard on direct selling, you need to offer your audiences valuable information instead.
Now that you know what kind of message you want to deliver, the next step in creating a stunning corporate video is designing the storyboard. 
The storyboard helps you to bring your ideas to come to life. It illustrates what and who is the story about, where and when it takes place, and what equipment is needed during corporate video production.
Here are some of the actionable, handy tips on how you can make the most out of your time spent at the drawing board.
Tap Into Their Emotions
Your target audiences like it when the story conveys emotional experiences. It doesn't always have to be sad to pull out emotion from your viewers- emotions here also mean joy, inspiration, excitement, or happiness. 
So, how do you evoke their emotion through storyboards, though? 
Let's dive in.
     1. Make It Short But Sweet
Remember that your audiences' attention span is only getting shorter and shorter. You need to create a short and concise corporate video to keep them engaged. Start with a powerful intro to grab their attention and perk up their ears from the first few seconds.
Read more: Explainer Video Length
     2. Make Them Laugh
Humor can be an effective way to get your audience hooked to your corporate videos. Make sure that the humorous tone you put on the storyboard should fit your brand voice and target audience. And also, don't overdo it.
     3. Give A Feeling Of Exclusivity
Your customers are more than the "eyeballs" where you can get views of the video. They're the reason why you can achieve your goals in the first place. So, it's crucial to make them feel special and included. 
     4. Provide Relief With A Creative Solution
There's one main reason why your audience decided to click on your corporate video: they want a solution to solve their problems.
 In this matter, you need to address their pain points and highlight how your brand can help with that.
     5. Make It One Of A Kind
With tons of corporation videos out there, how's your video having a chance of standing out? Make it unique.
Try to come up with out-of-the-box ideas that your competitors can't even think of. By creating a one of a kind story in the storyboard, it's easy for the audience to remember your brand.
5. Use The Power Of Editing
Now the fun part just began: the editing process.
The editing process is the crucial one as it's the video production process where all of this comes together to form a coherent story.
Editing the video lets you trim the information from the storyboard into a concise and clear message. In this process, you can also choose the footage you want to put in the corporation video, add background music, insert some animations, and more.
Superb editing will undoubtedly pique the audience's interest with compelling visuals and high-quality audio. It gives the audience a high-quality experience of watching the video, so it's convincing for them to stick around your brand.
To help you out with the editing process, we've created a far-reaching list of worth using tools at: The Complete List of Video Marketing Tools
6. Use The Right Channels To Share Your Video
After you nail the editing process, the effort doesn't stop there. 
You need to let the audience know that you've just created a compelling corporate video, and they should be eager to watch it. That's where video sharing platforms come in handy. 
Here are worth considering platforms that will give your corporate video the exposure it deserves:
Facebook
As the world's most-used social network, Facebook offers you a massive opportunity to get your video discovered. Moreover, if you're using Facebook Ads.
This platform is indeed an ideal place if you aim to optimize the video-sharing effort as it has tons of marketing features.
YouTube
YouTube has become the world's second-largest search engine for some reason. One of them is because its users watch more than 1 billion hours of video daily.
If your goal is to get more views and boost your brand's online visibility, YouTube is worth considering.
Twitter
Another video sharing platform you should consider using is Twitter. Statistics say that tweets with video currently see 10x more engagement than those without.
With more than 330 million active users, this platform is a must-use to get your corporate video exposed and increase your engagement rate.
Instagram
As a visual-first platform, Instagram video content has been gaining a lot of traction. From in-feed videos to IGTV, there are so many ways to make the most of your video marketing effort.
Considering that most Gen Z and Millennials use it, Instagram is such a potent place if you want to appeal to younger crowds.
Email Marketing
You can also share your corporate videos through email marketing. Start by merely sharing a link of your video from the email body. 
On the other hand, you can also share it by using thumbnail images of the video that leads people to the page where the video is embedded.
Also read: 6 Best YouTube Alternatives to Host Your Videos.
Time To Get Noticed
Corporate videos do not only showcase your brand, but they also talk about your company. It contributes to your business growth, brand awareness, corporate identity, and marketing objectives.
If done right, corporate videos can open the door to bring more people through your marketing funnel. 
Of course, producing a well-crafted corporate video requires hard work and effort– and it's not the easiest thing to do. But, the long-term rewards that you're going to reap will be well worth any bumps in the road you face early on.
Need a hand with your corporate videos? Breadnbeyond would be glad to help. Check out our packages and book your free consultation by clicking the banner below: