How many times have you wandered off to YouTube and played a video, only to find yourself entirely uninterested for the topic halfway through?
It's not so much that you don't find the topic interesting, it's just that the video is doing a terrible job at keeping your mind engaged and your attention centered.
Audience engagement might be a salient point of measurement in digital and online marketing platforms, but it's much larger than that. Even in live events, like in classrooms or meetings, audience engagement is crucial in deciding the outcome.
In today's steady stream of online video content, engaging the audience is one of the main factors needed to make a video stand out.
Not only with marketing-oriented video content, but even TV shows are also getting more innovative in engaging their audience. Take for example Black Mirror: Bandersnatch – this Netflix original series claims to be the first to introduce interactive, pick-your-own-adventure style TV.
How Exactly Do You Measure Audience Engagement?
In the digital marketing scene, there are various ways you can measure audience engagement. Knowing how much your content can engage your audience is essential for the improvement of your content marketing strategy.
Using available tools, such as Google Analytics, Freshmarketer, and HotJar can help you analyze how your audience is behaving on your pages. There are hundreds of features available in today's day and age as far as content marketing tools are concerned.
Navigating through all the numbers in analytic tools can be confusing – that's why we're going to discuss a few of the most significant indicators for audience engagement so you can make better use of your time.
The Average Number of Pages Visited per Session
In simpler terms, how many pages does a visitor open when they're on your website? If a visitor opens multiple articles published on your blog, that means they are engaged with your content.
Note that the statement above only applies if you have short-form articles on your website. If you're publishing long-form articles, a low number of pages per session might mean the opposite.
Average Session Duration
If you have articles with more word count, session duration is how you measure audience engagement on your website. The longer a visitor stays on your page, the more it indicates that they're getting from your content.
Think of it this way, if you publish 5 books, would you rather have people finish reading one book at a time, or immediately start reading the other books when they've only read 5 pages from the first one?
Active Engagement Rate
It's also important to measure the heat maps of your visitors' activity during their stay on your page. They might have been just idling instead of reading your article or watching your video. Let's be real, long-form content – whether it's an article or a video, can get boring real quick. For your visitors to understand the value of your content, you have to keep them engaged until the end.
Bounce Rate
Essentially, the bounce rate is how quickly a visitor leaves your website after visiting a page. A lower bounce rate means that your content engages visitors enough to make them visit other pages on your site.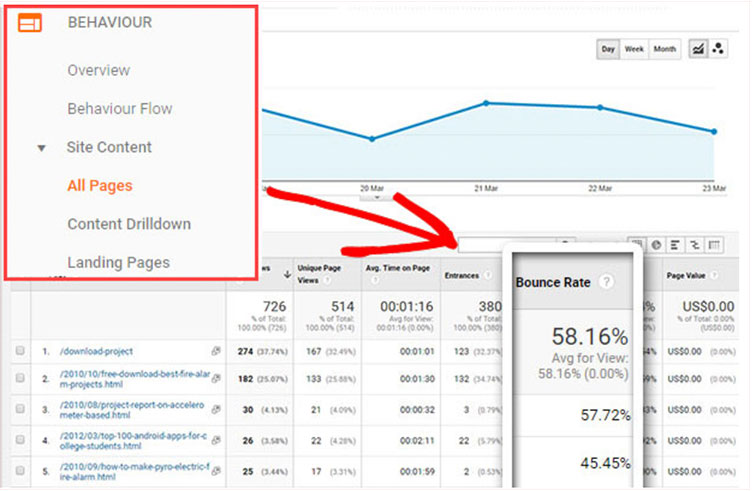 Returning vs. New Visitors
A higher percentage of new users, when compared to returning users, means that your visitors are not responding to your website, perhaps because they no longer find your content beneficial to them or are not engaging.
Conversely, a higher percentage of returning visitors means that people find your content engaging, and therefore, are willing to come back to your website for more.

Social Shares
The number of social signals that your content gets indicates peoples' reactions to it. Have you ever read an article that you find so mind-blowing that you think your relatives on Facebook MUST read about it?
These metrics are the key indicators you can use to measure the audience engagement of your content. Now, let's talk about some factors you need to pay attention to, to build audience engagement.
Your Viewers Have Shorter Attention Spans
As excellent and glorified long-form content is, you should always thrive on making concise content. The age of information somehow causes the collective attention span to be narrower than it was.
Researchers at the Technical University of Denmark argue that the abundance of information found in today's steady stream of content causes our attention span to be narrower. This is due to something called 'information overflow' – which means our brain can't handle that much information that it unintentionally loses most of them.
In terms of video content, it has always been a standard to make it as short as possible. There are exceptions, of course. Podcasts and webinars are naturally long because they involve interactions, which in itself is a form of audience engagement.
Based on our mini-research, the optimal length for an engaging explainer video is between 60-90 seconds. We found these results by considering two factors:
For a company's video to deliver your message, it needs to contain enough information for viewers. However, the amount of information should be just enough not to bore viewers away before you get to deliver your call to action – which is typically at the end of your video.
Empathy is the Key to Audience Engagement
This is the reason why audience and market research is essential in any business to move you make. If you don't have an understanding of who you're trying to reach, you won't be able to formulate a video that resonates with anyone.
By aligning your perspective and contextual understanding with your target audience, it'll be much easier to engage them and make them listen to your opinions.
If you're still stuck with what topics to cover in your next marketing video, you're probably again not doing enough market research – and therefore not have enough understanding of your target audience.
Cross-Promote Your Video to Other Platforms
If you were previously using emails and blog posts as your primary marketing media, chances are you are probably still building your YouTube subscriber base.
It goes without saying that to get audience engagement, you need to have an audience first. To remedy the lack of audience base on YouTube, you can cross-post your videos to the platforms where your audience base is concentrated.
Here are several ways to cross-post your videos to other marketing channels.
If you've built an email list with a significant subscriber count, it's a good idea to let them know about your latest video.
Embedding your video to an article with a relevant topic is also a great way to reach your existing audience base.
Sharing a sneak-peek of your video to your social media pages is also an excellent idea. It's crucial that you direct your followers to view them on YouTube so you can build its discoverability in YouTube search results.
However, posting your video on too many places at once could be detrimental. You'll have to keep tabs on the notifications you receive on each platform and respond to them accordingly.
To avoid that hassle, consider using social media automation tools like Buffer, MailChimp, or MeetEdgar to help you publish your videos to many places with just one click. Additionally, it will be easier to keep tabs on which platforms you have published your videos to.
Tips to Keep Your Content Engaging
If your efforts in engaging your audience aren't showing any results, you might need to explore tools that are available to spice things up.
There are a couple of things that popular influencers do to keep their audience engaged.
Interactive Chat
YouTube recently launched a feature called 'Premiere' – which is exactly as it sounds. It allows you to set an automated publish date for your videos. When your video goes live, viewers will be able to engage in a live chat. Use this chance to communicate with your viewers. You can talk about the product being promoted, how the filming and editing process was, or anything related to the video that you think is worth mentioning.
Sharing on Instagram Stories
Gary Vaynerchuck, or popularly known as Gary Vee, seems to have figured out how to keep his audience engaged in his social media posts. On Instagram, he regularly posts stories with interactive stickers to let his followers know about his weekly vlogs.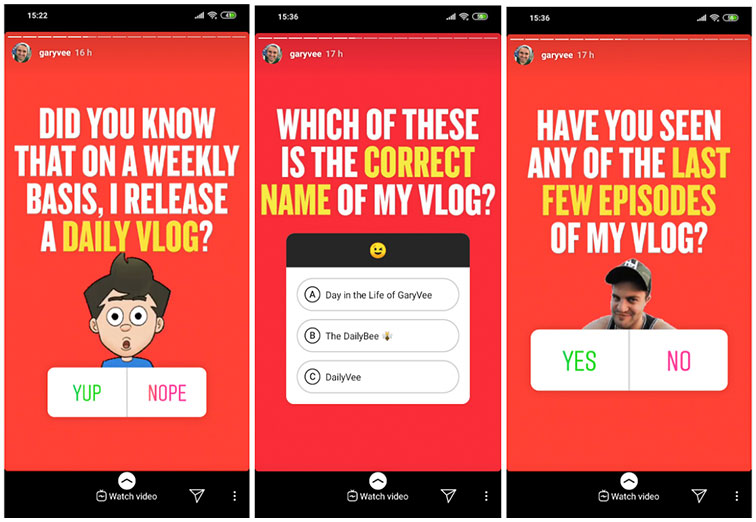 He's doing this because he's fully aware that viewing other people's Instagram stories – or any form of content for that matter – is a passive experience.By adding interactive elements like this, you can improve the experience people get from watching your videos – and more importantly, you get them to engage.
Shout Out Other Content Creators
Give a shout out to your favorite content creators. There are two reasons why you should do this:
Your viewers might also be a fan of that creator – giving them a reason to engage.
Your video might get under that creator's radar, and they give a shout back.
Collaborate with Other Brands or Influencers
Collaboration is the trend right now. Creators are making content with other creators. Brands are making products with other brands and influencers. There's no reason for you not to collaborate with someone from the industry.
Too much work? Try consulting an expert.
If you think that all of these are a bit more than you can handle, consider consulting a video marketing agency. They offer more than just production gear and expertise. They have the insider's know-how about which part of your creative direction can fit into the video better.
Their experience is invaluable in steering you away from making a video that could impact your brand negatively. This is far more important than you'd think because even the most seasoned video marketers could still fall into a PR disaster.
Engage more audiences with a delightfully-crafted explainer video with Breadnbeyond. Check our packages on the banner below and get a FREE consultation.