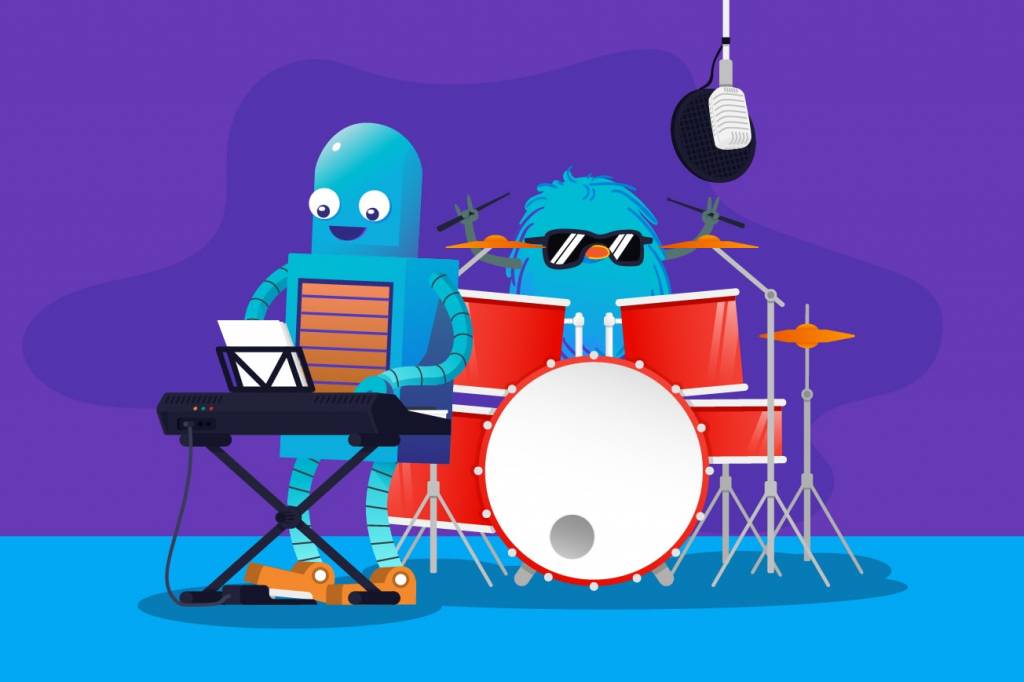 Music adds more colors to explainer videos. It can turn a monotonous video to a more interesting and attractive series of moving pictures. Music could also change the feel and pace of a video. For example, adding powerful and fast-paced background music would help to make the video more lively. This writing will give you some insights into explainer video music.
The use of background music in your video content a positive effect on the audience. Background music is the perfect additional elements that support the delivery of messages in your video and create the right ambiance to do so. The most audience would be staying to watch the video with background music for a longer duration than videos that don't use any background music just because it's fun to listen to.
When adding a new background music to a video, we should be aware that music is an intellectual property, and as with all other intellectual properties, we need to arrange the use of the correct license for each of it. Make sure that you have the rights to download and use it before moving forward. This is a way to support the creators.
There are two kinds of music when we relate it to the licensing model:
Royalty and Royalty Free Music
Royalty is payments made by one party to another for using the copyrighted materials. In other words, we have to pay some amount of money in order to use the music we find legally. In this case, the owner of copyrighted music can be the composer, songwriter, or the recording company.
Royalty-free is the right to use copyrighted material or intellectual property without having to pay royalties to the copyright owner. Payment is only made once as a purchasing fee — It's that simple. You can find royalty free music in an open online library.
Instead of using copyrighted royalty music for your explainer, using a royalty-free track is a great option. So, we don't have to deal with copyright and use it freely without having to pay royalties and give credit to anyone.
While using custom music and sound effects specifically for your explainer video is quite prestigious and show how dedicated you are in building your brand, it will certainly eat your budget.
If you plan to use royalty free music, these websites provide royalty free music:
PremiumBeat offers a digital library of curated high quality music of various genre (rock, pop, jazz, digital record, etc) to make your explainer video sound more professional and give you the polished feel of the big production houses. Their website features all track including full song, loop sets, and short clips of various length (15 sec, 30 sec, and 60 sec) that are categorized neatly to make everything easy to search, find and buy.
Audiojungle prices start at $10 depending on how much the artists charge for their work. With this price range, AudioJungle is recommended for an independent project.
There are thousands of creative musicians who choose to put up their music product on AudioJungle, making music selection process for your corporate explainer video projects easier.
You can find both audio tracks and sound effects (SFX) with good quality at Audiojungle. Some audio tracks are made for looping, which means a 2-minute track could be repeated for 10 minutes without any noticeable gaps.
Most of IBAudio's music is cut down into edits, ideal for video production. IBAudio provides a source of comprehensive licensing system that is perfect for use on all social media platforms. It makes your video marketing campaign on social media (Facebook, YouTube, Twitter, Instagram; etc) much less oflong-termmove because there won't be copyright strikes breathing down your neck.
For long-term video production companies, IBAudio offers an unlimited access plan to their library — learn more here.
Blend It Perfectly
Using music on an explainer clip for web advertising purposes can be very complicated, incorrect usage of background music and wrong selection of track will reduce its value. Even an experienced audio engineer can have a difficult time creating the perfect mix of sounds in a video.
Note this: explainer videos are made to promote your business as well as their products or services. Everything should be built to make the message you want delivered through the script stand out more, including the songs.
Think of an animated explainer video as a set of machinery that works together as one — the main story to build the rhythm, the visual design and voice over to help explain the story, value proposition to pitch your sales,  and ultimately call to action to get people onboard.
The most important of all is the voice over — it's the component that works best in explaining how an app, product, or service.
For an explainer, make sure the music's volume does not conflict with the voice over volume — don't mistake an explainer for a music video.
Voice over is the most important sound element on your animated video. Keep the volume of your background music and sound low, but enough to add some flares and mood to the video. Do not overuse music and sound effects on explainer video.s.
At Breadnbeyond, we offer a wide range of animated explainer video packages that are tailored to boost your company's sales in the next campaign. Click on the banner below!