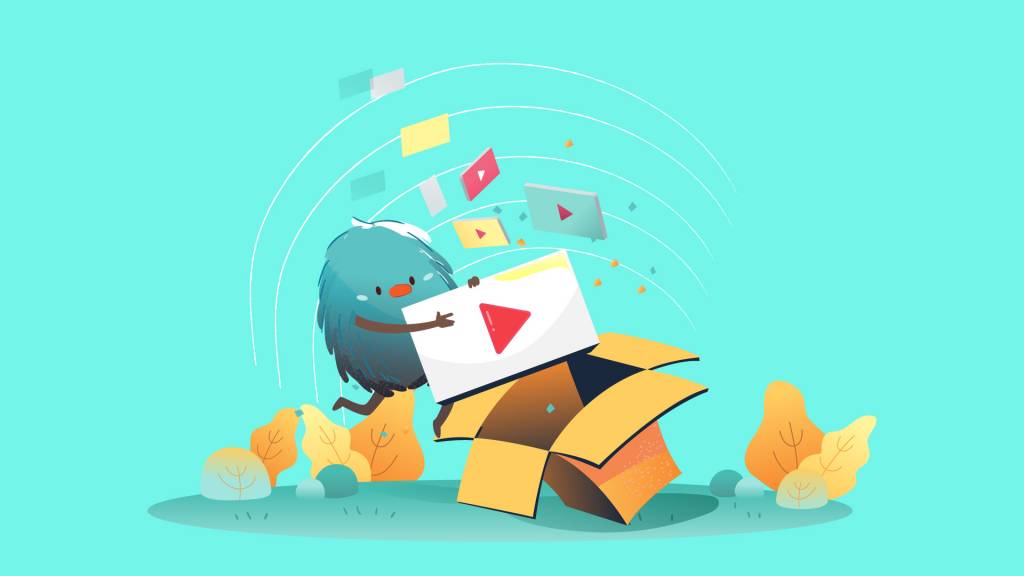 If you're a business owner or a marketer, then you know how change happens quickly in the business world. Trends come and go, consumer preferences shift from time to time, and technologies are always upgrading.
However, to remain competitive and relevant in this modern world, you need to embrace these changes and respond to them fast!  
In this digital age, consumers are watching more videos than ever before. It is estimated that more than 500 million hours of video content were being watched on YouTube each day, but when the pandemic hit, the amount of online video consumption quickly quadrupled (Statista, 2021).
Video creation also increased by 66%, saturating social media platforms. During the coronavirus outbreak, many individuals also felt comfortable being their real selves on social media. Because of this, relatable content quickly gained popularity among users over curated content. 
It shows that COVID-19 has fundamentally transformed how we consume and interact with video, and these changes are expected to consolidate and shape the future of video. 
Website video content can cater to the different learning styles of different page visitors and increase the number of backlinks.
To help your business succeed in today's era of tough competition, it's essential to keep up with the latest marketing trends. Doing so enables you to cater to your audience better than your niche competitors do and set yourself apart from others. 
To help you stay one step ahead of your competitors, here are the top three video marketing innovation trends of the year you need to be aware of:
What are the Top 3 Video Marketing Trends to Try in This Year?
1. More Relatable, Brand Heart-Centered Content
According to Global Web Index's research, 42% of internet users feel less pressured to depict an unrealistic image of their life on social media. 
Because of this, people are more comfortable sharing what they're going through in the public sphere. This encouraged them to seek and support people in their communities who are faced with the same struggles as them and create a sense of belongingness. 
This year, consumers expect the same transparency, support, genuineness, and sense of belongingness from the brands they support. They also expect brands they support to be socially responsible and take a stand on social issues. 
So, how can you create a sense and a reality of belonging with your customers and audience? Through relatable video content! 
Video is one of the most effective tools that can help you build a more profound sense of connection and relationship with your customers, prospects, and audience. Here are some tips on how you can use video to create a sense of belonging:
Create video content that aims to educate people about social issues and empower individuals

Feature real people or your customers to tell authentic stories and testimonials in your video

You can also curate user-generated content to feature in your video

Highlight your brand's personality and core values in your videos

Use Instagram Stories and Facebook Stories to feature behind-the-scenes clips

Send out personalized video emails to your email list more frequently to build relationships faster

Use GIFs or videos for a more personalized reply on social media

Use product video for your e-commerce site to bring your products to life
The Purpose of Videos
There are three different kinds of videos your brand should focus on:
Videos that raise awareness- You want to focus on creating videos that show who you are as a brand, your core values, company culture, and what you have to offer. 

Videos that show social proof messages- Ask your customers to share their personal experience with your brand and why they recommend you. You also want to feature the community you've built around your brand. Customer testimonials are so powerful because they can influence the decision of others.

Videos that lure customers in you want to feature stories that allow your audience to get a peek at your VIP insider offers and customer loyalty programs.
Today, the profit-first method is no longer effective in building a sustainable brand. 
If you want your business to succeed now and in the future, you need to use the service-over-selling approach. Align your core brand values with your audience's beliefs while staying true to who you are and focus on producing more brand-heart-centered video content that resonates with your audience on a personal level. 
You also need to make sure that your core brand values reflect in your customer service and post-sales. 
2. Live Streaming and Real-Time Shopping
Did you know that Facebook Live videos get 10 times more comments and 6 times more interactions than regular videos (99firms, 2021)? Even though Facebook Live is the most engaging format on the platform, it's also the most underutilized content type.  
This is a vast, untapped opportunity that you want to take advantage of this 2023!
Facebook Live is a great way to connect with your audience in a more personal way. It's in the moment, uncut, and real. 
So, in a way, it's like conversing and engaging with each other in person. Your audience gets to ask you questions and they can see and hear your response in real time without any edits or retake. Thus, Facebook Live is considered the most genuine and friendly way of communicating important messages to your audience. 
During the COVID-19  lockdown, however, the usage of Facebook Live rapidly increased. Many brands are now using this feature to do Q&As, share industry-related updates, and show company culture. 
More About Facebook Live
Small businesses also use this feature to do live selling, which is helping them a lot, especially during a difficult time. So, Facebook had to prioritize its development over other projects. Here are the new features for Facebook Live:
Automatic closed captions

Audio-only option

Allow people with no Facebook account to view Facebook live streaming 

Generate toll-free phone numbers inside their broadcast

Dashboard for managing live broadcast
In 2023, we expect more users to utilize this feature, not just for business but also for entertainment, education, and extending help to others. 
Also, Facebook isn't the only social media platform that offers live streaming. Channels like Instagram, Twitter, LinkedIn, TikTok, and YouTube have integrated live video into their platforms. Live streaming should be a part of your video marketing strategies in 2023. 
Live Streaming Videos Examples
Here are some examples of brands brilliantly using live streaming during the pandemic, "The Cincinnati Zoo Used Facebook Live to Bring Kids at Home to the Zoo"
Due to the pandemic, the Cincinnati Zoo & Botanical Garden had to close its doors to the public. However, it didn't stop them from sharing knowledge and giving joy to kids. 
They used Facebook Live to bring kids stuck at home to the zoo! Every 3 p.m., the zoo goes live and provides a fun, educational, and interactive classroom experience where the kids could ask questions and share projects with each other. They have a community called "Home Safari Facebook Live."  
3. Rise of Video Ad Sequencing
Nowadays, consumers don't respond well when they're told to buy a product. Many find it annoying and off-putting. This means commercials that go "Hey, switch to this product because it's better, cheaper, and more efficient!" are no longer effective at communicating and persuading people to buy from you. 
Research shows that using narrative structures in ads helps create better, more effective advertisements. Storytelling works because it's not intrusive and touches human emotion, which forms a connection with the people watching it. 
This is why narrative ads are more memorable and effective. The same applies to how you sequence ads you want to show a person. 
You don't want to straight-up tell your prospects to buy this or buy that with your ads. You want to walk with them across their purchase journey, serving them a planned series of advertisements that tell a story. This allows you to create funnels that will lead your prospects to convert. 
Video ad sequencing is proven to make ads more memorable than the 30-second ad spot. 
Here's an example:
Run a video that tackles a specific problem that your target audience is experiencing. 
Then, for anyone who watched more than 30% of the video, you can show another video highlighting your product as the solution for the problem you tackled in the previous video. 
To ensure that users have a seamless experience as they move across screens, you want to create a clean storyline between your videos. You can end your first video with a call to action like "… a lot of people say that it's nothing serious, but for us who have experienced it first hand, we know that it's a life-and-death situation. Keep scrolling, and in my next video, I'll share the solutions that worked for me that might work for you too!" 
Then your second video can start by picking up from where you left off, "Hey, it's me again! In my previous video, we talked about how serious this problem is, and in this video, I'm going to share with you how I was able to overcome…"
Are You Ready to Level Up Your Video Marketing in 2023?
Nowadays, consumers expect brands not only to have essential use but also emotions and values with which they can identify. 
In 2023, it's going to be all about creating deeper, more meaningful connections with your audience by providing them with relatable, valuable video content, live streaming, and video ad sequencing. Make sure you incorporate these trends in your video marketing strategy this year!