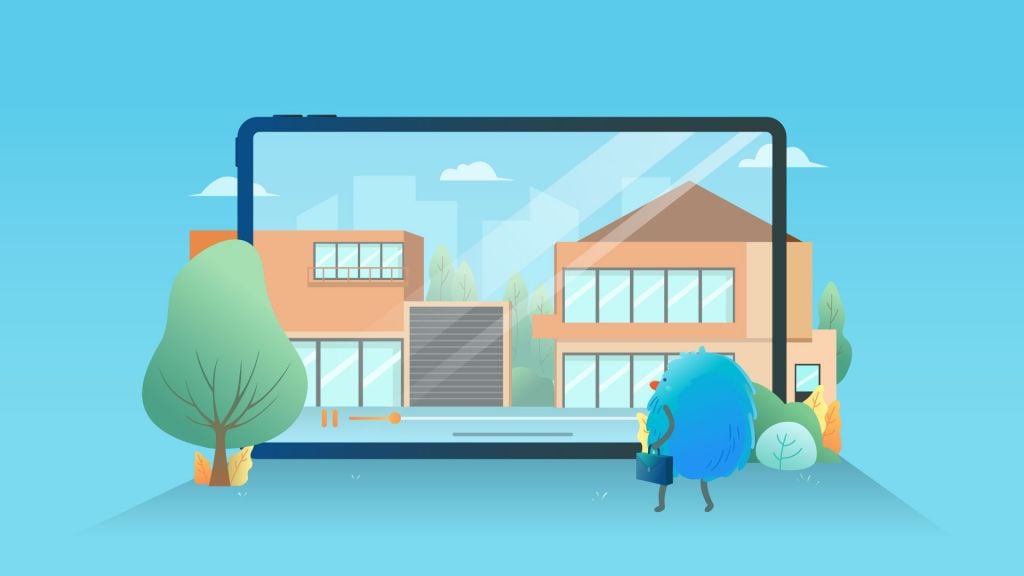 Real estate is the world's most valuable asset class with a revenue of $156.2bn in 2021.
As the world rapidly moves into a digital age in which visual information owns the market, the real estate industry needs to step up its video marketing.
Videos have taken the Internet by storm in the past few years, and their reign is still going strong. Not only end-users, but businesses have also felt the impact of video content domination in their marketing campaigns, and the real estate industry is not an exception.
This is not to say that the real estate industry has no video marketing games at all.
There are many brilliant video marketing campaigns from realtors and real estate agencies on the internet. It's just that they're not as creative as video campaigns from other industries.
In this article, you'll learn how real estate agencies can use video marketing to take their business to the next level.
Video Helps You Find The Right People Faster
A video is versatile and universal content that can be used on various marketing platforms with little to no hassle.
By using videos to promote your agency, you can find the right people much faster compared to other methods.
Using Videos to Find Property Sellers and Buyers
Videos can help you reach property owners who are looking for trustworthy realtors, construction, or real estate firms to put up their house or apartment on the market.
It can also help you get more attention from people who are looking to buy a property.
There are several steps to take for a video to help you find more property sellers and buyers:
Make the video: First and the most obvious step is to get the video made. There are several routes you can go with the video: talking head videos, testimonial videos, commercial-style ads, or animated explainer videos – more on these below.
Share the video: The next step is putting up the video you just made online. The essentials platform you should host the videos on are your website, Facebook page, and Google My Business.
Setup targeted ads: Facebook Pixel and Google Ads have an incredibly accurate targeting for who views a certain ad based on their activity history. Setting up ads is probably the most efficient way to get more property sellers and buyers.
Monitor the metrics: The number one perk of running a video marketing campaign online is that you can track how everything is performing. For most cases, a video's engagement metrics are readily available – so you don't have to set up anything too technical to be able to track how your videos are performing. Analyze the data to measure which campaign is worth investing more resources in.
Video Marketing Goes Well Beyond the Traditional Walk-Through
Right now, a traditional walk-through-style real estate video is just boring.
As millennials are entering the real estate marketing game, fresh and unorthodox ideas are pouring in.
These are examples of outstanding ways to market your properties and real estate agency:
Creative Videos of Properties
Traditional property walkthrough videos are boring – did I mention that already?
Unless you're selling a mansion worth millions of dollars in Beverly Hills or one of those modern solar-powered houses, there's a slim chance you're going to impress that many people with your house tour.
Then, how should you make your house tours not boring?
Take a look at this apartment comparison video from BuzzFeed, which takes a fresh angle of a house tour: from a visitor's perspective.
You could use this method to make your next property video.
Informative Video on Properties
As a real estate agency, startup, or professional, you're supposed to know more about the industry than most people.
In order to build your reputation as an expert in the field, you could make an educational video about stuff that most people get confused about such as agrarian law, tips for property owners, etc.
While the subject of regulations can be really boring and not as exciting as making house tour videos, it can help you build up expertise for your real estate agency.
That expertise will, in turn, draw more people to use your services in buying or selling their properties.
Samuel Leeds, a UK-based property investment guru, has been using this approach to build his credentials on YouTube.
Introduction and Promotional Videos
Introduction and promotional video content are always important things to have whether you are a newbie or a seasoned name in the game.
This is 2019, and not all companies in the real estate industry are simply selling houses or renting out condos. There are startups with innovative products like property marketplaces and travel-oriented real estate (Airbnb, anyone?).
That's cool and all, but most people looking to buy mansions and houses are from gen-X, which, if we're being completely blunt, are not tech-savvy.
For real-estate-related startups with niche apps and services to offer, animated explainer videos could be the right direction to go.
This is where product explainer videos will come in handy.
After all, the real estate market is full of people from Generation X who are likely not as tech-savvy as millennials.
Real Estate Agency Promotional Video
As mentioned before, people who are looking to buy a house these days are mostly from Generation X – which is why innovative technology like online property listing and marketplace needs to be properly introduced.
Check out this video that we created for Haus, an online property marketplace.
Realtor Introduction Video
There have been several realtors who have successfully built their reputations by making an introduction video of themselves. If you're looking to build your own persona as a realtor, give it a shot.
When you're looking to start your career as a realtor, you'll need a proper introduction. Aside from being personable, you'll need to create a strong first impression in your online introduction.
Many realtors have their own thing, and it's okay to not have one figured out right now.
Check out this video from J61 Media, he uses comedy to sell a condo.
Clients Testimonials
Nothing says more about your expertise in the property trade than the testimonials of satisfied clients.
A testimonial video can lend authority and make it feel more authentic compared to a written testimonial on your website.
This customer testimonial from Russel Real Estate Group is a good example of a customer testimonial video.
Neighborhood Tour Video
The neighborhood is part of the properties you're promoting. Which means people will take it into consideration.
When you're selling a house or a condo, you're also selling the environment surrounding it. So in order to make the properties sell faster, shoot a video that highlights the main selling points.
Show off the architecture, local shops, restaurants, everyday activities, and mass transportation options available around the property you're selling.
This style of video has more value than a traditional house tour video, which only has information about the unit but not the environment.
To get more insights about neighborhood tour video, take a look at an excellent example from Steven Ho Real Estate below:
House Tour Videos
As the title implies, the core of real estate is the properties being sold or rented out.
While many people are more than happy to spend their afternoons visiting open houses, those in the early stages of house-hunting are mostly reluctant to blindly visit a house.
Make a quick house-tour video to spark their interest to visit the properties in person.
Video Helps You Convert More Qualified Leads
According to Vidyard's statistic compilation, 96% of people find video helpful when making purchase decisions online.
Let's face it, real estate is not exactly an exciting industry — so using eye-catching videos could be your way to get all the attention that your real estate agency or startup deserves.
That said, you might still be wondering, "But, what exactly is a lead conversion in the first place?"
What Is a Lead Conversion?
Lead conversion is the process of converting potential customers into paying customers. In today's competition, whoever figures out how to generate leads online first wins.
There are two main channels for lead generation:
Lead Generation on Social Media
Social media is the powerhouse that practically makes the need for digital and content marketing as big as it is right now.
According to Statista, the number of people across all social media platforms is predicted to reach 3.02 billion by 2021.
Take a look at this graph: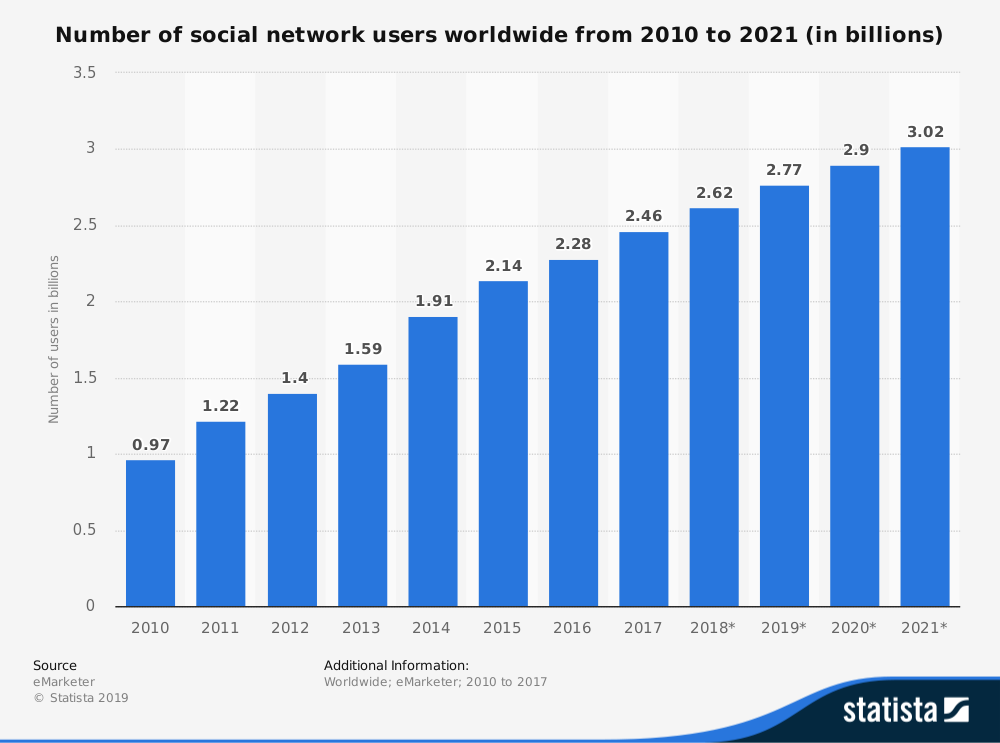 Generating leads from social media is a tough challenge that every business needs to overcome. There are several proven methods that have been largely used to achieve successful social media lead-generation campaigns.
Giveaways as a practice are arguably the easiest method to generate warm leads on the internet. In order to organize a profitable giveaway, there are several preparations to make:
Choose the right social media platform, preferably one which your customer persona uses the most.
Set an entry deadline. This way you can instill the fear of missing out on those who are interested in your product.
Make sure the rules are crystal clear.
Start a custom hashtag for your giveaway to make tracking easier.
Announce the winner publicly to avoid suspicion of fake giveaways.
Targeted Social Media Ads
If you have some marketing budget to spare, social media platforms offer targeted advertising features that you should definitely give a shot.
The advanced targeting that social media platforms offer keeps advertising costs down and generates high-quality leads.
If you haven't run a paid social program before, consider these statistics:
59% of marketers think that a paid social media ad is a more effective organic lead-generation technique
Over 50% of B2B marketers consider social media as a "very" or "somewhat" low-cost advertising option
Marketers see a 25% increase in conversions from paid ads compared to organic social media
Generating Leads with a Website
Despite the importance of social media marketing and the exposure it brings, your website should be the place where most of the lead generation and conversions happen.
To make your website a majestic lead-generating asset, Neil Patel recommends executing these methods:
Include a contact number.
Add a contact form to as many pages as you can.
Showcase social proof or testimonials from past customers.
Use videos to speak to visitors.
Use trust seals — those which are more than just eye candy.
Describe your products using powerful words.
Avoid using a basic website template. Be creative and stand out!
Keep the end goal of creating your website in mind.
Make sure you don't waste any white space.
Keep testing which approach generates the best result.
What Factors Influence Lead Generation and Conversion?
The rules for steady and reliable lead generation are not set in stone.
There are a lot of factors outside of your control (e.g. customer's budget) that may affect whether or not they'll show interest in buying your products or hiring your services.
However, there are aspects of your business that you can develop to improve the result of your lead generation and conversion campaigns.
Brand Recognition
You're probably familiar with Apple products and how much they cost. Their flagship phones normally cost around $1,000 or up — and yet somehow Apple phones rank third in the number of units shipped in 2018.
Do you know why? It's because people know Apple. If you look at this table, the top 3 brands are the ones people are most familiar with.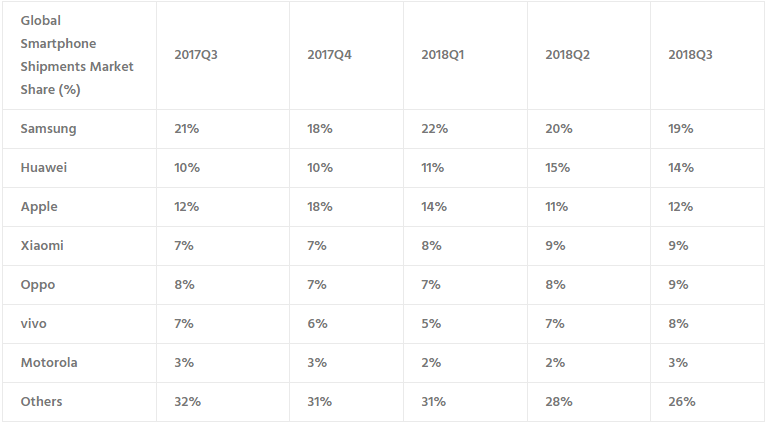 Image: counterpoint.com
So if you're still a startup with little to no brand recognition, you have to claw your way up to compete with the giants in your industry.
Brand Trust
Brand trust is closely related to brand recognition, the difference is that you could build brand trust much more quickly than brand recognition.
With a handful of satisfied customers' testimonials, you can have significant brand credibility to make more people buy your products or hire your services.
You could use these methods to quickly build your expertise and earn customers' trust:
Provide insightful and valuable content.
Create a portfolio of your past works.
Ask past clients and customers for testimonials, preferably in the form of a video.
Why Should Your Real Estate Agency be Doing Video Marketing?
Why bother shooting videos and running all sorts of campaigns to sell houses? Can't we sell houses by holding open houses like usual?
Well, you obviously can and many people still prefer visiting open houses. But there are strong reasons why video is the future of real estate marketing.
Real Estate Is a Highly Competitive Market
Real estate is, without a doubt, a massive industry with fierce competition.
Having said that, it's only fair if you want a lead-generation method that can cut through the noise and score some red-hot leads.
As millennials are joining the marketing forces for real estate agencies and startups, their marketing strategies have improved in terms of creativity.
This situation makes it harder for anything to stand out.
And real estate videos can make you stand out from your competitors as videos are becoming the center of attention in today's digital marketing environment.
The demand for more video content rises as the behemoths of video content like YouTube, Netflix, Amazon Prime, and the like are growing steadily.
Videos are visual content, which makes them more visible in the gigabytes of information streaming through the computers and smart devices of our daily lives.
This, in turn, makes video content convert better than text-only landing pages or email campaigns.
People's Attention Span is Getting Shorter
The average attention span for the notoriously ill-focused goldfish is nine seconds, but in 2015, a study by Microsoft Corp. found that people generally lose concentration after eight seconds,
The takeaway from the study is: the increasingly digitized lifestyle makes us effectively more distracted than a goldfish.
This could be a challenge for realtors since their pitch relies on people paying attention to everything they say.
The fact that we get easily distracted on the internet benefits video heavily because videos are what distract us online.
Well, technically it's the thumbnails that distract us, but you get the point.
People Engage Better with Video than Text
Videos are 12 times more likely to be watched than text to be read. Alternatively, you can use a text-animation one. The truth is, they're visually stimulating. They're attention-grabbing and it's in our genes to pay attention to motion.
It only takes less than 1/10 of a second to get a sense of a visual scene but what about describing a visual scene in a text? That would take forever.
We don't just skim over images, it makes us think, and just like the famous adage "a picture is worth a thousand words".
Better Return on Investment than Other Content
Right off the bat, unlike a blog post, a video can be used multiple times on multiple platforms without the risk of content cannibalism and the consequences of plagiarism.
In addition to that, there are several sets of research that suggest:
Video marketers get 66% more qualified leads per year.
Video marketers achieve a 54% increase in brand awareness.
83% of those using video think it gives a good ROI.
Making Your Video Stand Out
As mentioned before, there are many realtors and real estate agencies who have put up their videos online. In order to make your video visible among hundreds of others, we have some tips to share with you:
Use an inviting thumbnail for your video.
Apply a different approach to your video, e.g: use drone footage.
Write a title that sparks curiosity.
Apply proper technical aspects, which are title, description, tags, and location for optimization.
Share your video with your connections and network.
Overcoming the Challenges in Making Videos
Videos can be really costly or dirt-cheap, depending on many factors – including quality and equipment used to make it.
That said, you probably wouldn't want to spend thousands of dollars to buy camera equipment you're gonna use once or twice a year.
What can you do to spend your resources in the most effective way?
Embed Others Videos – with a Proper Attribution!
There are millions of videos on the internet, and real estate is a general topic. Obviously, you can't embed a video from your competitor – but there are always videos from government and educational websites that you can use. Don't forget to give proper credit to the original owners.
Renting a Camera and Shooting Equipment
If you can't justify buying a camera for making videos every so often but still want to have your own video, then the best alternative is to rent the equipment. That way, you get to channel your inner director and shoot a real-estate-related video you'll be proud of!
Hiring a Professional Shooting Crew
If you have the budget to spend and are willing to go invest more in your video, you should hire a professional video maker, or even better – a whole crew of them! Think of it as an investment, because you're making the video for the sake of growing your business.
Having said that, not every video you make has to need cameras and crews to make.
Why You Should Consider Animated Explainers for Your Real Estate Videos
An animated explainer video for a real estate agency is a tool capable of presenting innovations that your agency offer, making sure property sellers and buyers don't miss out on them.
The upside of using animation instead of live-action shots is that you remove the reality limits from your videos. Imagination is the limit for an animated video – for example, you can recreate state-of-the-art apartments and living quarters that are still in development.
So, don't be late to jump on the video marketing bandwagon.
Real estate professionals are starting to use videos to build their businesses online. Stand out from the template, bread-and-butter house tour, and realtor introduction videos with our colorful and eye-catching animated explainer videos.
Breadnbeyond can help you create a high-converting explainer video for your real estate business. Check our packages on the banner below and get a FREE consultation.