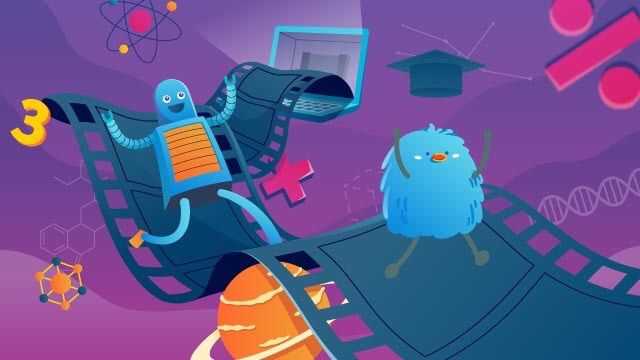 In today's digital world, videos and e-learning go hand-in-hand, just like peanut butter and jelly. Without any videos, e-learning lessons tend to bore the learners and make them lose interest in the course material.
In this matter, explainer videos have become one of the most popular types of videos used in e-learning. It makes the lessons more engaging and enjoyable so the learners can understand the course content much better.
This post will break down the benefits of explainer videos for online learning to help you gain insights.
Let's jump into it!
What is E-Learning?
First things first, we need to have a solid grasp of what e-learning is. In essence, e-learning or online learning is a learning process where electronic technologies are used to access the course material outside of the traditional classroom.
In e-learning, there are no more standard school hours. All the materials can be accessed and downloaded anywhere, 24/7, flexibly to learners' devices. That's what makes e-learning the primary form of distance education.
Meanwhile, explainer videos made e-learning easy. It helps boost learners' knowledge retention. Besides holding the learners' attention, explainer videos can also make them retain the information for extended periods.
Look at a stunning example of explainer videos from MandarinMinds below:
Why Explainer Videos Are Perfect For E-Learning
Explainer videos make it easier for learners to connect and interact with the course content in a meaningful way. It provides online learners with eye-pleasing visuals and fine-tuned scripts to make the learning process much more fun.
Below are key points why explainer videos are such ideal mediums for e-learning: 
#1. They Grab the Attention
No medium can grab a learner's attention better than explainer videos. The animations mostly used in an explainer video have the power to catch more eyes from the first few seconds. 
What makes it more fascinating is that explainer videos catch the learners' attention and hold it throughout the lesson.
Read More: Using Videos as Attention Grabbers Content: Beginner's Guide
#2. They Encourage Information Retention
Psychologically speaking, more than 90 percent of information sent to the brain is visual. It comes as no surprise that more than 65 percent of us are termed, visual learners. 
That's to say, visually appealing explainer videos allow the retention of even the most complex information.
The narrative-driven stories, combined with lovely animated characters, make all the information easy to retain and remember.
#3. They Improve Task Proficiency
Explainer videos provide cues by highlighting the main ideas. That's pretty much how learners gain knowledge with well-crafted explainer videos. 
Not to mention the graphics that appear in time with the audio can also help students improve their learning. And as explainer videos make it easy for viewers to retain information, it helps them learn and perform better.
The usual 30-minute task can be completed in 20 since the critical point of the subject has been highlighted. 
#4. They Simplify Complex Data
Another reason for using explainer videos is that they simplify information into smaller bits and explain abstract information using visuals.
Remember, explainer videos are all about simplifying things. 
It can illustrate any scenes and build the environment in a way that real cameras and crews can't. In this case, it can seamlessly explain complex topics, from pure science to technology.
#5. Ideal For Introducing New Concepts
Introducing new concepts can be tricky, especially if you have new learners who recently started online courses or are new to the subject.
This is where explainer videos come to the rescue. 
Concise, informative scripts are essential in explainer videos. It makes the explanation digestible, making it ideal for introducing new concepts to early learners (pre-kindergarten and kindergarten). 
#6. They Promote Creative Storytelling
One of the greatest things about explainer videos is their ability to tell stories. No matter the learners' age, storytelling has always been a creative form of effective communication to make information more accessible. 
Integrating explainer videos into your e-learning courses means you provide an effective, powerful medium for learners of all ages– from children to young adults or even grown adults.
Related Articles: How Do You Tell Captivating Stories About Your Business?
#7. Adaptable to Change
Subjects for learning are dynamics. Time after time, information is getting updated, which means you need to update your lessons. And when it comes to changes, explainer videos come in handy. It can make the revisions or updates seamlessly. 
You can add new information to a course, remove older data, or combine it with a lesson directly and cost-effectively. So, you don't have to recreate a whole video altogether, which can be very time-consuming.
#8. Cost-Effective
This is probably one of the most popular reasons that make explainer videos rise above the clutter: it's budget-friendly.
You don't need to hire a studio, use fancy cameras to create high-quality videos for your courses. There are many tools you can use to create your explainer videos for FREE.
It also doesn't take that long to produce, and they'll be done by the time that you need them. 
8 Stunning E-Learning Explainer Video Examples
An e-learning explainer video makes complicated things more manageable by explaining the features of e-learning and helping online users understand this process in more detail.
It's been proven that video content is easier to comprehend and focus on, which is why many companies are now adopting these methods of product-customer exposure. Indeed, videos are easily watchable, while written content is more detail-oriented, making animated videos more engaging.
Below are some eye-catching e-learning explainer video examples you can get inspired from:
Google
Google is one of the most popular examples we can look at, especially since it announced its new feature, Google for Education.
This platform helps teachers, researchers, and students alike support each other in shining a new light on the online education system.
Google for Education offers students various tools and platforms to encourage collaboration, critical thinking, and inspiration.
This explainer video clarifies how Google for Education works. It uses a white background similar to a classroom blackboard, while the visual art style combines blue, green, red, and yellow beautifully.
The music in the background matches the animated movements, while the simple yet effective text could help anyone understand what Google for Education is all about, according to essay paper specialist, Christina Wagner.
2. Adobe
Another relatively new platform is Adobe Education Exchange, a useful tool for e-learning. This platform is designated to help educators support student creativity.
This explainer video uses vivid colors to communicate simple concepts, a strategy that captures users' attention.
Also, the use of powerful colors such as red, blue, orange, and purple makes it stand out.
Geometrical shapes are also efficient at encouraging teachers to use this platform. The background music matches the purpose of the animation.
3. Codio
Another cool platform, Codio's ultimate goal is teaching students computer science and programming.
Codio offers a unique system of both grading and auto-grading, which can be essential for the learning process.
It also features a professional learning management system and free templates, which can be quick to catch your attention.
4. Activate ED
This collaboration platform combines three education institutions, Strategic Data Project, The Broad Center, and Education Pioneers.
This tool helps leaders in the community aid educational processes by identifying talent pools, engaging in training, and supporting all types of education development.
Activate ED is more of an analytical tool than anything else.
By carefully planting a story and developing it through imagery, Activate ED presents the benefits of using its platform and the solutions available to all types of educational problems.
The background music is in tune with the presentation, and the background voice explaining the facts is effective and fulfills its purpose.
5. Oxbridge
Oxbridge offers remote learning tools at affordable rates. Since this pandemic has hit so many countries, Oxbridge has become a reliable platform for distance classes.
Students can now get unlimited access to tutors and lessons alike. They can have someone help them with their homework or structure the information available in a different way to facilitate complete understanding.
Students can also complete the assignments and tasks on their own, at their own pace.
The emotional impact felt by the main character affects the viewer and of course, engages the customer.
The animations develop the story and transform it into a happier narration once the character is introduced to Oxbridge.
The background features a female voice and no music, which is effective for this type of explainer video.
6. Ellevation
This is a great platform for both ELL English learners and educators. This program helps students set smart goals and prioritize them accordingly.
Ellevation is also essential for tracking progress and knowing exactly where each student is heading during the e-learning process.
Students can view their grades online and track the newest school trends available. They can also form groups, districts, and classrooms that help them connect with each other remotely.
Most students using Ellevation are non-native English speakers, so that's even better – creating friends from all over the world is always a plus.
This animated explainer video starts with data and statistics, exposing how many people living in the United States would benefit from access to Ellevation.
This app is designed by former educators to help district leadership teams better support students on their learning journey.
The video exposes all of these facts through a female's voice intermingled with dynamic background music.
7. New Vision for Education
Another cool e-learning platform, New Vision for Education uses a less dynamic approach to showcase the platform's features.
Some would say the company uses a minimalistic style to provide us with all the instructions and details we need.
The colors and shapes integrated here make a great example for anyone looking to create a simplistic yet effective explainer video.
The music along with the basic shapes and forms create a beautiful cognitive association that stays.
Online Streaming Service to Find Eye-Catching E-Learning Explainer Videos
Today, we use online streaming services for entertainment, employee training, customer communication, and many other relevant reasons. Virtual live events are the most commonly streamed videos.
YouTube is a great streaming platform for training and live product reviews. Netflix has become essential for entertainment. Let's discuss these two platforms.
YouTube
YouTube is the most common and familiar platform for watching videos. Here, customers can review relevant products and get a deeper understanding of their purchases.
Explainer videos are relevant because of this reason since they provide all the necessary information on the product at hand.
Customers can therefore access the learning material through the explainer videos and become more familiarized with what they need.
Some of the most important channels to check out our Tech Insider, Asapscience, Minute Physics, Kurzgesagt, and Ted-ed.
Netflix
Netflix has become one of the most popular streaming platforms in the world.
Believe it or not, it has now become a part of popular culture, and it has changed the way we look at movies and TV shows.
Since Netflix is famous for the entertainment it provides, it can also feature relevant programs for learning. Take The Queen's Gambit, for example.
This show has inspired millions of women throughout the world to take up chess, which is absolutely stunning.
Not many people are familiar with this, but Netflix can actually be used for educational purposes. Netflix shows have different programs for both kids and adults. Some of them can be relevant to children under the age of 7 or even for older kids, providing highly educational content.
Find More E-Learning Explainer Videos: Learning Platform for Kids
Today, there are many big, free educational platforms for kids on the wide web. Some of the most relevant examples of such platforms include the following channels.
Kids can now watch videos on National Geographic without having parents worrying about the delivered content.
The learning material is delivered to them through videos, photos, games, or quizzes, which is extremely important content to digest.
Kids can choose their videos based on their preferences. The categories they can choose from are Animals, Exploration, Science, and Fun Facts.
These videos help kids understand critical information about each subject. The sounds the platform uses are catchy, the videos are short and to the point, and the information is not overwhelming – it is designed to help kids grasp the content more easily.
The visuals are important since they draw children into another universe. The voice-over is also helpful. You can sign up and open up an account. It's really easy to do!
Mystery Science is a platform for open-and-go lessons that inspire children to love science.
The curriculum depends on your preferences, but the platforms use hands-on, remote learning to develop a higher interest in STEM subjects.
Right now, it reaches about 1+ million children around the globe, and the community is still growing.
The material is delivered through interactive videos, using abundant visual content to connect kids with the information at hand.
The sounds and voice-overs are also relevant, especially for kids in grades 3-5.
It's important to note that Mystery Science does not have explainer videos but educational ones, which is exactly what students this age need. To enroll, you can easily sign up for an account and go from there.
Interactive Video Learning
Interactive videos make eLearning engaging, immersive, and super fun for kids and adults of all ages. The material of e-learning videos can encompass a series of videos, tutorials, walkthroughs, and expert advice.
Instead of sitting in front of your computer and boring yourself to death, these interactive learning platforms actually help you become interested in the content presented.
Thus, the learning process will go more smoothly, and you'll learn faster. Here are some of the most relevant platform examples.
Noggin
Noggin is a great platform for kids as it features interesting shows, books, games, and play-along. These preschool favorites are delivered by connecting to ongoing, ad-free episodes.
When kids are watching these shows, movies, etc., they are building up more than just creativity – they learn important math concepts and other relevant skills.
Kids can solve mystery puzzles such as in Tot Cop, learn Spanish through adorable characters such as in Canticos, and learn problem-solving through games such as Ni-Hao, and Kai-Lan.
The visuals are striking, the sounds are empowering, and the way these games are designed is really unique. Sign up for Noggin to get access to their 1,000+ learning games.
This platform provides children around the world with significant, high-quality digital education for free.
The platform shows significant improvement in eLearning performance and is a great additional exercise for homeschooling.
The platform is designed for kids ages 5-12 in the UK and not only. It is based on grade-level curriculum goals and boosts kids' imagination in a hot minute!
You can enroll by accessing their website and signing up for an account.
Online Classroom
An online classroom is a class conducted via the Internet.
These courses are usually managed through an LMS or a learning management system and help students connect with their tutors.
These self-paced online classes can be of great help to students in need of professional explainer videos for their educational progress.
Two of the greatest sources for explainer videos aimed at students are the following.
You can literally study any subject you are interested in by signing up for PBS. The content is delivered virtually in an online classroom setting.
The platform uses videos and transcripts to get you interested in the content at hand and help you learn what's needed.
You will be participating in an online classroom with other students learning the same material. However, your learning method will be self-paced, meaning you'll have total control over your progress.
Watching videos has never been easier. You can sign up for PBS Learning Media by accessing their website.
Nearpod is for stunts, teachers, and administrators alike. You can join a lesson as a student by entering the code you've received.
Nearpod uses virtual reality, simulation, and gamified quizzes to help students grasp the content more interactively.
Teachers will always know where you're at through Nearpod's formative assessments such as polls, open-ended questions, draw-its, and more.
You can get access to your teacher's videos or PowerPoint slides on this platform – the bottom line is, you'll never get bored.
Students can sign up for free on the website, but teachers must pay a monthly subscription fee.
General Knowledge E-Learning Platform
If you want to get free access to general knowledge quizzes and educational videos, this is your go-to.
The next platforms connect the student with the teacher and ensure that the eLearning content is delivered in a suitable way for everyone.
This is a free teaching website for streaming educational videos and lesson plans. This platform can also offer teachers a wider database of resources and access to current teaching events.
They offer entertaining educational videos to help students develop critical thinking skills. Izzit also features short videos with to-the-point lessons and guidelines for teachers in need.
The explainer, and how-to videos are also relevant. You can sign up for free on their website, as a teacher.
This is a great platform to create your own online course, in case you've got brilliant ideas and not too much time available. You can also learn how to create ebooks and build better classes for your students online.
You'll get access to daily challenges, discussion boards, and a rapid e-learning blog. This is a great resource for personal learning as a teacher, so use it wisely.
Sign up to join the community by clicking the Sign-Up button on their webpage.
Create a Complete Digital Learning Program
With all those benefits mentioned above, it's safe to say that explainer videos are a staple for e-learning lessons. In other words, adding them to your online course completes any digital learning program.  
While text-heavy explanations seem too old-school and too burdensome for your learners to retain, explainer videos offer you the best way to convey the information. Of course, without shoving every detail down the learners' throats.
If you need professionals to create eye-pleasing explainer videos to improve your e-learning courses, Breadnbeyond can be an excellent option!
Check out our packages and claim your FREE consultation by clicking on the banner below!