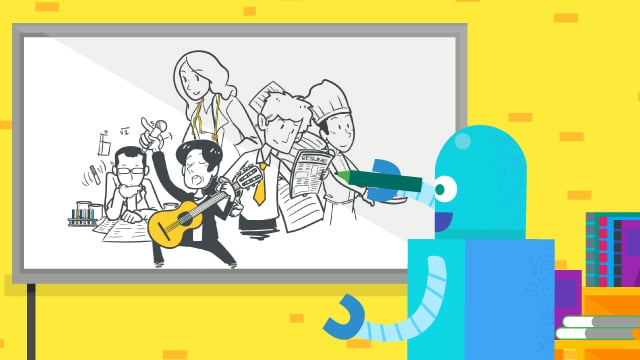 Is it a question that you should ask yourself?
I created this blog post to share with you different prices on whiteboard scribe videos and save you some time, rather than leaving you to browse around clueless. Before I jump on to the pricing, let's start easy with why you should get a custom whiteboard animation video, often called a video scribe, for your website.
You can find whiteboard scribing videos scattered across the internet. A quick Google search will bring you hundreds of them at once. They have been a very popular style of 2D motion graphic for the past decade, even among many other style options. This is primarily because they suit companies who are just starting out and only have a low budget. Plus, they do quite well for the amount of money they cost.
It all started with the artists from RSA Animate that created the first few videos in this quirky style. Scribe videos are effective. They usually lack visual detail, but they're always full of useful content that explains a subject quickly and precisely.
Seeing the rise in demand, many new studios of varying sizes have capitalised on this and offer video production services as one of their primary offerings. The competition to grab these companies' attention is so fierce that a small personal studio has no choice but to collect ideas and create their own unique style of engaging visuals.
Whiteboards are animation videos that usually begin with a blank white canvas, followed by background music, a hand which will draw the visuals and finally a voice which will narrate the scene.
They are a powerful presentation tool which is more than just moving images, the audio can also help to convey an important message. They're a better learning tool than text media like books or blog posts. That said, a whiteboard animation video can make a great tutorial-style video for your app.
The fun animation is also a powerful tool to engage your user and force them to click on something. You can add questions for your audience to answer in the comment section on YouTube or entice them with something like a free trial, a limited sales price to buy, or a free content download; each of which are methods to build a connection with your users and help to support your video's goal.
You can also choose how video scribes feel: fun, filled with action, fast, or simply entertaining for their viewers.
You can also choose various effects to center on.
The styles, however, depend heavily on the artist designing your video. You can tell them how you want the characters to be drawn, but each will have their own unique way of approaching the task. Moreover, it takes years for the animators to learn how to use video scribing software, such as Sparkol, even with the number of training tutorials and resources available on the internet.
If you factor all of these elements into the final price of an explainer video, it can be a damn good bargain for a tool that will help your brand rise faster.
Although there are no rights or wrongs when making a whiteboard video – as it's a creative piece where technically anything goes – these are the stylistic elements which define the "whiteboard video" genre.
If you are all in for making a great scribe video (if not, take this post as a handy piece of education), here are some facts that will let you know how much you should pay for it and where:
Explainer videos provide between 90 to 95% return on investment, while infographics fall behind in efficiency at 56%. Those using video win an average of US$8,000 more revenue than those who don't.
A Forbes Study revealed that 59% of a C-Suite executive audience would choose to watch a video rather than read the text if both are presented on a page.
The same study showed that 39% of executives called a vendor after seeing an online video.
A 2012 report by invodo showed that over half of eCommerce buyers report feeling more confident in a purchase decision after watching a product video.
According to research, overall online video consumption has risen by 800% in the last 5 years and doesn't appear to be slowing down anytime soon.
Now, as all digital marketing tools are an investment project, you should focus on the ROI rates you can get from them. Think about an economy of scale, what you can do to get a better ROI?
Good marketing tool = Better ROI
Better ROI = More $$$ for your business
More $$$ = You are one step closer to saving the world
Let's get back to the original question.
How much should a whiteboard scribe video cost you?
I promised to provide you a price comparison, right? Here it is:
Cognitive Media – around $30,000 but it's booked
They are the guys behind RSA Animate. Booked for TED and other top organizations and communities.
Switch Video – around $15,000 to $20,000 for the first minute
A Canadian company who are well-known for producing explainer videos.
Simple Show – around $15,000 for the first 3 minutes
The top German explainer video production company who  produce videos for BMW and Mercedes.
Y-draw – around $6,000 for the first minute
They charge you a flat rate per minute.
Fire Starter Videos – charges you $3,595 for the first minute
They also charge you $30 for every additional second.
Transcribe – approximately $5,000 for the first minute
There are also additional charges for any extra minutes.
Whiteboard Animations – $15,000 per minute
Compared to this one, our scribing videos only cost you $1,199 for the first 60-seconds and are comparable to their $15,000 per minute package. Touche!
Which is why you should contact us today, it doesn't hurt at all!
I promise to update this at least once a year.
Of course, you may think that the prices for our service are high. You want something much cheaper in order to produce more videos and get more juice from your customers. Our process & explainer video pricing are also open and transparent!
There are several DIY products that allow you to create your own whiteboard scribing video.
Let's take a look:
Sparkol's Video Scribe – $30/month for their DIY package
Powtoon – $59/month for their DIY package
Moovly – $9/month, and not confined only to whiteboard animation
Takeaway
Video scribe will always have a place in marketing campaigns for its ability to gain a massive ROI in a short time. This type of explainer video can urge viewers to do the next step just right after the video ends.
The animation styles, background music, and narration are what keep viewers engaged more in the video in an entertaining way. There are two options you can choose to get your whiteboard video scribe.
You can directly contact production companies or get a recurring animation software. Sure, the latter will take a lot of time to produce on your own – and there's no guarantee that you will get the best outcome.
Therefore, opting for the first choice will make more sense if you are serious about getting more ROIs. The production companies we mentioned above are some of the best in this industry that we have carefully selected for you.
They charge different prices for the same video scribe that you can take notes for future projects.
However, if you are looking for a great result with a tight budget then you are on the right page.
Breadnbeyond will help you increase your ROI without emptying your pocket. You will be included in the process and get the transparent pricing – no additional cost. Click on the banner below to see the best packages we offer: