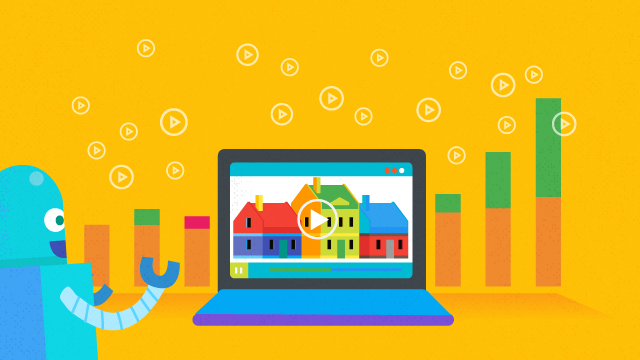 Videos have taken the Internet by storm in the past few years, and their reign is still going strong. Not only end-users, but businesses have also felt the impact of video content domination in their marketing campaigns, and the real estate industry is not an exception.
In this article you'll learn how businesses in the real estate industry can use videos to convert their leads into paying customers. Let's dive right in.
What Exactly is a Lead Conversion?
Lead conversion is the process of converting potential customers into paying customers. In today's competition, whoever figures out how to generate leads online first wins. There are two main channels for lead generation:
Lead Generation on Social Media
Social media is the powerhouse that practically makes the need for digital and content marketing as big as it is right now.
According to Statista, the number of people across all social media platforms is predicted to reach 3.02 billion by 2021. Take a look at this graph: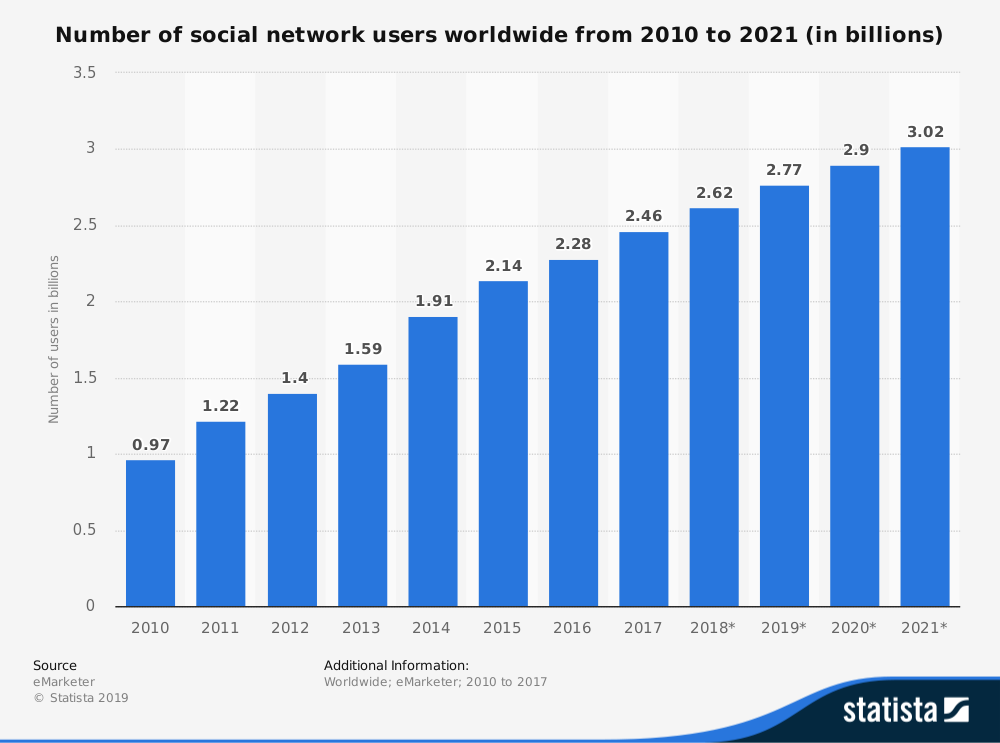 Generating lead from social media is a tough challenge that every business needs to overcome. There are several proven methods which have been largely used to achieve successful social media lead generation campaigns.
Giveaways as a practice is arguably the easiest method to generate warm leads on the internet. In order to organize a profitable giveaway, there are several preparations to make:
Choose the right social media platform, preferably one which your customer persona uses the most.
Set an entry deadline. This way you can instill the fear of missing out to those who are interested in your product.
Make sure the rules are crystal clear.
Start a custom hashtag for your giveaway to make tracking easier.
Announce the winner publicly to avoid suspicion of fake giveaways.
Targeted Social Media Ads
If you have some marketing budget to spare, social media platforms offer targeted advertising features that you should definitely give a shot. The advanced targeting that social media platforms offer keeps advertising cost down and generates high-quality leads. If you haven't run a paid social program before, consider these statistics:
59% of marketers think that a paid social media ad is a more effective organic lead generation technique
Over 50% of B2B marketers consider social media as a "very" or "somewhat" low-cost ad option
Marketers see a 25% increase in conversions from paid ads compared to organic social media
Generating Leads with Website
Despite the importance of social media marketing and the exposure it brings, your website should be the place where most of the lead generation and conversions happen. To make your website a majestic lead-generating asset, Neil Patel recommends executing these methods:
Include a contact number.
Add a contact form to as many pages as you can.
Showcase social proof or testimonials from past customers.
Use videos to speak to visitors.
Use trust seals — those which are more than just eye candy.
Describe your products using power words.
Avoid using basic website template. Be creative and stand out!
Keep the end-goal of creating your website in mind.
Make sure you don't waste any white space.
Keep testing which approach generates the best result.
What Factors Influence Lead Generation and Conversion?
The rules to a steady and reliable lead generation are not set-in-stone. There are a lot of factors outside of your control (e.g. customer's budget) that may affect whether or not they'll show interest in buying your products or hiring your services.
However, there are aspects of your business that you can develop to improve the result of your lead generation and conversion campaigns.
Brand Recognition
You're probably familiar with Apple products and how much they cost. Their flagship phones normally cost around $1,000 or up — and yet somehow Apple phones rank third in number of units shipped in 2018.
Do you know why? It's because people know Apple. If you look at this table, the top 3 brands are the ones people are most familiar with.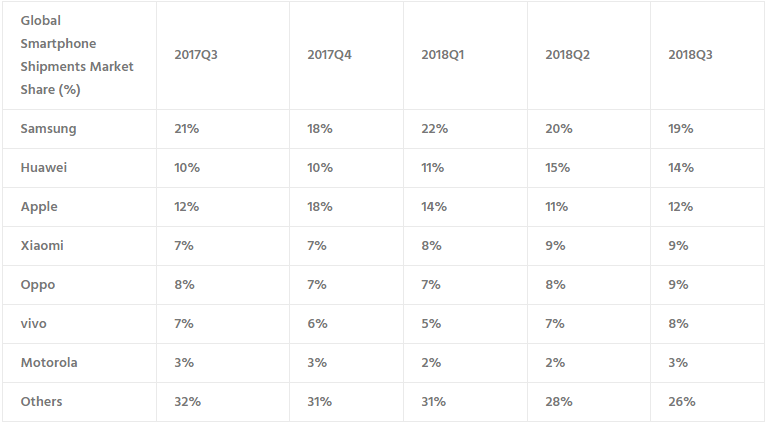 Image: counterpoint.com
So if you're still a startup with little to no brand recognition, you have to claw your way up to compete with the giants in your industry.
Brand Trust
Brand trust is closely related to brand recognition, the difference is that you could build brand trust much more quickly than brand recognition.
With a handful of satisfied customers' testimonials, you can have a significant brand trust to make more people buy your products or hire your services. You could use these methods to quickly build your expertise and earn customers' trust:
Provide insightful and valuable content.
Create a portfolio of your past works.
Ask past clients and customers for testimonials, preferably in the form of video.
Real Estate is a Highly Competitive Market
Real estate is a massive industry with a fierce competition. Having said that, it's only fair if you want a lead generation method that can cut through the noise and score some red-hot leads.
As millennials are joining the marketing forces for real estate agencies and startups, their marketing strategies have improved in terms of creativity. This situation makes it harder for anything to stand out. However, there is one certain approach that we know works for any kind of industry, including real estate: video content.
Videos are the center of attention in today's digital marketing environment. The demand for more video content rises as the behemoths of video content like YouTube, Netflix, Amazon Prime and the likes are growing steadily.
Videos are visual content, which make them more visible in the gigabytes of information streaming through the computers and smart devices of our daily lives. This, in turn, makes video content convert better than text-only landing pages or email campaigns.
Video Content Generates and Converts More Leads
According to Vidyard's statistic compilation, 96% of people find video helpful when making purchase decisions online. Let's face it, real estate is not exactly an exciting industry — so using eye-catching videos could be your way to get all the attention that your real estate agency or startup deserves.
Related: How Real Estate Video Marketing Can Take Your Agency to the Next Level
The question is, what kind of video is the most suitable for your real estate company? Check out these examples that we've rounded up.
Best Types of Video to Use for Real Estate Agency
As the title implies, the core of real estate is the properties being sold or rented out. While many people are more than happy to spend their afternoons visiting open houses, those in the early stages of house-hunting are mostly reluctant to blindly visit a house. Make a quick house-tour video to spark their interest to visit the properties in person.
The neighborhood is part of the properties you're promoting. Which means people will take it into consideration. So in order to make the properties sell faster, shoot a video that highlights main selling points (e.g. public transportation, restaurants, grocery shops, etc) and interesting things around the neighborhood.
There have been several realtors who have successfully built their reputation by making an introduction video of themselves. If you're looking to build your own persona as a realtor, give it a shot.
As a real estate agency, startup, or professional, you're supposed to know more about the industry than most people. In order to build your reputation as an expert in the field, you could make an educational video about stuff that most people get confused about such as agrarian law, tips for property owners, etc.
Product Introduction Video
This is 2019, and not all companies in the real estate industry are simply selling houses or renting out condos. There are startups with innovative products like property market places and travel-oriented real estate (AirBnB, anyone?).
That's cool and all, but most people looking to buy mansions and houses are from gen-X, which, if we're being completely blunt, are not tech-savvy. Which is where product explainer videos will come in handy.
Check out this video that we created for Haus, an online real estate marketplace.
More Real Estate Agencies Are Starting to Use Video
Don't be late to jump on the video marketing bandwagon. Real estate professionals are starting to use videos to build their business online. Stand out from the template, bread-and-butter house tour and realtor introduction videos with our colorful and eye-catching animated explainer videos.
Breadnbeyond can help you create a high-converting explainer video for your real estate business. Check our packages on the banner below and get a FREE consultation.