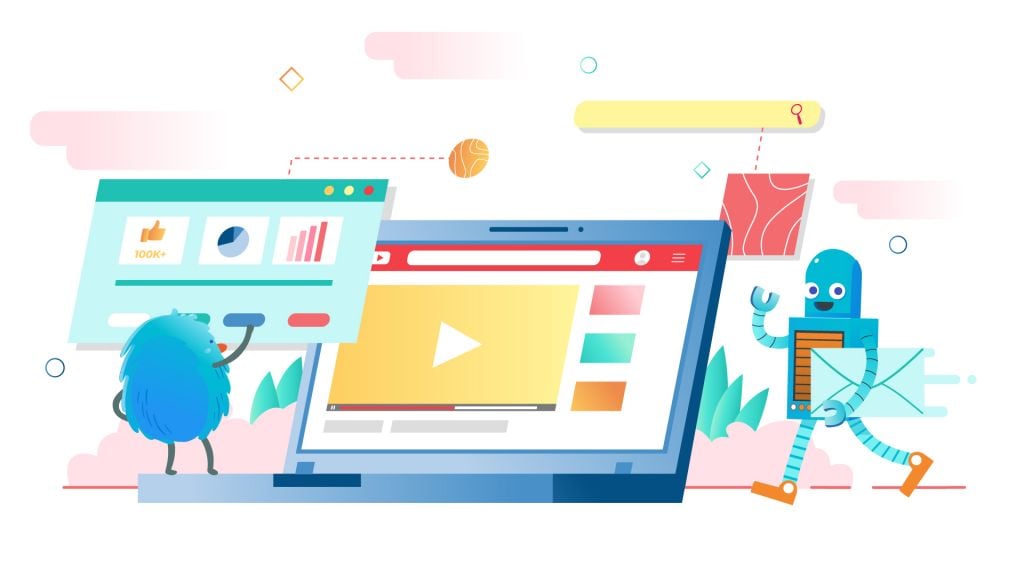 A product demo video is the best way to showcase products or services. It similar with app demo videos or software demo videos. It will increase your product value. Also, it quickly taps into the heart of everyone because who doesn't like watching a video, anyway?
Video demonstrations help customers understand the product they're about to purchase. Rather than reading a product description in a boring blog post, or worse, in a crappy manual book, watching product demo videos is definitely more exciting.
More importantly, marketing videos is estimated to grow and reach up to 82% of the internet traffic in 2022. Marketing content like explainer and product demo videos contributed to 49% of the sales increase last year. So, there's an undeniable truth about video marketing: it's bound to bring success for every business.
If you're looking for inspiration for what product demo videos excelled, you've come to the right page. Here are a few product demo video examples for your inspiration.
1. Apple Card
Apple is a one-of-a-kind brand. The company knows how to create a buzz and attract people to come over with simple commercial content. This ad is a perfect example of how a new launch can draw so much attention.
Apple Card is a brand-new credit card that serves simplicity over complexity. This latest product launch is met with high expectations after their previous successes. The promotional campaign follows a minimalist design and life-like movements that capture viewers' attention from start to finish, making it one of the best product demonstration videos out there.
2. Mega Creator
Mega Creator is an online drag-and-drop design tool to create anything you want: social media graphics, brochures, book covers, and so on.
The best thing about this tool is its impressive collection of built-in graphic assets. In this calming video, you can see all Mega Creator's assets — templates, photos, illustrations, icons, and AI-generated photos.
They are playfully moving across the screen to be placed on the artboards at the end of the video. The goal of this product demo video is to show that creating designs with Mega Creator is easy: chose a template, customize it, and export. No special skills, time, and effort are required.
3. LEGO Life
LEGO is every child's all-time favorite toy. Hence, the video is designed to meet kids' understanding. This product demo video has bright colors, fun icons, and loud music that appeals to kids of all ages.
LEGO's cool product videos show how parents can use the free mobile application with their children to create adventures together while also providing opportunities inside the virtual world they are building on screen.
4. SoFi Hongkong
SoFi Hongkong is an investment app that lets you find trusted brokers easily. Users don't need to deal with investment and financial scrutiny while using this app. SoFi demonstration video embodies the great combination of colors that truly represents the company. Infused with strong animation, viewers can learn more about the app and the brand itself within seconds.
5. Nespresso
The Nespresso coffee machine is so appealing in its allure. This great product video doesn't just sell products; it tells a story about how your life will improve if you purchase one for yourself. The visual representation is just epic as if you're there. As if you are the actor, holding a cup of coffee from the Nespresso machine and enjoying your morning breeze.
6. IKEA Place
IKEA's new augmented reality app is an innovative way to make furniture shopping more enjoyable. Customers can use the IKEA Place App on their phone, available for iOS and Android devices, before buying anything from any of the ten different designer collections at home or online store locations around town.
The bright product demo video does a great job explaining how it works. It also has some excellent steps showing what customers should do if there isn't enough room to fit every item side-by comfortably.
7. Peloton
Peloton is an online fitness company that offers ridership classes from home. The video does a great job of showing how Pelotons offer more than just indoor cycling and gives potential customers what it feels like to take their class in real time.
This demo video describes that users might be hesitant about switching gyms or joining another gym membership. Therefore, the company offers an exciting solution by giving them a choice to cycle at home without dealing with changing gyms all the time.
8. DuoLingo Push
DuoLingo's new feature is hilarious. This demo video features a character named "Wordsmith" who goes on adventures to teach people how to speak different languages with this interactive storybook style. Users can choose from activities such as matching phrases or completing sentences based on what they see on the screen by tapping them when prompted about pronunciation.
The video shows that DuoLingo can help you learn vocabulary more efficiently because it reinforces the correct usage of words rather than just showing spelling errors as other programs do without teaching proper sentence structure.
9. Slack
The product demo shows off clever interaction between the voiceover artist and actor. The live-action scenes with screenshots of software alongside them are shown perfectly using bright colors throughout, making the video stand out.
Brianna, the character, is so great from how articulate she sounded while talking on camera or wearing her signature Slack shirt. She makes the Slack representation astounding from the get-go.
10. FridaBaby
There are so many hilarious moments in the FridaBaby demo video presentation. This is one of the best-animated product demo videos on this list.
The honesty is refreshingly direct. It touches on every new parent's pain points without leaving anything out about why these products will work wonders. As soon as you see them coming up next with an unconventional strategy like this one, you know the video is going places.
11. Survey Monkey
This two-minute product demo shows the many benefits and features that SurveyMonkey offers, including a walkthrough of their interface. Viewers can see how they send surveys quickly with this easy tool while also integrating it seamlessly into other platforms like Slack for an even more seamless experience.
12. Sphero
With its 3D animation and live-action video demo, Sphero shows the whole process of creating RVR – a programmable robot. The company called themselves "Spheros," Greek for a ball about how cute these little robots are when you first see them up close on your mobile device screen.
Sphero's robot ball is a new and innovative toy that can be controlled through a mobile app. In the video, they show how students use their products to create programs for themselves.
13. Tasty
Tasty has always succeeded in making a yummy-looking video that everyone can agree on. Looks like Tasty always goes the extra mile while creating product demo videos for YouTube. While you may be aware of its wholesome food content, you may wonder if Tasty has made another enticing video there.
Tasty is a food recipes network, and its app demo video for this product provides an intuitive walkthrough of what users can do. It simply tells you how to use it without overwhelming viewers with too many details or complicated instructions.
14. Google Translate
Google Translate has been the go-to place for when we need a quick translation over foreign languages. Sometimes it can be daunting to copy and paste a sentence into Google Translate every time you don't understand a word. With the new Tap-to-Translate, you can find the meaning of foreign sentences in seconds.
This best demo video has perfectly described how Tap-to-Translate from Google works best on every device. The guidance inside the video also makes great tutorial content for every new user.
15. Nightingale
Nightingale's demo video is one of the best examples of how a demo and promotional video is done correctly. Watching this commercial content feels like learning a new thing while also getting to know about the product through a short explanation.
This type of product demo doesn't need a voiceover or additional music to accompany the information. Nightingale uses a great combination of soothing sounds with crystal-clear animation to describe the product well.
16. Pipedrive
The Pipedrive software product demo video is long, but it keeps you engaged till the end. It has clever animation and live-action elements to keep things interesting, as well as some catchy music that won't get stuck in your head for days after watching it.
The voiceover artist does such an awesome job with this script. The scriptwriting also fits the personality of each section, making this demo reel perfect if they want a commercial that humanizes the brand.
17. Hootsuite
The Hootsuite video is a welcoming and informative introduction to the company's social media tools. With minimal animations, it relaxes viewers without overwhelming them with too much information while offering valuable tips about how these services can benefit your business in an easy-to-understand way that doesn't go over the top or bore anyone who watches it.
19. Airtable
Airtable is project management software that allows you to manage, track, and customize every project to meet the due time. This software demonstration video is classic. It demonstrates several different use cases, taking a quick approach to how users can operate the tool right away without dealing with some boring guidelines.
20. Nike Free
The Nike Free running shoes are the result of years of research and development. They're designed to emphasize natural movement, which can be difficult for some people who have been wearing traditional sneakers that cause them to over-achieve or underperform because their muscles don't receive enough stimulus from walking around all day long.
Nike's demo video delivers a design principle where each part worked together fluidly without oppressive forces causing stress elsewhere; this idea later became known as "Natural Running Motion."
21. HeadSpace
HeadSpace is a meditation app that has been critically acclaimed for its innovative approach to guided visualization. The company created an animated video showcasing the features of their product, and it easily ranks among one of the best made. It also allows users to learn how they can help live more smoothly and see what it feels like using HeadSpace's intuitive interface in real-time.
No music at all was used because there isn't any need for this type of content – just calming voiceovers by founder Andy Puddicombe as you follow along on your own device or listen from home without needing anything else other than yourself.
22. Nintendo Switch
The Nintendo Switch is a unique video game console that can transform from a home to a handheld. This product brings people together through gaming, no matter where you are, whether in your bedroom or on an airplane.
The live-action footage with 2D elements really sells how much fun these games could potentially be for all ages, including kids of different ages who usually prefer watching TV shows over playing video games with adults.
23. Digivante
Digivante aims to market the product and educate potential clients on how it works. To do this, they created an engaging motion graphic animation and informative screencast video combined perfectly for maximum customer satisfaction. So, people who barely know about this tool can quickly understand how to use Digivante within minutes.
24. Salesforce
The Salesforce CPQ & Billing tool demo video takes viewers on an entertaining journey through the product's features by following a sales representative in his day-to-day work. The narrative is told from their perspective, providing more engagement and entertainment for those watching it unfold.
The product demo video for Salesforce CPQ & Billing tool is a story that takes the viewer as one of its characters. It highlights features and scenarios, using humor to bring engagement in an entertaining way.
25. LinkedIn Learning
This LinkedIn Learning video is engaging and aspirational with its message, the right tone for professionals. The creators tell how they can help you grow professionally by recommending content based on your skills. The video isn't all about common information, but it gives people something useful in their workday.
26. Zoom
Nowadays, who doesn't use Zoom? This video conferencing platform has seen its success after everyone was forced to stay at home. People can use Zoom right away, there's no need for demo videos or tutorials to help them operate the app. However, did you know how Zoom's product demo looked before?
This product demo video for YouTube described the meaning of being traditional. The product demo video is easy-to-understand because it perfectly demonstrates the features of Zoom. It quickly jumps into how individuals can use and benefit from the app, leaving viewers with a clear picture of what this app has to offer them.
Takeaway
Product demo videos are one of the greatest marketing content, proven to drive revenue. While it may take longer to provide a comprehensive yet compelling product demo video than to write it on a boring blog post, you wouldn't believe the results from this type of marketing content.
This list should help you find inspiration for making a product demo video. If you're ready to create product demo videos, let's roll with Breadnbeyond by clicking the banner below: