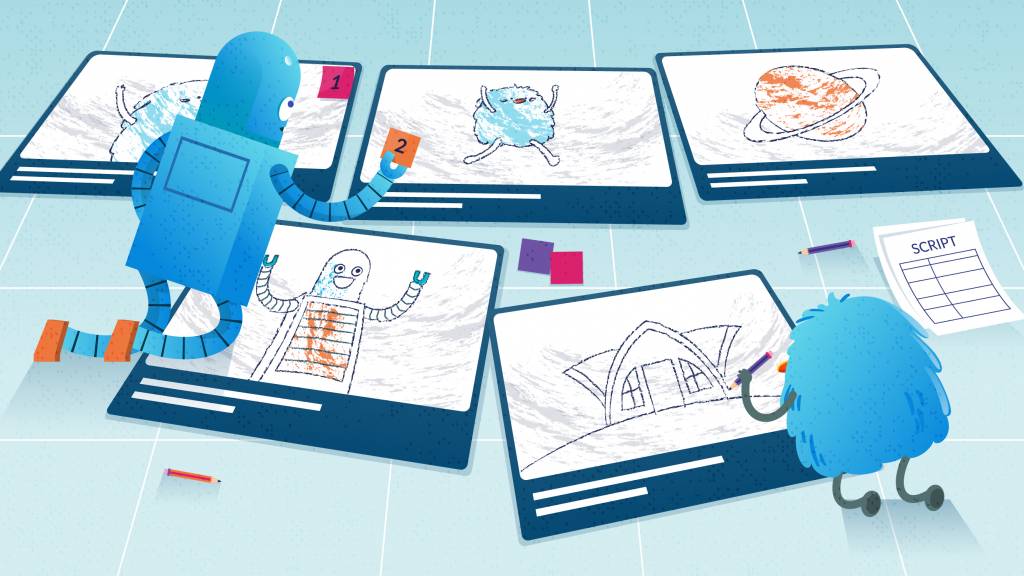 After the script for an explainer video is finalized, the next big step is to create an illustrated storyboard for the video. It is an important step in the creative process because it will decide how your explainer will be delivered. It also enables you to see how your video will appear visually before it is animated.
When looking over a storyboard, you're able to see if the story plot or sequences follow your expectations. The purpose of creating an explainer clip is to help your potential customers understand your products or services and attract them to buy from you, this needs to be reflected in your storyboard.
We've written up a list of 16 types of animated explainer videos which you can use to help you decide how to design your next animated explainer.
While a storyboard generally consists of rough sketches drawn panel by panel, Breadnbeyond gives you an illustrated storyboard with colored still images and a background. This will make it easier for you to visualize the way we intend to deliver your message in the video, and speed up the overall production time.
An illustrated storyboard helps you to gain insight into whether your video is informative enough, or has represented the details you want to be shown. You can compare your storyboard with the script or video brief to determine whether it has fulfilled its purpose.
Working with a good storyboard is necessary for communicating with the animator effectively. Every expert animator has their own revision policy when working from a storyboard.  Through good communication, you can reduce the chance of misunderstandings in the working process. It also allows you to track your project and maintain reciprocal feedback, leading to faster production time for your video.
Our explainer videos can be used over any communication channel you have with your current target market – from social media to your own website. As a company, we're here to make your dream video a reality. Click on the banner below for a free consultation on how we can help you create your explainer today!