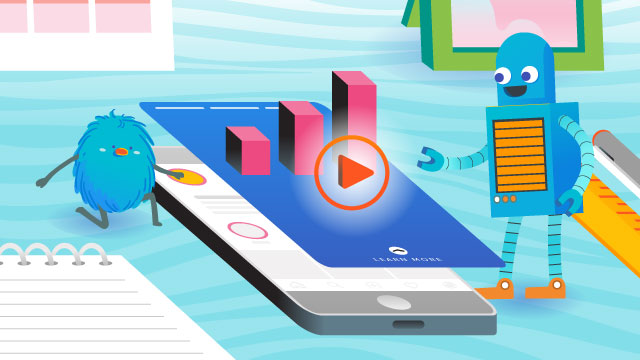 In the last few years, the idea of posting short-lived content has blown up the internet. 
Once Instagram copied the Story feature from Snapchat, it became extremely popular among users. With a limited lifespan of 24 hours, social media stories create a sense of urgency that encourages users to watch content. 
According to Business Instagram, around ½ of the Instagram community (500 million users) create or watch Instagram Stories daily and 96% of marketers see great potential in posting ephemeral content. 
It doesn't take much time or effort to create an Instagram Story, but it can be difficult to cut through the noise and hook the attention of your target audience, so being creative is a must. 
The solution? Create vertical videos for Instagram Stories! Video content is gaining in popularity, as specified in the video marketing statistics report:
72% of people watch videos to learn about the product

75% of users take action after watching brand videos on Instagram

82% of people find it daunting to watch videos that are not optimized for the chosen position (most people hold their phones vertically)
In other words, Instagram story videos can help your business grow and there are at least three reasons to give them a try. 
Keep up with current trends:

Video content consumption on mobile devices rises

by 100% each year

which means creating videos is a great way to give your customers what they're looking for. What is more, it allows your business to be in the lead.

Meet your customers' needs and wants:

Today, people want to see more videos from brands. With the popularity of online shopping, videos help customers understand your products and services better as they are dynamic and informative. When you create Instagram story videos, you increase customer satisfaction.

Achieve your business goals: Doubtless, people love engaging videos. With the combination of interactive videos and multi-functional Story features, businesses of all sizes and niches have an opportunity to achieve their business objectives. 
Now that you know the importance of animated ephemeral content, let's find out how to use Instagram Story videos for business growth.
How To Use Instagram Story Videos for Business Growth
No matter what your business niche is, it's more likely you keep a focus on achieving at least one of three main business goals–raising brand awareness, increasing brand loyalty and trust, and boosting e-commerce sales. In this blog post, we're going to explain how Instagram Story videos can help your business grow. 
1. Raise Brand Awareness
Practically every business aims at raising brand awareness. The more people know about your brand, the more potential customers you can acquire. If you want to reach your target audience, give the following Instagram Story video ideas a try.
Tell About Your Values
Did you know that 71% of customers want to buy from brands that align with their values? This means your brand values matter.
Moreover, it's in our nature to spread the word about content that we care about, so it allows your business to reach more people. Why? Social media users are more likely to share your video story in a direct message with their friends and family if it resonates with their values. 
At first blush, it seems that having a 15-second limit isn't enough to tell about your values. Not only can you create a series of Instagram Story video posts, but you can also add a clickable link to the full video on your website and therefore provide interested viewers with more information. Check out how WHOOP did it: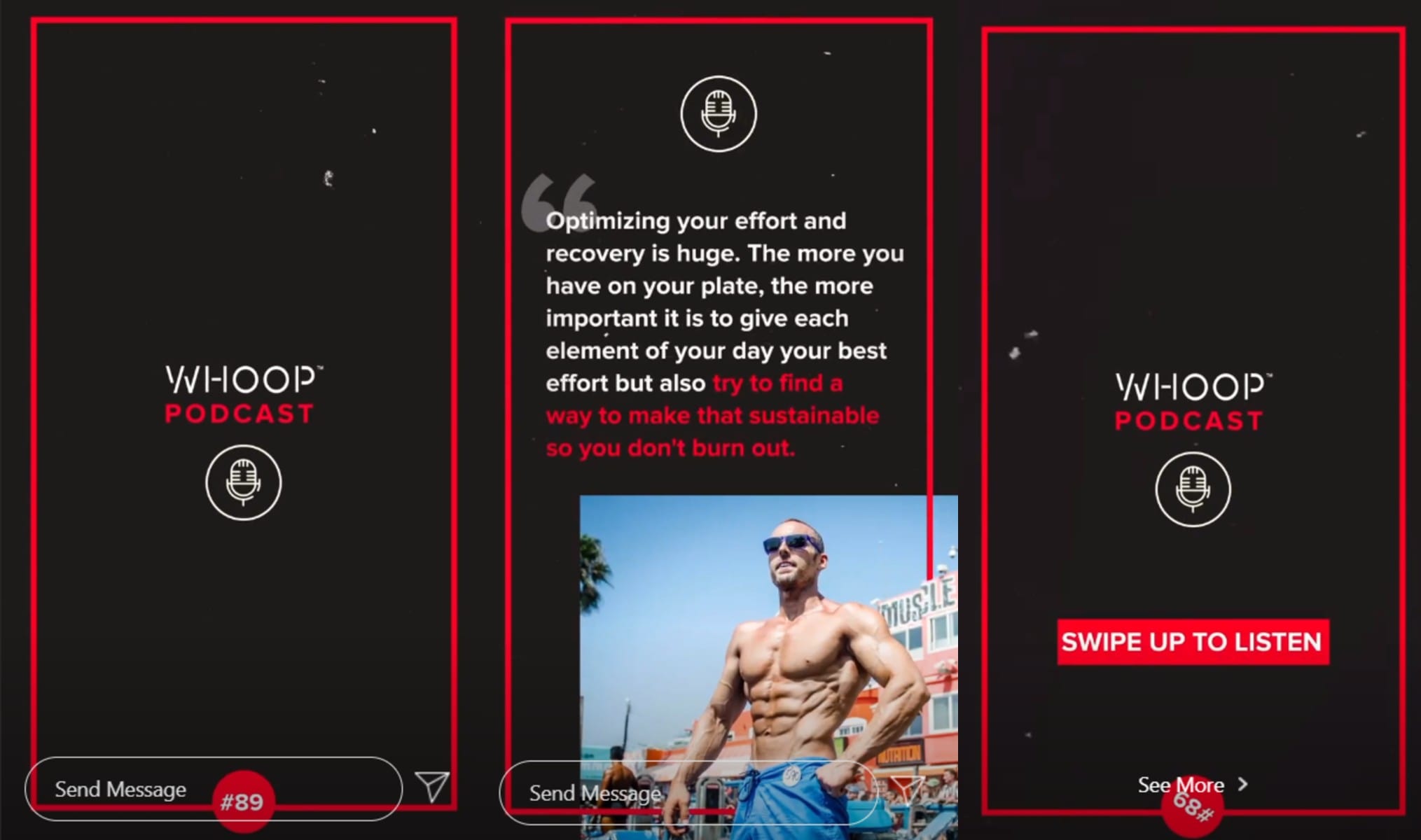 To tell its followers more about its values, WHOOP started a podcast and told about it via Instagram Stories by adding a series of custom images with quotes and background voice that encouraged interested viewers to tap on the link and therefore learn more about the company. This strategy is a great way to reach a larger audience which helps to build brand awareness.
Show Your Niche Expertise
With the outspread of COVID-19, online learning has gained in popularity. 
Digital education helps people obtain knowledge and improve their skills without wasting time, so more and more people seek out informative webinars and online conferences. 
If your team members share their tips and tricks at conferences, this is great for two main reasons: it proves your niche expertise and it allows your customers to learn from you. Moreover, it's easy to take your phone and film an episode of the conference to spark interest in your business. Here's how Breadnbeyond did it:
To increase reach, you can add location stickers and tag people to bring attention to your Instagram video story and help people find content that resonates with their location.
Run Paid Ad Campaigns
With over 25 million businesses on the platform, it can be daunting for businesses to reach out to their target audience unless they are well-known brands with an army of fans. 
However, Instagram ads help to target the right audience and get more exposure, so it's one of the best customer acquisition strategies.  When setting up ad campaigns, businesses can choose the right objectives to drive awareness of their company, product, app, or service. 
Want to know the best part? It gives wonderful results and 96% of marketers plan to keep on running Instagram Stories ad campaigns. Here's how IMAX used animated IG stories to announce the final film in the Star Wars saga and interact with hooked users: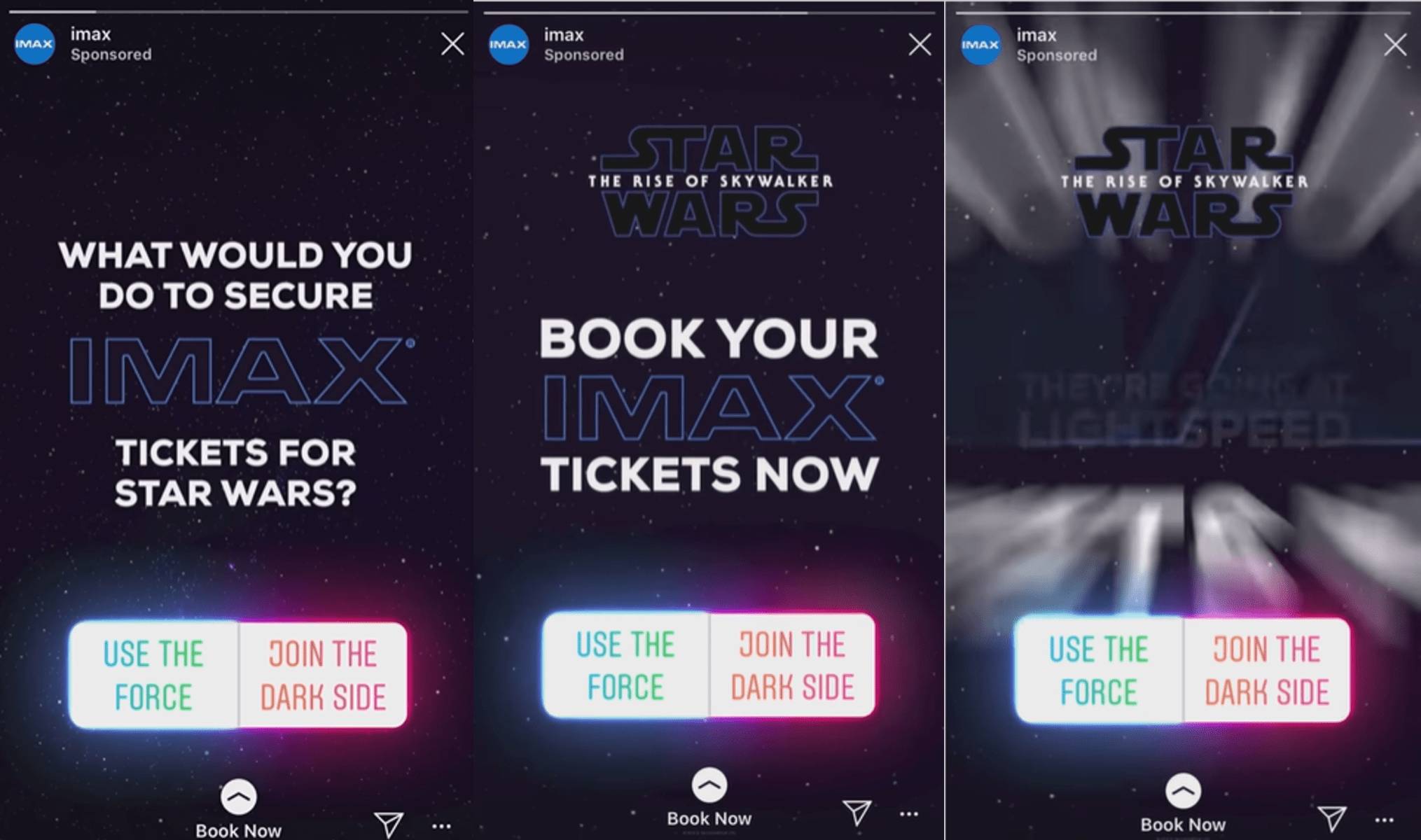 Instagram has a variety of business-specific features for Instagram Stories that allow businesses to grab the attention of users, interact with them, and therefore achieve their goals faster. Obviously, creating Instagram ads takes time and money, but it's a proven way to make sure your video reaches the right audience and helps your business grow, so it's worth giving it a try. 
2. Increase Brand Trust and Loyalty
Modern customers have too many options on the market, so it can be difficult for them to choose nearly similar products from different brands. With the over choice, most people decide to buy from brands they trust, so brand loyalty and trust play a key role in customer acquisition and retention. 
There are several Instagram Story video ideas to help your business increase brand trust and loyalty.
Introduce Your Team and CEO
No matter what your business sales model is, whether you're a B2C or B2B, your customers want to know the people behind your brand. Most customers love behind-the-scenes content as they feel special when looking behind the curtain. For your business, this means gaining trust and loyalty.
When it comes to introducing your team and CEO, there's no need to invest the budget into creating overly-polished professional videos as customers crave authenticity. For example, SPDLoad often shows its team and office atmosphere.
If your team works remotely, you can ask your colleagues to take photos, crop images, and turn them into videos. It's one of the easiest (and cheapest) ways to create Instagram Story videos for business growth.
Organize Q&A sessions
Before making the purchase decision, customers want to make sure that your product or service can meet their needs and wants. Thus, they may have various questions. To ease the worried minds, it's a good idea to organize Q&A sessions where people can get answers to their questions.
If you have a website live chat, you can ask your customer support representatives to collect frequently-asked questions and send this list to marketers who can invite experts to answer them via Instagram Story videos.
To gain exposure, it's a good idea to team up with niche Instagram influencers and ask them to spread the word about your Q&A session and therefore attract more viewers, just like in the example below:
The above-mentioned example is not about Instagram Story videos, but it's about a great way on how to promote a Q&A session and therefore get more video views. Once you're ready to host a Q&A session, you can either go live or create a series of Instagram Story videos and save them to Highlights so that your customers can watch these videos whenever they want to.
Feature Video Customer Testimonials
One of the best ways to increase brand loyalty and trust is to show your happy customers who can recommend your product to their friends and family. In other words, customer testimonials work well. But if you want to bring your business to the next level, featuring video customer testimonials is a must.
If your customers make videos about your business and tag you, that's great. You can repost their Stories, just like Keap did it: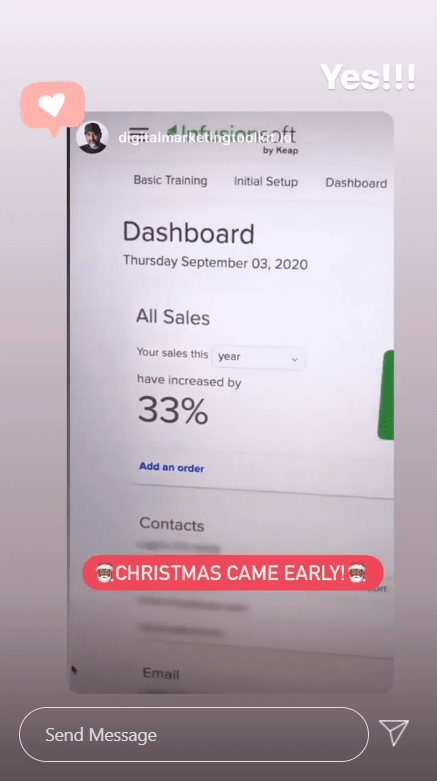 But if your customers aren't ready to create video testimonials for you, it's a good idea to check out a candidate database and find loyal employees who are ready to become your brand advocates. Once you start featuring video testimonials, customers draw inspiration from these videos to give your products a try and then share their thoughts on your product. Win-win!
3. Boost Ecommerce Sales
The days when Instagram was a simple photo-sharing tool are far behind us. With a variety of Instagram monetization ideas, this platform allows people to make money on the app and if you have products to tell, you can also boost e-commerce sales with the right Instagram Story videos. Here are several ideas on how to do it:
Show Your Products in Action
It's no secret that e-commerce marketing lays a bet on eye-catching visual content that helps to show off products from different angles. Why? It's a proven way to help potential customers understand whether sight-unseen featured products can fit them well or not.
With Instagram Story videos, you have an opportunity to show your products in action without boring your customers to tears. You can add border patterns, make video collages, and add text in trendy fonts to further catch their attention. These days, you can do that with mobile editing apps. For example, you can create a teaser video to spark interest in a new product launch. Check out how H&M did it: 
Not only did H&M create a series of Instagram Story videos to promote its products, but the company also described the collection, tagged the featured model, and linked back to its website so that viewers could learn more about the collection. 
Share Deals and Offers
When people follow your business on Instagram, it's more likely they love and support your company. This also means they are existing or potential customers who are ready to make the purchase decision. 
But if you want to encourage impulse buying, consider sharing deals and offers as they create a sense of urgency and people tend to make purchases faster.
With the right content curation tools, you can find relevant content ideas for your business and integrate them into sales campaigns. Then, repurpose them into videos for Instagram Stories. 
Let's take a look at Sephora. In honor of its 50% sale, the company made an Instagram Story video that encouraged viewers to tap on the clickable link and learn more about products on sale: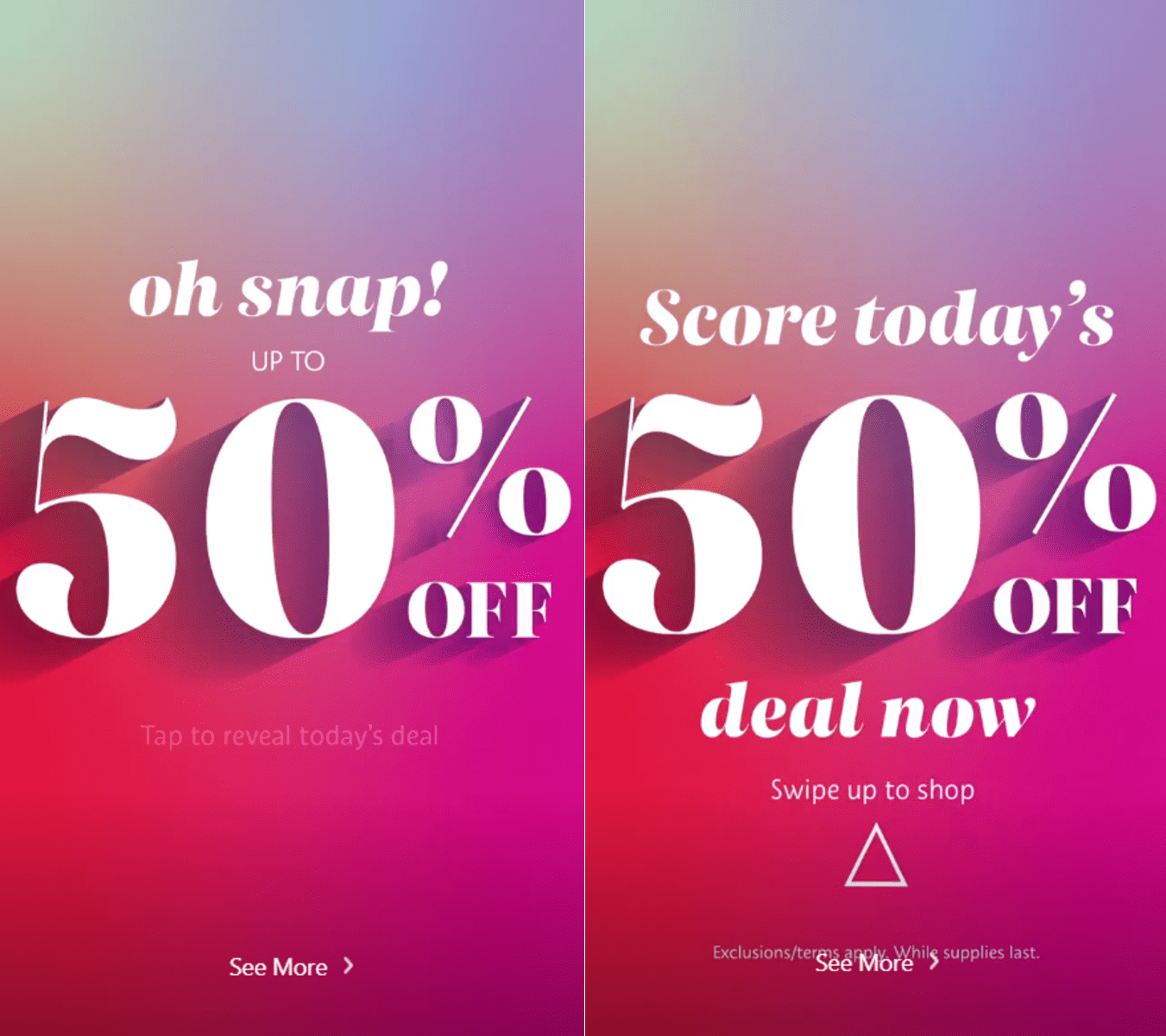 Instagram Stories disappear within 24 hours, so when you tell your followers about time-limited offers and deals, they are afraid of missing out on lucrative opportunities. As a result, they are more likely to make the purchase. 
Publish Explainer Videos
The power of explainer videos is exploding. Today, 95% of customers watch explainer videos to learn more about products and services. After watching explainer videos, people get a better understanding of how to make the most out of your products.
This video type helps SaaS businesses show the variety of their benefits and therefore acquire more customers. But if you're not selling SaaS products, creating explainer videos can be difficult. 
However, you can still use the power of video marketing to tell your consumers how to make the most out of your products. For example, DepositPhotos created a series of videos that not only explained how to create seasonal color palettes for businesses but also offered relevant photos to download.
The company also promoted its stock videos which could help to make the video creation process easier and cheaper for businesses of all sizes and niches. 
Conclusion
Instagram Story videos are effective, so businesses of all sizes and niches should put time into creating dynamic stories that drive engagement, increase reach, and help your business grow.