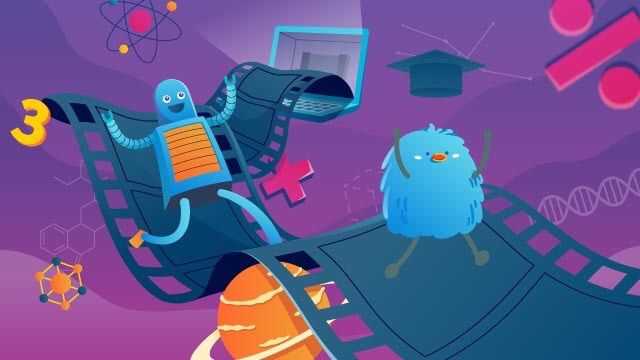 In today's digital world, videos and e-learning go hand-in-hand, just like peanut butter and jelly. Without any videos, e-learning lessons tend to bore the learners and make them lose interest in the course material.
In this matter, explainer videos have become one of the most popular types of videos used in e-learning. It makes the lessons more engaging and enjoyable so the learners can understand the course content much better.
This post will break down the benefits of explainer videos for online learning to help you gain insights.
Let's jump into it!
What is E-Learning?
First thing first, we need to have a solid grasp of what e-learning is. In essence, e-learning or online learning is a learning process where electronic technologies are used to access the course material outside of the traditional classroom.
In e-learning, there are no more standard school hours. All the materials can be accessed and downloaded anywhere, 24/7, flexibly to learners' devices. That's what makes e-learning the primary form of distance education.
Meanwhile, explainer videos made e-learning easy. It helps boost learners' knowledge retention. Besides holding the learners' attention, explainer videos can also make them retain the information for extended periods.
Look at a stunning example of explainer videos from MandarinMinds below:
Why Explainer Videos Are Perfect For E-Learning
Explainer videos make it easier for learners to connect and interact with the course content in a meaningful way. It provides online learners with eye-pleasing visuals and fine-tuned script to make the learning process much more fun.
Below are key points why explainer videos are such ideal mediums for e-learning: 
#1. They Grab the Attention
No medium can grab a learner's attention better than explainer videos. The animations mostly-used in an explainer video have the power to catch more eyes from the first few seconds. 
What makes it more fascinating is that explainer videos catch the learners' attention and hold it throughout the lesson.
Read More: Using Videos as Attention Grabbers Content: Beginner's Guide
#2. They Encourage Information Retention
Psychologically speaking, more than 90 percent of information sent to the brain is visual. It comes as no surprise that more than 65 percent of us are termed as visual learners. 
That's to say, visually-appealing explainer videos allow the retention of even the most complex information.
The narrative-driven stories, combined with lovely animated characters, make all the information easy to retain and remember.
#3. They Improve Task Proficiency
Explainer videos provide cues by highlighting the main ideas. That's pretty much how learners gain knowledge with well-crafted explainer videos. 
Not to mention the graphics that appear in time with the audio can also help students improve their learning. And as explainer videos make it easy for viewers to retain information, it helps them learn and perform better.
The usual 30-minute task can be completed in 20 since the critical point of the subject have been highlighted. 
#4. They Simplify Complex Data
Another reason for using explainer videos is that they simplify information into smaller bits and explain abstract information using visuals.
Remember, explainer videos are all about simplifying things. 
It can illustrate any scenes and build the environment in a way that real cameras and crews can't. In this case, it can seamlessly explain complex topics, from pure science to technology.
#5. Ideal For Introducing New Concepts
Introducing new concepts can be tricky, especially if you have new learners who recently started online courses or are new to the subject.
This is where explainer videos come to the rescue. 
The concise, informative scripts are essential in explainer videos. It makes the explanation digestible, making it ideal for introducing new concepts to early learners (pre-kindergarten and kindergarten). 
#6. They Promote Creative Storytelling
One of the greatest things about explainer videos is its ability to tell stories. No matter the learners' age, storytelling has always been a creative form of effective communication to make information more accessible. 
Integrating explainer videos to your e-learning courses means you provide an effective, powerful medium for learners of all ages– from children to young adults or even grown adults.
Related Articles:
#7. Adaptable to Change
Subjects for learning are dynamics. Time after time, information is getting updated, which means you need to update your lessons. And when it comes to changes, explainer videos come in handy. It can make the revisions or updates seamlessly. 
You can add new information to a course, remove older data, or combine it with a lesson directly and cost-effectively. So, you don't have to recreate a whole video altogether, which can be very time-consuming.
#8. Cost-Effective
This is probably one of the most popular reasons that make explainer videos rise above the clutter: it's budget-friendly.
You don't need to hire a studio, use fancy cameras to create high-quality videos for your courses. There are many tools you can use to create your explainer videos for FREE.
It also doesn't take that long to produce, and they'll be done by the time that you need them. 
Create a Complete Digital Learning Program
With all those benefits mentioned above, it's safe to say that explainer videos are a staple for e-learning lessons. In other words, adding them to your online course completes any digital learning program.  
While text-heavy explanations seem too old-school and too burdensome for your learners to retain, explainer videos offer you the best way to convey the information. Of course, without shoving down every detail down the learners' throat.
If you need professionals to create eye-pleasing explainer videos to improve your e-learning courses, Breadnbeyond can be an excellent option!
Check out our packages and claim your FREE consultation by clicking on the banner below!