The Construction industry generates a great amount of economic growth. In fact, it is the biggest contributor to job growth in some states.
However, the industry has a poor reputation when it comes to health and safety factors.
According to OSHA, one in ten construction workers is injured every year. To make it worse, sixty percent of construction workplace injuries occur within the employee's first year of employment.
This poor standing presents obvious challenges for construction firms. It's difficult to attract the best workers with such a bad reputation. Moreover, the negative attention also brings unwanted scrutiny from government agencies.
One way to address the challenge is by finding a better way to educate every industry participant about the importance of safety regulations. Explainer videos can help to improve the way information is conveyed to the workforce.
Let's take a closer look…

How Do Explainer Videos Aid in Safety Education?
Explainer videos can deliver more than one message at a time, and deliver them in a way that is easy to understand.
But, what kind of message can you include in an explainer video?
You probably know that explainer videos are mainly used for marketing purposes, but a lot of companies in different fields have been using explainer videos for training purposes as well.
If you want to improve safety conditions, you can share the work site's safety procedures through an explainer video.
A study on epidemiology of work-related injuries found that 100% of severe injuries happened to non-trained workers. Explainer videos can help to show the context of these accidents, and how to prevent them from happening.
You can start by showing the statistics of accidents that have occurred on the site or on similar projects or other statistics that may prove relevant. Then, follow up the issue by instructions and training to avoid similar accidents.
Emphasizing the importance of this information such as mentioning how a simple fall can injure a worker and limit their ability to earn a living for quite some time is a good start.
The short-term goal is to raise awareness that accidents do happen and demonstrate where these accidents are often found, and ultimately reduce the accident rate.
Showing context like this is more powerful than simply showing specific procedure on how to avoid accidents since there will be a broader range as to what should and should not be done in regards of minimizing the risk of accidents.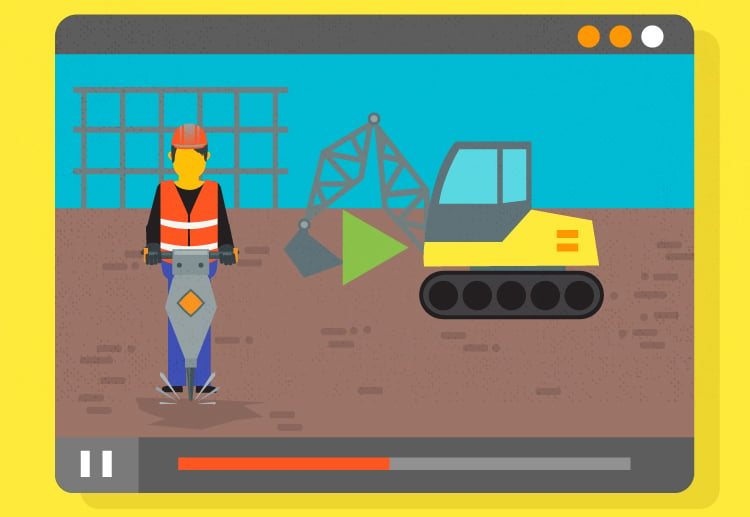 Explainer videos is an effective medium to demonstrate a certain building construction technique for a unique building or to demonstrate a certain method to execute a certain project.
Construction companies need to place the right image of what the finished building should look like in the mind of the workers, and an explainer video helps to do just that. Most of the time, illustrations alone can't achieve the level of clarity explainer videos can.
Why Are Animated Explainer Videos More Effective Than Other Media?
Explainer Videos Deliver Critical Messages BetterVideos are better in conveying messages because those messages become more memorable than other options such as written instructions or personal seminars. In fact, explainer videos have one of the highest recall rates of any information presentation method available today.
As many as 4,585 workers were killed on the job in 2013 alone. If your explainer video reduced that number by 0.1% you and your video will have saved 4 lives.
Animated Explainer Videos Are More Practical for Safety ManagementThe topic that you bring (construction accidents) is not safe or practical to demonstrate in live action videos or classroom demonstrations. For instance, it's hard and impractical to produce a video where someone falls from a crane or slip from the 9th floor of unfinished building. In an explainer video, these incidents can be portrayed easier.You can even make them happen in a humorous manner. Funny sketches have been proven to get more attention than serious videos. This makes their recall rate by your staff greater–the more they remember the fewer accidents will occur.
Animated Explainer Videos Are Cost-EffectiveLikewise, because you don't have the complications of developing ways to safely demonstrate the hazards that might occur at your construction sites – hiring expensive professional actors, renting shooting gear, and so on, creating an explainer video for safety education is far more cost effective.
They are necessary and should always be of a high quality, but the goal should always be to produce them and have a good balance between cost and quality.
Explainer Videos Are Time-EfficientFinally, explainer videos can convey the same information to audiences in a fraction of the time it would take to deliver it in other formats.Using a digital media like an explainer video doesn't require another member of your team to be present. You can simply press play on the machine (or ask the staff member you wish to educate to view the video himself). You can then leave to do other tasks, your time is spent more productively.Humans read and process imagery 60,000 times faster than text. Your safety message will be delivered in a fraction of the time than it would be if you've presented your health and safety lessons through documentation.

What About Other Areas Of The Construction Industry?
Explainer videos have much more uses besides offering instructions for health and safety.
Project management is often complex, and some lower level members of your team can struggle to see the wider picture. This often leads to poor results when it comes to collaborative work.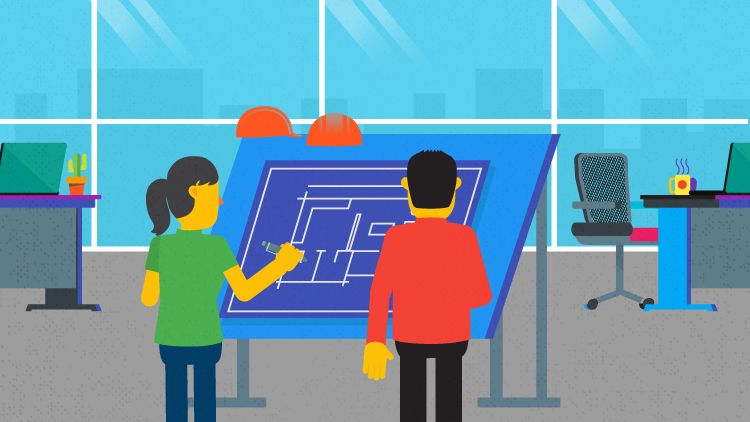 You can infuse a better understanding of the bigger picture of a project by explaining and breaking down workflow process to your employees.
With the help of visual media like explainer video, they can visualize what is next and how they can contribute to the process. This can aid them in properly prioritizing their objectives, which ultimately helps run projects more smoothly.
In addition, effective project management that is supported by explainer videos can help mitigate risks that often lead a project to become unprofitable. For example, explainer videos can be used to explain:
Injuries covered by insurance – there are numerous injuries that are covered by business insurance and therefore don't require the business to pay out compensation. For example, 97.3% of workers in the US are covered by Workers' Compensation Insurance.
This number would have been close to 100% if not for the state of Texas, which is the only state in the country that doesn't have mandatory Workers' Compensation Insurance and, therefore, has only 76% coverage.
Reducing costs – by bulk buying or purchasing materials in advance when the price is known to be lower due to fluctuating market costs. Buying in bulk can often save 10-15% or more.
Reporting issues – either health, safety or personnel issues – to the correct member of staff. When incidents aren't reported correctly, the proper action is often not taken and it can lead to future difficulties.
A study found that 27% of workers did not report an injury. It presents many possible problems such as when an accident is not reported, an employer can deny the employee medical treatment and benefits resulting from missed time from work.
The Workers' Compensation Insurance carrier will also question why the employer did not report the accident on time, resulting in the employee's private health insurance carrier not paying for treatment for work related injuries.
If the employee fails to report the incident in a timely manner, he may receive a formal reprimand and/or suspension without pay. That employee can actually find himself in the position of receiving a formal reprimand for not reporting an accident that his employer denies happened.
Conclusion
The construction industry is one of the industries that will receive the most benefit from a high-quality explainer video to help workers improve their safety awareness at work and become more productive.
Explainer videos can be used in numerous applications including:
Learning how to spot potential hazards.
Performing core construction actions safely.
Educating workers on how each of them fits into a process which leads to..
Increased workers' capability to set their priorities and understand collective goal from a project.
Here's an infographic about construction safety that should come in handy for you at times. Feel free to download, share or re-use it (as long as you link back to this page, we're cool).
Also, if you have any thought on explainer video and this subject, let me know. Shoot me an email at [email protected]

At Breadnbeyond, we offer a wide range of animated explainer video packages that are tailored for construction industries and safety education. Click on the banner below!