We always strive to create a convenient experience for all of our clients. One thing that we offer is different payment methods, so you can choose one that best suits your own preferences.
Besides bank transfer, PayPal, and cryptocurrency, we also receive payment via Wise.com (formerly known as TransferWise).
Most clients would like to choose bank transfer for better accountability, and besides making payment directly from your bank account, we also recommend using Wise.com (primarily for non-US customers), as they offer a much better exchange rate and minimum transfer fees.
And the whole transfer process usually is faster than other types of bank transfers. In our case, we often receive the transfer in our bank account within 10 minutes during business hours (Monday to Friday).
Why Do We Use Wise?
Wise is well-known for its low-cost money transfers. They're often the cheapest option compared to other wire transfer methods, or almost always in the top three least expensive.
We also want to help our clients to get the real exchange rate, so they can dodge those nasty, hidden fees that some other providers charge. If you are not in the US, most likely your credit card will charge you a higher exchange rate compared to Wise.
It's safe. Wise is properly regulated by the Financial Crimes Enforcement Network (FinCEN) in the USA and other agencies around the world. They also use the latest encryption technology and security.
Not to mention that Wise is also quick and easy to use. You can simply create an account and get everything up and running quickly after your account is verified.
How to Pay via Wise
If you want to use Wise to pay your invoice, please follow the steps below, so you can rest assured that your payment will be sent to us.
Step #1. Make sure you have a Wise account
Create an account with this link to get a free transfer fee of up to 500 GBP. It may take a while to get you verified depending on your country. Wise has a quite thorough KYC process that you have to follow in order to avoid money laundering.
Step #2. Add Recipient
If you already have a Wise account, click on "Recipients" from your account dashboard and go to Add recipient.

Step #3. Enter our company's bank details
Fill out the details with our company's bank details that you received in the invoice. If you have a question, feel free to send us an email and we'll help you to fill out the required fields.
Once you have our bank details, press "Confirm" to save our details as your recipient.
Note: Once you've saved the details as a recipient, you can't edit them. If you made a mistake and need to edit the information, you'll need to delete the recipient and redo it.
After you add our bank account as a recipient and make sure everything's right, you can simply proceed to the payment process. Please make sure you didn't miss any number on the bank account number.
Step #4. Send money
Click the green "Send Money" button to set up your transfer.
Wise will automatically calculate the fee that is being charged, the exact exchange rate that is used, and the final amount the recipient will receive. You can also see an estimated timeline of when the amount will arrive.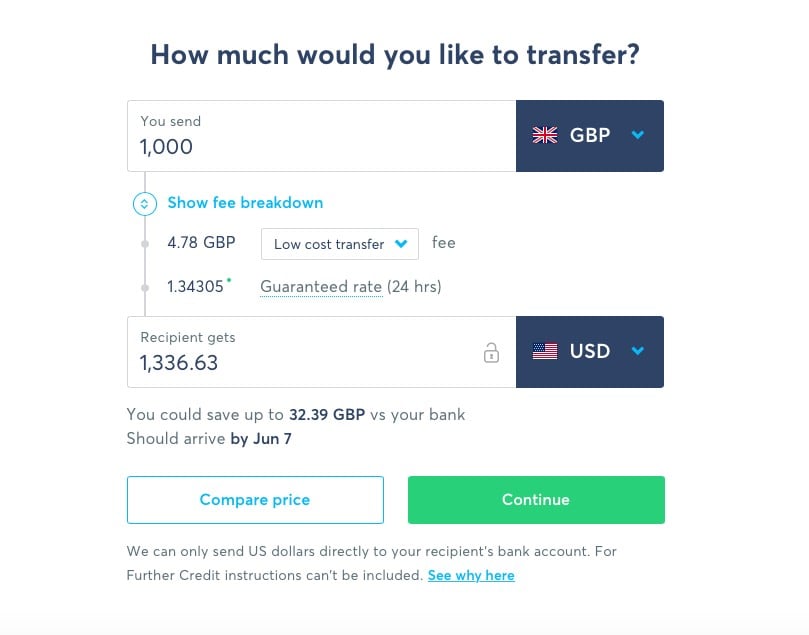 Once everything's set up, click on "Continue." Double-check and review the details of your transfer, click on "Confirm and continue."
Step #5. Choose your transfer type and how to pay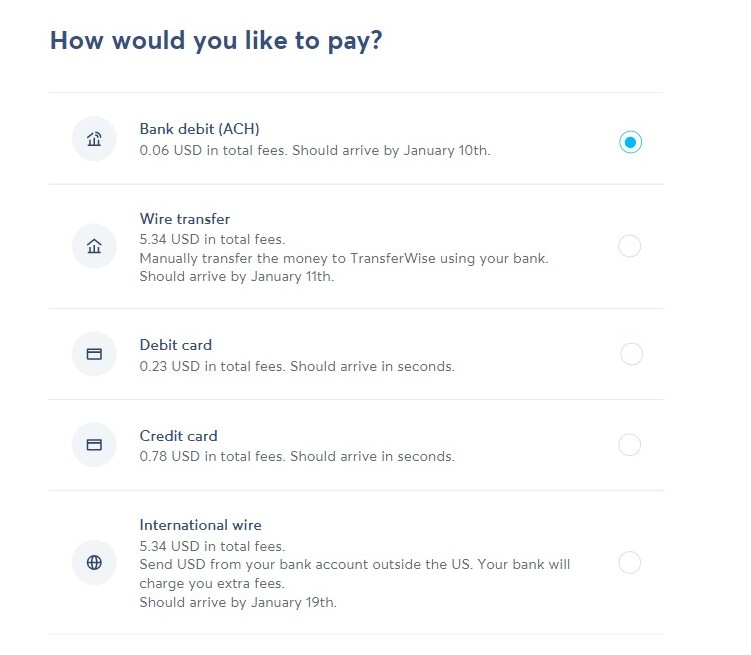 Depending on your country, Wise offers several payment methods that let you fund your transfer, including:
ACH to a Wise account
Wire transfer to a Wise account
A debit card linked to your bank account
A credit card
When using the Wise mobile app, you can also pay with Google Pay and Apple Pay (only for select countries)
And it does cost you slightly different fees — depending on what you choose to pay for the transfer.
Most of the time, wiring the payment from a bank account will have the cheapest option, while debit or credit cards charge slightly more (but the transfer process is faster).
Wise will let you know the fees for each option, so you can compare which one has the cheapest fee. In our experience, unless you are transferring a large amount of money, the difference is insignificant.
Once you choose how to pay, click on "Continue to Payment".
Step #6. Finishing the process
Continue following the instructions until you reach a screen where you're notified your payment is in process.
Wise will confirm the transfer via email, or in the app. And we'll also get notified when your payment is on its way. That's all!
For a more detailed Wise tutorial, you can see the video below:
Everything about the Payment Option on Wise
As it's mentioned slightly before, Wise offers several payment options you can choose from.
Some options are much faster and instant, while others are much cheaper. It also differs from the country you're making the payment from.
Here are the top options you can choose from when do the payment with Wise:
Bank transfer. This is highly recommended for accountability purposes, and pretty much is the cheapest option available as it lowers the fee. You can use online banking or mobile banking. The catch is that the transfer process may take longer.
Debit card. If you're really in a hurry or need to make the payment fast, you can use a debit card. A debit card mostly is a bit cheaper than a credit card and that will basically arrive immediately (in a couple of minutes).
Credit card. Wise accepts Visa, Mastercard, and some Maestro cards. This payment method is more expensive to process compared to debit cards but transfers your payment instantly. Some banks may charge extra for this, so please make sure that you know what you're doing if you'd like to use this option.
Common Errors When Paying With Bank Transfer
Below are some common issues that often occur when you make a payment with a bank transfer:
Your name on the bank account doesn't match the name on your Wise account
Make sure that the name on the sender's bank account matches the account name on Wise.
Some exceptions:
You're paying from a joint account, or
You're paying as a business through your Wise Business account.
This means you can't have someone else (with a different Wise account) pay for you. You should always pay from your own account.
There's a mistake with the bank details
It's crucial to always double-check that the bank details you've entered match the ones that Wise showed you in the bank transfer detail screen.
Any mistakes will cause an error in your payment and the money will be rejected. Don't worry, it will come back to you.
You forget to add the reference number
Wise will send you a reference number with the rest of their bank details to receive your payment (which later they'll send the money to us) through bank transfer. It helps Wise identify your payment.
Make sure to include them in your payment from your bank account.
If you forgot to do so, the payment will likely get delayed as Wise tries to find your money and the details of the transaction. You can speed up the process by sending them proof of a payment document.
Common Errors When Paying With Cards
When you choose to pay with debit cards or credit cards and an error message appears on your screen after you try to pay, there are several possible reasons:
Payment declined by your bank
This is the most common reason why your transfer is unsuccessful. Your bank has declined it, meaning that it doesn't allow Wise to take the money.
This happens mostly because the payment looks unusually large or you transfer to a completely new recipient.
You can call your bank and let them know that you indeed want to make this payment and inform them that Wise is a trusted recipient
Payment declined by Wise
It can be because your card was issued in a country that Wise doesn't currently support. If this is the case, you can choose other payment options instead, such as bank transfers.
3D Secure verification issue
A payment error can also be caused by your internet browser which leads to 3D secure verification issues. To fix this, you can enable cookies and clear your cache. If these don't work, we'd recommend switching to incognito mode if you are using Google Chrome or another 'private' option with other browsers.
Browser Issues
Software or antivirus installed on the device can affect the payment. You need to make sure that  Wise is on the list of "safe merchants" on your antivirus software.
Bottom Line
Wise allows you to speed up transactions while keeping the payment method accountable for your business. Another option that most of our customers use when sending wire transfers are using bill.com – we'll cover this topic separately.