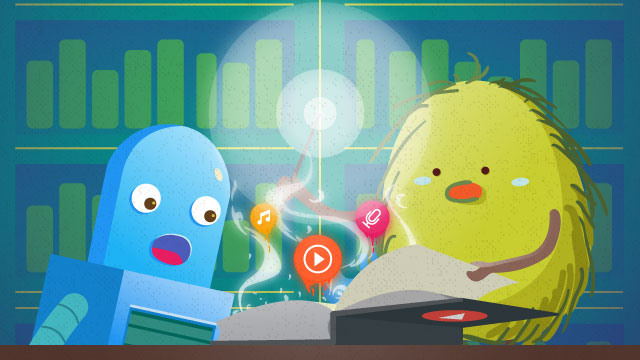 There are a lot of tools to increase conversion rates, and one of the most effective are explainer videos.
Explainer videos are short animated videos which explain what your business does, offers, and produces. Their main purpose is to help people clearly understand what you do and persuade them to buy your product or services.
The usage of explainer videos has increased significantly over time. There are a lot of startups who use explainer on their landing pages today. Chatclass has an article on the topic. Even big companies such as Google, Facebook, Nokia, and Microsoft have been using them to introduce their new products. This shows that explainer videos are becoming a marketing trend today.
Why Explainer Video?
Visual and auditory cues are much more powerful than text, making video an effective tool as it combines the two. In general, people tend to have a preference for video rather than reading a block of text. Online video is also the fastest growing ad type on the internet and has become a trend among businesses, according to eMarketer research.
It also explains a product or service better than any other media since the best way to describe something is by using video. A video has a visual aid, which is how the majority of humans rely on when it comes to learning. And thanks to the combination between visuals and descriptive voice-over or text, a video is more time-efficient in conveying a message or describing a product. It is also more cost-effective than printing a large number of pamphlets or brochures.
Explainer videos can be used to gain a wider audience. Everything is digital nowadays, and we can easily share videos through many social media networks. This increases the chances of capturing the attention of a global audience.
Explainer Videos and Conversion
Every online marketer understands that the keys to conversion are good landing pages, great copywriting, and following the latest trends in the industry, which are currently explainer videos.
When done properly, an explainer video can increase conversion rates from 20% – 75%. Visitors are more likely to purchase a product after watching a video on it because they have a better idea what to expect when they buy it.
According to Internet Retailer, 52% people feel more confident to buy a product after watching an explainer video.
People tend to feel compelled to do their research before buying a product. They will compare products between sellers and buy from the seller that has been the most convincing. In this regard, an explainer video is almost like a secret weapon to convince your target market to choose you over your competitors.
Explainer Video and SEO
It's getting increasingly difficult to gain a high SERP (Search Engine Ranking Position) on Google today. On top of this, Google is still evolving and updating their algorithms, which will continue to affect the SERP over time. The Google Penguin and Panda updates led to decreased page rank for websites that don't have quality structure and content.
That's why we recommend building a landing page video that helps with conversion.
A website that has a video on their landing page has a higher chance of appearing on the first page of a SERP. Google is more likely to place a website with videos in a higher rank position. Google also includes YouTube video results on their search results page. By including a video on your website you can double your opportunity to be found by internet users.
Creating an Effective Explainer Video
A video can be called effective when the viewer can understand the message conveyed completely. Creating an effective video is very important. It is the key factor for video marketing campaign success.
Keep it simple. An effective explainer video is around 45 – 90 seconds. A long video that goes past your audience's attention span is not going to work well.
Another idea is to place important content first to make sure the audience won't miss it. Try to get the most important elements of your message explained in the first 30 seconds of the script.
An explainer video must contain a "call to action" in the video. So, the audience knows what to do after watching. If the audience has to visit a website address, make sure to write the web address clearly at the end of the video.
Conclusion
Explainer videos are a powerful internet marketing tool and have become a new trend in the online marketing world. They can boost website performance in both conversion and SEO. A lot of startups are now using them as part of their marketing campaign.
At Breadnbeyond, we offer a wide range of animated explainer video packages that are tailored to boost your company's sales in the next campaign. Click on the banner below!