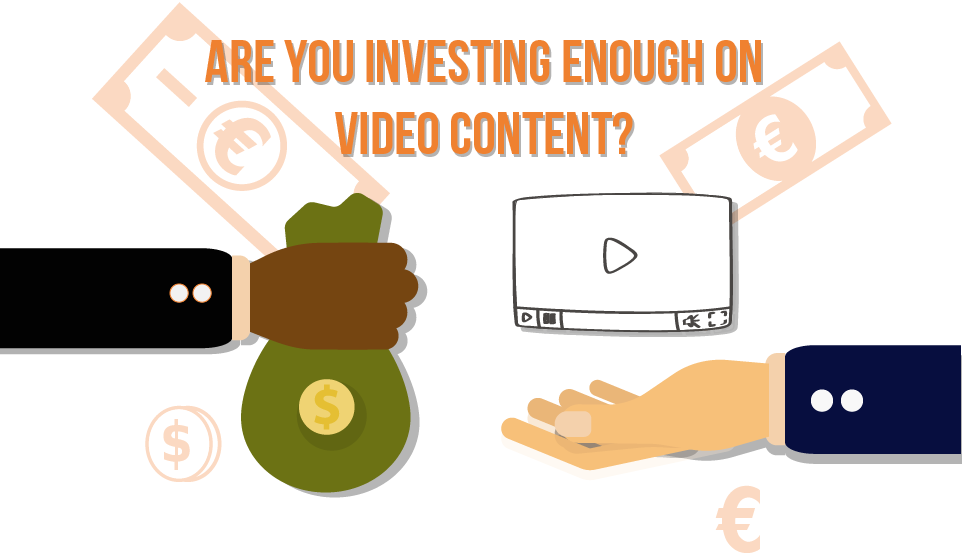 An explainer video can be quite costly depending on how you want it to look like and who you hire to produce it. For one of these beautifully crafted animations, you can spend anywhere from $1,000 up to $25,000.
Then again, cost is relative.
Smaller businesses, especially in developing countries, don't always allocate a stack of money for marketing, and $1,000 may well be half or even the entirety of their marketing budgets.
But there are reasons why, when it comes to explainer videos (or any marketing video, for that matter), expanding your budget is recommended.
In this blog post we're going to talk about why you can–and should–increase your budget for video marketing.
Quality takes time.
We've produced more than 2,000 explainer videos, and if there's one thing that you should know, it's this:
An explainer video that lasts between 1 and 2 minutes can take more than one hundred working hours to complete.
Don't misunderstand me: Not all of those hours are used for the illustration and animation processes. A big chunk of them goes to the pre-production and revision processes.
As an explainer video producer, we have to conduct a good amount of research to become familiar with your company so we can come up with the video's initial idea. Research is crucial for us to develop the video with the right concept, messaging, and story that fits your company's profile.
The production work itself starts with designing characters and environments, developing the script, recording the voiceovers, animating and rendering (for animated explainer videos) or editing (for live action videos).
These processes work as a whole. One small mistake can cause a butterfly effect that will disrupt the entirety of the production process.
Reduce unnecessary risks.
Have you ever gotten a haircut for $5 at a shady barbershop, and then ended up fixing it for another $15 at your regular barbershop?
Expanding your budget a little more for an explainer video is more or less like that. To get the job done right, you have to work with the best production company that fits your profile.
It doesn't have to be a premium production company. It just has to be the one that can provide the best value for your budget.
You should take a look at companies' portfolios to see whether or not their work will meet your expectations. That way you can eliminate the production companies that will not meet your needs.
Video content is branding content that you can't undo
The purpose of an explainer video is clear: to explain your company, product or service in a compelling and concise video.
A good explainer video should meet these criteria, especially if you're planning to set it as your landing page or homepage video.
Your explainer video is the one piece of content that gets viewed, shared, and referred to by your sales reps and audience. It's also possibly the content that you use in a company conference or at a trade show.
Ultimately, it's the face of your company.
Assuming that's what you have in mind when creating an explainer video, give it your best efforts. Go all out on this, because once it's out, you can't undo it.
Video's shelf life is longer than most contents'.
Instead of seeing your explainer video as a marketing expense, see it as an investment. As with all investments, make sure that your investment gives you a good return.
Nobody wants to pay thousands of dollars for an explainer video that's taken down a couple of months later because it's no longer relevant or, even worse, not showing any results.
A quality explainer video is one that is not quickly irrelevant, like this video of St. Valentine's history.
It should explain your brand, core message, and unique selling points in a way that will not change or be affected by changes in your niche or general market.
Design-wise, an explainer video with a good return shouldn't use pop culture as a reference. Ultimately, the video should be clear and support the message without any distractions.
Of course, coming up with a concept that will stand the test of time isn't an easy task. That's why you hired a team of artists and creatives to begin with, right?
Not only do you get content that will be relevant longer than other types, but you also can repurpose your explainer video into other types of content like animated GIFs and still images to go with your blog.
Small things do matter.
The little details that go into the production process of your explainer video are often overlooked.
These details include things like music selection, character style, font styles, and other art elements that can make a good video into a great video.
While fonts are mostly free from font library websites like DaFont (and there are ample options to choose from), hand-drawn letters can leave a bigger impression than any premade fonts. In that case, hiring an artist that specializes in typography is helpful too.
There are other things of greater quality that you can get just by spending some extra money.
The most obvious and important one is premium music tracks from websites like AudioJungle and PremiumBeat.
Hiring a professional voiceover artist, rather than one from Fiverr; publishing your videos to Vimeo or Wistia instead of YouTube; auditioning talent; and choosing the right location (if you're shooting a live action video) all can go a long way toward getting great results from your explainer video.
Takeaways
Producing an explainer video isn't an easy task, not even for people who do it professionally. But it's a crucial business decision for you.
You may think that you can't afford to spend more than what you've allocated for an explainer video, but a step into the wrong direction can send your video–and your company's marketing–into obscurity.
Here's why you actually can afford to spend more and why it's really worth it:
It can take more than one hundred working hours to make a single, standard explainer video. Making a great one takes even more time.
A good explainer video is like any quality product: The more you spend, the more you save in the long run.
Put extra money into the little things like premium music tracks instead of free ones.
Your explainer video can be the face of your company. Nobody wants an ugly one.
What are your thoughts on spending a little extra for an explainer video? Let us know.