About
We are a medium-sized animation studio with big-time results, providing superior marketing solutions for our clients through short animated explainer videos and kinetic typography animation.
Breadnbeyond's core business is creating explainer video, short animation that easily explains a hard to grasp concept or idea, make it simple and easily understood.
Our vision is to influence the world through visual motion communication.
Our dream is to have Breadnbeyond to be the go-to place for every businesses and individuals in the world when they need explainer videos, showing the world that our Indonesian-based team can deliver great animation with great results.
Breadnbeyond is a team of young, dynamic, and energetic creative individuals. We always educate and re-educate ourselves by learning something new everyday and continuously looking for different ways to improve ourselves and our services. We are working hard to make sure that every client that has been working with Breadnbeyond receives great benefit and the best return of investment for what they spent with us.
Our business is communication through visual motion, and explainer video is our primary service. We are always striving to provide our clients with an engaging and up-to-date animation, which in returns will help Breadnbeyond to get a stream of customers who appreciate our works.
At Breadnbeyond, we are working within our company's culture to provide the best service for our clients. We are always looking to expand our physical presence to other countries in order to provide better service. We are constantly hiring the best talents in the market that are aligned with our vision and company culture.
Breadnbeyond's clients, whether they are a startup, small, medium businesses, or large enterprises, will let us do our best to help them achieve what they need, listen to our suggestions, willing to cooperate and providing us the creative space that we need to do our best.
A Brief History of Breadnbeyond
As told by Andre Oentoro, Founder and CEO of Breadnbeyond
The story began in April 2008, three months before I got married. I was working as a General Manager for a construction company focusing on industrial building and came to realize that the construction business was not the place where my particular talents could best help others.
I decided to take my leave, but needed to wait several months to get my replacement ready and arrange other factors in my life. In October 2008 I was ready to leave the construction business behind and begin my new career.
Breadnbeyond, founded in December 2008, consisted of one employee: me, doing everything by myself; working on the designs, conversing with clients via email, text and phone calls from (literally) the other side of the world. It was a much harder job than my previous one (making those phone calls in the middle of the night and designing videos during the day) but I felt happier. While my take home pay had been diminished, the personal rewards have been greatly increased. I am now doing something that I cherish and, quite honestly, that is worth more to me than financial gains.
During my early childhood, I was lucky to be exposed to personal computers and the Internet, hence I became a tech-savvy person and can easily grasp the idea behind how to work with someone overseas while sitting in my bedroom. Just in a short time, I see that there is a great demand from developed countries to hire creative talents from developing countries because there is a large difference in living expenses that translates to significantly less expensive workforce, while almost equally skillful.
Once I got my feet wet, I saw that we have an incredible amount of untapped human resources that can create better animations and illustrations in Indonesia, compared to our competitors in developed countries. Combined with the fact that our living expenses is less, we can provide our clients results with a really good value for money in terms of quality and service.
Within two years we produced 500 projects from more than 25 countries around the world. It's been four years since I started Breadnbeyond, and I now have a large team of creative geniuses working with me. We are gratified that we are becoming quite prominent in the industry, having completed more than 300 videos for startups and over 1,000 projects in total around the world.
While a large portion of our clients come from The United States and Australia, we also work with companies from Brazil, Mexico, Canada, Singapore, Thailand, Philippines, India, Japan, Switzerland, Netherland, The United Kingdom, Spain, Portugal, Hong Kong, New Zealand, Dubai, Germany, Sweden, South Africa, Italy, Austria and Norway . We are quite sure this list will continue to expand. I look forward to the coming years and helping, specifically, the startup world to gain their own successes as Breadnbeyond has done here.
I would personally like to say thank you to all of our clients who have put their confidence in us, and give a special nod to all of our team members in Indonesia and other part of the world for their contributions to our success.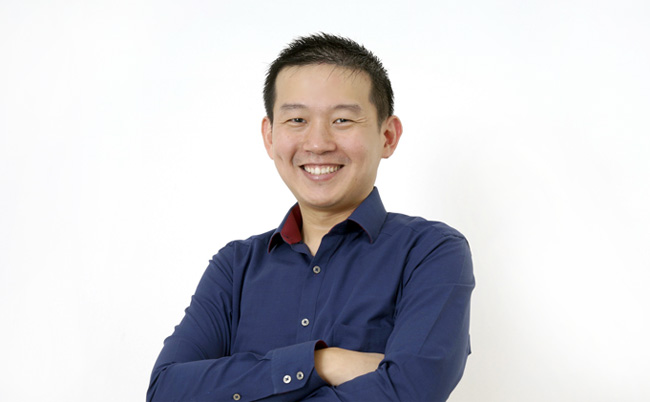 Andre Oentoro,
Founder and CEO of Breadnbeyond